Healthy apple pie made in less than a minute. Low-sugar, Vegan and all-naturally gluten-free. (Gluten-free, Vegetarian, Vegan)
Sometimes the simplest recipes are the best. Right? Well, this healthy apple pie I guarantee you is just that!
There are many times during the fall where I could go for the perfect ooey gooey center of a traditional apple pie. I immediately remind myself that I don't really want the ACTUAL pie as it's chocked full of sugar and it never satisfies my tastes buds.
Generally I'm craving it because I'm craving the comfort and nostalgic feeling of fall and cooler weather. It's the same feeling when you bust out the scarf and boots and wear to work, perfect nostalgic fall feeling.
That's when this easy apple pie comes into play. Should I call it an apple pie?
Well, truthfully I don't care what people think, It's my variation of apple pie with loads of natural sugar, carbohydrates and fiber and it is amazing. It is the perfect night dessert that is quick and makes in a jiffy. Extra Bonus Points.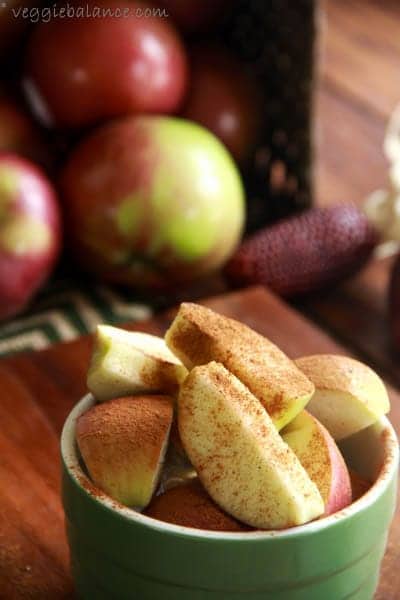 Since Veggie Balance is all about my journey with food. I find it fitting to share my most recent battle with you guys. A couple of weeks ago I shared with you guys I had a flare up after becoming a little lax in my food choices. Mainly, I was eating more grain carbohydrates than I'm use to including homemade whole wheat crust pizza with very little cheese and then pasta with a homemade spaghetti sauce.
Generally those foods are for special occasions where I treat myself. Definitely not a part of my everyday menu planning.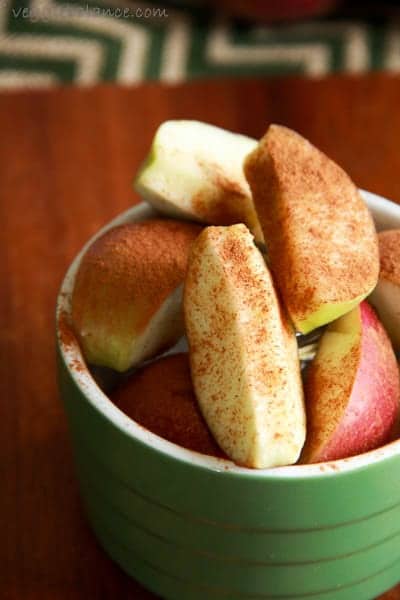 If there is one thing that I can recommend for anyone trying to find a food allergy or trying to find what your body likes, track your food. This is why.
I back tracked and looked at what I changed in my diet before the flare up. BREAD/PASTA. I had a similar problem during the 25 k training and race day, I inhaled lots of carbohydrates (bread/pasta) before the race like most people do and the entire day and during the race I felt horrible, sure enough I had a flare up of some sorts after.
I have figured out LOTS of food triggers by tracking.  So, it got me thinking. During my normal days I generally don't consume bread/crackers or anything of the sorts because I find it processed and prefer to get my daily carbohydrates from fruits/vegetables oh and potatoes.
Dude, I love potatoes and totally eat them plain now. Actually a baked potato was one of my first posts with VB! How embarrassing looking back at that post.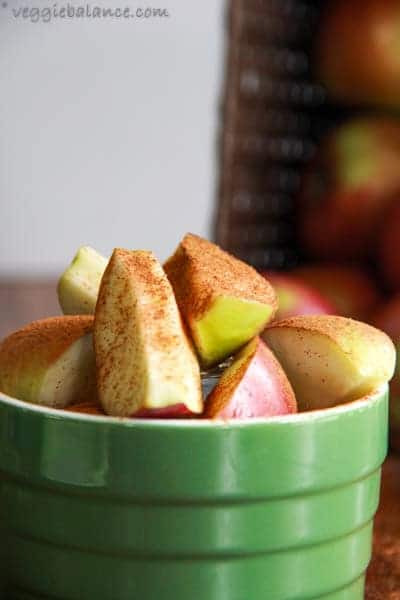 So anyways on I go to a gluten-free diet for 3-4 weeks then I'll try to slowly introduce it back into my system. Training for my next half marathon in November currently and I'm going to have to find some massive ways to CARB my body up without breads/pasta …
Any gluten-free long distance runners out there? I'd love to hear your input. 🙂
P.S. You also can add a little honey on the apples too, but I find the natural sugar in the apples is enough.