Best Darn Mashed Potatoes Ever will bring the soft, tender and hearty goodness home for potato lovers alike. Bring on the comfort food. (Gluten-free, Vegetarian)
If only I had the words to explain the absolute party that happens when I'm shoving a hefty spoonful of mashed potatoes in my mouth. I'm going try though. The put it simple, they rock.
To put it more eloquently? Well, here it goes.
Mashed potatoes are the ultimate of all ultimate comfort food for me. They are smooth, creamy and oh so epic-ly delicious. I could bathe in them. Well, maybe that's a little gross. Can you imagine just eating spoonful upon spoonful of potatoes, cheese, and sour cream? You can never get enough mashed potatoes on your plate.
The best part of my best darn mashed potatoes? They have 4 TBS of grass-fed butter in the ENTIRE batch and made with almond milk. Told you, pretty epic-ly delicious and also a healthier choice!
Over on this side of the town (Oh Midwest you've failed me again *sigh*)  it truly is near darn impossible to find raw un-pasteurized milk, and cheese. Plus, I don't go through milk fast enough so I prefer almond milk for that reason as well.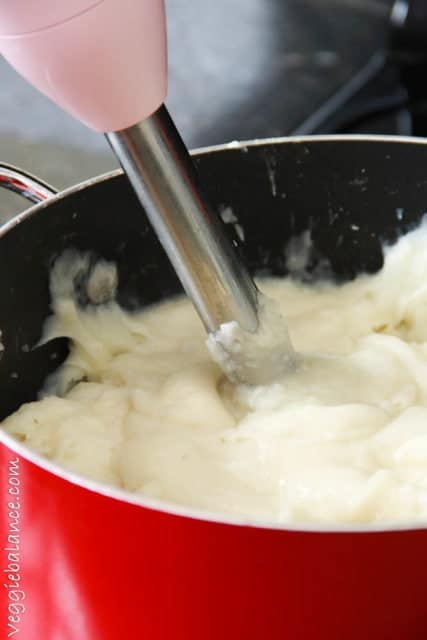 I'd eat these everyday. Actually, I kind of do eat potatoes every single day. No i'm not exaggerating, Not mashed potatoes though, those are reserved for the absolute comfort food days. I.e. recovering from shoulder surgery. I believe surgery counts for comfort food must. This might need to be added to the Lindsay's List of Food Obsessions. I've realized over this past year I might have an addictive food personality. I get stuck on foods like mad crazy.
Ever since I became an owner of my super duper favorite immersion blender I will admit I make mashed potatoes just for an excuse to use this pink wand of wonder. It is so much easier to whip up potatoes.
Before my immersion blender my mashed potatoes were more like chunks of potatoes. I'm not so patient when it comes to mashing potatoes. I tend to eat my servings worth of potatoes even before it's time to actually eat them with dinner. No. Self. Control.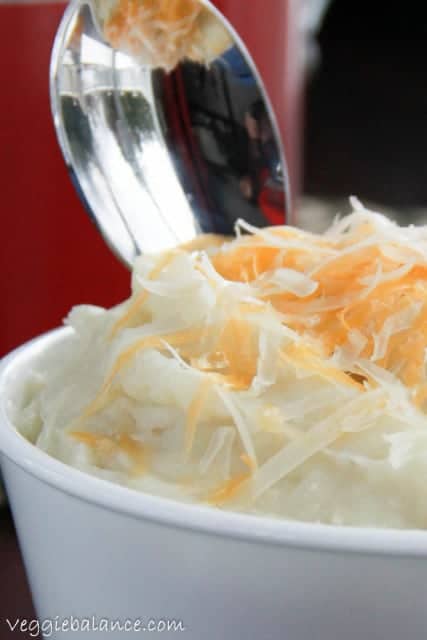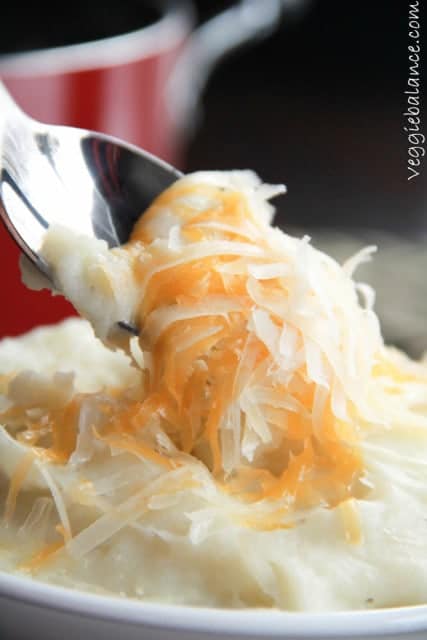 Goodness, that is so great.
My foolproof way to making sure the potatoes are cooked through is the fork method. Stick a potato with a fork. If it falls/glides off the fork then cook it for another 5-7 minutes. Cooking for an additional time after it falls off the fork is what keeps them easily whipped up without adding a lot of extra ingredients.
My favorite toppings on mashed potatoes when I've entered full comfort food mode is some full-fat clean sour cream, and some freshly grated Parmesan and cheddar cheese. Lately just the Parmesan has been enough for me, I can't get over that salty hard cheese. It's heaven.
If I'm needing to back off the cheese to help my body recover from a flare i'll opt out on those toppings. The hint of onion makes these even yummy with no fixings! It's perfect.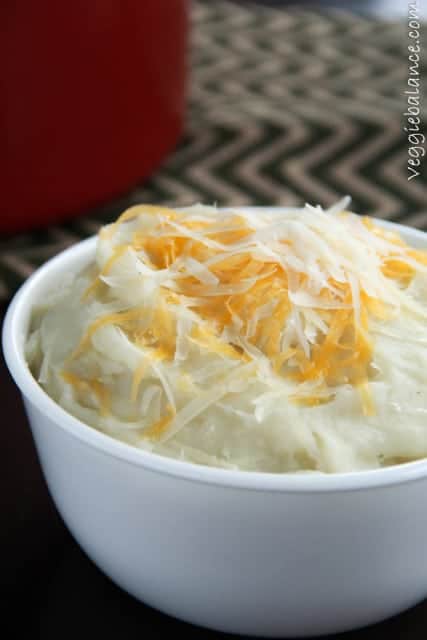 It has been an eventful couple weeks in the G household. Sitting inside for almost two weeks started a bug to begin re-decorating my house again. We've lived in this house for 4 years and plan for many more years to come. I haven't been in a huge hurry to decorate and make everything perfect right away. I've realized early on that there is nothing quick about a home. There is always such an unending list of things to do. The one little project I've been tackling is above my kitchen window. Let me rephrase that. I came up with the idea and my amazing husband has done all the work. 🙂
Now, it's the struggle on figuring out how I want to decorate it. Currently, I decided it's going to house my dried bean jars. I'll show those over on Instagram soon. I need some input from you guys. 🙂
My body is really trying to recover from this surgery and this post also took me way longer to type than it normally does. A trauma to my body and my weird health things is just a recipe for 'fun'. Cannot wait to get to my rheumatology appointment next month. My goal is to find what particular AI disease I have and perhaps find a more efficient.