Healthy Cookie Dough packed with all the delicious flavor minus the worrisome eggs. Late night craving for some cookie dough? Grab a bite of this craving curbing treat packed with protein and natural sugars. Eating a spoonful of this cookie dough just got a little guilt-less. (Gluten Free, Dairy Free, Vegan)
Healthy Cookie Dough … it kind of sounds like a oxymoron. But all the delicious and guilt-less flavor is here with this simple-to-whip-up eggless cookie dough.
Healthy Cookie Dough: Some Fabulous Facts
No Butter – Swap out the traditional butter with a nut-butter of your choice!
Lower-Sugar – Using natural sugars only keeps our sugar levels in check.
No Eggs – Egg-less edible cookie dough my friends. Yessssssss.
Chocolate  – ALWAYS. We always need chocolate in our lives.
This is how this cookie dough was came to life: A late-night craving for cookies plus an urge not to spend all my "dough" to make it healthy.
Turns out … the dough to these healthy chocolate chip cookies (also almost this recipe) is too deliciously good not to be showcased.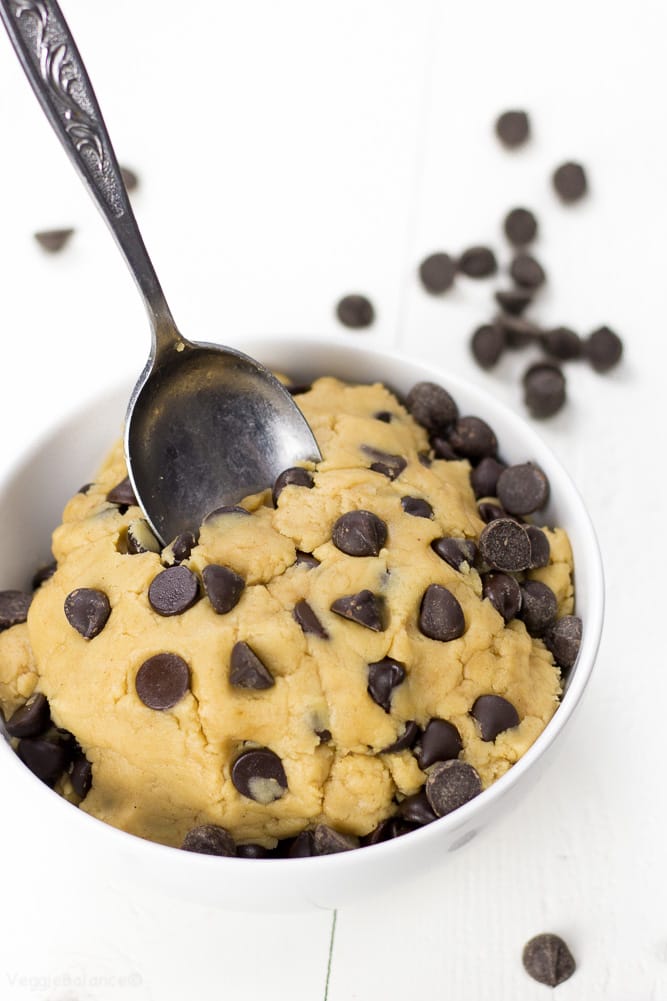 MY LATEST VIDEOS
I mean, seriously, there is nothing better than healthy cookie dough with less guilt (and no eggs) to satisfy a sweet tooth.
We've all been there, there is a spoon and a tub of cookie dough involved. Perhaps even a glass of wine (or two). Those rough days we turn to the cookie dough are tough enough, but this is how we can make it a tinyyyy bit better by taking the guilt out of eating an entire tub of average cookie dough by devouring this delectable treat instead.
This is so tasty, it perfectly curbs those cravings with a bit of cookie dough and a bite of chocolate.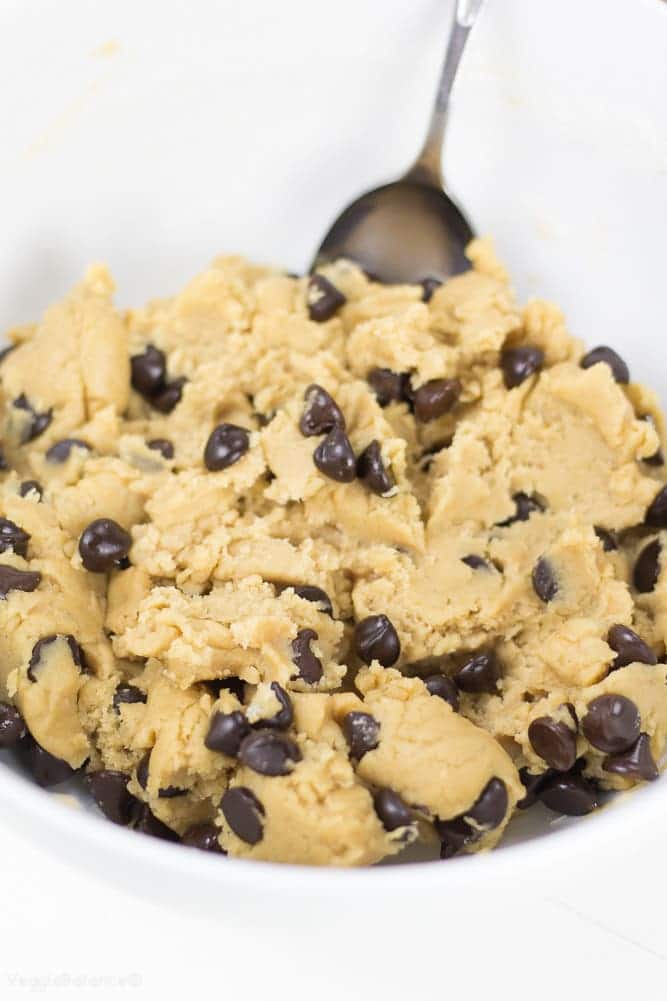 Steps to Devouring Said Cookie Dough:
Make Said Cookie Dough under 15 minutes flat
Grab Glass of Wine
Binge Watch Another Netflix Series
Might as well grab some chocolate covered pretzels while you're at it (That is if you're feeling especially rough)
Spoiler alert: This Michigan weather makes me feel ROUGH.
Thank goodness I'm heading to Tennessee soon to see my new baby niece! I think my skin is becoming almost see-through after the amount of sun it has not seen. Look forward to warmer weather and some sun!
Now if you aren't in a winter depression (like me) and are just looking for something sweet, chocolatey and a little bit healthier versus eating an entire tube of cookie dough?
This healthy cookie dough is a fabulous option. 😉