Healthy Peanut Butter Brownies made with a secret protein packed ingredient. (Gluten-Free, Low-Sugar)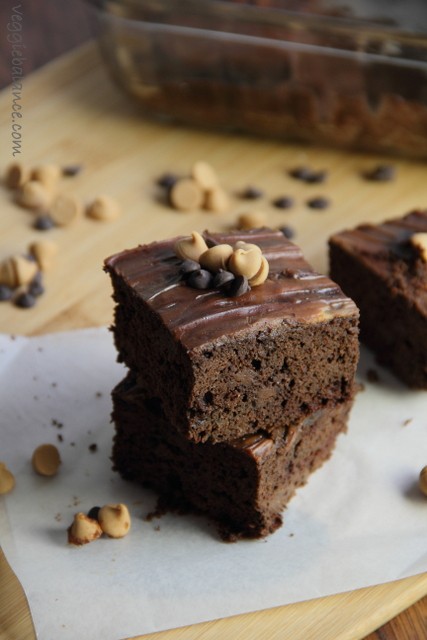 I'm going to share something that's going to unveil me as the true nerd that I am… I have a peanut butter song. I do not exaggerate when I say I eat an ENTIRE jar of peanut butter in a week. Now my song goes something like this:
I Love Peanut Butter
I Love Peanut Butter
I Love Peanut Butter, Hey, Hey Hey!
Now, any The Little Rascal fans out there.. I bet you can put a tune to that very easily. I know nerd alert. #ProudofIt
My husband fortunately shares my love for anything peanut butter . His love for brownies? Now, I think that is a close second behind peanut butter. Needless to say the way to his heart is with food, brownies and peanut butter is the secret key.
I made him an unhealthy batch of brownies a while back just for him for a special occasion, and truthfully I thought my healthy version of the black bean brownies tasted better not only because they just flat tasted better, but also were better for you.
The fact that I made them for him didn't tear away the fact that I consumed half a pan one night after a pretty bad day. Wasn't my proudest moment. A. I literally just ate my husband's gift from me and B. I ate a total of like 8 brownies.
Instead of beating myself up about it, I found comedy in it and moved on. I'm human. Healthy dessert and traditional dessert, both need to be eaten in moderation. If I ate 8 of these healthy brownies in one sitting I would not be proud of myself. LUCKILY, I had better self control for the days these were in my house.
Initially, I told my husband that I made him another unhealthy batch of brownies to make up for the other 'not to be mentioned' incident.
He was so excited and happily munched away and said, I quote. "These brownies taste better than your last (unhealthy) batch."  Instead of screaming from the rooftop and saying, HA! They are healthy brownies!
I kept my mouth shut and let him devour them. It was a proud moment in the Veggie Balance realm. I eventually told him the truth just because I couldn't contain myself any longer.