Homemade Ranch Seasoning Mix so good you'll ditch those pre-made packets with a quickness. All you need is 8 simple spices that I bet you already have in your cupboard. (Gluten Free, Dairy Free, Vegan)
Homemade Ranch Seasoning, it's definitely high time to break this recipe out to ya'll.
All my allergy suffering friends, I know you understand when I say this: Those pre-made packets are full of stuff it's best to avoid it all together.
When I can make a mix at home that tastes better without all the bad … I'm going for it.
The Wonders of this Homemade Ranch Seasoning
Just 8 spices!
Make your own homemade ranch dressing. Holllerrrr
Veggie Action – Carrots, broccoli, cauliflower, you name it. Dip those vegetables into some natural ranch goodness
Gift Idea – I'm telling you right now, if you gave me a jar of this … I would love you forever
We are all about eating healthier here and many times I find myself making a simple balsamic dressing on my salad.
But this culinary concoction takes me back to my childhood and sometimes I can't resist that trip down memory lane with a salad slathered with ranch dressing.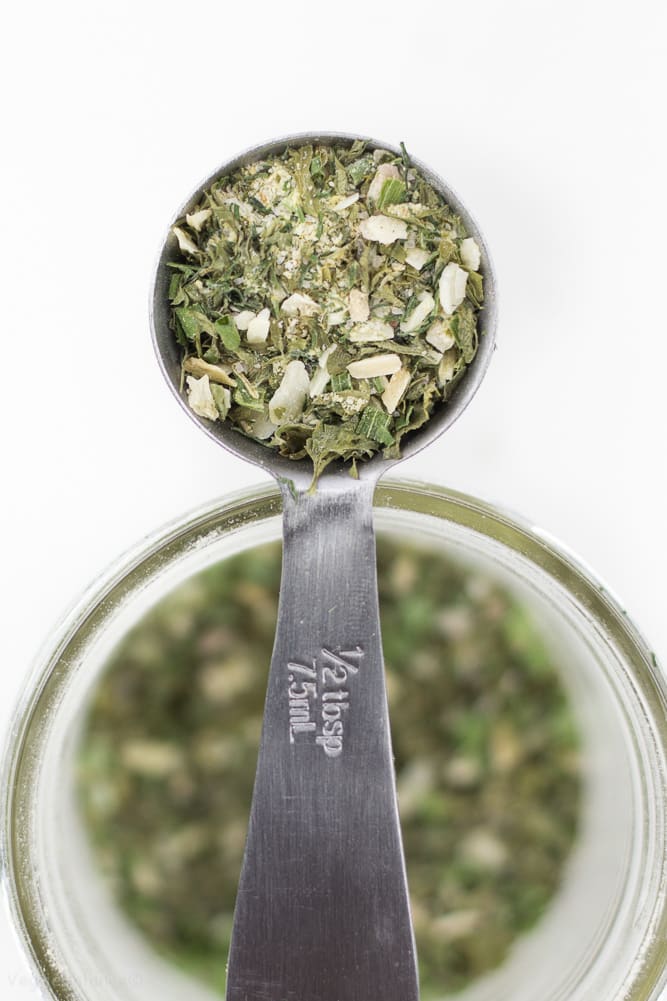 All you need are 8 spices to pull together a perfect homemade ranch seasoning mix.
Eight Great Spices in this Ranch Seasoning mix
Parsley
Chives
Garlic Powder
Onion Powder
Onion Flakes
Dill Weed
Black Pepper
Salt
Whether you simply ran out and need it made in a pinch, or you want a more natural approach and are ready to ditch those pre-made seasoning packets … this easy, simple and quick homemade ranch seasoning mix is the solution!
So dip those veggies, smother your salad or top your veggie pizza for a healthy twist with a little zing.