Crockpot Shredded Chicken Tacos recipe made with just 2 ingredients and all in the slow cooker for hands free cooking. Can't get any better than that.
(Gluten-Free, Dairy-Free, Healthy)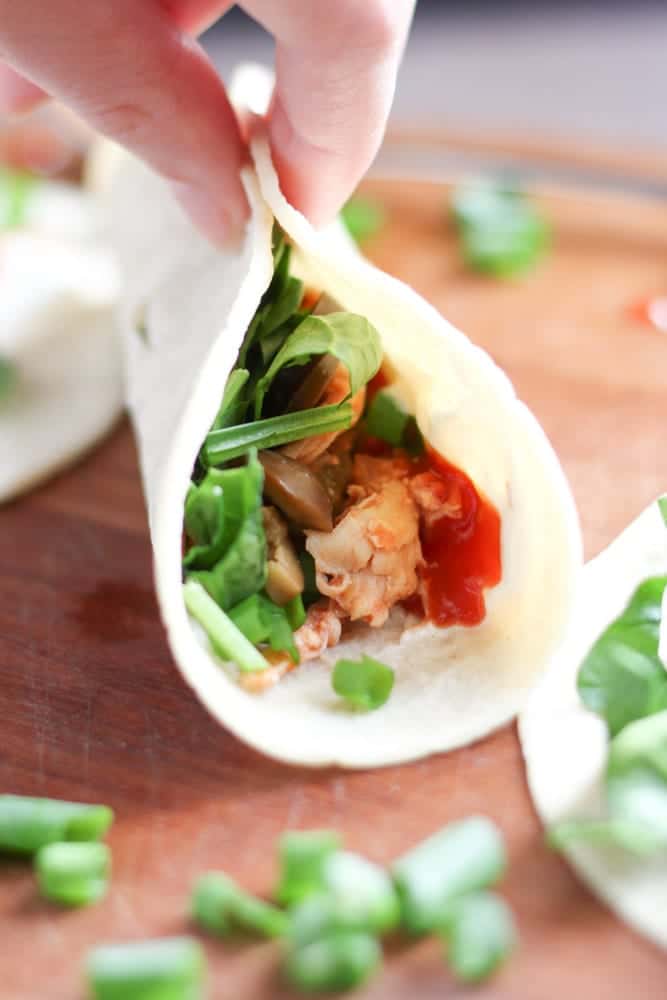 Happy New Year everyone! We are starting this year off with some easy peasy Crockpot Shredded Chicken Tacos. This is a good way to begin the year, if I do say so myself.
Healthy
Easy
2-Ingredient chicken tacos.
Hello deliciousness.
Making this Crockpot Shredded Chicken Tacos is as easy as 1-2-3
Place chicken breasts in crockpot with a jar of salsa.
Cook.
Shred with a fork or with a hand mixer! See below for our epic quick tip to make shredding your chicken THAT much easier.
How Long Should you Cook the Crockpot Chicken Taco Meat?
It really depends on the time that you've got.
Cooking on high for 3 hours is my go-to. I find it keeps the chicken still moist cooking it on high.
If you've got to set it and leave then Cooking on Low will be your solution. Cook on Low 5-6 hours.
If you've got to keep it going while your at work cooking it any longer will dry your chicken out more BUT after it's shredded and swimming in salsa seasoning I really can't tell that much of a difference.
Mexican dishes, you are my Achilles heel. Top with some spinach, black olives, a dollop of sour cream/ Greek yogurt, and the famous homemade taco sauce.
This taco sauce is my favorite copycat version of the Ortega taco sauce. It's delicious and should be dolloped on all things dubbed Mexican cuisine.
This past Thanksgiving we made the famous Tamales recipe. R couldn't help but chuckle as I poured some Ortega sauce into the mixture.
Did the recipe call for it? No.
Did it make the tamales taste better? I think so.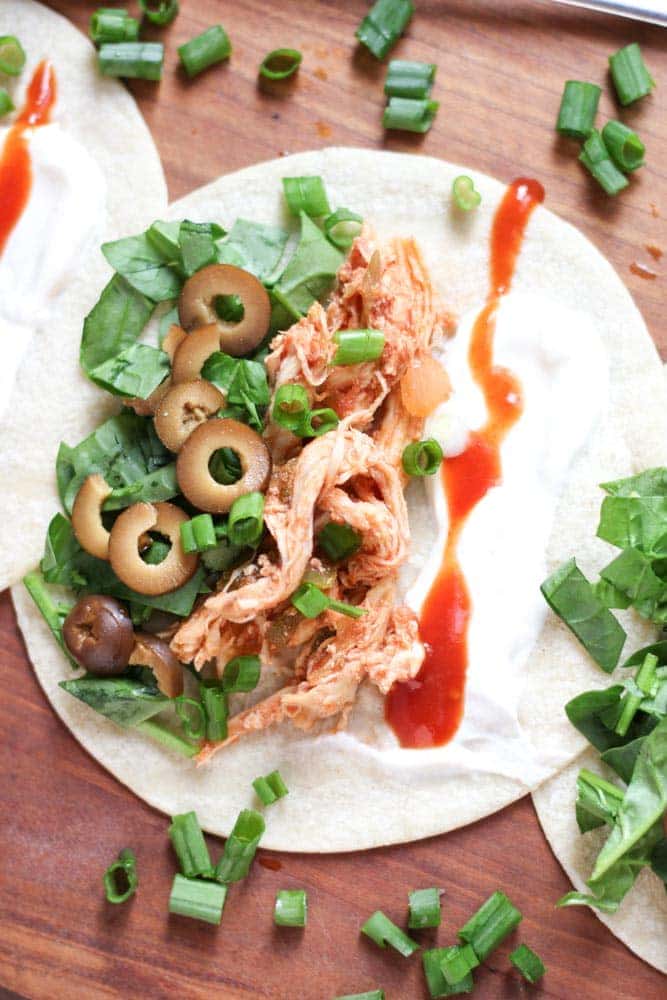 These Crockpot Shredded Chicken Tacos are the epitome of easy.
Simple.
Delicious.
Protein Packed.
Flavorful.
And made with just 2-Ingredients.
And you saw how in just 3 easy steps your dinner is made. Yep, this is the epitome of easy.
I bet you could make this also in the Instant Pot like these Instant Pot Chicken Breasts recipe by A Mind 'Full' Mum
I am a vegetarian at heart. I always struggle with chicken along with any other kind of meat. This recipe is my solution.
Shredded chicken is the perfect way I work around my chicken-phobia. Shredding the chicken allows every possible 'weird' bit to be found and disposed of.
Weird, gummy, tendons are not allowed. If I find anything like that on my fork or in my mouth, I will not eat chicken for months.
Shredding the chicken is the perfect solution for those so inclined.
How to Perfectly and Easily make Shredded Chicken.
I picked this trick up from the internet and it is as unbelievably simple and amazing at the same time.
Take your hand mixer and place right into the slow cooker. Turn on low and go to town on that chicken. It shreds in quarter of the time and is SO much less work.
You are welcome.
I know I definitely need more protein in my life. Since shoulder surgery last year, I'm still working on recovering and getting my arms stronger, and these delicious shredded chicken tacos are perfect for growing muscles. (Grow arm muscles, grow!)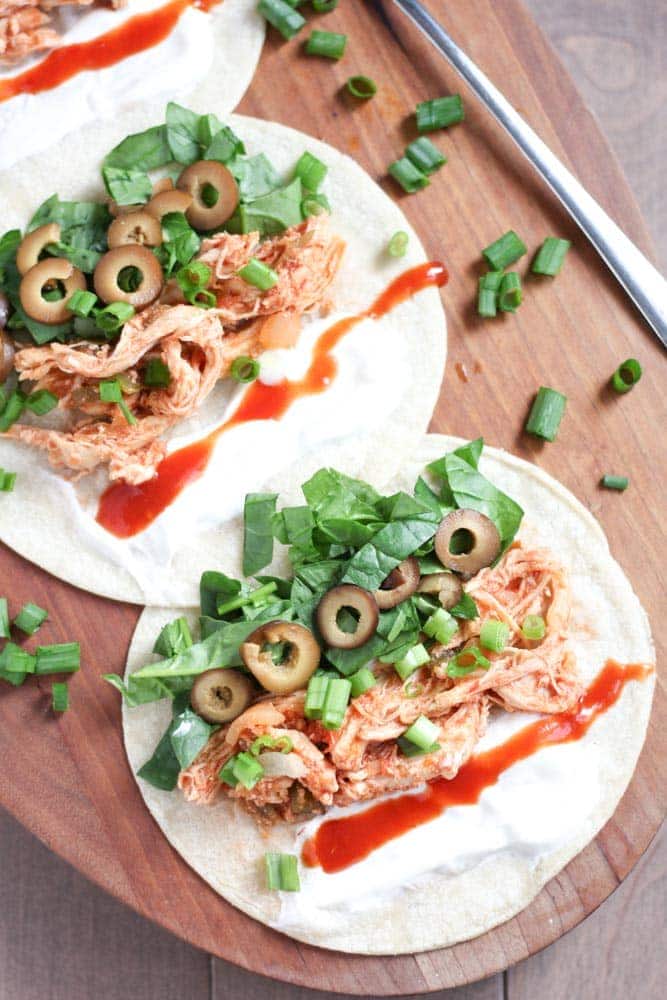 It's not necessarily a New Year's resolution, but I have been working on getting stronger these past few months, and this will continue into the New Year.
My hope is that by the end of this year, I'll have some beefy strong arms and more overall strength, even more than I had before surgery.
I've noticed that the more I lift, the more I crave food and protein in general. Being the almost-kind-of-vegetarian-at-heart that I am, getting enough protein is tough for me.
I see many Crockpot Shredded Chicken Tacos in my future. 😉
What's your New Year's resolution?