Lemon Butter Chicken, Potatoes, Green Beans Sheet Pan Dinner for-the-win. Whipped together for a quick, healthy and deliciously easy weeknight dinner.
(Gluten Free, Dairy Free friendly)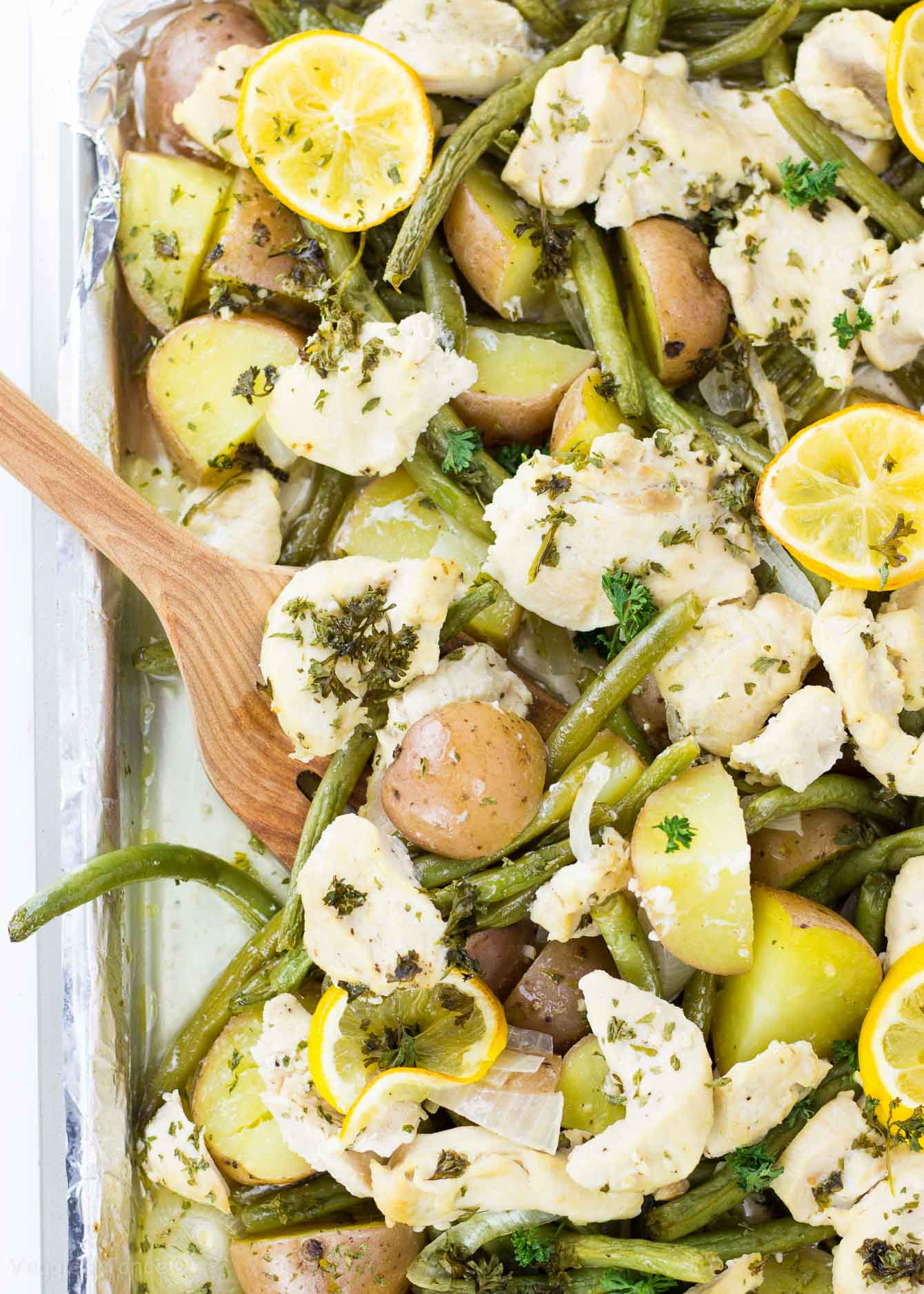 There are a few savory favorites in my life, one of them definitely being Lemon Butter Chicken with freshly squeezed lemon juice.
Today we are incorporating my love of lemon juice and garlic into an easy sheet pan dinner.
Lemon Butter Chicken cooking alongside oven-roasted potatoes and green beans.
This is how we roll – simply savory and easy-like cooking all the way.
Something nutritious and quick enough to throw together on a weeknight. I absolutely love these for meal-prep dishes as well.
To have the ability to cook a belly-filling meal using a one-stop-shop method is perfect. Divide it among your meal-prep dishes and voila! Meals are ready to go!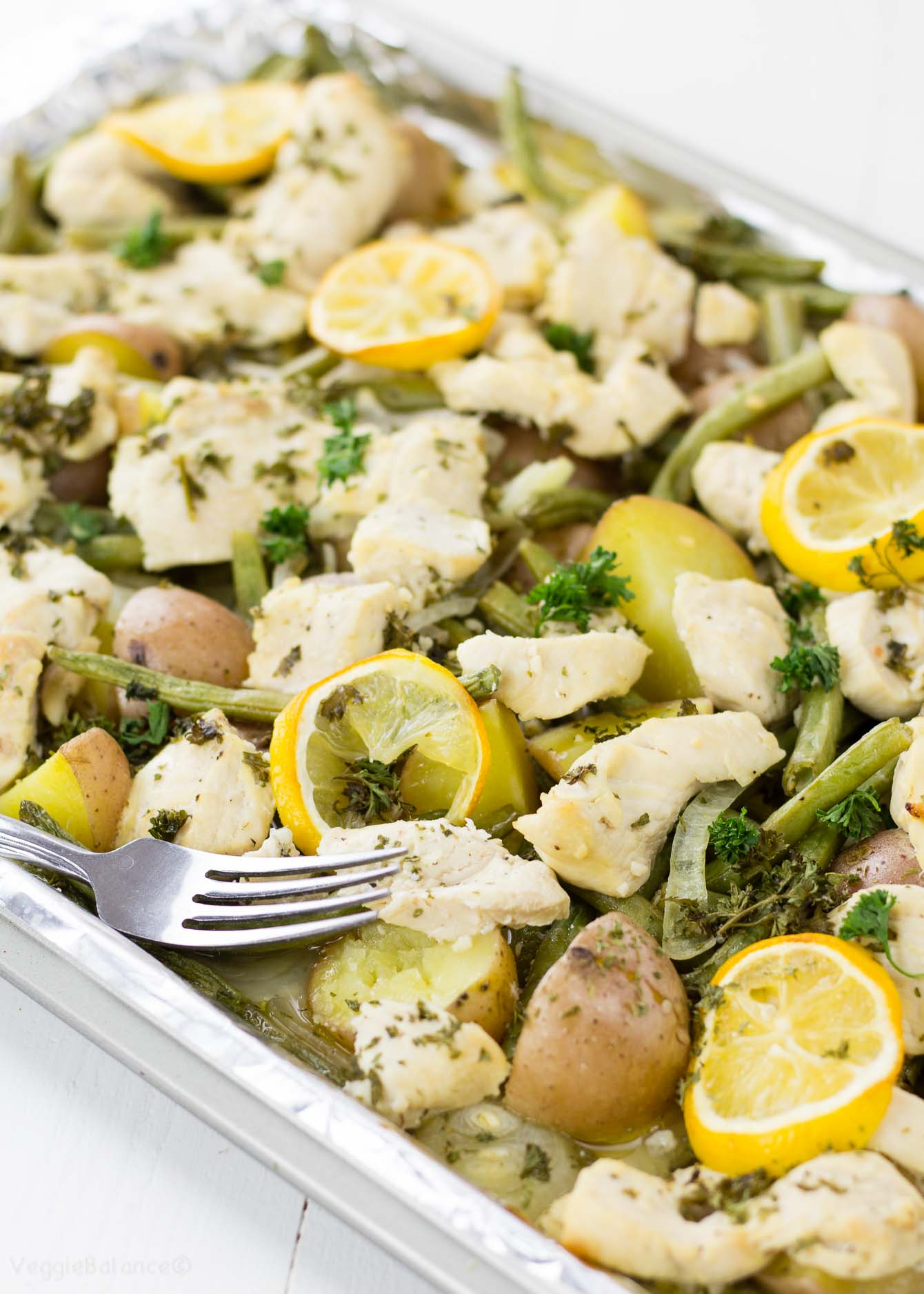 I prefer the method of slicing the chicken because it gives me the ability to slice and dice away any 'nasties' that might be in the chicken breast.
I'm weird like that. But leaning into an honest moment here.
I know myself well enough that if I get any weird grizzly piece that is not pure chicken meat I will have to swear off chicken for months. (I'm not even exaggerating.)
If you have a weird chicken aversion like me, slice them up.
If you don't and would like to keep them as whole chicken breasts go ahead!
The cooking time will vary just a tad but when you have the Lemon Butter Chicken sheet pan covered in aluminum foil it helps keep the moisture instead baking those potatoes and keeping the chicken moist and flavorful.
In another honest moment, I'm totally here for the potatoes and green beans swimming in the garlic lemon butter sauce we marinated the chicken in.
All those flavors combined is a savory summer fiesta in my mouth.
I love green beans baked, just like these baked garlic green beans. It is just natural to make them with this Lemon Butter Chicken.
Lately I've been simply heating water up in my electric kettle and drinking warm water with a lemon. Not sure why I'm in love with this combo so much, but it makes my heart sing.
It is, however, extremely odd drinking a hot beverage with lemon when Michigan decided to have a heat wave and it was almost 90 the other day. This state can't even figure out what to do with the weather.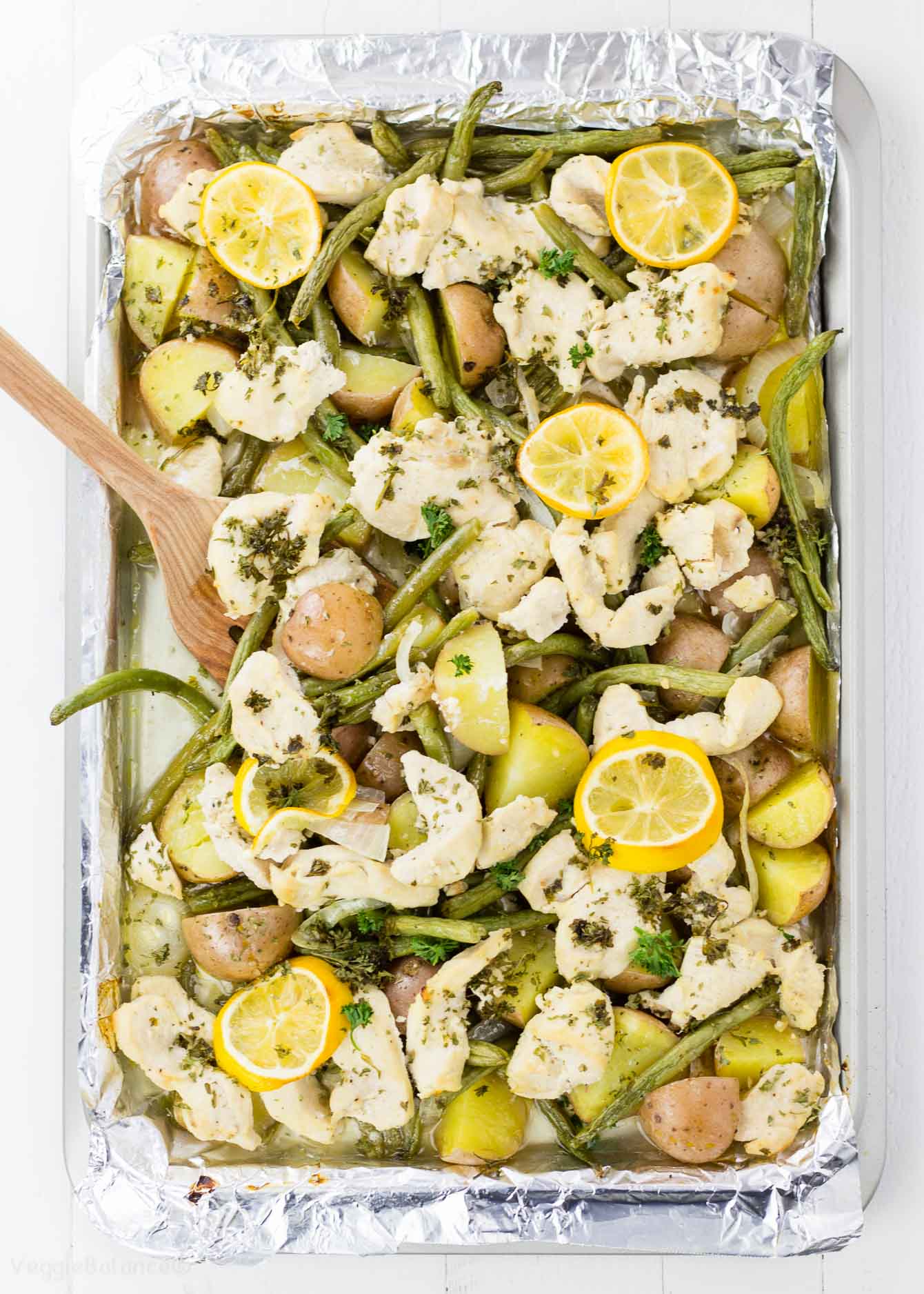 Today, however, the heat is back on in the house. I'm bundled in a sweater and blanket with a cup of warm lemon water. Oh well.  #PureMichigan weather is at it again.
We've got our warm lemon water and our Lemon Butter Chicken Sheet Pan dinner to take us into some cozy summer dreams