Low Carb Pizza Crust brings gluten-free goodness back to the dinner table with a favorite meal – just a little bit healthier!
(Gluten-free, Low-carb)

Pizza sauce. . . Gooey Cheese. . . Bacon. . . Onion. . . Green Olives… on a Low Carb Pizza Crust.
Did I grab your attention? Believe me, this low carb pizza crust demands attention. Gluten-free and does not contain any cauliflower kind of pizza crust. Not only that but it's totally free of coconut, almond and any other flour you can think of.
I can almost guarantee you will have all the ingredients in your fridge right now to make it.
There is a story to how this pizza crust came to be. I'll start from the beginning. . .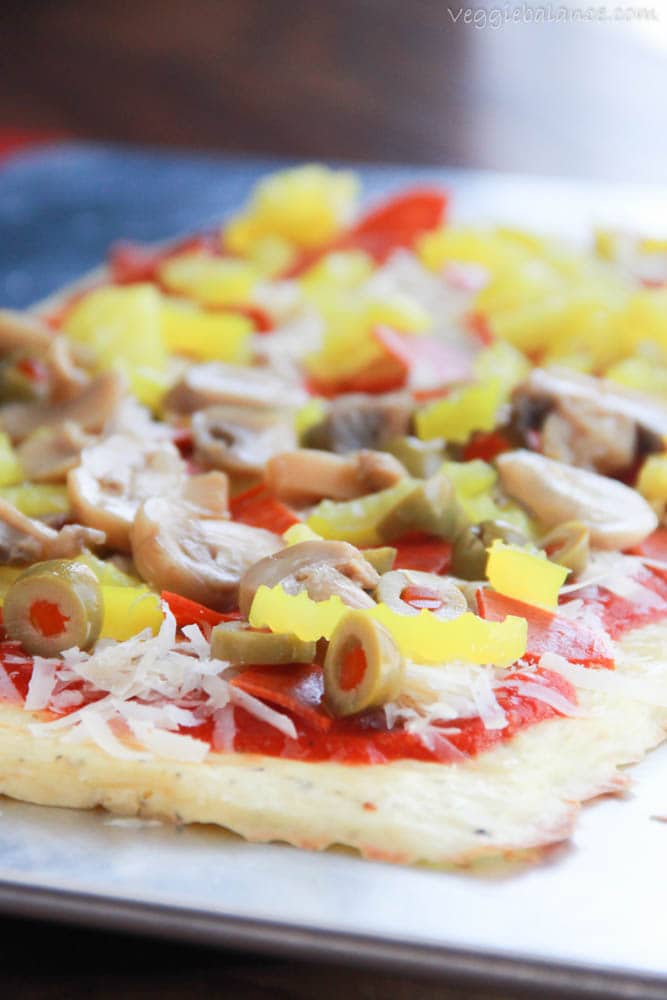 Pizza is one of those foods who deserve to be in their own food group. Don't you think? As I was trying to clean my diet up years ago I made my own pizza crust prior to the gluten-free days as a treat. You have to treat yourself, pizza was that treat to me. Months later I began finding the strong correlation with grains and I. We just don't mix.
I tried gluten-free flours but found my body didn't respond well to A LOT of gluten-free 'flours'. #FAIL
So here I was, I haven't had pizza for months. Roland would grab a pizza on the way home for himself. What a butt head. I'd smell the basil, oregano, cheesy slices. They just called me name. Every time I'd ask myself if it was worth it to have just one slice. I've learned early on, it's never worth it.
Regardless pizza was calling my name and I needed a solution.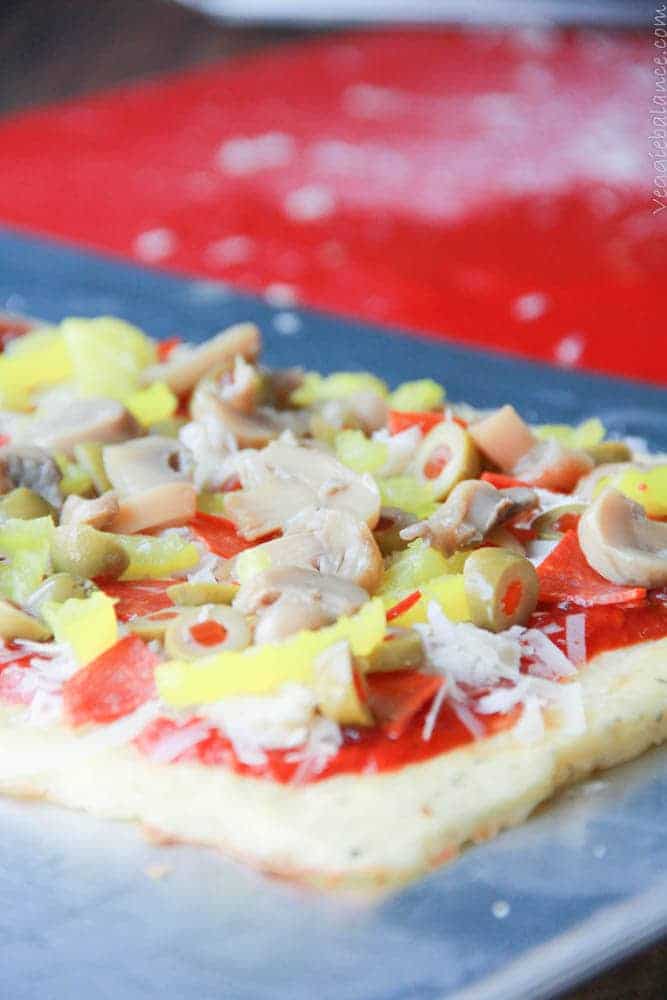 So I scoured the internet for inspirations and found a recipe with cream cheese, cheese and eggs. Weirdest combination ever but oh my word it works. Tweaking the recipe I used real ingredients, cut back the amount of cheese and before I knew if I was devouring pizza without a care in the world.
You would never think these ingredients meld into a pizza crust that can easily be picked up and mistaken for bread crust. It is really that good.
Pictured on the (RIGHT) is the mixture before entering into the oven. Pictured on the (LEFT) is the cooked and ready to top crust.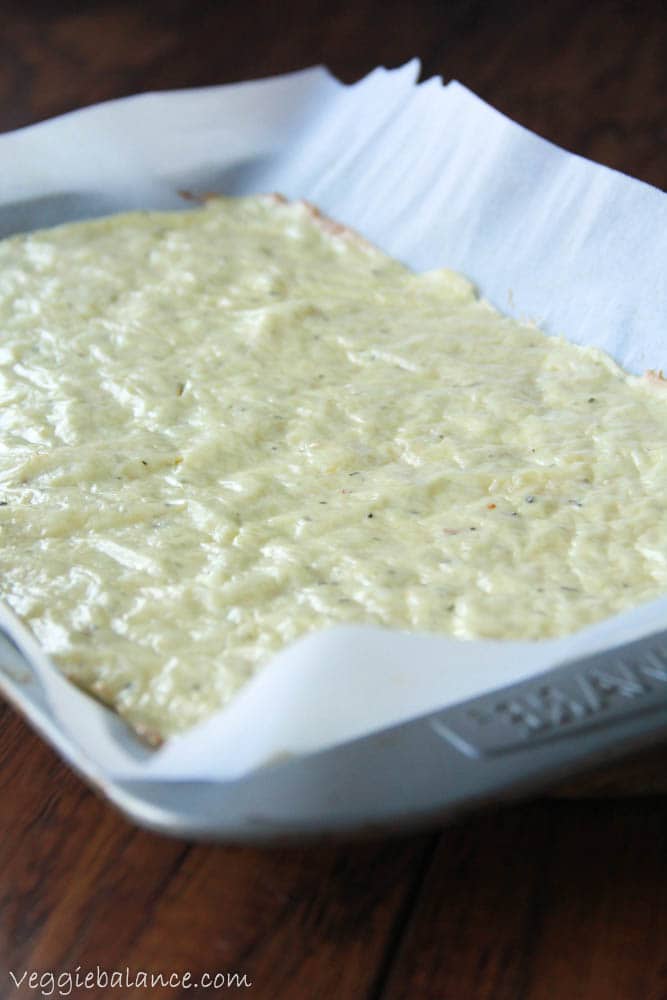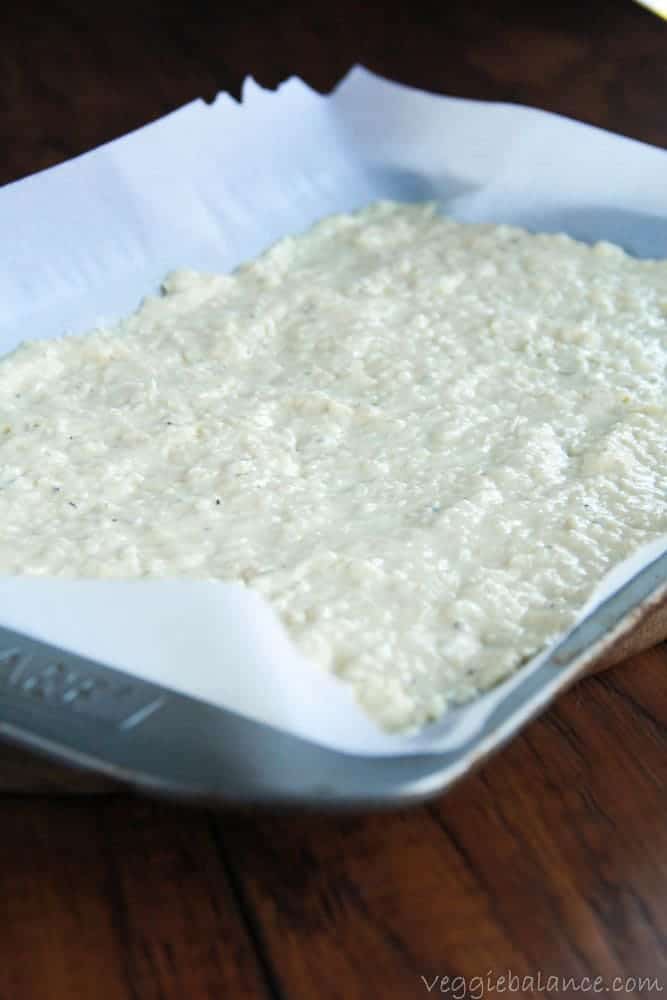 Pretty impressive if you ask me. Then all you need to do next is throw on some pizza sauce or pesto, top with your favorite toppings and BAM, Pizza porn.
We do minimal cheese on top just because the amount of cheese in the crust. Oddly enough you can't TASTE the cheese in the crust.
Roland looked at me the other day and said, "Your posting this to the blog? It's not very healthy."
Well, no it's not skinny by any means. As I calculated the calories though I realized it's the same darn calories as an average slice of bread pizza!
Actually, it has more protein and low-carb for individuals who are carb sensitive like diabetics.
Here you go everyone this pizza is for us. The gluten-free, cauliflower allergic, low-carb people here is our pizza crust for life.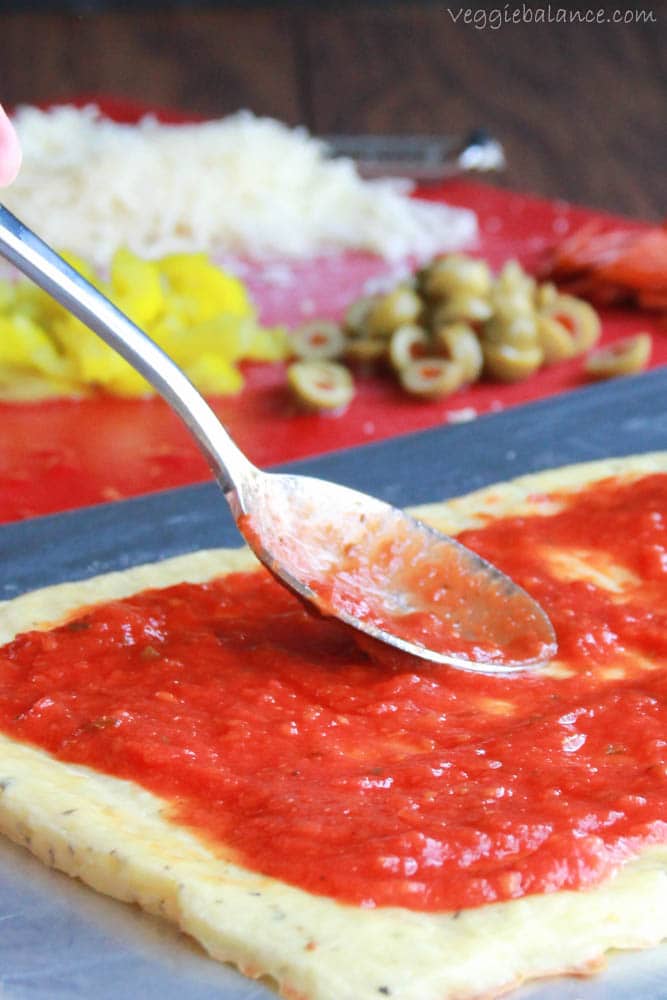 On that note: Happy Saint Patrick's Day!
I'm kind of failing as an Irish blooded women right now. I forgot to wear green. **GASP** I ironically made cabbage rolls earlier this week and plan on posting those later in the week. Truthfully, it was just perfect timing. I forgot all about Saint Patrick's day.
I'll talk more of the nostalgic cabbage rolls next post. Perhaps my Irish blood still runs through me. I just knew it was time to make them. 🙂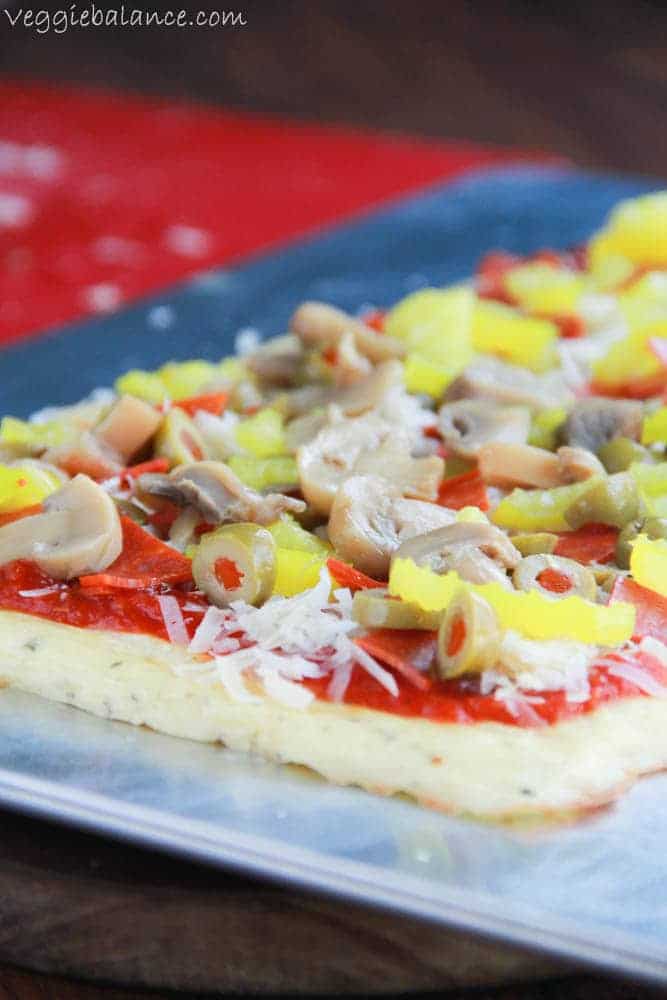 I mentioned my favorite toppings in the beginning.
My Side:Green olives, Banana peppers, mushrooms, onions, bacon, pepperoni, green peppers.
Roland Side: Banana peppers, bacon and pepperoni
His side looks so sad compared to mine. Lucky for me he never eats my leftovers because of the toppings. Mmmm green olives. 🙂
What are your favorite toppings on pizza?