No Bake Protein Bars are super simple and the perfect copycat recipe for those delicious RX Bars. The ultimate combination of protein-packed blueberry muffin flavor. Haven't had a Blueberry RX bar yet? No need to buy to try, here is your chance for a homemade healthy, no-bake protein bar option.
(Gluten Free, Dairy Free)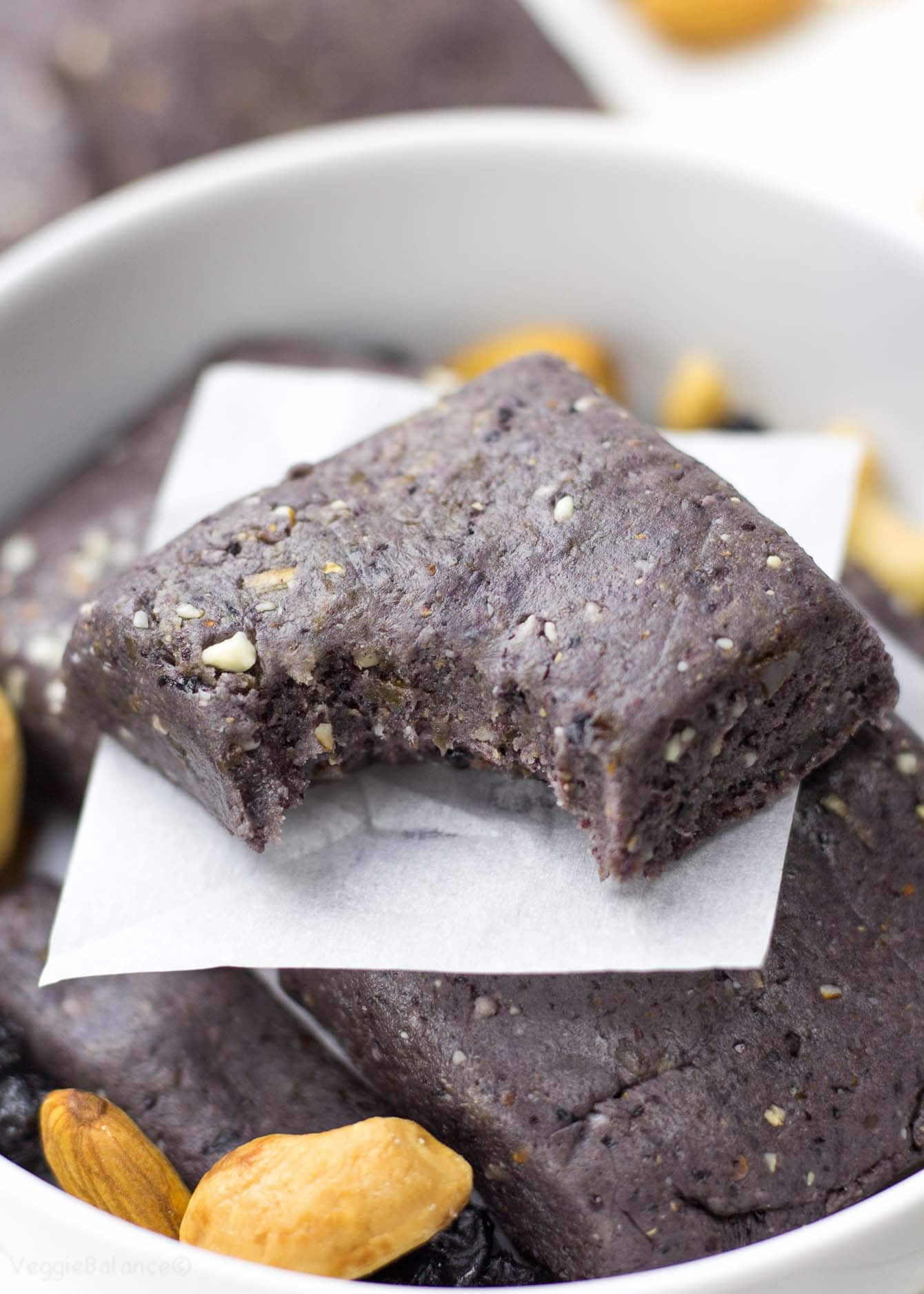 No Bake Protein Bars for the WIN! I fell head over heals in love with the blueberry RX bars. They are my secret weapon for surviving traveling.
As many of you know, there aren't amazing allergy-friendly food options in airports. You can't just pack your bags, you have to be prepared!
One day "my" store suddenly stopped stocking blueberry RX bars. WHAT!?! Oh, the humanity.
I was heading to a conference the next day and needed a snack for the flight.
Lindsay + No Enough Food = CRASH AND BURN.
I'm not a fabulous traveler to begin with because I just simply NEED food to survive. I mean, I know I could survive some time without food, but my brain turns to just mush and my patience becomes non-existent – nobody wants that.
To avoid this predicament, no bake protein bars to the rescue!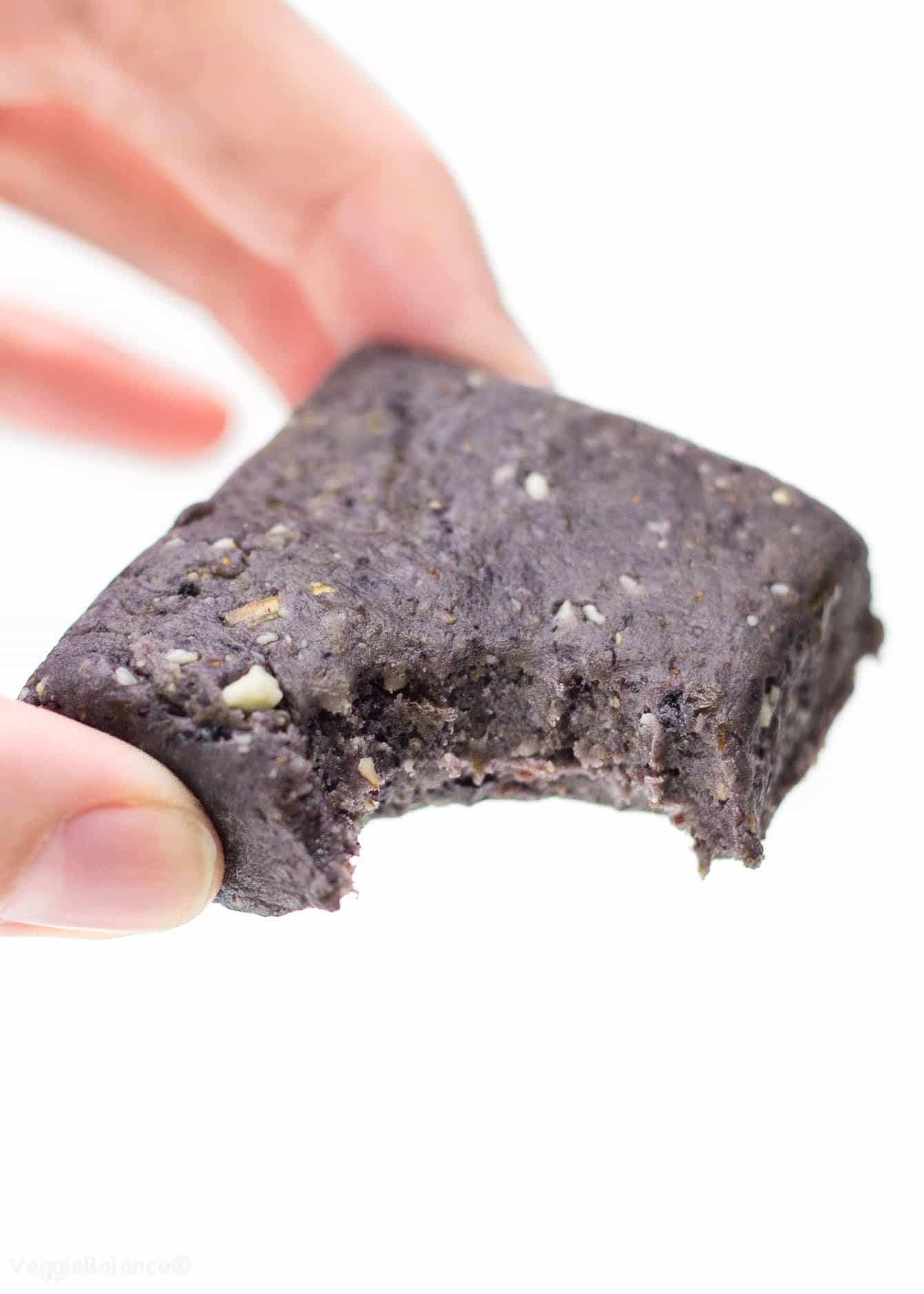 When traveling by myself and all I have with me is a carry-on, these incredible edible bars are JUST what I need to get through to the next "real" meal.
Blueberry No Bake Protein Bars are the Diggity Bomb Because …
Just 5 ingredients – Anything with 5 ingredients and minimal work is A-OK in my book
Minimal Work – We are touching on this again because … there is like ZERO work. Toss together, blend, press into pan and voila!
Easy-to-find ingredients – They can be stored or found in a store any time of the year. Yes please. Michigan Winter Tundra please leave soon, thank you.
BLUEBERRY MUFFINS-ESQUE! – Well, it makes you feel like you're eating a blueberry muffin on-the-go and that is pure perfection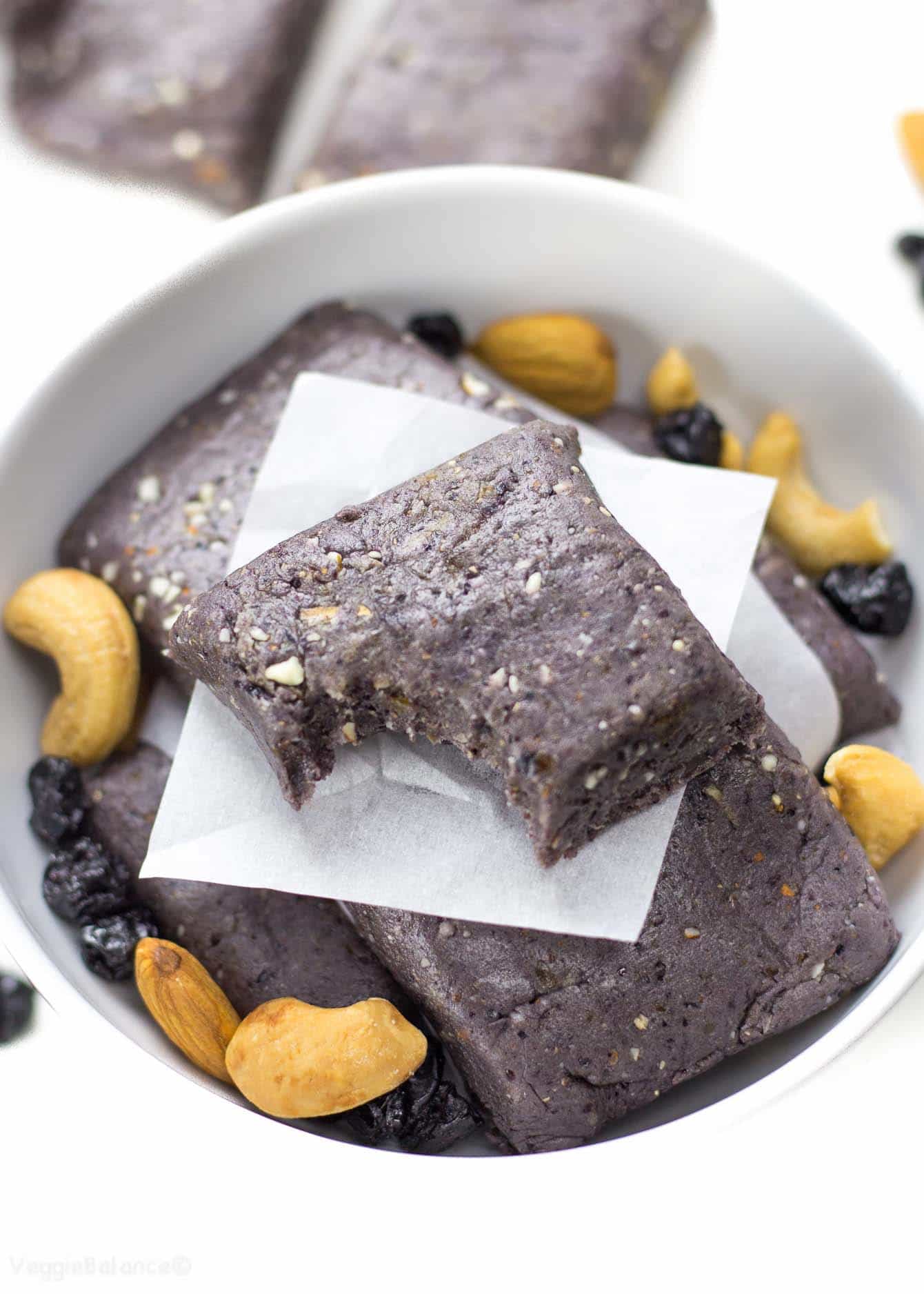 What are these 5 easy-to-find simple ingredients in our Blueberry No Bake Protein Bars?
Dried Blueberries – obviously!
Pitted Dates
Egg White Powder – proteinnnnnnnn for the win!
Cashews
Almonds
So while my store for some reason stopped stocking my beloved blueberry RX bars, we have a backup plan with these homemade Blueberry No Bake Protein Bars.
I'm obsessed with these bars. I did find out Amazon stocks my blueberry RX, but if you don't have access to Amazon or are simply in the mood to make your good-for-you food, these healthy protein bars are a perfect way to snack on the go and get your blueberry muffin craving fix.