Pumpkin Bread can be healthy, low-sugar, gluten-free and vegan friendly. Say hello to Fall flavor in all its glory! (Gluten-free, vegetarian, vegan-friendly)
I swear my pumpkin obsession will end soon. You think this many pumpkin recipes are normal? I'm going to say YES to make myself feel better.
I mean, when you make pumpkin peanut butter cups, pumpkin brownies, and now pumpkin bread. This much pumpkin has to be normal. It just has to be, I LOVE Autumn.
It is by far my favorite season, I just want to roll around in everything and anything that reminds me of fall. Fall scented candles? Yes please. Cold crisp morning runs? Yes please! Crock pot soups? Yessss.
OK, so perhaps my obsession with fall and pumpkin might not be normal. One thing that I will say though, this pumpkin bread is amazingly delicious.
It's the perfect combination of bread with pumpkin spice. You easily can sub away from the brown sugar crust but I believe it puts it right over the edge of into "Oh my gerd I want to eat the entire loaf." Believe me, you will.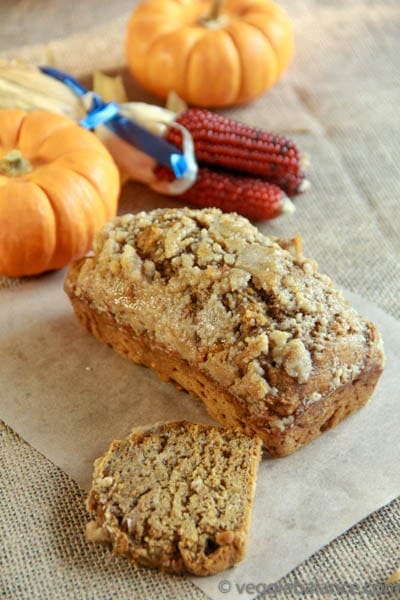 One piece of advice that I can give regarding the crust. If stored in the Tupperware on the counter it can become more of a gooey crust then a crumbly crust from the moisture.
Might just mean that you'll need to eat the entire loaf in one day? … Yes, yes I believe that is doable.