One Bowl Double Chocolate Chip Cookies. Out-of-this-world chocolatey, chewy and everything your heart desires from a cookie. More chocolate the merrier in our world and with just one bowl – best cookie ever. (Gluten Free, Dairy Free)
Here I go ranting and raving about these One Bowl Double Chocolate Chip Cookies. Dreamy deliciousness and HELLO chocolate!
Every so often, I go into cookie mania mode. Ok, more often than not and we are there. #SorryNotSorry
These cookies are a total copycat of the Immaculate brand. One night I was in the store late, I just got back from traveling and honestly I didn't want any "real" food.
I just wanted chocolate … I wanted cookies.
I grabbed the pre-made box, went home and sat on my kitchen floor eating the warm gooey cookies with a glass of milk until I neared chocolate coma zone.
I was exhausted, but in my haze I was like, "Dude I totally could make these myself."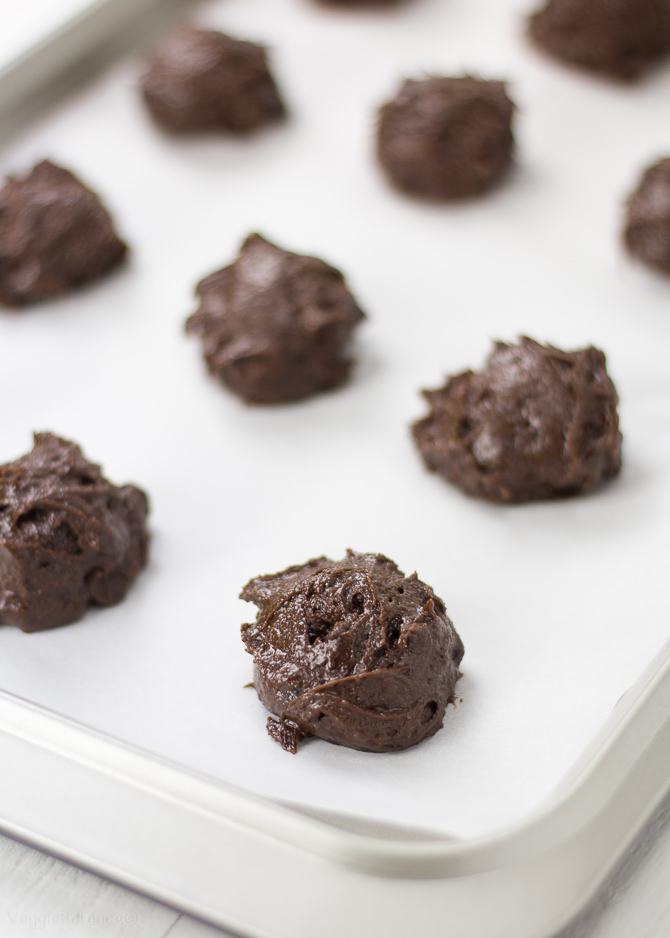 That I did. We don't need no pre-made box! We have ALL the ingredients on hand to make this amazing chewy double chocolate chocolate chip cookies.
So dangerous! These One Bowl Double Chocolate Chip Cookies have replaced brownies for our last-minute baking sessions.
One Bowl Double Chocolate Chip Easy Peazy Ingredients.
Cane Sugar
Chocolate Chips
Gluten-Free Flour
Cocoa Powder
Eggs
Butter
Baking Soda & Salt
You have those ingredients on hand? What are you waiting for? Get baking.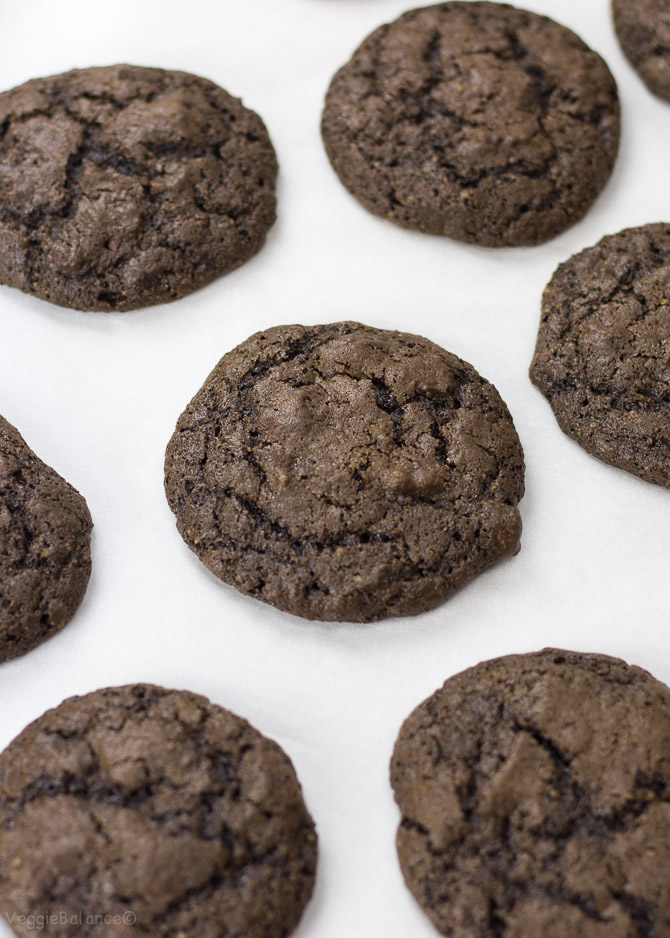 Now, I'm not going to even try to tell you these are healthy cookies. Because they are not.
They are decadence and heavenly double-the-chocolate deliciousness. The guilt is worth it.
They still might be healthier in a sense than traditional cookies but over here in VeggieBalance-land these are A TREAT – and I mean it.
A treat you just want a big ole' glass of milk to dunk in. Join me on the kitchen floor with these never-too-chocolatey double chocolate chip cookies and let's eat cookies together! #BFF