Sausage Stuffed Jalapeños Peppers recipe made with just 3-Ingredients! Take your entertaining to the next level this season with BBQ pork and creamy cream cheese stuffed in spicy jalapeños. There won't be any left by the end of the night.
(Gluten-Free, Dairy-Free and Vegetarian Friendly Option)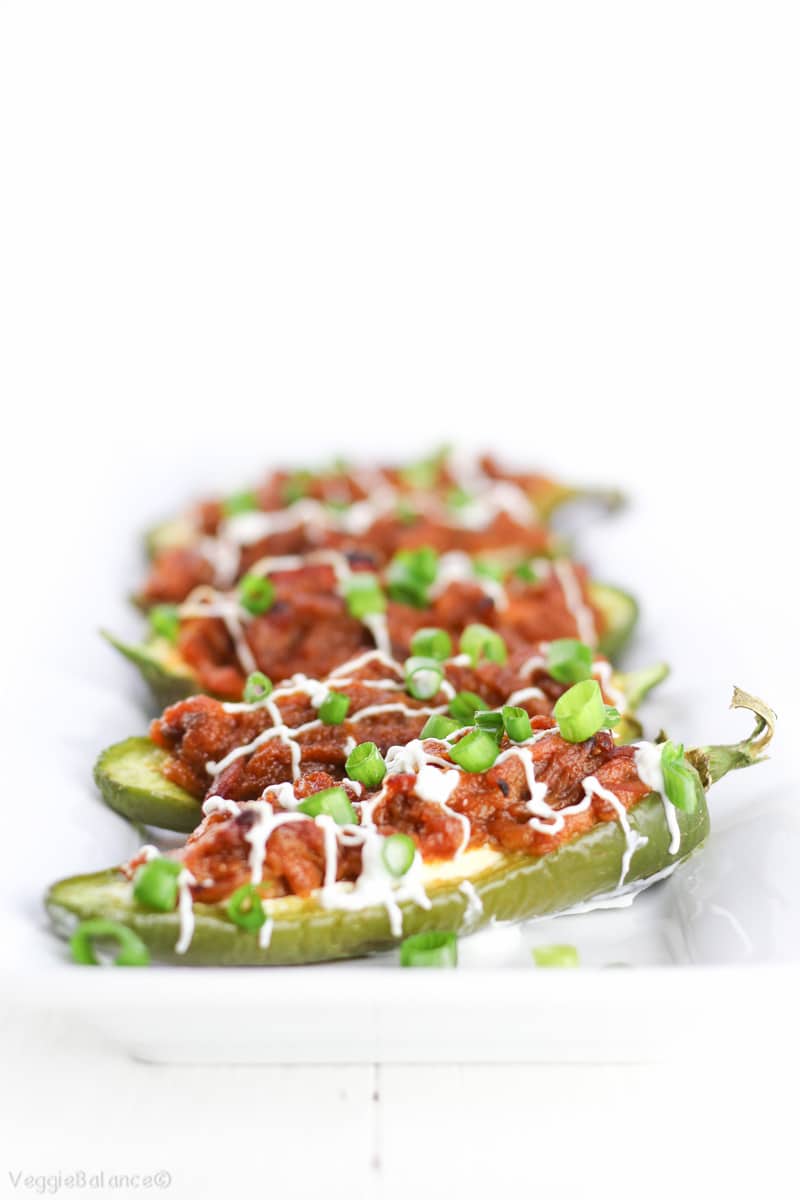 I'll be the first to admit it: My spice tolerance is pretty pathetic.
However, if you put some cooling creamy cream cheese in a jalapeño, then pile on some sweet BBQ pulled pork, well, I'm down.
Oh, Jalapeños. Spicy and oh so full of life, we have to find a way to tame you. // For those pathetic spice intolerant people. (ME)
These Sausage Stuffed Jalapeños are just like another entertaining favorite of mine: Stuffed Jalapeño Poppers.
Ooooo baby, I'll devour these one after another, mouth on fire, feeling the heat just run down into my stomach.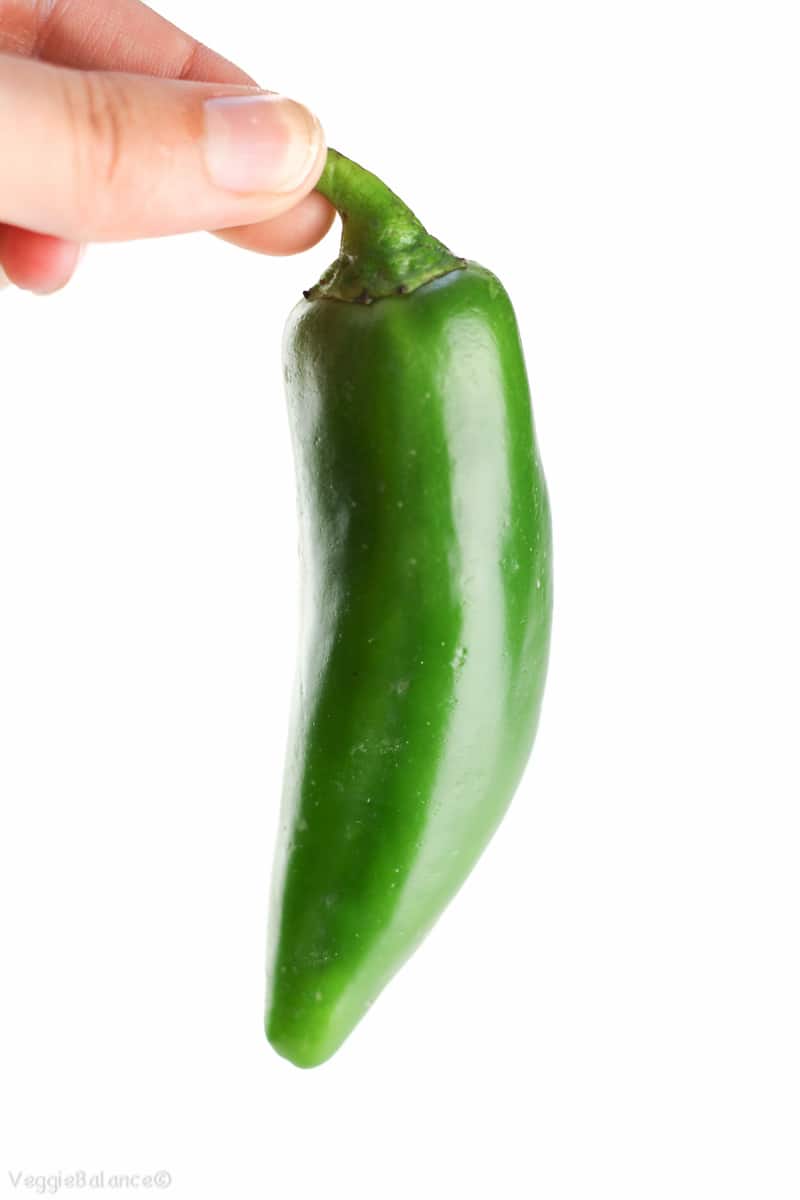 TIP: WEAR GLOVES WHILE CLEANING AND DE-SEEDING JALAPEÑOS!
Needs to be in All Caps for emphasis here.
Unless you grew up on these and eating them whole like R, I don't recommend dealing with jalapeños without gloves.
If you grew up in a household like mine where spice just simply wasn't there, you'll want those gloves.
R has no problem cutting these with his bare hands and washing them. // Sorcery.
On the other hand, I once did that and three days later I rubbed my eye while sleeping and the jalapeño juices somehow were still on my hands. Oh, the burn!
Learn from my mistake and wear those gloves.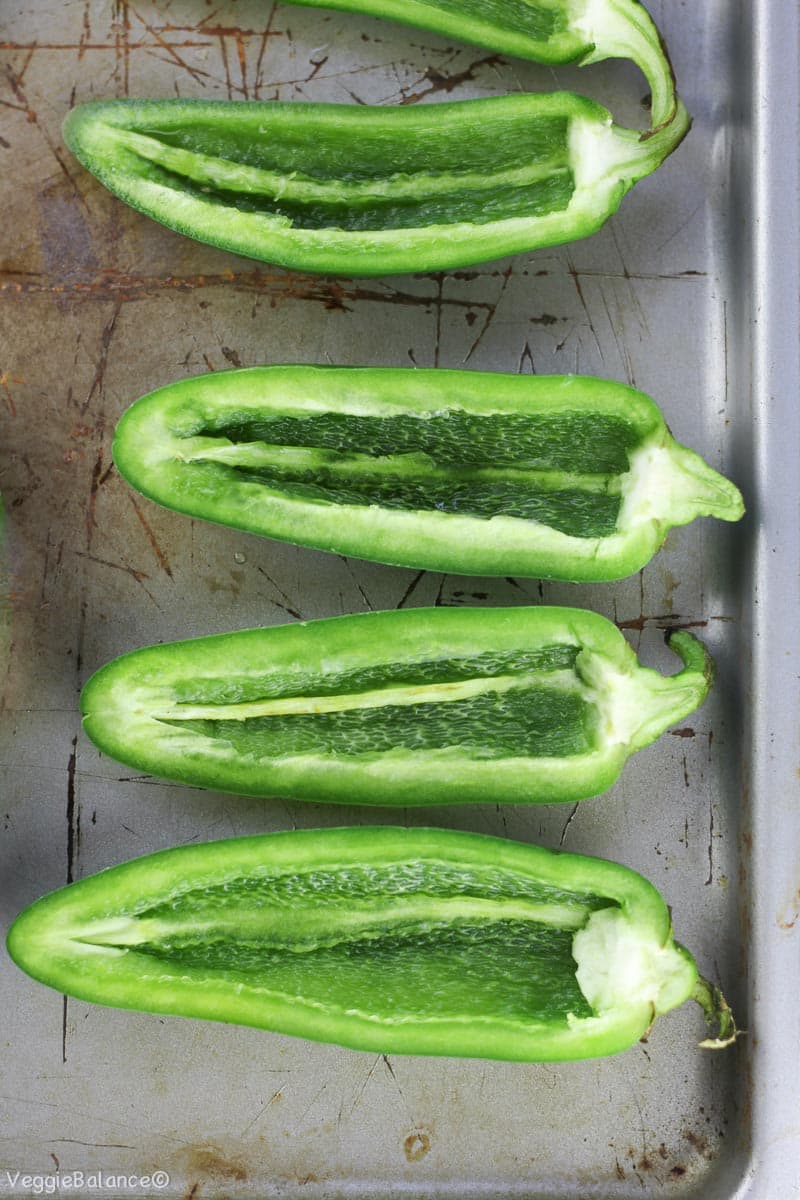 If you want to make these sausage stuffed jalapeno poppers dairy-free
Option One: Replace the cream cheese with a dairy-free cream cheese option. Or even use the dairy-free cheese dip recipe here.
Option Two: Omit the cream cheese completely. This option only works if you have a higher spice tolerance. The cream cheese helps with cooling the dish down, but honestly, these jalapeños are the perfect little vessels to shovel loads of pulled pork into your mouth.
How to make these Jalapeno Poppers Vegetarian
We got to test these out using our vegetarian meat replacement recipe and we LOVED IT. Make the meat replacement by the instructions linked and then mix in the barbecue sauce and cook from there. DIVINE.
That is the real mission.
You can use easy wholesome Farm Rich Smokehouse Pulled Pork BBQ as a quick alternative to making it yourself. It's made with high-quality pork, wood smoked for hours and has no artificial ingredients. We especially love this on days we don't have time for the meat to de-thaw from the freezer AND cook in the crockpot. Smoking your own pulled pork is easy but it takes a lot of time.
The struggle is real. We always forget to take the meat out that morning or the night before to de-thaw in time for dinner.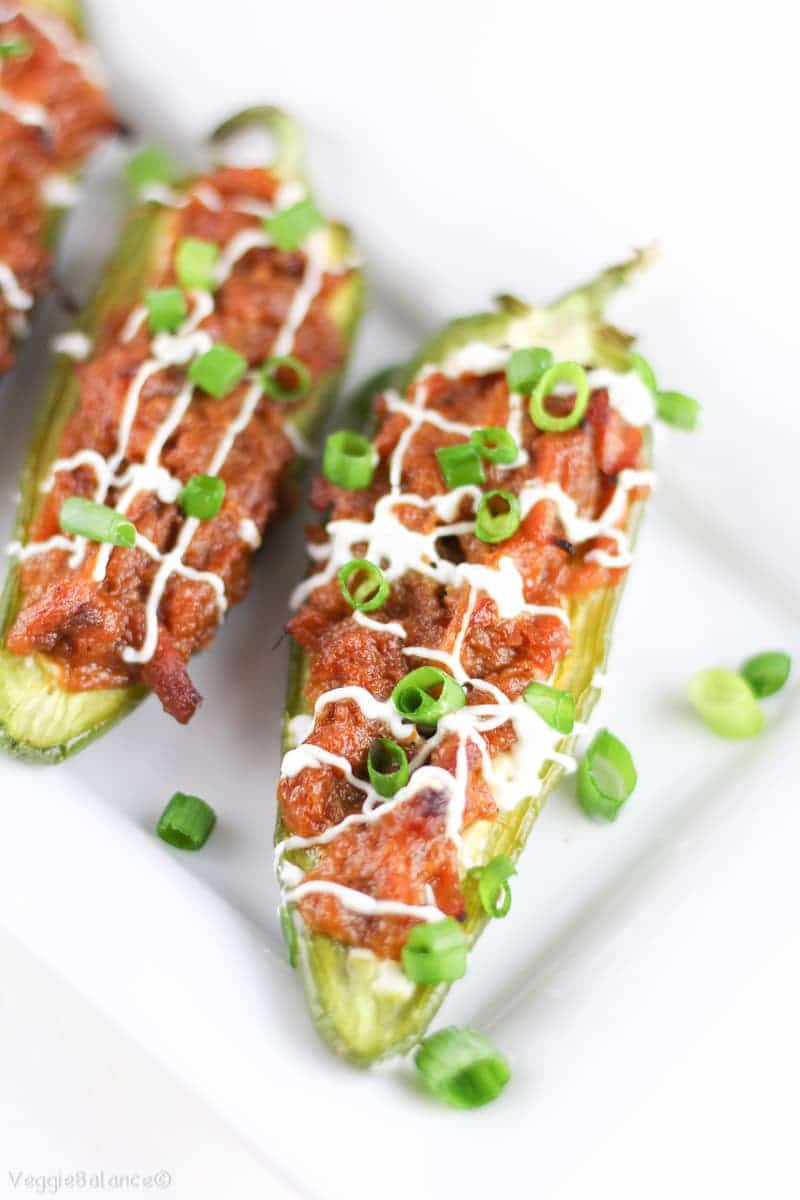 TIPS TO MAKING THESE SAUSAGE STUFFED JALAPENOS
Drizzle a little sour cream or ranch dressing over these puppies for some extra cooling effect. // I told you, I am totally a baby.
WEAR GLOVES WHILE CLEANING AND DE-SEEDING JALAPEÑOS!
No matter what, these are the perfect dish to serve for the dwindling summer day barbecues. // Goodness I don't want to think about that.
We have a little less than two months before summer ends. Let's celebrate it with as much hearty and spicy stuffed jalapeños we can muster.
If summer could only last forever.  Keep those spicy and sweet jalapeño vessels coming. 😉