Broccoli Fritters are easy, full of flavor and just a few simple ingredients to make a low-carb friendly dish for all and hide those veggies from picky eaters.
(Gluten-Free, Vegetarian, Dairy-Free friendly, Low Carb)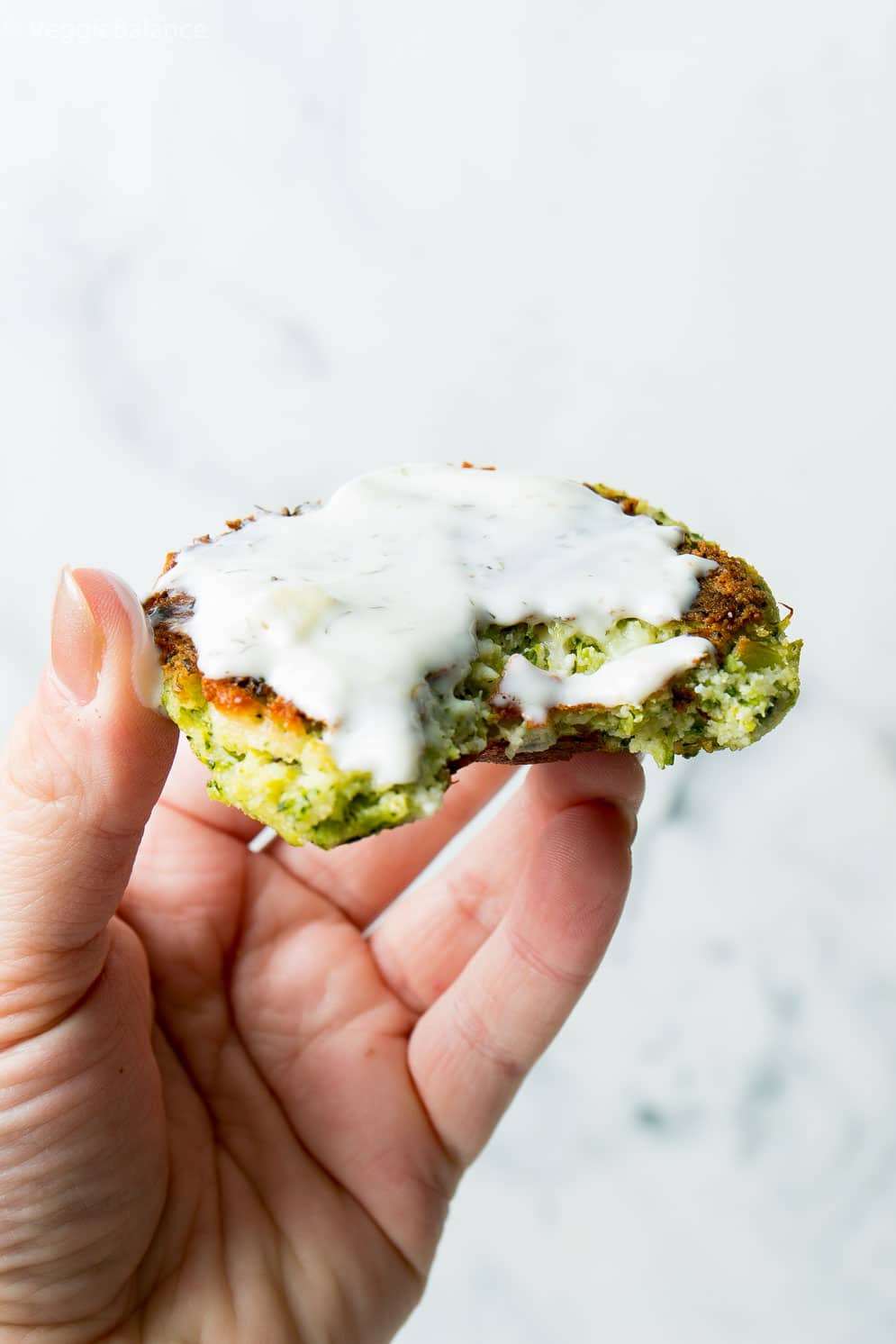 Broccoli Fritters defy their sweeter counterparts but pack a powerful veggie-packed punch for breakfast, lunch or dinner, a savory dish your family will love. Because broccoli is heavenly when fried.
What to serve with Broccoli Fritters
A fritter is traditionally considered to be a fried pastry with batter or breading. But our broccoli fritters are more of a lightly fried veggie patty. Definitely on the savory side, these fritters are cheesy goodness and ultimately low-carb friendly.
These kid friendly fritters are delicious all by themselves, but most definitely can be enjoyed with a dip. Perhaps our favorite is homemade ranch dressing. Cheese sauce/dip is another solid option. If you're feeling a little feisty, a buffalo dip or barbecue is perfect with the cheesy broccoli flavors.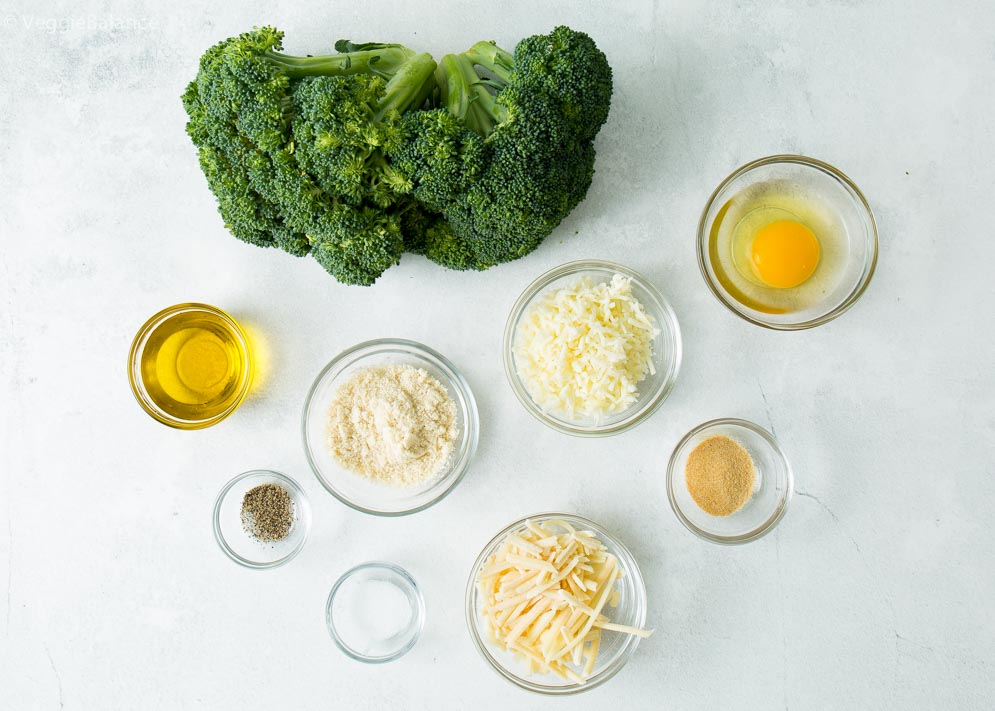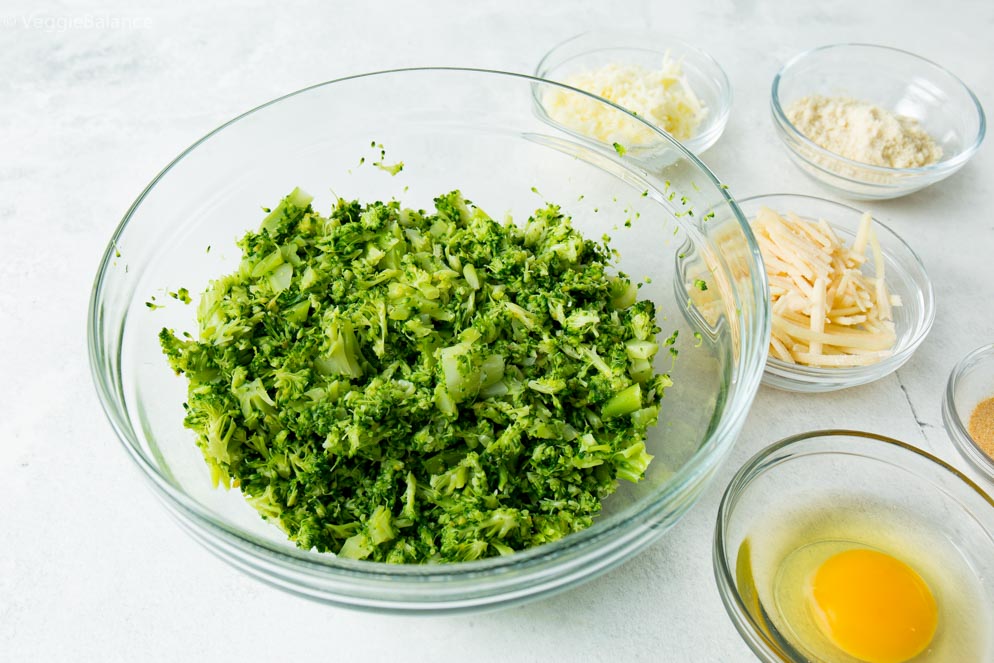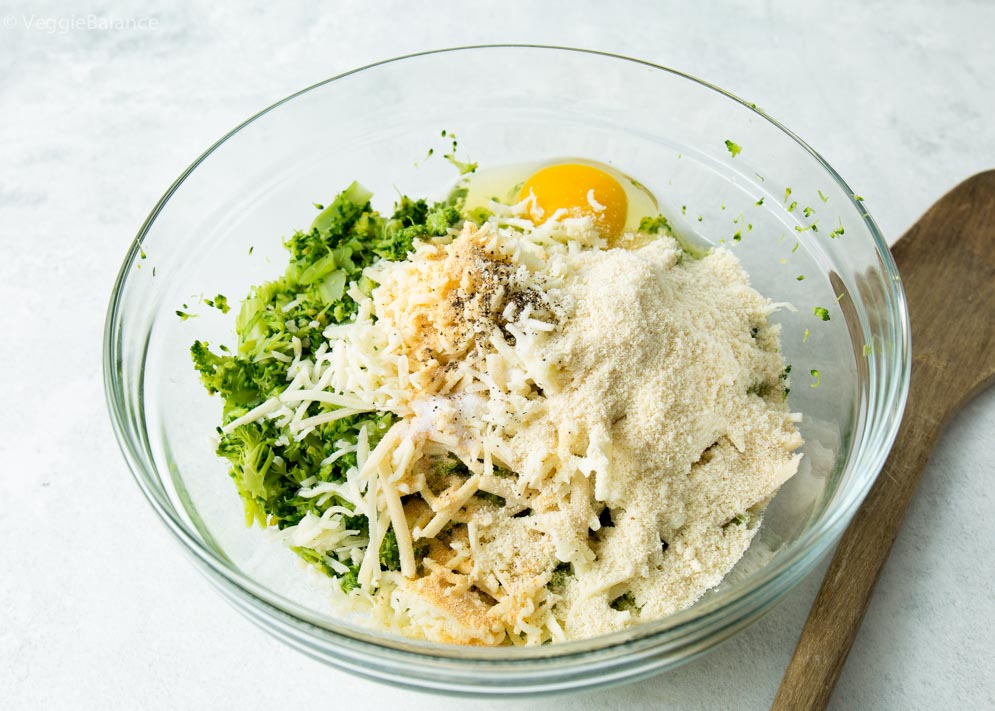 Can I freeze Broccoli Fritters?
There are several option to store and savor your broccoli fritters. Yes, you can freeze these delicious broccoli fritters for later, they are very much a freezer friendly. To reheat, just pan fry lightly with extra virgin olive oil, restoring the delicious crispness.
If you're not planning to freeze your fritters, they will last 3-4 days in an airtight container in the refrigerator. We don't recommend reheating them  in a microwave because they tend to get soggy.
Pro tip: You can pay fry to reheat OR if you happen to have an air fryer, that is a fabulous way to reheat and recrisp with minimal effort.
How to make Broccoli Fritters
These broccoli fritters are pretty easy to make. That's part of their appeal to us, as you know we are huge fans of easy recipes.
For this recipe, start by blanching and straining your broccoli. Blanching involves using a rapid boil of water with salt for about 1 to 1.5 minutes. Your broccoli will be nice and tender. While your broccoli is still hot, chop into fine pieces (or use a food processor, we prefer this to have a better consistency). Mix your broccoli with the other ingredients, including the egg and form into patties.
The last step is to sear your patties on a hot skillet with extra virgin olive oil until they are golden brown on both sides.
Ok, so really the last step is to enjoy these delicious broccoli fritters. Because they are absolutely amazing, crispy, cheesy perfection.
We're ultimately fans of broccoli in all forms, but it definitely holds a special place in our hearts when Parmesan is involved, like with our Parmesan roasted broccoli.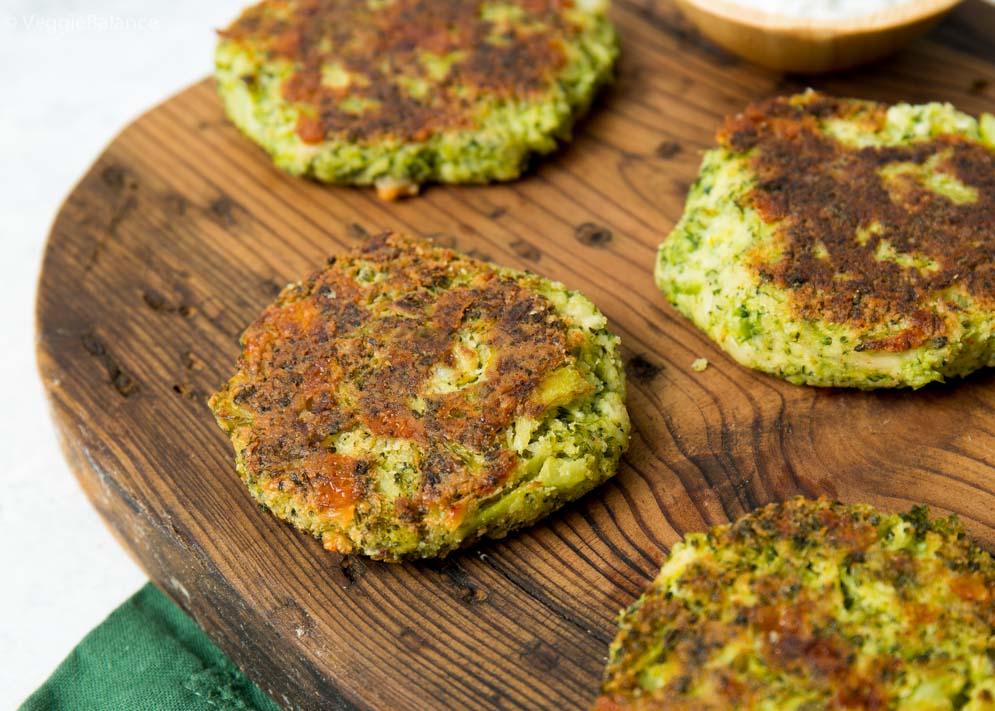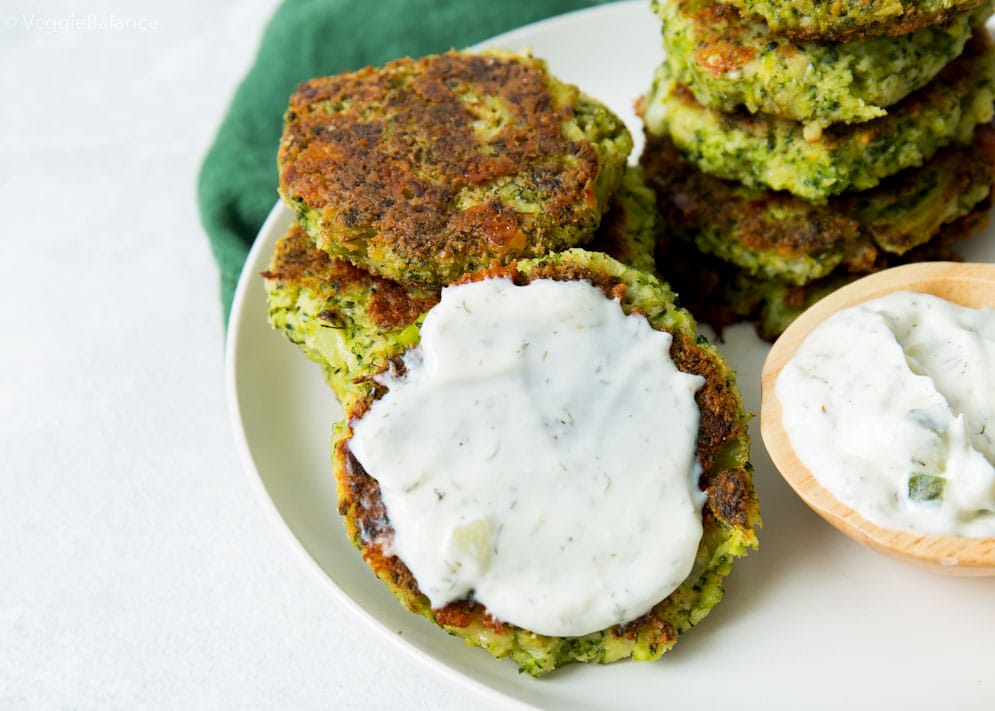 Healthy Benefits of Broccoli
Moms have struggled from the beginning of time to get littles on board with veggies. If you're one of those lucky moms who has a kid who loves all thing green and good for them, that's awesome. But it's not always the case.
Even as an adult, it's hard if you don't naturally love broccoli. However, it's soooo worth it. There are a lot of benefits of incorporating broccoli in to your diet and we do our best to be the most flavorful of recipes to help ease you in, if you're not 100% in love with broccoli. Life is about balance.
Broccoli is high in fiber which has an added bonus of preventing uncomfortable digestive situations.  It also helps keep you feeling full, maintaining blood sugar and helps prevent overeating. Broccoli is also heart healthy, helping curb cholesterol, regulate blood pressure and reaping the anti-inflammatory benefits.
Apart from our oh-so-tasty Broccoli Fritters, there are several other great ways to get more helping of greens in a tasty way. Broccoli goes well in a lot of unexpected recipes, like our snacktastic broccoli tater tots.  Regardless of how you choose to get your broccoli on, we support you on this journey.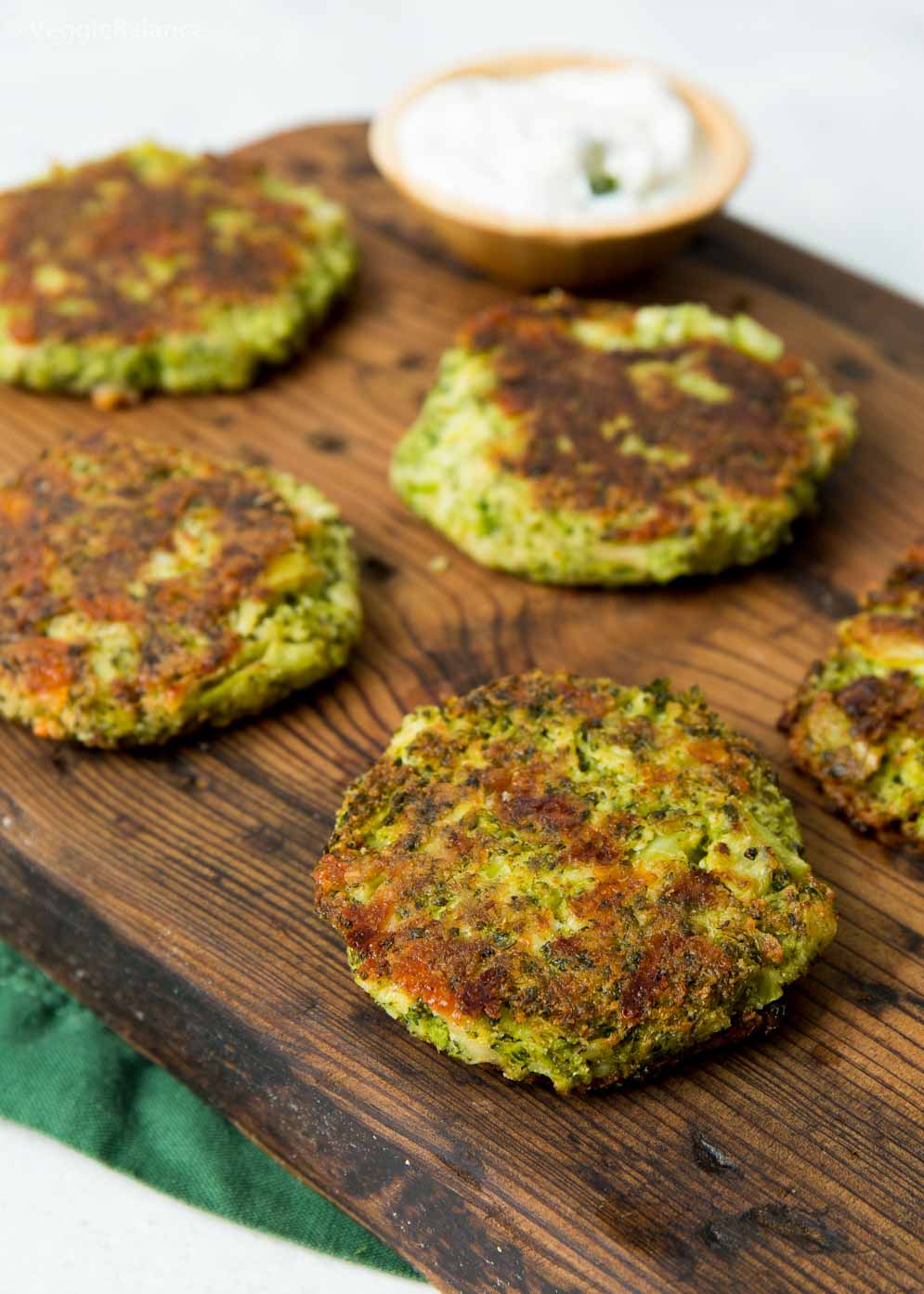 Other recipes you might enjoy: