Roasting Tomatoes at Home has never been easier with this roasted tomatoes recipe. Just 3-Ingredients and you'll have freshly roasted tomatoes in no time. Gluten-free and Dairy-free.
I was fed up with the numerous times I tried and could not find sun dried or roasted tomatoes in my grocery store. I've been on the hunt for these tomatoes for at least a year. Every time I want to experiment with roasted or sun dried tomatoes, I travel back and forth through every aisle possible. Nothing. (If they are there, those babies are extremely good at hiding.)
Well, fine. I'll make them myself.
The 5 minutes it takes to slice the tomatoes, drizzle with olive oil, and toss on some herbs is way more cost efficient than the $5 jar I was looking for. I call this a win.
Especially as I find myself making excuses to make dishes with these easily roasted tomatoes so that I can keep eating them.
The flavor, oh my word, the flavor! Perfectly roasted to perfection with a sweet and tangy flavor that just bursts as you plop one in your mouth.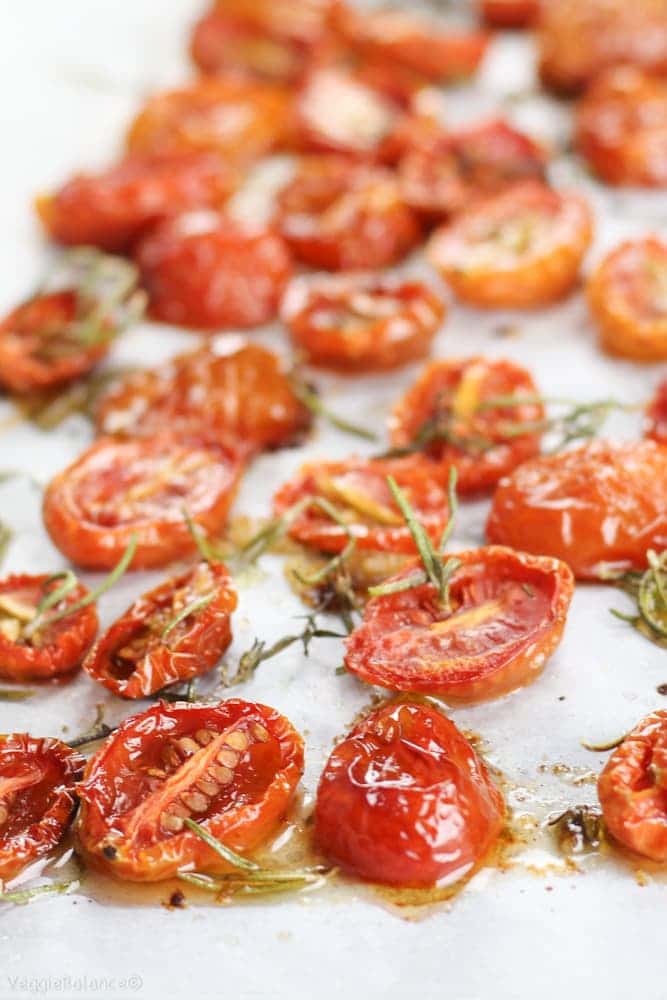 Last year I had so many fresh tomatoes from my garden, but I had zero clue what to do with them all. Now I know. There will be roasted tomatoes galore this year.
Add them to pasta with more olive oil and garlic. (WINNER)
Add them to more pasta with pesto. (Another winner)
Or we have a non-pasta option I'll be sharing with you soon involving mushrooms and feta.
I admit, I'm on a pasta kick right now. Finding a delicious corn pasta that my body can tolerate is truly like an Italian Christmas morning.
Plus, I'm into a glass of red wine WITH this delicious Italian feast. Can we say ambience for the win?  Someday I'd love to travel to Europe again and spend time in Italy (though with so many food allergies, traveling can sometimes be a little daunting.)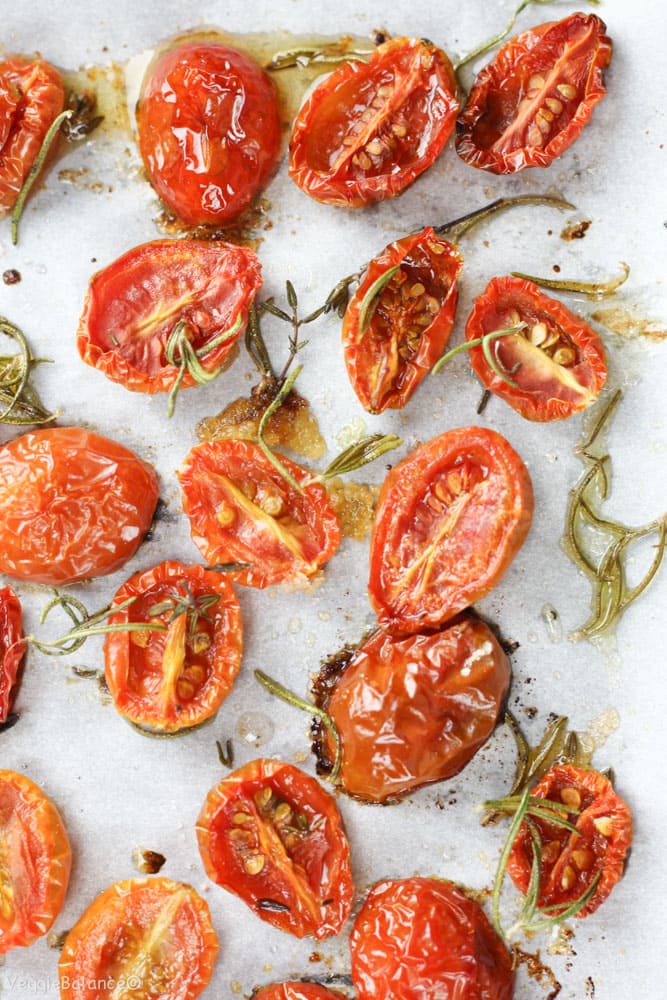 For now, I'll bask in my wonderfully easy and delicious homemade roasted tomatoes. Roasting tomatoes at home has never been easier.
As I've promised before, we do only easy dishes here at Veggie Balance. As much as I love food, I don't like spending hours upon hours in the kitchen on a daily basis. (Unless it involves me eating food at the counter the entire time. That I can handle.)
Side Note: If you follow me on Snapchat (username: VeggieBalance), you know I've been extremely sick with what I like to call "the cold plague." We are now back to our regular programming of 2 recipes a week (provided that another nasty plague does not take over again. Fingers crossed!)