Easy Homemade Vegetable Stock brings a low-sodium options to the table for a delicious broth. Just say no to cans. (Gluten-free, Vegetarian, Vegan)
Let me tell you a little story about me and chicken/vegetable stock. Many years back before I had a clue about our food industry and what chemical garbage it is, I'd eat the to-go Campbell's chicken noodle soup cups.
Seriously, just typing that made my stomach turn. To make it short, I had one for lunch one day then came down with flu shortly after.
I can't stand the sight, smell or mere thought of chicken soup which has led to the same reaction to vegetable soup. The mere thought and smell of it makes me want to chuck up whatever is in my stomach at that moment. (Poetically put, huh?)
After years of avoiding broth soup I finally realized what the issue was. It was the high-sodium stock you purchase in the store.
The combination of the sodium and broth is what reminded me of that wretched chicken soup. I tried low-sodium, organic, all-natural versions and every time would end up throwing the soup out because there was no way I was eating it. That was until I had the idea to make my own.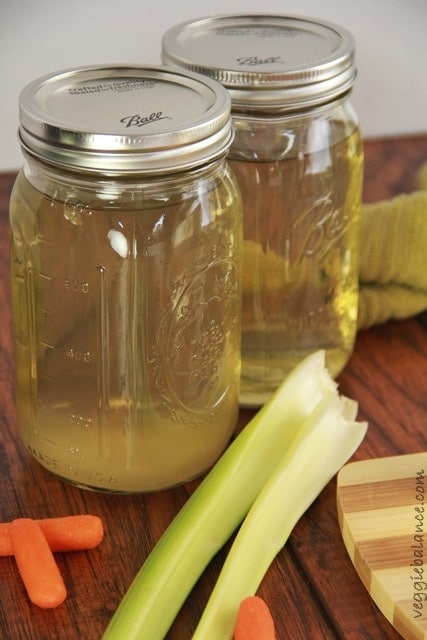 Solution solved. I mean I have no idea why I didn't think of it sooner! It is the most simplistic to make and you control the sodium content. I make mine pretty low-sodium just because of my 'issues' but you can make with more salt content if desired.
I now make a big batch every year, freeze it and thaw it a jar as needed.It's the perfect solution to my soup dilemma.