Gluten Free Apple Crisp recipe chock-full of warm gooey apples and topped with an easy, quick-to-make gluten-free crust. Your guests will never know it is gluten-free, vegan and even lower-sugar!
(Gluten-Free, Dairy-Free, Vegan and Lower-Sugar)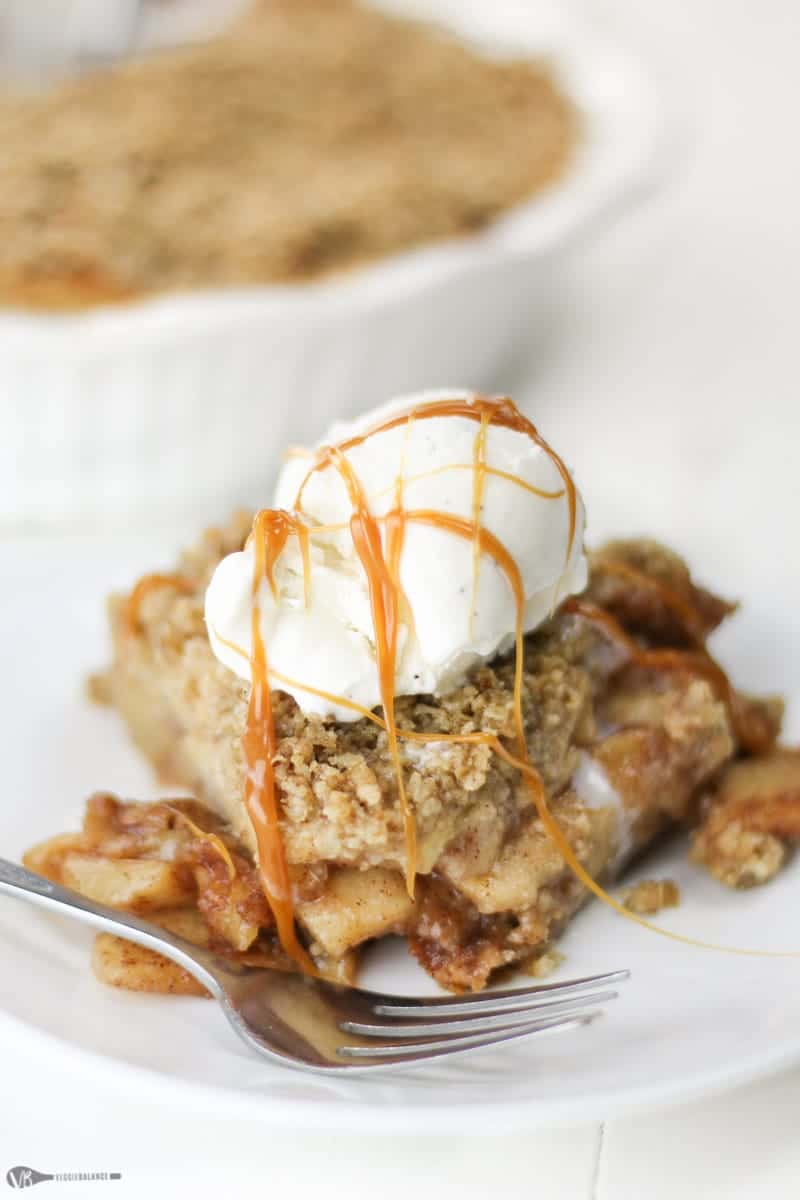 We went apple picking. Guys, we had so many apples I had no idea what to do with them. Cue moment when 'lazy and throw it together to make an easy gluten free apple crisp' happens.
The first time I made this it was a spur of the moment thing. I was in my pajamas at 10 o'clock at night. It was a throw-things-together-I'm-not-even-sure-this-is-going-to-taste-good kind of moment.
Ermahgerd–on that first ooey gooey cinnamon apple and crisp oatmeal buttery bite. I could NOT STOP EATING IT.
Two days later, I'm making another apple crisp, I kid you not.
Something had to be done with all those apples, right?
I make this easy for you, though. This is an apple crisp so easy to make, you can make it late at night in your pajamas. #LifeGoals
Heck, I'd even recommend making it while everyone else is sleeping so that you can have it all to yourself. // Just kidding. Sort of.
We've got a great gluten-free slow cooker apple crisp recipe if you want a more hands-off approach.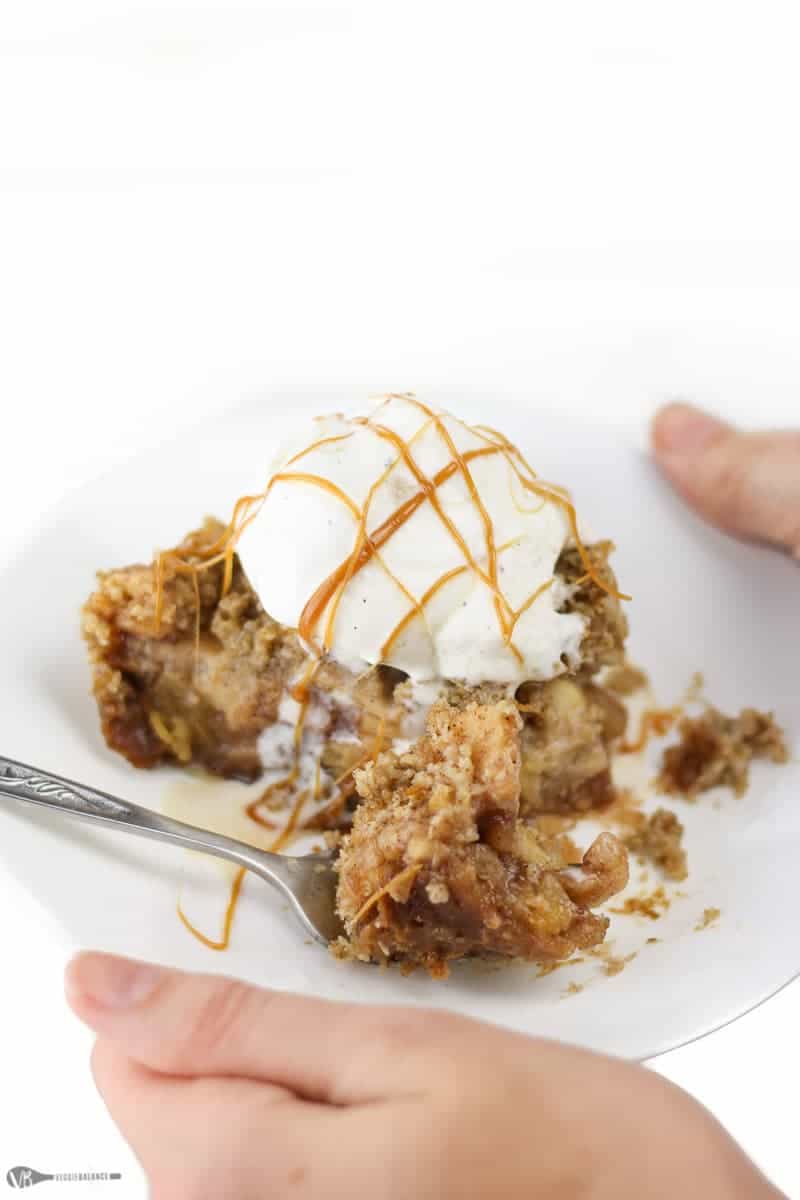 How to Make a Simple Gluten-free and Vegan Apple Crisp Crust
This gluten-free apple crisp is too easy NOT TO MAKE. You use a little bit of vegan butter and gluten-free snickerdoodle cookies.
You can make your own snickerdoodle cookies using our gluten-free snickerdoodle cookies recipe, but in the spirit of making this late at night, storebought cookies was happening.
Voila! Your crust is made.
It then comes to the gooey cinnamon apple center. All you have in there are your favorite apple natural sugars doing the work. Bee's knees my friends, bee's kneeees. You can add a little of sugar if you would like, but really it doesn't need it.
Thennn comes the top crust. Now, if you really want to be lazy to the EXTREME (no judgment), you can take another package of those cookies and crumble on top.
I personally absolutely love an my gluten-free apple crisp with oats on top. The perfect buttery combo of cinnamon, oatmeal, and a taddd bit of brown sugar and flour creates that perfect crisp in an apple crisp recipe.
And that, my friends, is how a no fuss, quick and easy gluten-free apple crisp is made in the VB household.
We make apple crisp every year, and last year I made it without any bottom crust.
But from now on, it will be made this way. Topped with a scoop of ice cream, we have that perfect warm oatmeal crisp melting that creamy ice cream.
It really is an ERMAHGERD moment.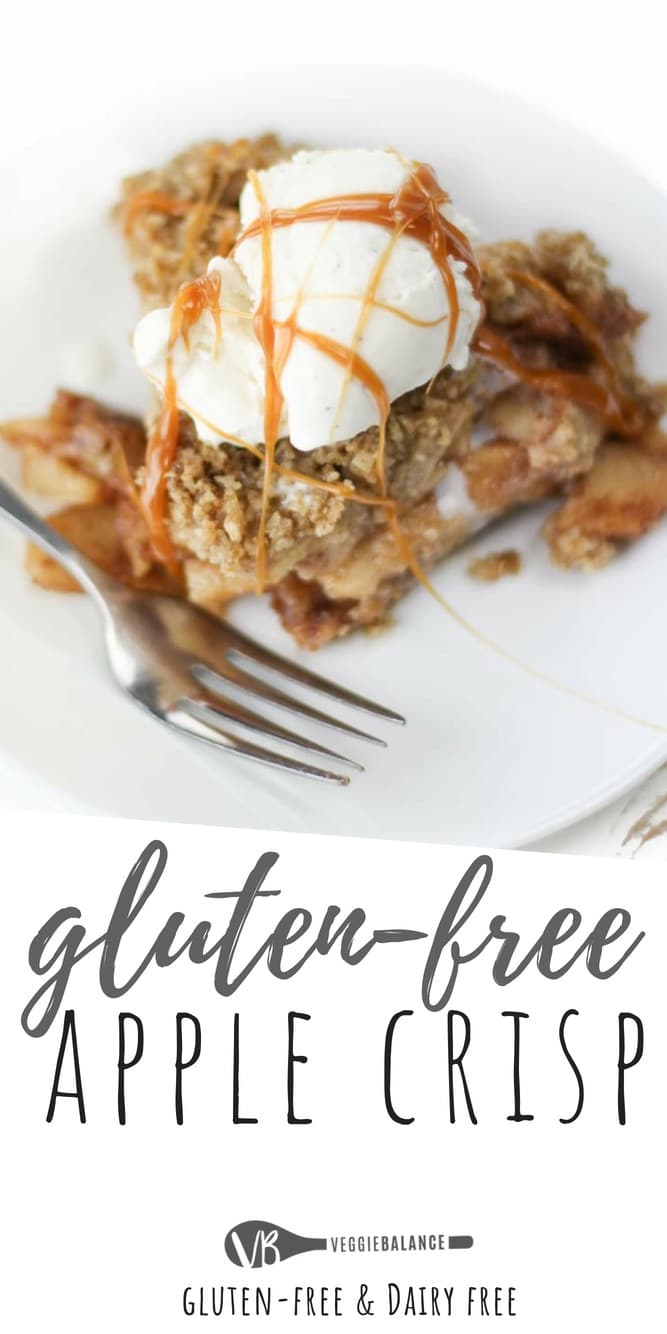 What Dairy-Free and Vegan Options are out there for this Gluten-Free Apple Crisp
This works perfectly with normal butter OR dairy-free/vegan butter substitute. Use whatever your diet requires. And, if you need a dairy-free ice cream option, there is a great one that we've topped onto these brownies.
What can I say, I love ice cream in all forms, but especially when it is topped onto this warm, gooey melt-in-your-mouth gluten-free apple crisp.
Apple Crisp is life my friends. It is life.