Oatmeal cookies in a jar make a delightful treat, without the gluten. Easy gluten free oatmeal cookies for the gift-giving win. Or keep for yourself … mix it up, bake and enjoy!
(Gluten-free, Vegetarian)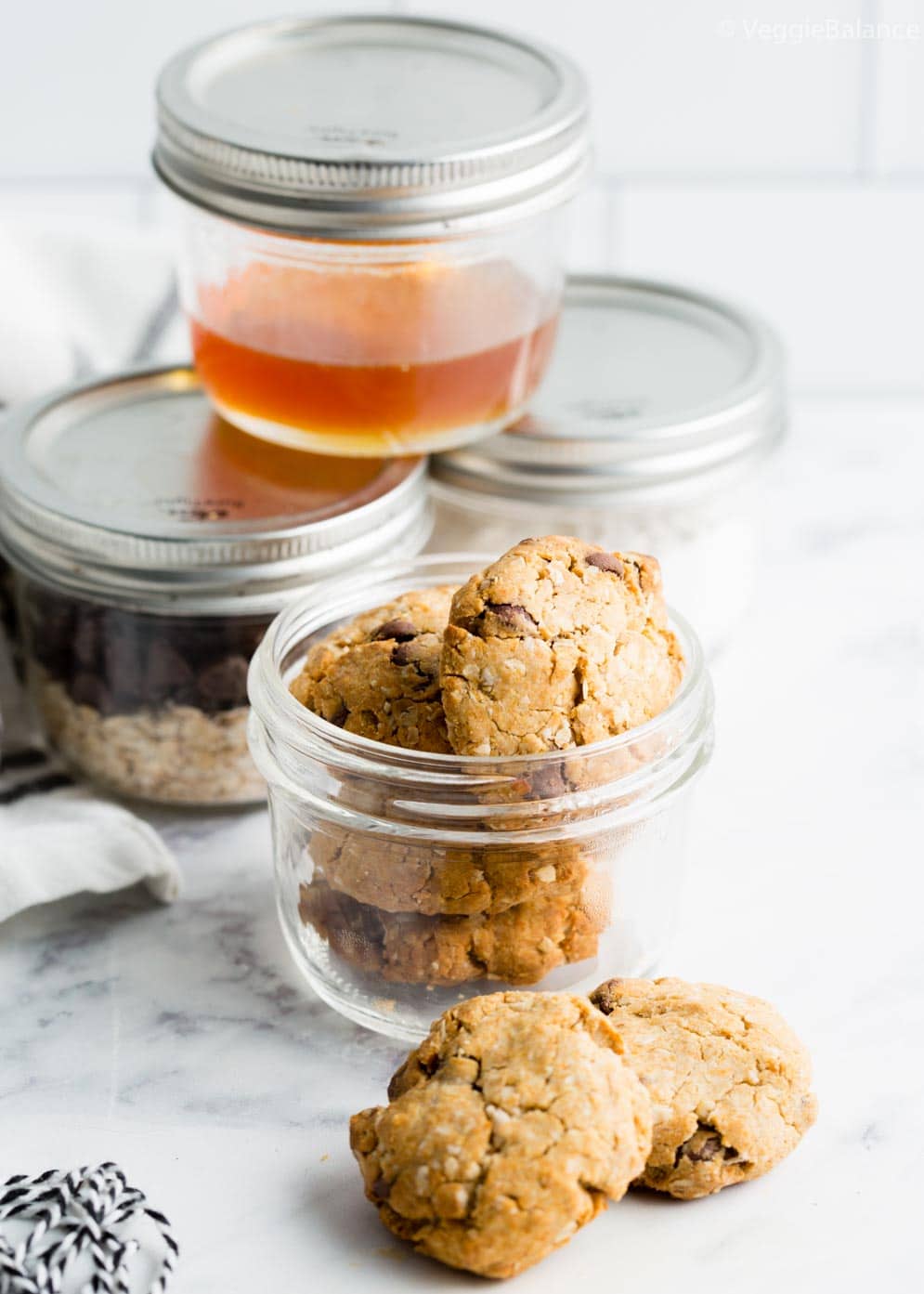 Oatmeal Cookies in a Jar: Gluten free gift giving
Oatmeal cookies in a jar are a fantastic gluten free present to give. So much of the holiday seasons is symbolized by monetary value. We personally avoid that tradition. Our family doesn't do gift giving anymore and it's FANTASTIC.
There are however times that you are invited somewhere that it societally you would be expect that something should be brought.
The gift of gluten free deliciousness? Yes, spirit of the season we can get behind. 'Tis the season for baked goods and presents made with love.
This isn't a new concept here at Veggie Balance. Far from it.  It all started with homemade vanilla extract and blossomed from there. Made with love, not gluten.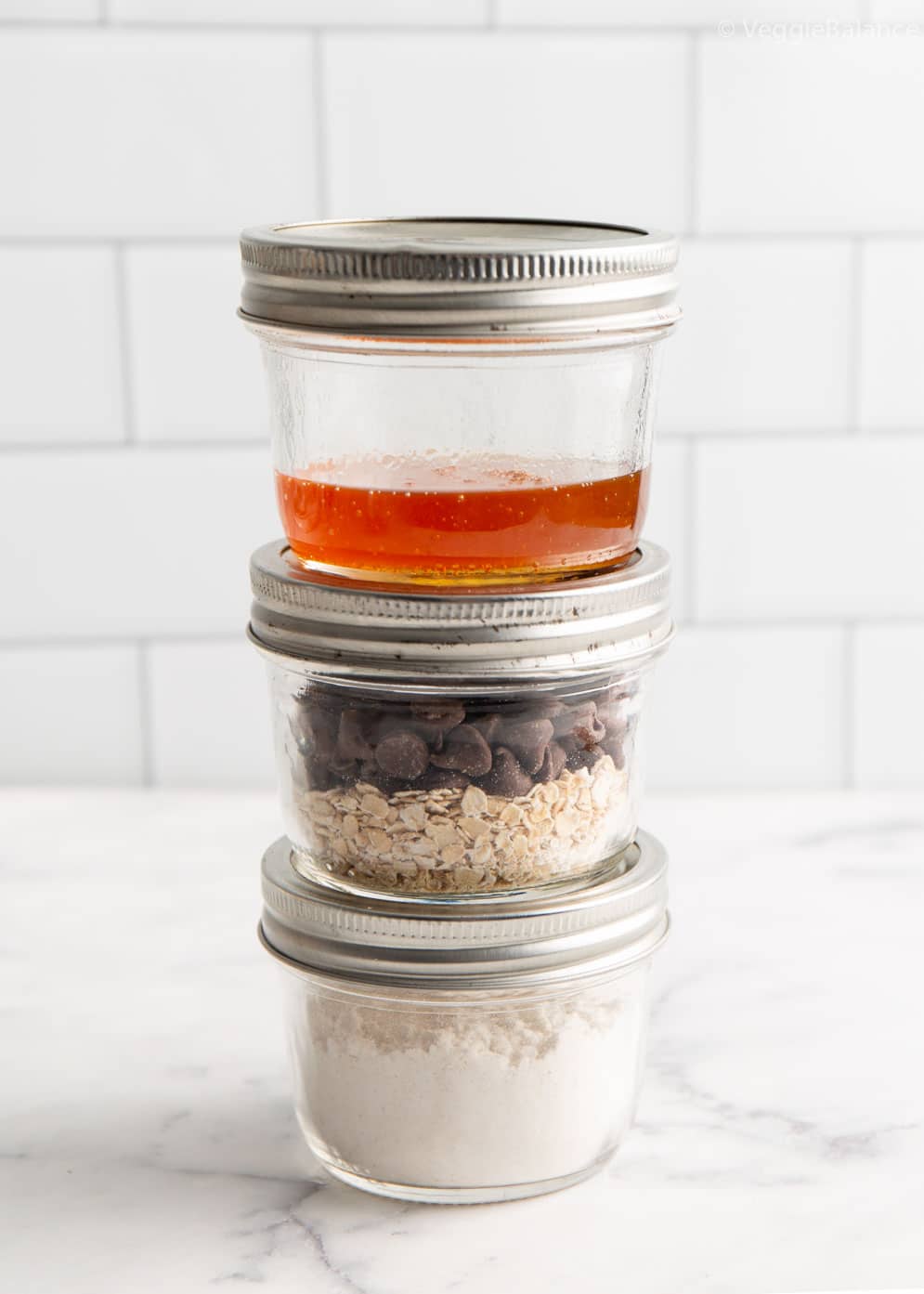 Gluten free Oatmeal cookies in a jar 101
These are easy to make, take and bake. Whether you're giving as a present or stashing away for a special occasion, these are great to have around.
We like to focus on natural as much as possible, so one recommendation we make is to opt for raw, unfiltered and locally sourced honey. It truly makes a difference and offers lots of health benefits.
What you'll need: Gluten free flour mix, gluten free quick oats, chocolate chips, baking soda, baking power and honey make the mix for in the jar.
How to use the mix: Eggs, butter and vanilla extract combine with the dry ingredients to make these delicious cookies. Since these are staples in our household, this makes it easy to whip up cookie if we have a jar or two around. Whenever the mood strikes us, really.
If you prepare these oatmeal cookies in a jar as a present, be sure to include a label with instructions on what to add and how to bake up these amazing treats.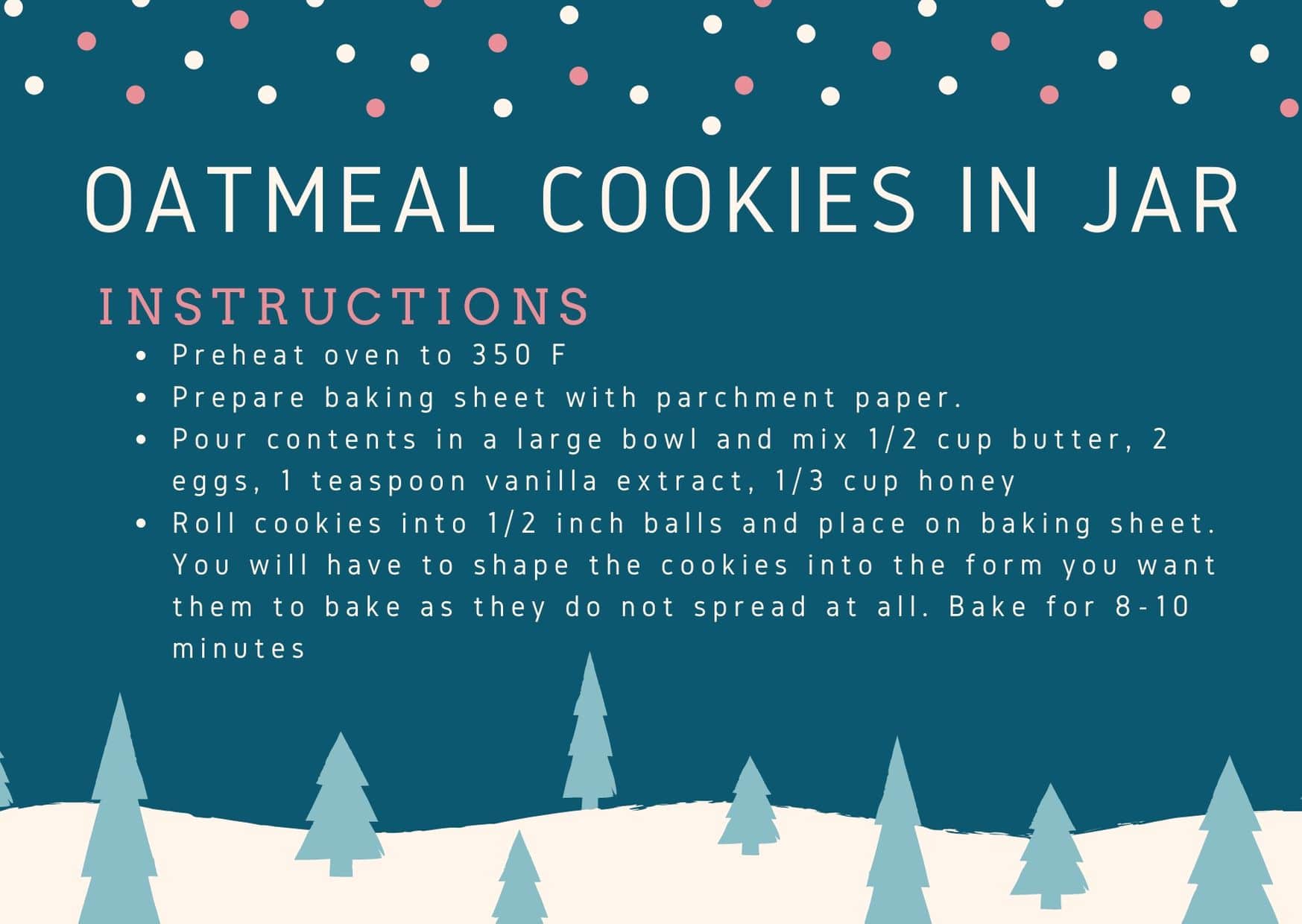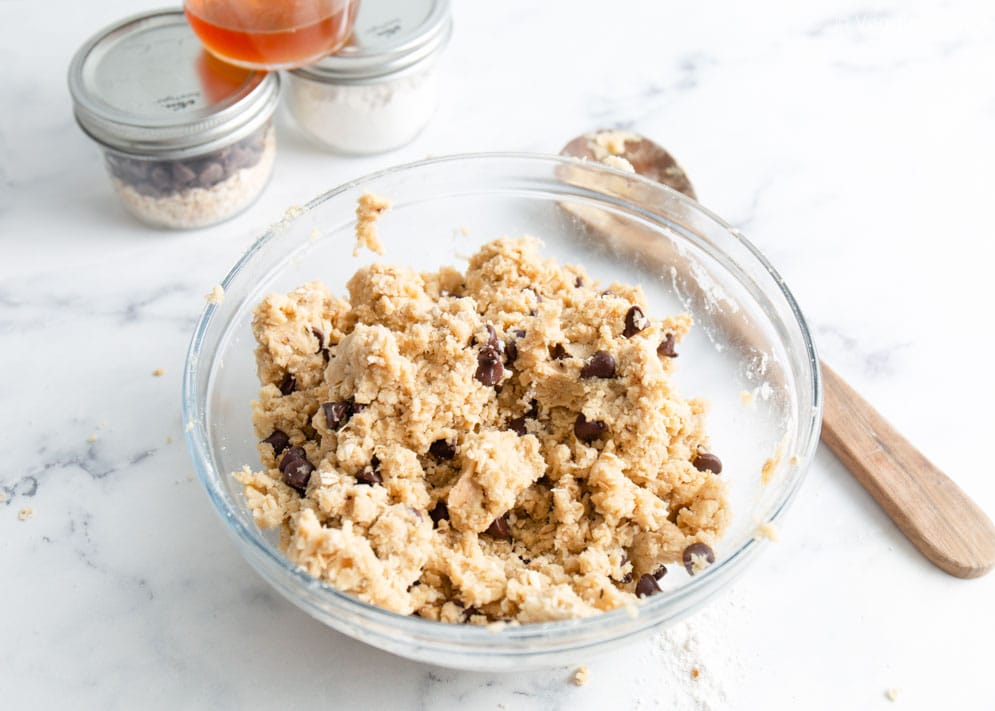 Giving the gift of food
What is so special about giving food? It's consumed (sometimes quickly) but represents a return to more basic gift giving. We give food as a way to show care for others. Food is sustenance, but also brings happiness. That's what makes it a great way to show we care.
Think about it – even in the moments of life when we're not sure what to do, food is a go-to. When someone we care for is overwhelmed (by tragedy or joy, a loss of a family member or addition) food is a socially acceptable gift. Life can be a little chaotic even without those kinds of life events in play, so food is pretty much a one-size fits all present.
With allergies and gluten sensitivity, this can be tricky. Part of why we love these cookies. Small adjustments can make this dairy free friendly. Even better, if your gift recipient isn't on a gluten-free diet, these cookies are amazingly good.
Food is a great way to show appreciation and affection for the people in our lives. We hope you do too.
We hope that you share the love this holiday season and enjoy these ooey, gooey chocolate chip oatmeal cookies in a jar. This is one of our favorite gift-able recipes, after all.
And if you're wondering, we're a size medium mason jar in cookies mix. 😉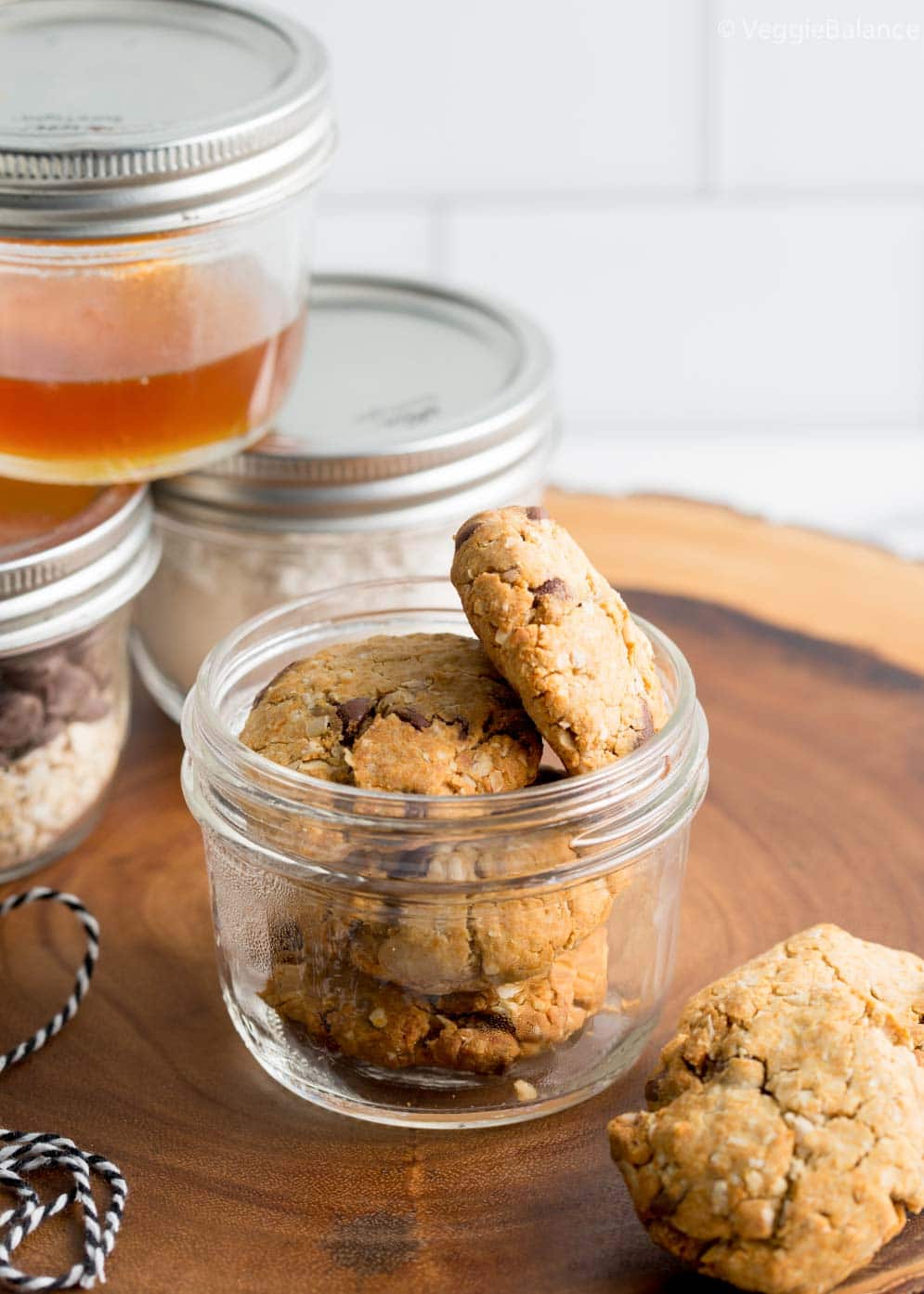 A few other edible gifts you can make this holiday