Gluten-free oatmeal chocolate chip cookies in a jar make a delightful treat to help you be selective in your splurge choices. So mix it up, bake and enjoy! (Gluten-free, Vegetarian)
Tis' the season! Pretty sure I started with that last week's post (oops).
Well, anyways, tis' the season for baked goods! My work has been receiving baskets non-stop over the past weeks with goodies galore. It is seriously a war zone of baked goods,cheeses, sugar and more sugar.
It's honestly a little impressive. I have a philosophy though. A little bit here and there is OK.
So I begin this post by saying this. Do not beat yourself up for that cookie you ate during the day or that candy you splurged on. When you have food restrictions or an intolerance it's very easy to get wrapped up in it and feel guilty for splurging.
I am now a lot more selective in my splurge choices though. I won't grab a muffin or a cookie just because they tend to cause a more serious flare for me.
Chocolate however, I can eat chocolate in moderation and be fine. Therefore, I go for the chocolate toffee or lets be honest anything dark chocolate; the darker the better.
I seriously had the best toffee ever over the past week. My point I'm trying to make though; we are human, we have a lot of sweets and goods around us this time of year, but don't let it consume you by restricting yourself too much.
With that being said I bring you my gifts this year! Gluten-free Oatmeal Chocolate Chip Cookies! This has been in the works for a while now.
It all started with homemade vanilla extract and blossomed from there. I wanted to give something to my coworkers that represents me but at the same time gift something natural and healthy with a twist that everyone else would appreciate. This is what I came up with.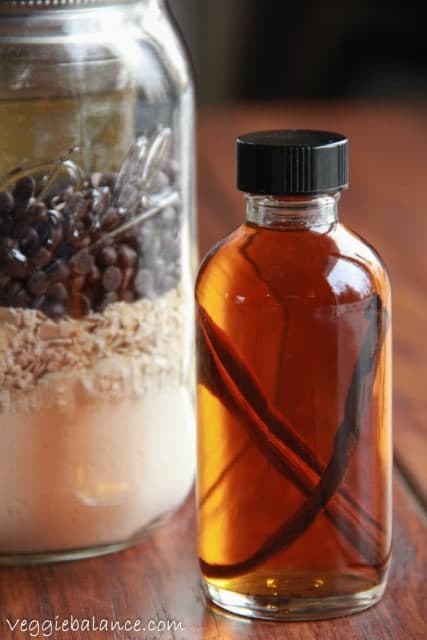 I added in my dads all-natural raw and unfiltered honey from the wildflower meadow. Isn't it just absolutely beautiful! Believe me, the taste of it is also out. of. this. world.
Not only does it taste wonderful it also has numerous health benefits to it. I'll be talking about the health benefits of raw unfiltered honey compared to the honey you buy in the store coming up soon.
Let me just let you know. It is totally worth to get your honey from a natural source. Another perfect example how we've strayed from our natural roots and another branch of the food system corrupted.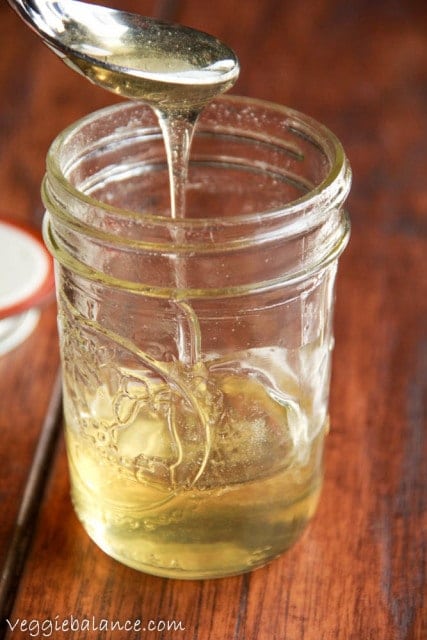 I'll be honest. After I was told to go wheat/gluten free as they tend to be a culprit to IBS symptoms I officially cleaned my pantry clean of flours.
How did I do that? I made these. 🙂
I have a coworker who I may begin by saying, is amazing. She is one of those individuals where you just connect with immediately. Well, she unfortunately has an array of health issues.
It's a possibility it's why we made a connection to begin with. She reminds me a lot of myself 2 years ago. Fed up with doctors and sick of being in pain.
She is also at the verge realizing that food is truly connected to how you feel and how your body works. Therefore, I made her own Gluten-Free Oatmeal Chocolate Chip Cookies with the most all-natural ingredients possible for a splurge kind of night.
I remember the daunting feeling that I see on her face at times when she realizes that she probably shouldn't eat something or those moments where you give in to too many processed sugared items in a day.
I remember it all, you feel helpless and totally out of control with your food. You also think that your only going to be eating vegetables and fruits for the rest of your life. Eating clean and healthy is actually very easy but at the time it's terrifying.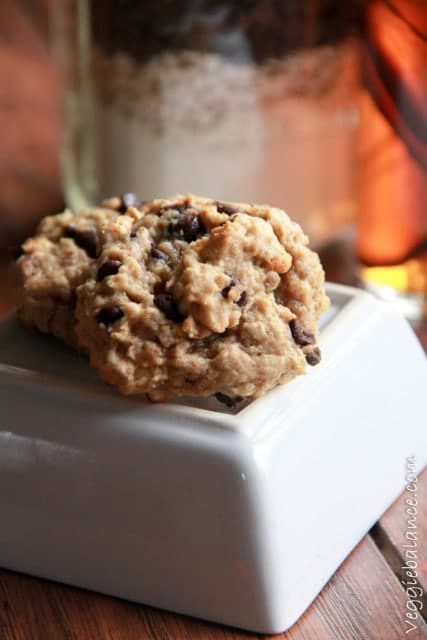 So she got the recipe I am posting here and made for myself as well. Whereas everyone else is getting my flour and non-gluten free oats.
Felt it was better off doing it this way then just throwing it out in the trash. So what does adding all these delicious ingredients together result in?
You end up with gooey, delicious oatmeal chocolate chip cookies!