Gluten-Free Pumpkin Pie recipe made healthy with just 5-ingredients. This super easy low-sugar pumpkin pie is made with an almond flour crust making it low-carb friendly and a happy tummy. (Healthy, Low-Carb, Low-Sugar, Dairy-Free & Vegan Friendly)
If I could make just one more pie in my life, it seriously might be this Healthy Gluten-Free Pumpkin Pie. After putting together this new recipe, I have one important takeaway:  We do not make or have enough pie in our lives. (Oh boy, that totally is something R would say.)
Well, at least I don't have enough pie in my life.
The main reason is that R has an uncontrollable weakness for pie. More specifically, pumpkin pie; he would survive on pumpkin pie and pumpkin pie alone, if he could.
Putting this in perspective, it gives me a very picky, highly regarded pumpkin pie expert right here in-house.

MY LATEST VIDEOS
Thanksgiving is coming our way FAST.
The requirement: Non gluten-free eaters will not be able to tell the difference.
Mission commenced.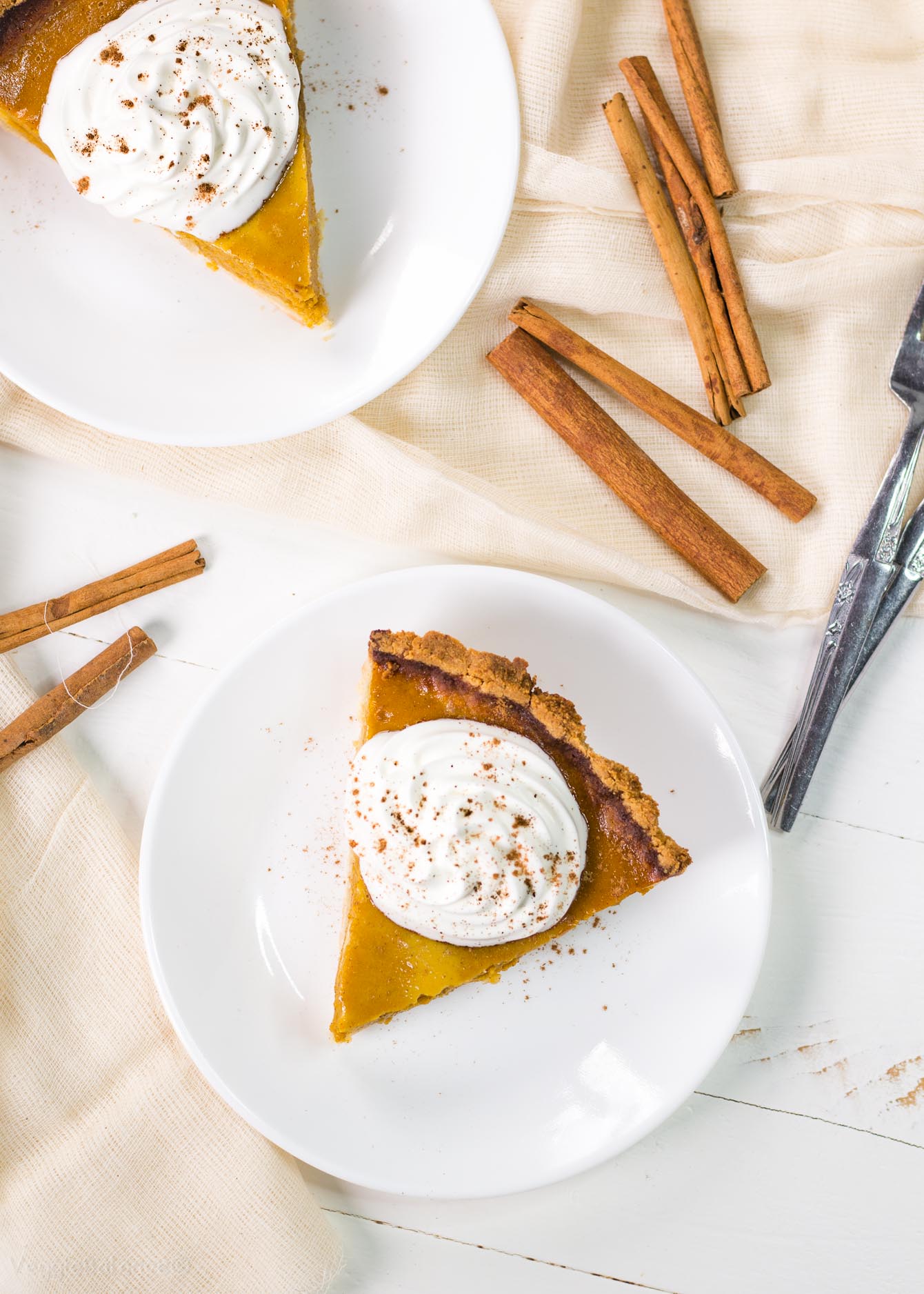 The crust is the most important part. I took the concept of using almond flour from the delicious no-bake chocolate pie and peanut butter pie I've made in the past.
I wanted it to be crispy on the edges and incorporate the buttery crust we all know and love. Mission accomplished.
After I and the famous pumpkin pie taste tester agreed it was right on the money, I realized how much better this pie was compared to the traditional pumpkin pies!
Low-carb individuals, I have found the only pie crust recipe you will ever need!
Diabetes runs in R's family, and at one point his sugar levels were in the pre-diabetic realm. We got his levels under control  but after 7 months deployed overseas this year they are back to where they use to me. He really did not have access to fresh food while deployed and had to rely on plenty of processed foods.
Getting him back home and back on track I feel better having him eat this pie rather than devouring an entire pan of the traditional pumpkin pie. (Believe me, he'll do it either way.)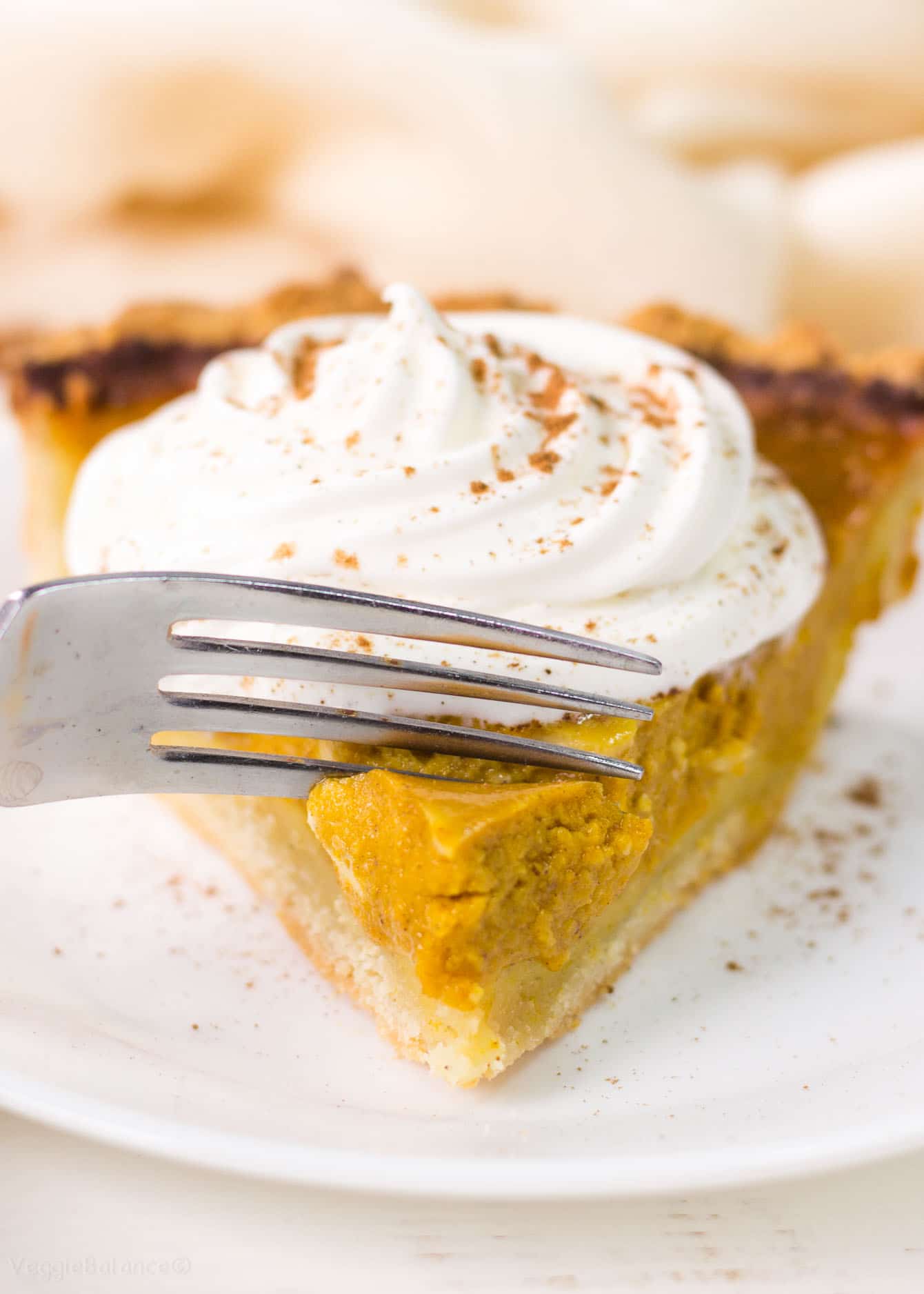 If you really think about it, Healthy Gluten-Free Pumpkin Pie sounds like something that would never work. By cutting the sugar more in half at 12 grams of sugar per slice, you seriously do not miss the other 16 grams of sugar.
This pie filling is sweet, moist, and decadent, paired perfectly with the buttery low-carb crust. It is pumpkin pie pillowy heaven.
I often wonder why we don't make desserts like this from day one. I cannot tell the difference. More importantly, the ultimate pumpkin pie taster couldn't either.
Craving pie of the apple persuasion? Check out this Deep Dish Double Crust Maple Apple Pie from Healthy Seasonal Recipes. 
TIP: Watch your crust halfway through baking. If it started getting rather brown cover with foil to prevent from burning.
We've moved into a new place while we are in home limbo and it's a new oven to learn. It's also a convection oven *SIGH* I'll figure it all out finally and then I guarantee we'll be moving again.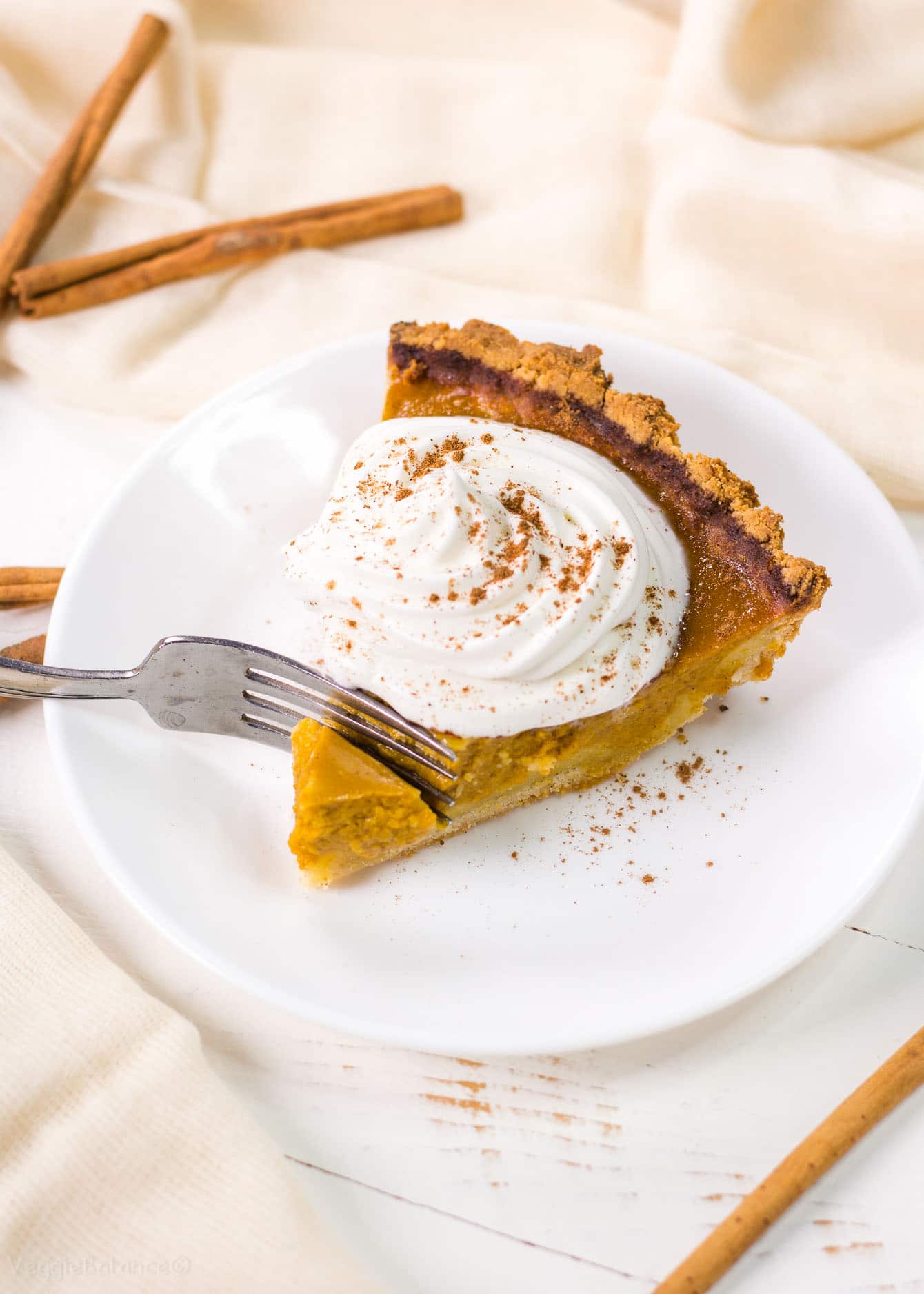 In my ultimate and humble opinion, homemade whipped cream on top is what makes (and completes) a pie. You can easily make it using your immersion blender or make sure you have a very cold bowl to whip your heavy cream in. Both will do the trick.
For Dairy-Free and Vegan options feel free to substitute both whipped cream and follow the recipe with the substitutions for those vegan pumpkin pie changes. Both will have people asking for me.
With this Healthy Gluten-Free Pumpkin Pie that is low-sugar, low-carb, and low-calorie, it is totally doable to eat a second piece.
But as I said earlier, we need more pie in our lives, so help yourself to that third slice. 🙂