Chocolate Banana Chia Seed Pudding Parfait recipe made with just 6-Ingredients. Top with the perfect ladybug strawberries to kick off this summer. Make this better-for-you dessert option more appealing for your little ones!  {Gluten-Free, Low-Sugar, Natural Ingredients}
Disclaimer: This shop has been compensated by Collective Bias, Inc. and its advertiser. All opinions are mine alone.#SnackPackNaturals #CollectiveBias
Thank you Snack Pack Naturals for sponsoring this post. For more information on sponsored posts and how they are helping Veggie Balance: Click Here.
We are going in a direction today that takes us to one of my favorite types of dessert. While ice cream will always be a true love of mine, pudding is a very close second.
Of course, with my deep love for chocolate, chocolate pudding is the only way to go. It was a favorite of mine to make as a child.
I could easily find myself eating bowl after bowl of chocolate pudding. So let's take that love for pudding and turn it into these perfectly adorable Chocolate Banana Chia Seed Pudding Parfaits.
Whether you are making these for yourself and your significant other OR for your little ones, it is a perfect dessert to devour with some peace of mind.
Especially our little lady bug garnishes. Aren't they just adorable? Find the video below to see how really quick and easy these are to make.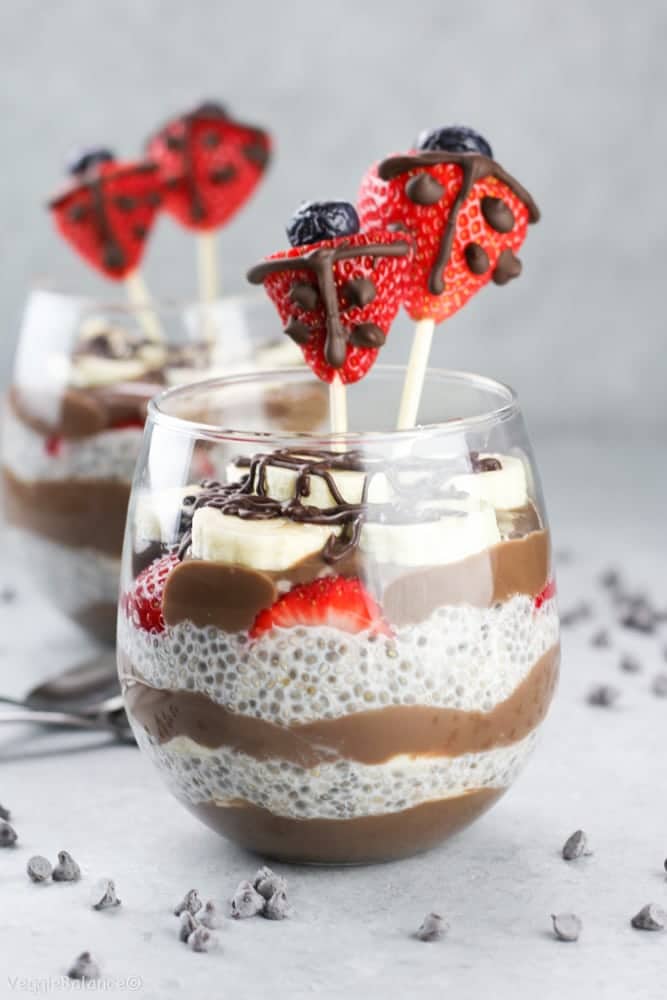 Despite my love of chocolate pudding, I rarely have the patience to actually make it myself. Generally, instead of making it, I go for the frozen yogurt; it's just more instantly gratifying to go to the local froyo store. #LazinessAtItsFinest
I was tickled pink to discover that Snack Pack came out with a new natural pudding cup recipe to include more natural ingredients and no high fructose corn syrup compared to their original pudding cups. That translates into more instantly gratifying chocolate pudding in my future.
Thank you!
This recipe does require just a TAD bit of prep time. This is necessary to give the chia seeds time to gel together in the milk.
Now, I can consume dairy, but it needs to still be in moderation. I made the chia seed pudding layer with almond milk, but this can easily be changed to any dairy or non-dairy option your heart (or stomach) needs and desires.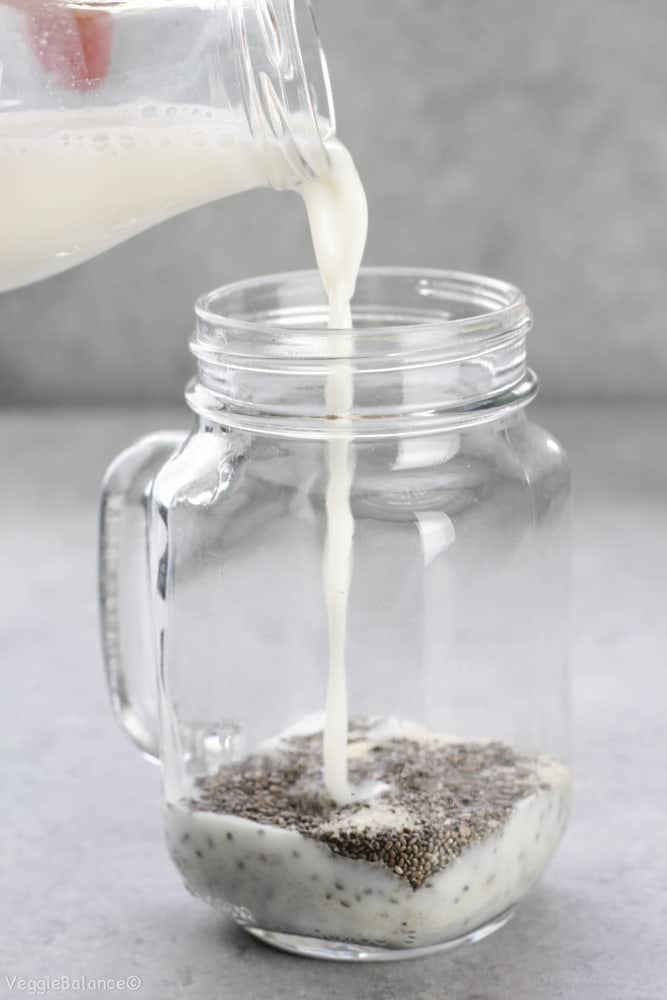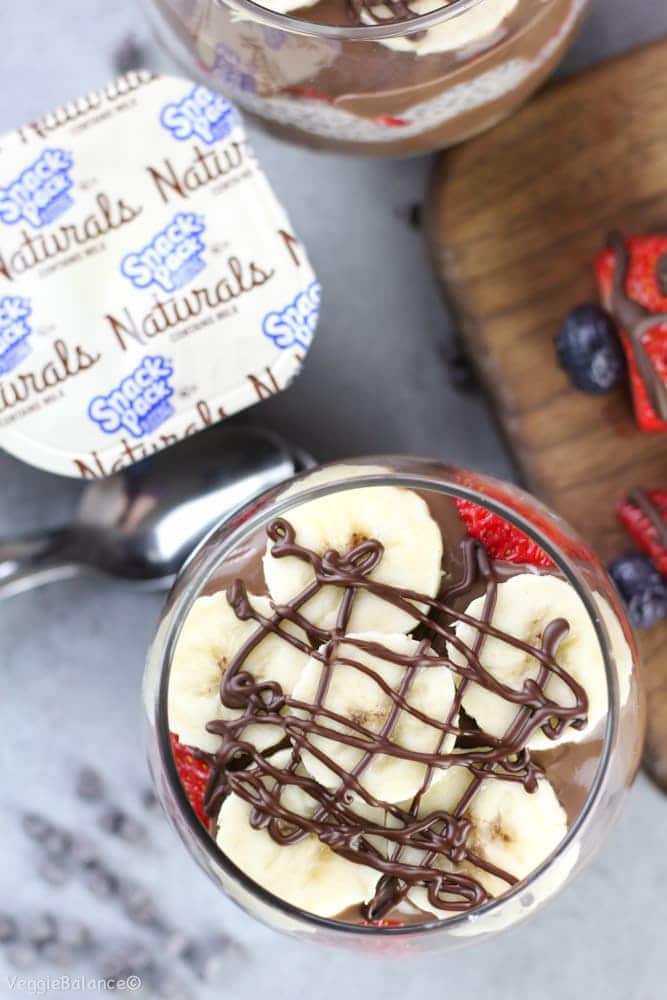 Layer these perfect pudding layers in with some naturally sweet bananas (and/or strawberries) and you have the perfect date night dessert.
TIP: I used rather large glasses for my parfaits. Actually, these are my stemless wine glasses–LOL! This recipe can easily be made into 4-5 smaller portioned desserts.
Hello Chocolate Banana Chia Seed Pudding. We've been craving you!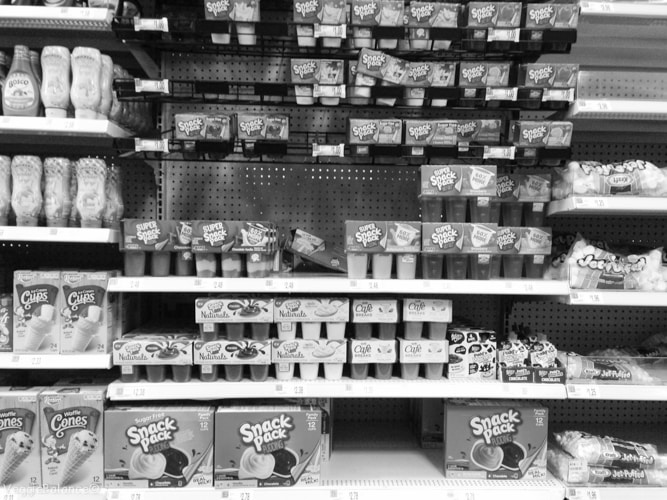 Visit Snack Pack Naturals for more ideas and to see where you can find these in your local Walmart store location. Look for these NEW Naturals Snack Packs.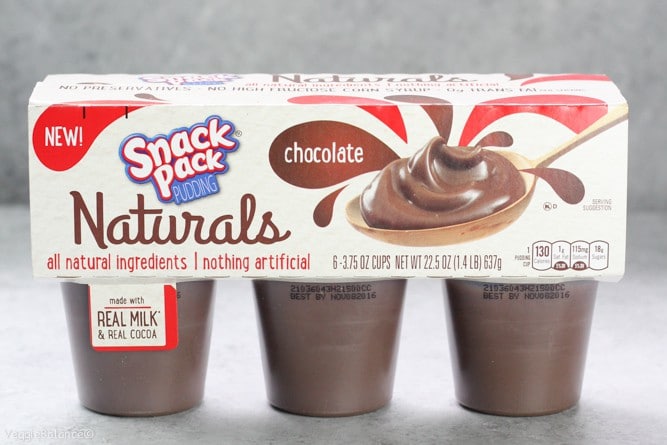 I absolutely loved them for that quick snack after a long day of work.
Do I see Chocolate Banana Chia Seed Pudding Parfait in my future tonight? Yep, you can bet your bottom dollar on that. 😉
Chocolate Banana Chia Seed Pudding Parfait
Dessert
Gluten-free, Vegetarian
1 cup unsweetened almond milk
2 Tablespoons cane sugar or honey
7 Tablespoons chia seeds
4 (3.75 oz) Chocolate Snack Pack Naturals Pudding Cups
2 small bananas, sliced
4-5 strawberries, sliced
LadyBug Garnishes
4 strawberries, sliced in half
8 small blueberries.
1/2 cup chocolate chips
8 wooden kabob skewers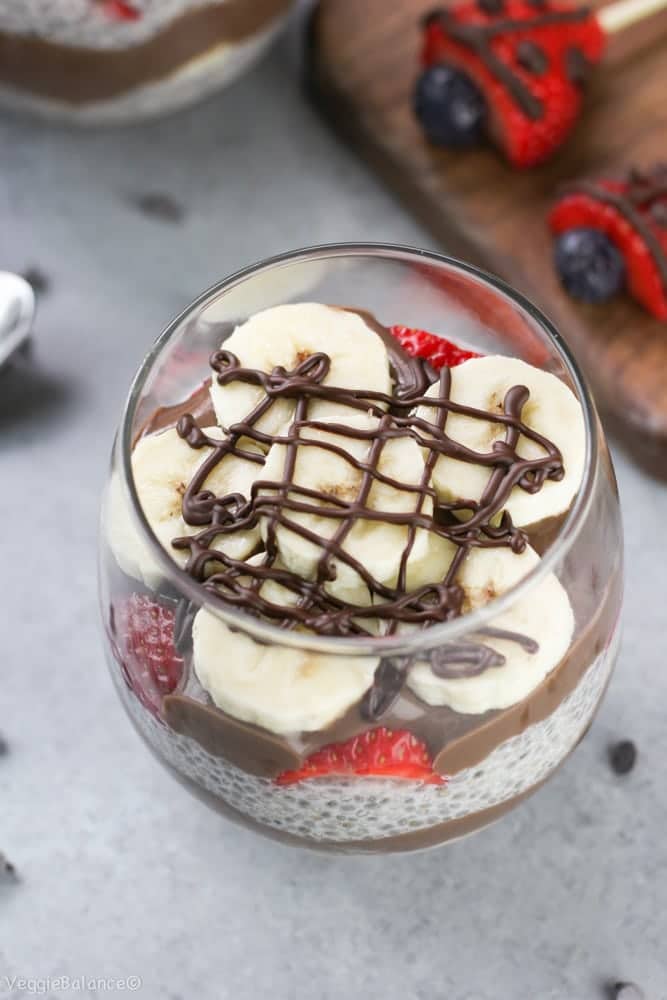 Print Recipe
Yield: 4-5 servings
Prep Time: 40 min
Cook Time: 0 min
Total Time: 40 min
Ingredients:
In a mason jar add almond milk, chia seeds, and sugar. Seal jar with lid, shake a couple times, place in the fridge. Every 5-10 minutes shake jar again until chia seeds gel and form jello gelatin consistency. Approx 30-40 minutes.
Begin to prepare parfait with layers: 2-3 spoonfuls of Snack Pack Naturals Chocolate Pudding.
-3 spoonfuls chia seed mixture.
Sliced Bananas and strawberries, then more chocolate pudding.
Continue this method until serving glass is filled.
Top with more sliced bananas. Garnish with ladybug strawberries. (See Video Tutorial & Notes)
Chill 10-15 minutes before serving.
Notes:
Skewer strawberry and blueberry onto kabob stick per video instructions.Melt chocolate in microwave for 1 minute, stirring every 20 seconds. Pour melted chocolate into plastic baggy with seal. Snip small corner of plastic bag to draw lines and dots onto strawberry per video. Let chocolate harden and store in fridge until ready to serve with parfaits.
Directions:
Recipe, images, and text © Veggie Balance