Gluten Free Sour Cream Coffee Cake recipe to enjoy with your next cup of coffee or tea. This is how to properly begin a brunch.
(Gluten-Free, Dairy-Free, Vegan friendly)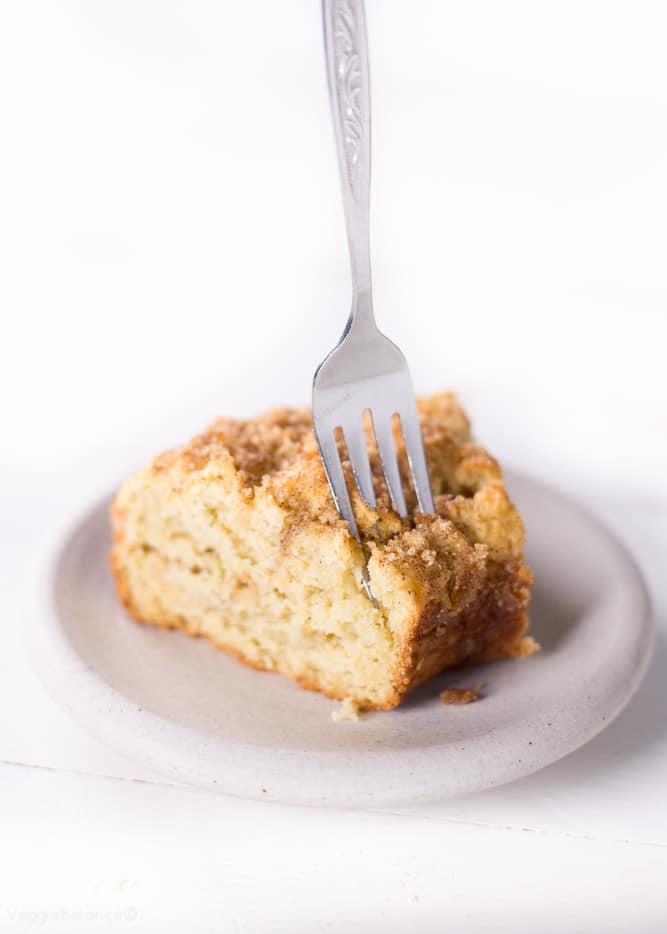 This post is sponsored by Bobs Red Mill. To learn more how this supports VeggieBalance to continually bring you free recipes every week. Find out here.
Ooooo I'm excited to bring a gluten free coffee cake to you guys this week. Coffee cake is a way to my heart. Over the years I've found that I really love a hefty slice of coffee cake to go with a cup of tea.
I know I should enjoy coffee with this since it is a COFFEE CAKE… I'm a tea drinker though. Ha!
We made our applesauce spice cake to close out on the holidays and it brings me back to my childhood just like this Gluten Free Sour Cream Coffee Cake.
My mother would buy these pre-made coffee cakes every single weekend when growing up. That coffee cake would vanish in one day because of me. My love of coffee cake goes back decades.
So when my grandmothers recipe book came in my possession I couldn't resist and HAD to make sure Sour Cream Coffee Cake, of course with a few dietary modifications. 😉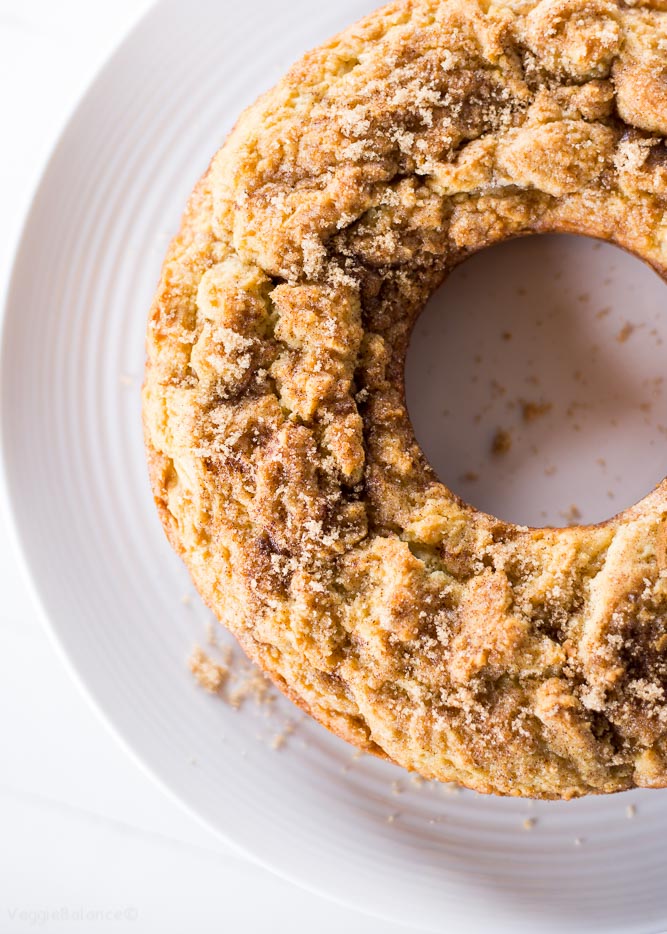 Which would not be possible at all to make a perfect gluten-free version of this recipe without Bob's Red Mills help.
The 1-1 Gluten Free Baking Flour is absolutely amazing for cakes and cookies. It is hands down my favorite gluten free flour to use. I've even had luck using it in our No Yeast Gluten Free Cinnamon Rolls as well!
How to make this Gluten Free Coffee Cake ALSO Vegan
This cake can easily be made vegan by swapping the eggs for Bob's Red Mill Egg Replacer. I found that it makes the cake just a bit more denser but definitely still an enjoyable cake.
This gluten-free sour cream coffee cake is already a little dense of a cake with the oil but the sour cream helps make it tender and moist. So do keep that in mind it is not going to be a light airy and fluffy cake like our Gluten-Free Chocolate Cake.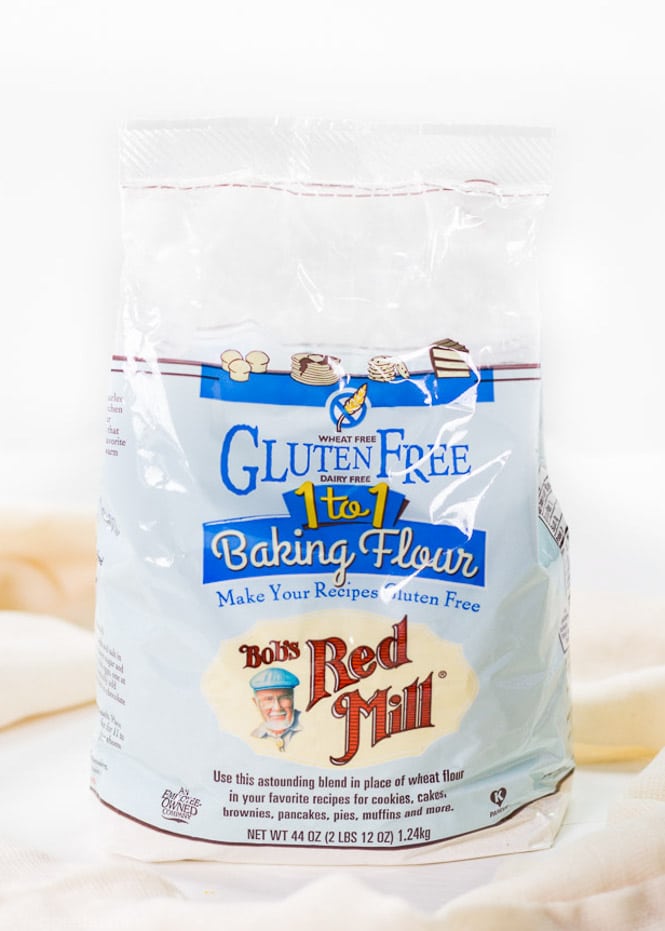 Couple Recipe Notes for our Gluten Free Sour Cream Coffee Cake
The batter is VERY thick. Don't be put off by that, you haven't done anything wrong. It's just a thick batter.
How to Make the Coffee Cake Crumble
The crumble is definitely one of my favorite things about this cake.
You'll want to combine the brown sugar and cinnamon together. My favorite thing to do is pour half the batter into the bundt pan and sprinkle half of the crumble in and then pour in the remaining batter.
Can't go wrong with a little brown sugar cinnamon surprise in the center of each bite.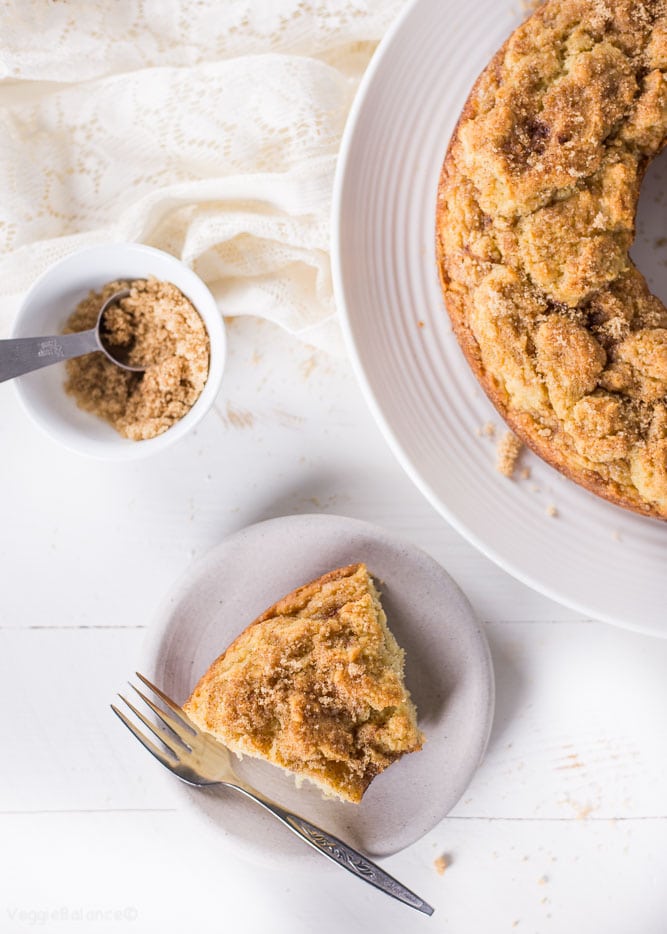 Is there a difference between a bundt cake pan and tube pan?
Tube Pans generally have no grooves, feature a flat bottom and larger circle in the middle. It is designed for dense cakes like pound cake and in this case, our Gluten-Free Sour Cream Coffee Cake.
Bundt Cake Pan has a few grooves to it and a smaller circle in the middle and designed for light and airy desserts, like angel food cake.
Note: I have attempted to make this in a 9×13 pan and the results were a bit of a struggle. I have trouble with the cake cooking through.