Easy Hamburger Casserole recipe made in under 30 minutes you'll have your favorite hamburger in casserole form. With just 10-Ingredients to create the perfect go-to meal for the work week.
(Gluten Free, Dairy Free friendly)
Hey. Long Day? Guess what though, it's hump day!!!! Hang in there; we are almost through the week. Wait, what the heck are we having for dinner tonight?
For someone who cooks and bakes for a living, this should not be a thought that goes through my head. Sadly, it happens all the time.
No worries though; this Easy Hamburger Casserole has us covered. And man oh man, does it deliver! It's everything your heart and mouth desires. BURGERS!!
Say hello to the easiest weeknight meal: Hello Hamburger Casserole!
Now, this isn't made with the questionable and flavorless box ingredients that we all grew up with.
Those should not be named (sorry), but as cheap as those helper meals are, we have them beat with this homemade hamburger casserole.
Made in less than 30 minutes with just 10 super simple ingredients!
#microphone drops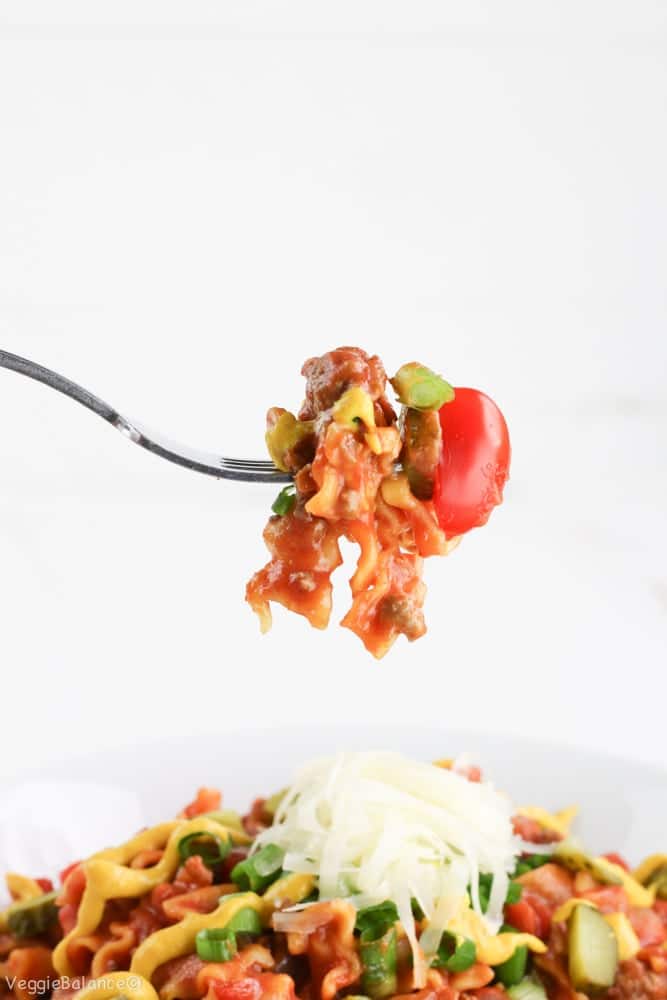 I've said this before and I'll say it again, when I was vegetarian (in an effort to take my health back by eating cleaner), burgers were always missed. I mean, always!
Yeah, I could make black bean burgers and spinach burgers, but it just didn't satisfy that craving.
This creamy and flavorful hamburger casserole has gotten me through MANY weeknight meals.
You know, those days when it is 6PM, you're just finishing up work, and somehow there is supposed to be food on the table by 7PM??
I mean, you would think that because I work from home there would be a meal planned and ready every night. Nope.
Who just had potatoes for dinner last night? // Yeah, that would be me.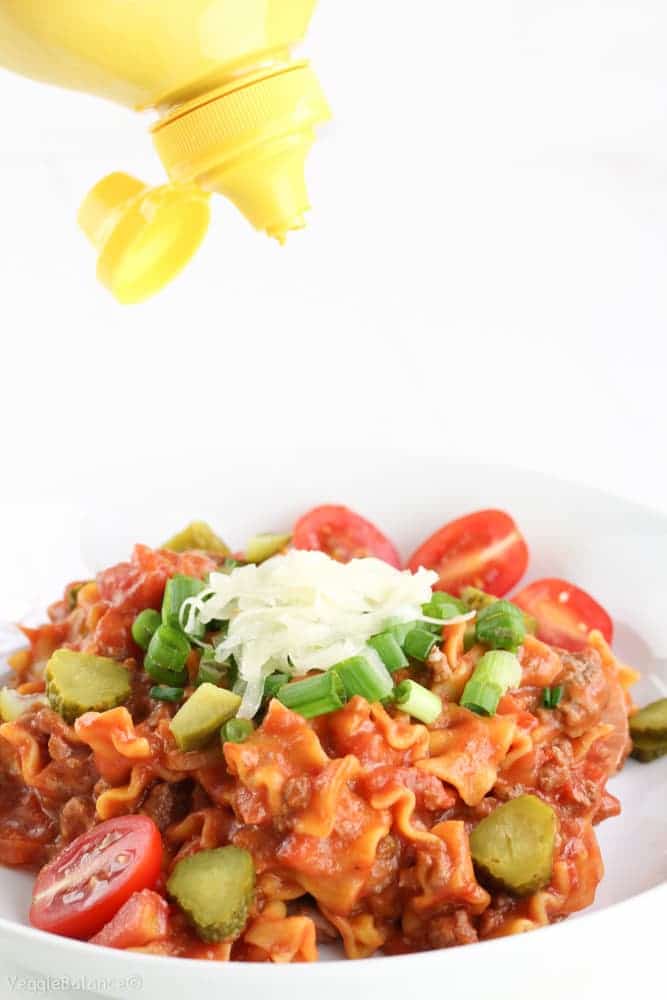 Let's talk about the key ingredient in this dish and something you should have in your fridge. Mustard!
In my expert (yet humble) opinion, the more mustard in this, the better.
The tangy mustard goes perfectly with the crunch of the pickles, the sweetness of the tomatoes, and the kick of the onions.
Really, it's hamburger heaven. Just in casserole form.
Made with gluten-free pasta using my favorite gluten-free pasta trick–as I shared over at this Italian Pasta Salad post.
Gluten-Free Noodle Tip
Rinse your noodles after cooking!
Such a simple step but it'll get remove any excess starch from the gluten-free pasta and make this hamburger casserole even more tasty.
It helps with preventing the pasta from clumping together. Which is a common problem with gluten-free pasta.
How to Make This Hamburger Casserole Dairy-Free.
Easy! It is made naturally dairy-free, if you omit the cheese on top.
If you can handle cheese in moderation, add some extra sharp cheddar cheese and we are in business!
TIP: Top with quick pickled onions. Your taste buds will not be disappointed.
This easy hamburger casserole is the base of all things great about a hamburger.
The really fun part is totally up to you; namely, adding your absolute favorite toppings! Just some suggestions.
More Mustard // (seriously, something about this tangy condiment just brings hamburger casserole heaven upon us)
Chopped Pickles
Chopped Tomatoes
Shredded Cheddar Cheese
Seriously, whatever your heart desires!
Now, go! We have been saved from another "What are we having for dinner tonight?" moment by this Easy Hamburger Casserole.