Peanut Butter Buckeye Bars recipe made easy, no-bake and 3-Ingredients. Everything you love in buckeye balls made into a bar! The result? Less work and just-as-delicious buckeye bars in a snap. {Gluten-Free, Dairy-Free and Vegan friendly}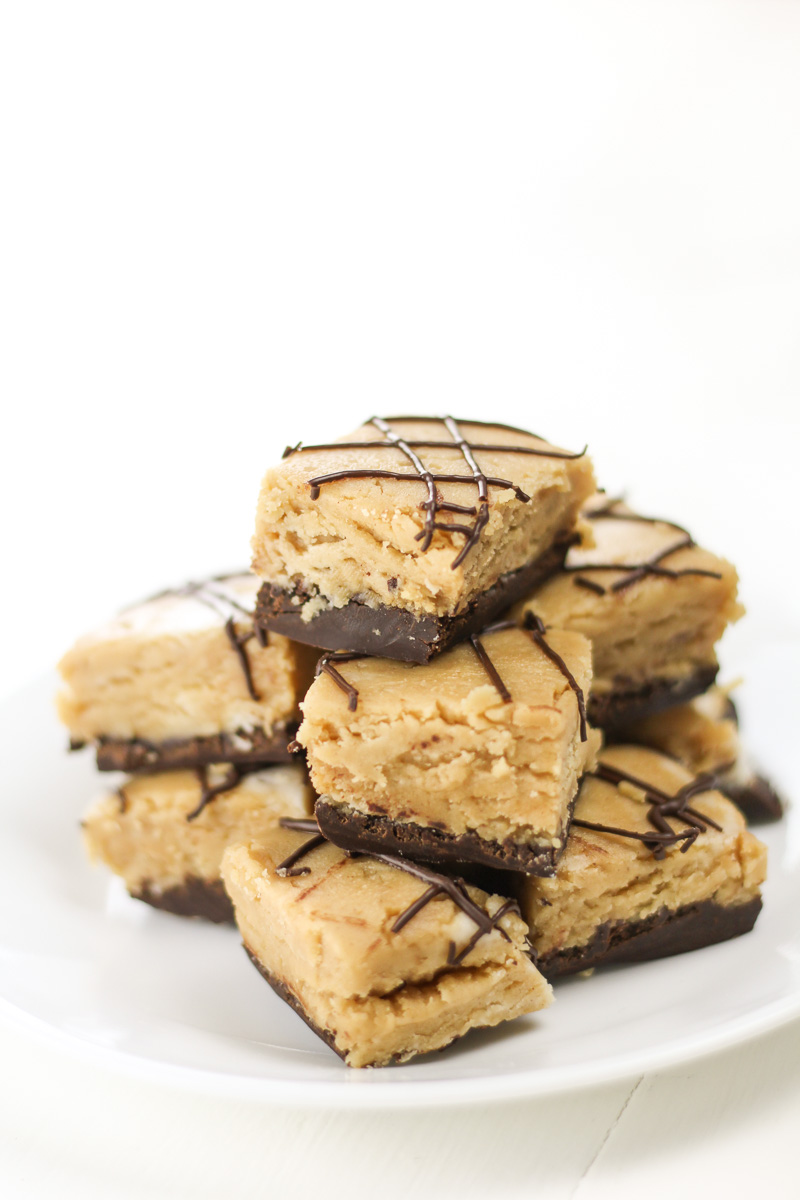 Easy Peanut Butter Buckeye Bars Recipe
Pin it to your Delicious Dessert board to SAVE it for later!
Follow Veggie Balance for more great tips, ideas and recipes!
---
Who doesn't love buckeye balls!? Am I right!?
In our family, buckeyes balls are the food of life. Well, maybe that's a little extreme. They are, however, a dessert that gets demolished so quickly you wish you had made dozens more.
Hence, I created a healthier version of peanut butter buckeye balls last year. Less sugar and butter involved? Yes, please.
As always, these peanut butter buckeye bars were made out of laziness. Don't judge; you'll thank me.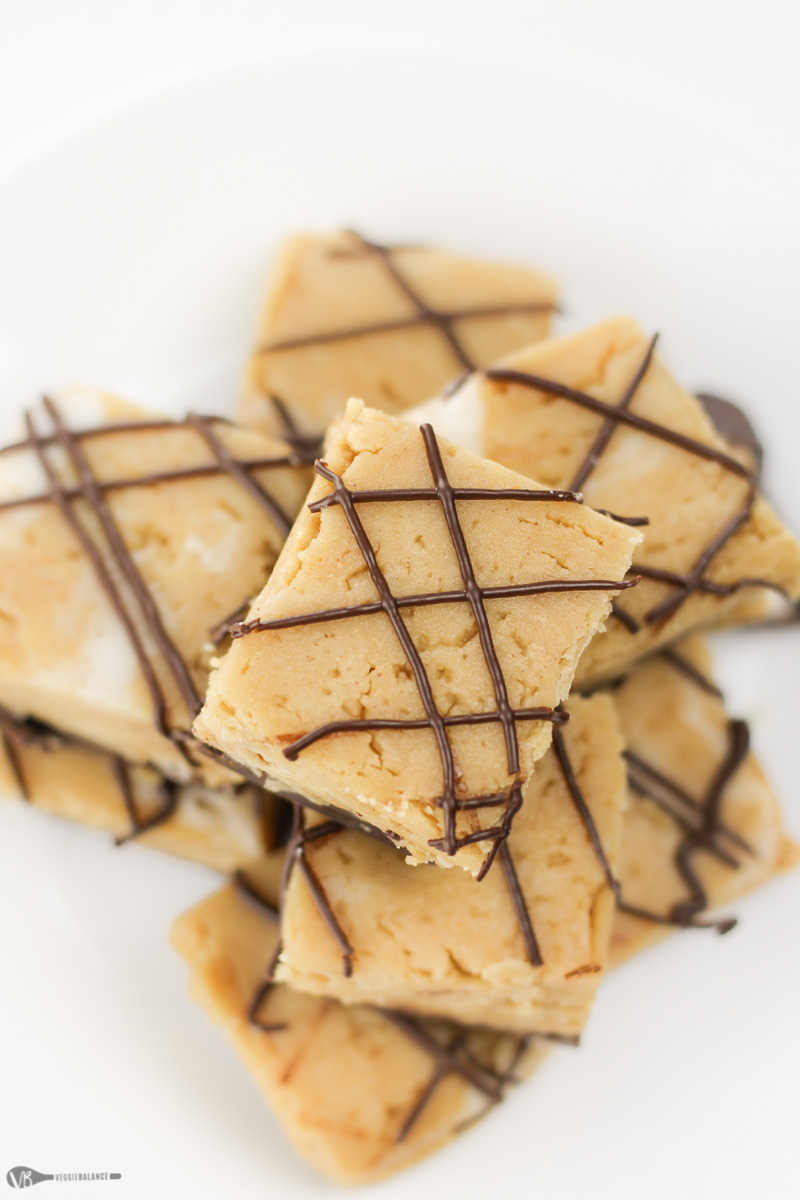 We entered exciting, new territory for VB earlier this month when we had our own table at a Gluten-Free fair! Oh boy, I knew I needed to make some treats to pass out, and they needed to be (A) obviously delicious and (B) easy to make.
Buckeyes. Definitely our buckeyes fit that bill. However, the thought of dipping each individual buckeye ball in chocolate filled me with dread. That would be a LOT of work.
So out of laziness, I attempted to make these buckeye bars. Guys, I am never going back to the other way. Seriously, like NEVER again.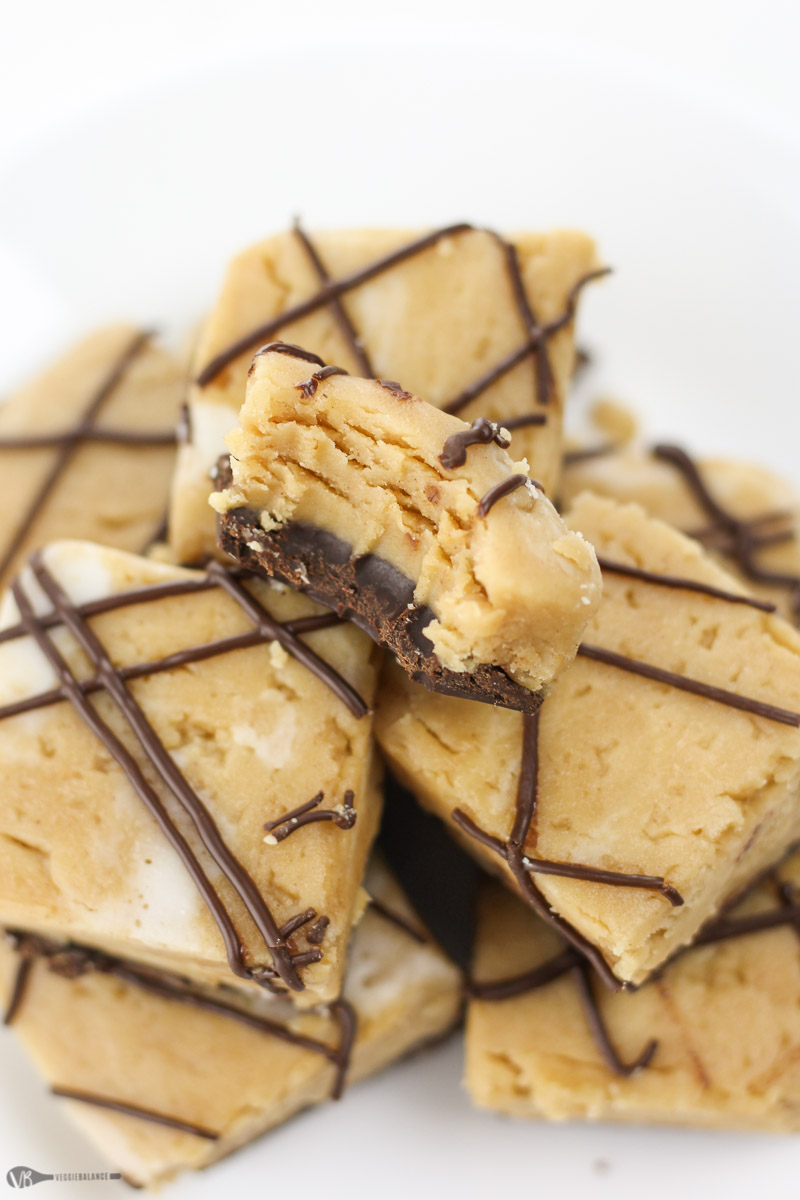 I'm trying my best to not scream at you through this computer screen. But listen, YOU HAVE TO TRY THESE.
If you have peanut allergies, try this recipe with sunflower butter instead. These bars are also gluten-free, dairy-free, and vegan friendly, not to mention lower in sugar compared to a traditional buckeye!
A normal buckeye ball recipe calls for 1-2 sticks of butter. This peanut butter buckeye bars recipe calls for a total of 3 Tablespoons.
OMG.
Seriously, have I convinced you?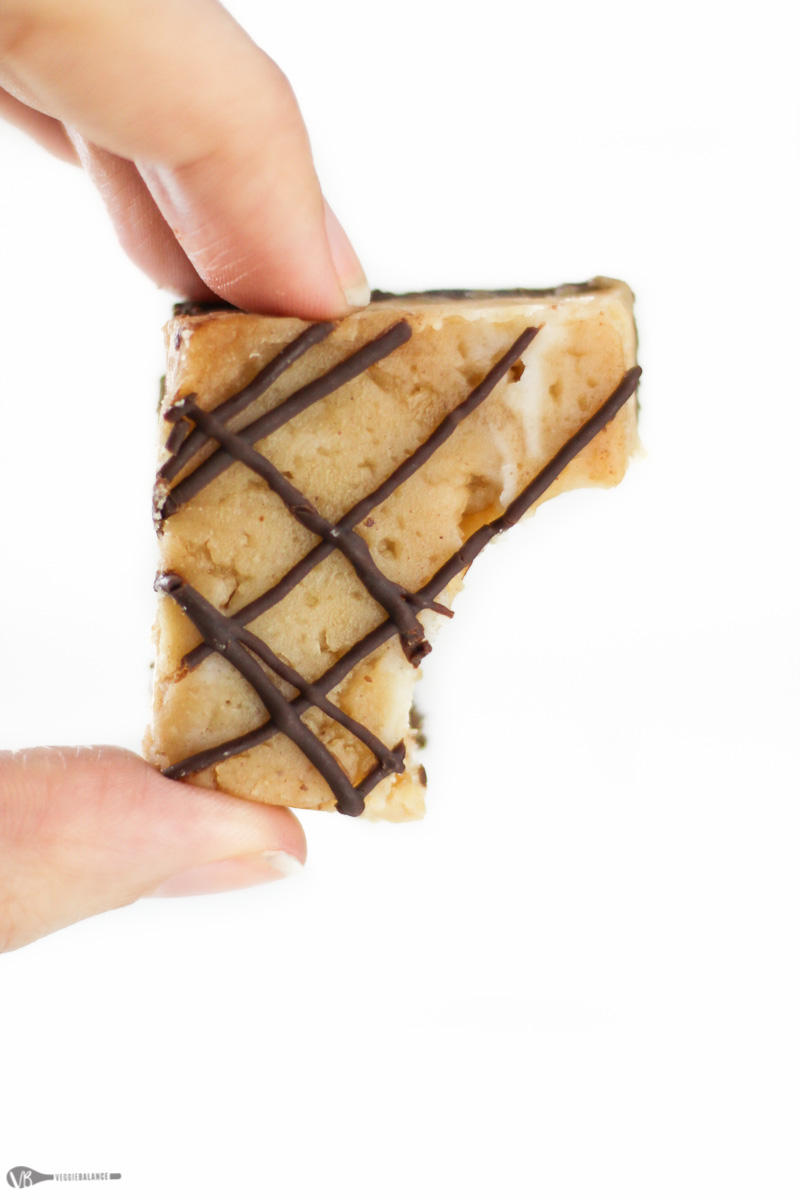 I hope so. Remember when I said you'll earn the "Queen of Appetizers" title with our buffalo chicken meatballs recipe? Well, these buckeye bars are another way for you to earn another title. Guaranteed.
Check out our Facebook video and see for yourself how unbelievably easy it is to make these tasty buckeye bars! Never going back to traditional buckeye balls, we are now peanut butter buckeye bars FOR LIFE.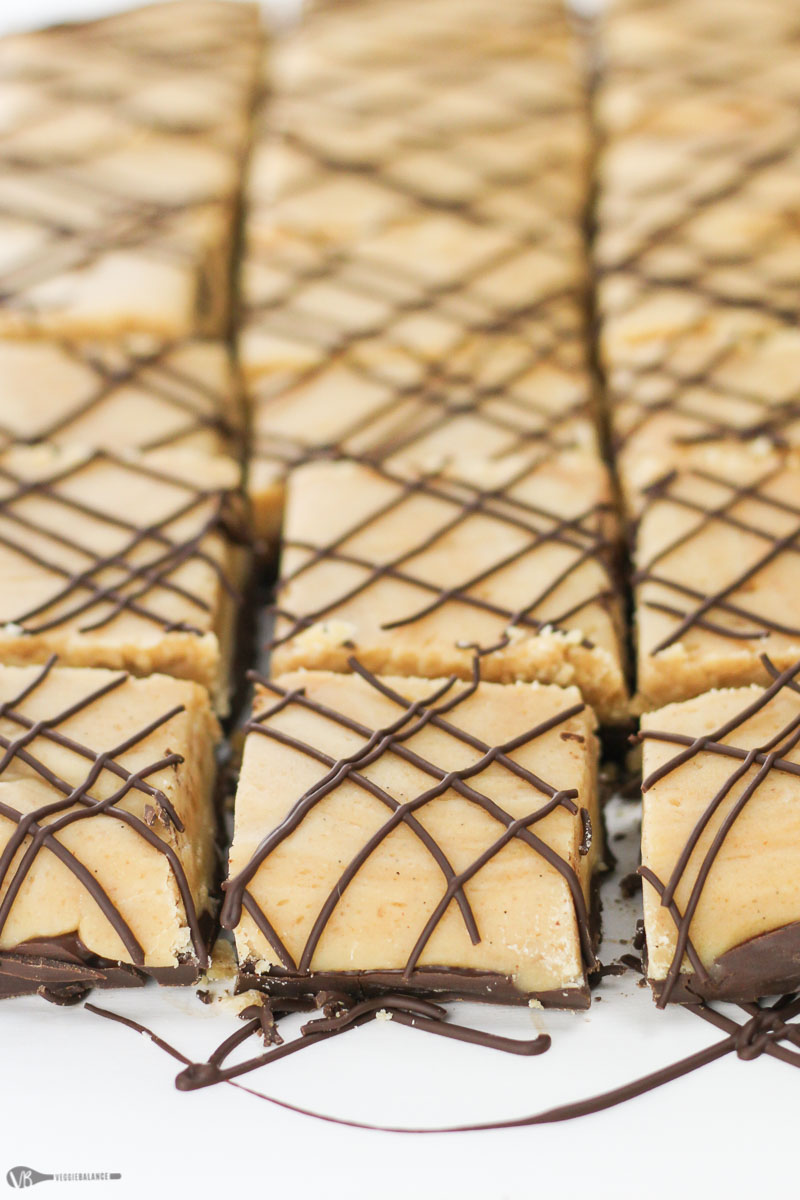 Veggie Balance
Easy No-Bake Peanut Butter Buckeye Bars Recipe
Peanut Butter Buckeye Bars recipe made easy, no-bake and 3-Ingredients. Everything you love in buckeye balls made into a bar! The result? Less work and just-as-delicious buckeye bars in a snap.
Ingredients
Instructions
Prepare a 9x13 pan by lining it with parchment paper.
Combine frosting and peanut butter in a medium microwave safe bowl. Microwave for 30 seconds, stir, repeat this step until frosting and peanut butter are melted together. Apprx 1.5 minutes.
Pour melted peanut butter into 9x13 pan. Press mixture into the pan evenly.
In a glass microwave save bowl, melt chocolate chips and butter for 30 seconds, stir, repeat this step until chocolate is melted.
Pour melted chocolate over peanut butter buckeye bars. Smooth chocolate over bars evenly.
Allow chocolate to set at least 1 hour.
Pull out of 9x13 pan, with chocolate side facing up slice into small squares. Flip bars over to the peanut butter side (See Video Demo) and cut again to ensure a clean buckeye bar is made.
Drizzle tops with melted chocolate if desired.
You might also like some of these easy dessert recipes like these buckeye bars: