Gluten-Free Zucchini Bread that is also dairy-free. Honestly you would have no idea that it's missing the dairy and gluten. This one bowl quick bread is one of our absolute favorites to make.
(Gluten-Free, Dairy-Free, Low-Sugar, Plant-Based)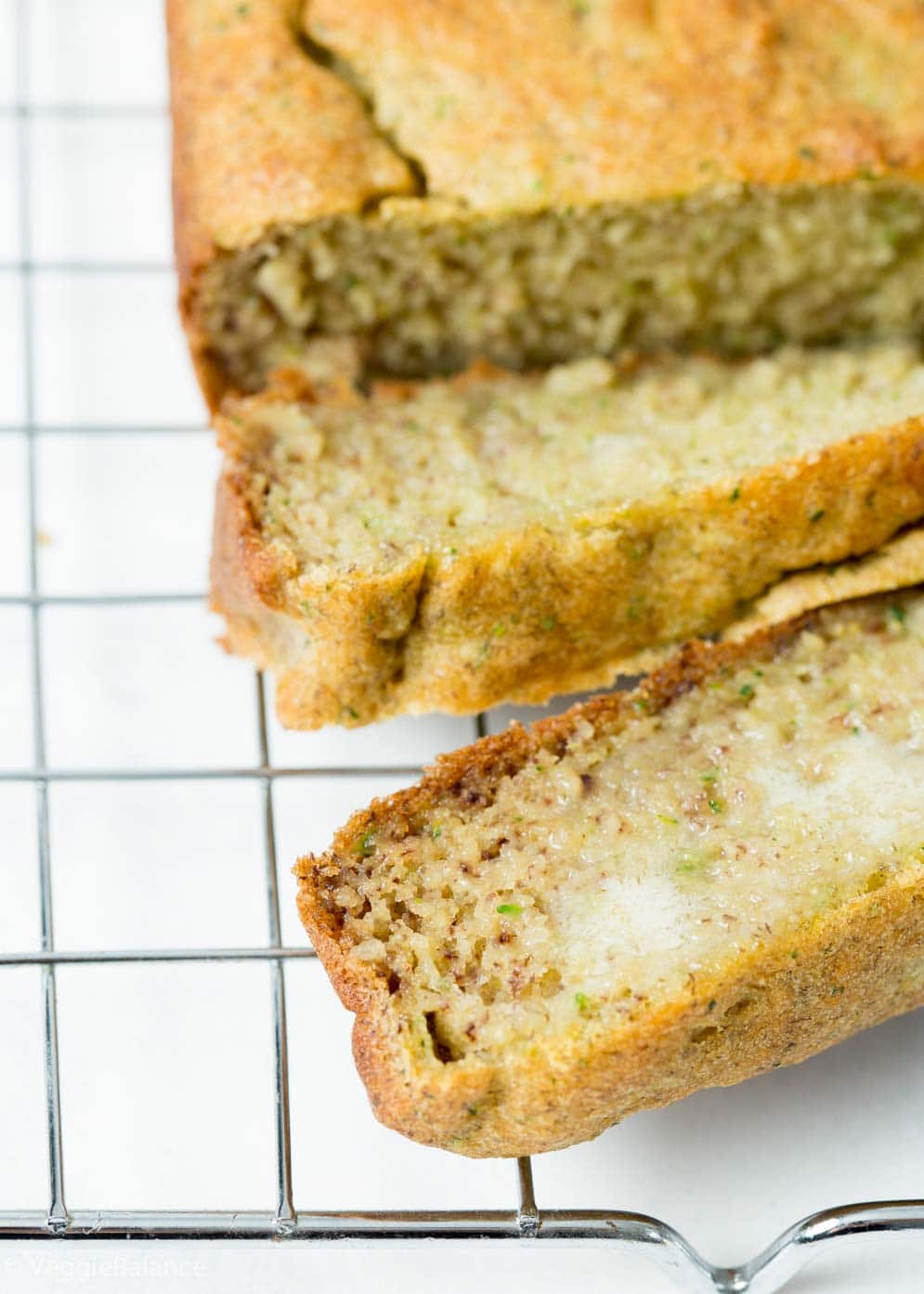 Gluten-Free Zucchini Bread brings together our love for banana and zucchini in a delicious and easy to make bread that your whole family will love. It's perfect for breakfast, a snack or anything in between. Sneaking in your vegetables never tasted so delicious!
The Best Gluten-Free Zucchini Bread
This will undoubtedly be your favorite zucchini bread for a lot of reasons. We love banana bread as a classic borderline dessert-like bread. Or these banana oatmeal muffins are divine too. But then when you add in the zucchini you are kicking it up a notch. It is perfectly sweet without being too sweet, which makes it easy to enjoy any time during the day.
We're partial to breakfast because it almost feels like you're starting the morning off with a little reward. Let's face it, adulting is hard, so starting the day with a treat is a MUST.
If you're looking for another way to treat yourself, we also have our gluten free chocolate chip banana bread.
How to Make our Gluten-Free Zucchini Bread also vegan
Traditional banana bread or gluten-free zucchini bread can use egg majority of the time. We honestly go back and forth making this a vegan bread or not ourselves. It literally goes to if I'm making it or the husband is… Or sometimes we are just  lazy. But for this recipe, we use a delightful little trick to make it vegan.  Introducing how to make a flax egg ! An inexpensive and fairy easy way to swap out the egg. The rest of the ingredients are dairy-free.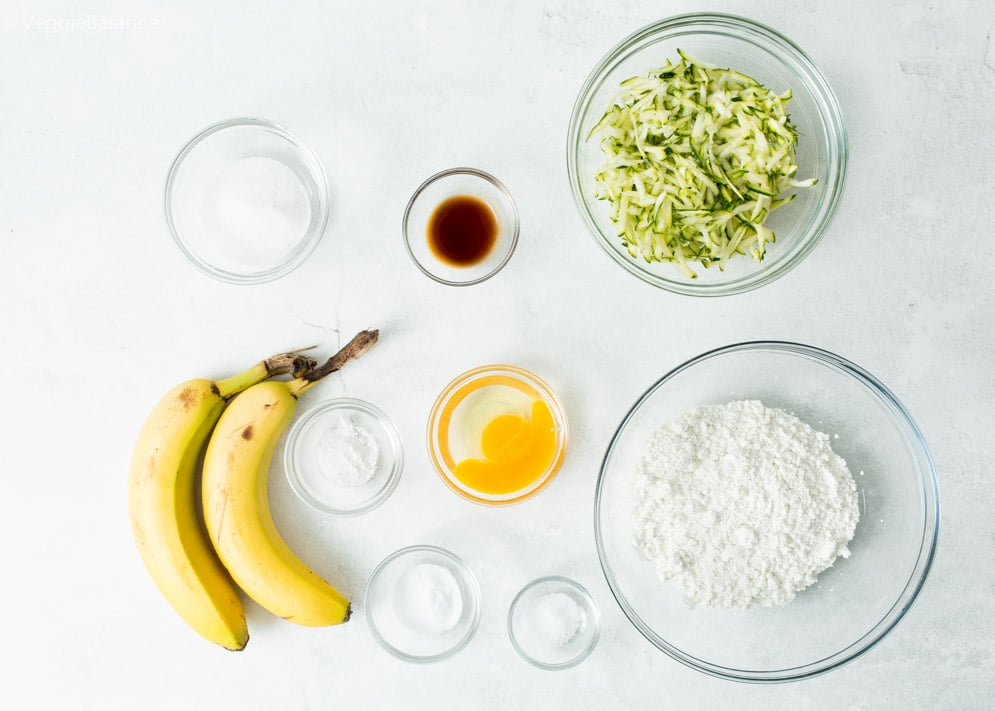 Do you peel zucchini for bread?
The short answer is no. There is no need to peel your zucchini for gluten-free zucchini bread – you won't be able to tell the skin from the rest of the zucchini that you grate once you bake it in.
Unsurprisingly, like many other vegetables the bulk of the good stuff is in the skin. The vitamins, the antioxidants and all the nutrient goodness. So don't waste it by peeling! Any food waste that we do have though, like the stem of the zucchini goes to our composting bin.
Bananas also bring deliciously nutritious goods to the table. They also aid in digestion, bring nutrients like Vitamin C, Manganese and Potassium into the fold AND they offer antioxidants. (So much antioxidants in the mix here!)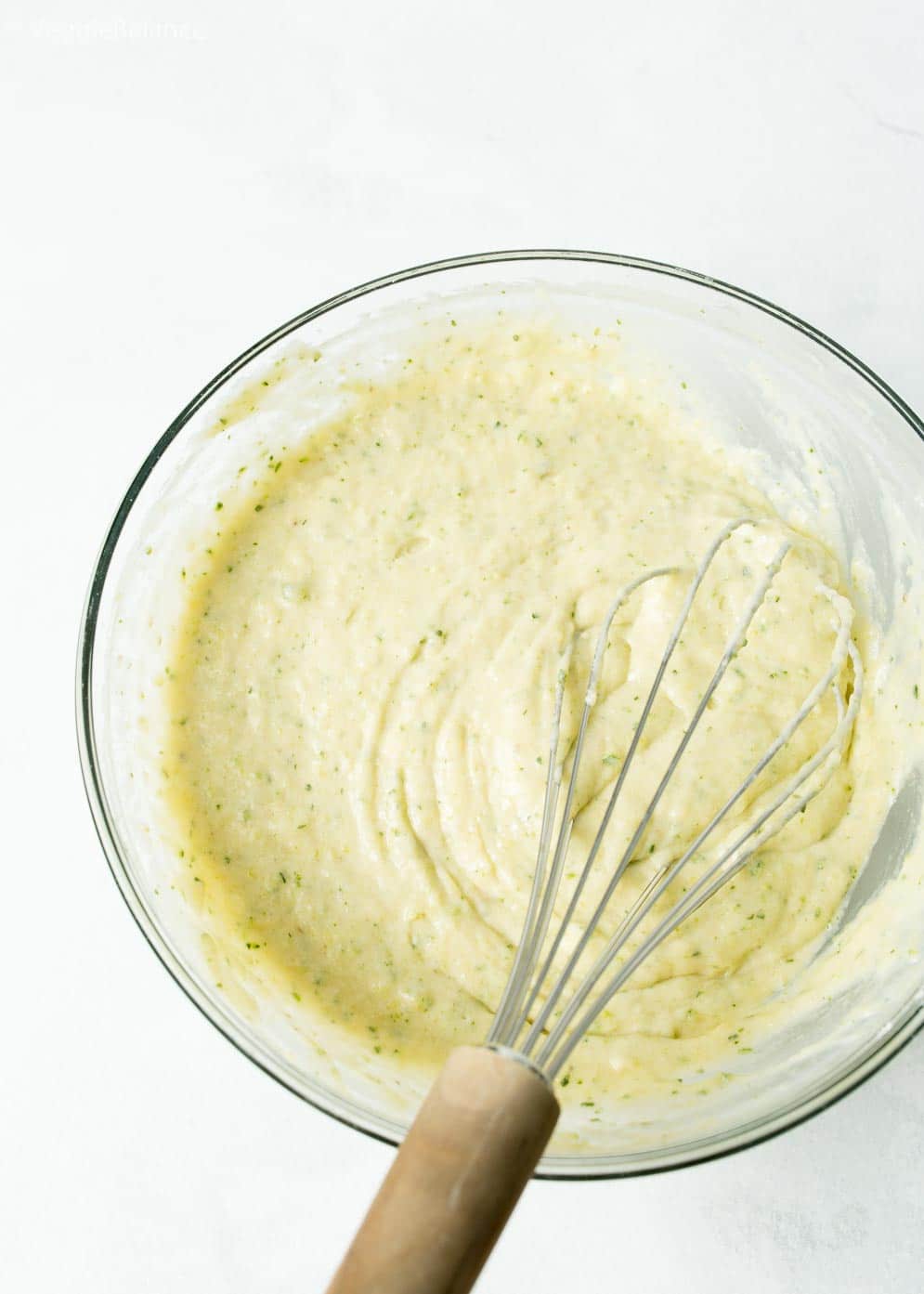 What is the point of zucchini bread?
The not-so-secret ingredient of gluten-free zucchini bread is, in fact, zucchini. But why put a vegetable into bread? We're glad you asked. Or pondered. 🙂
Zucchini plays a key role by helping to keep moisture in the bread, which makes it an absolutely magical texture and flavor. The zucchini practically melts into the bread, blending perfectly with the flour and banana to make a moist, flavorful slice of happiness.
Another benefit of zucchini is what it literally brings to the table nutrition wise. Often substituted to help trim carbs, zucchini also can help with digestion, blood sugar levels and heart health. Say it with us, antioxidants are the BEST.
Some of our other favorite uses for zucchini in recipes include low carb zucchini chips, Italian vegetarian stuffed zucchini boats, and zoodles heaped under our vegetarian meatballs.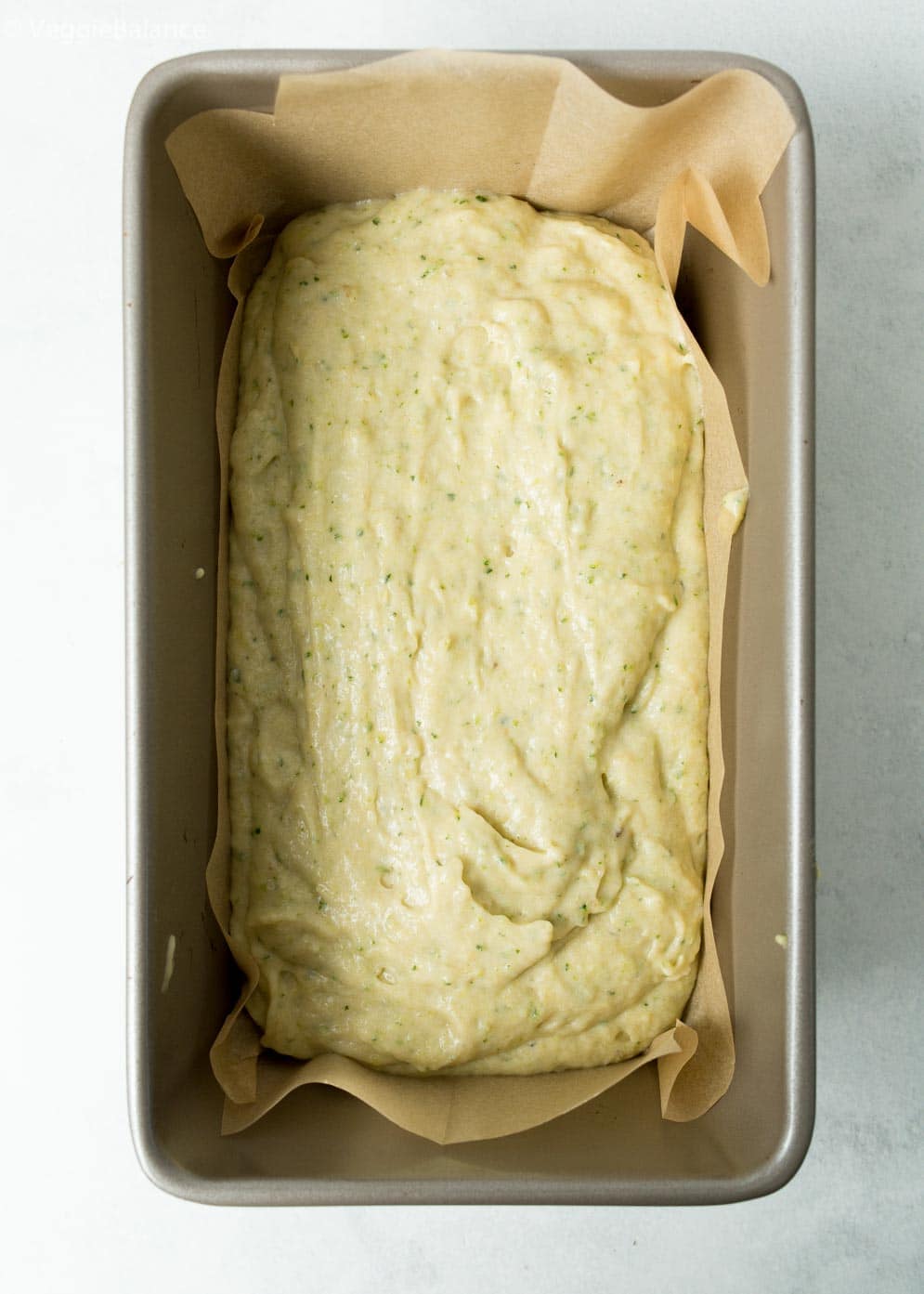 Store and Savor your Gluten-Free Zucchini Bread
Storing your gluten-free zucchini bread is important to help it keep fresh and moist. Always keep your bread in a plastic bag, airtight container, plastic wrap or tin foil.
You can further extend the life of your bread by stored it in the fridge for up to a week. But to be honest, ours never lasts that long.
Can I freeze zucchini banana bread?
Yes, you absolutely can freeze your bread, but it does take a little care to prevent freezer burn, the ultimate ruin(er) of all things delicious breakfast breads.
Tightly wrap your bread in foil and then place in a freezer friendly plastic free bag. Or, better yet, vacuum seal your bread to protect it. The goal is as little air as possible.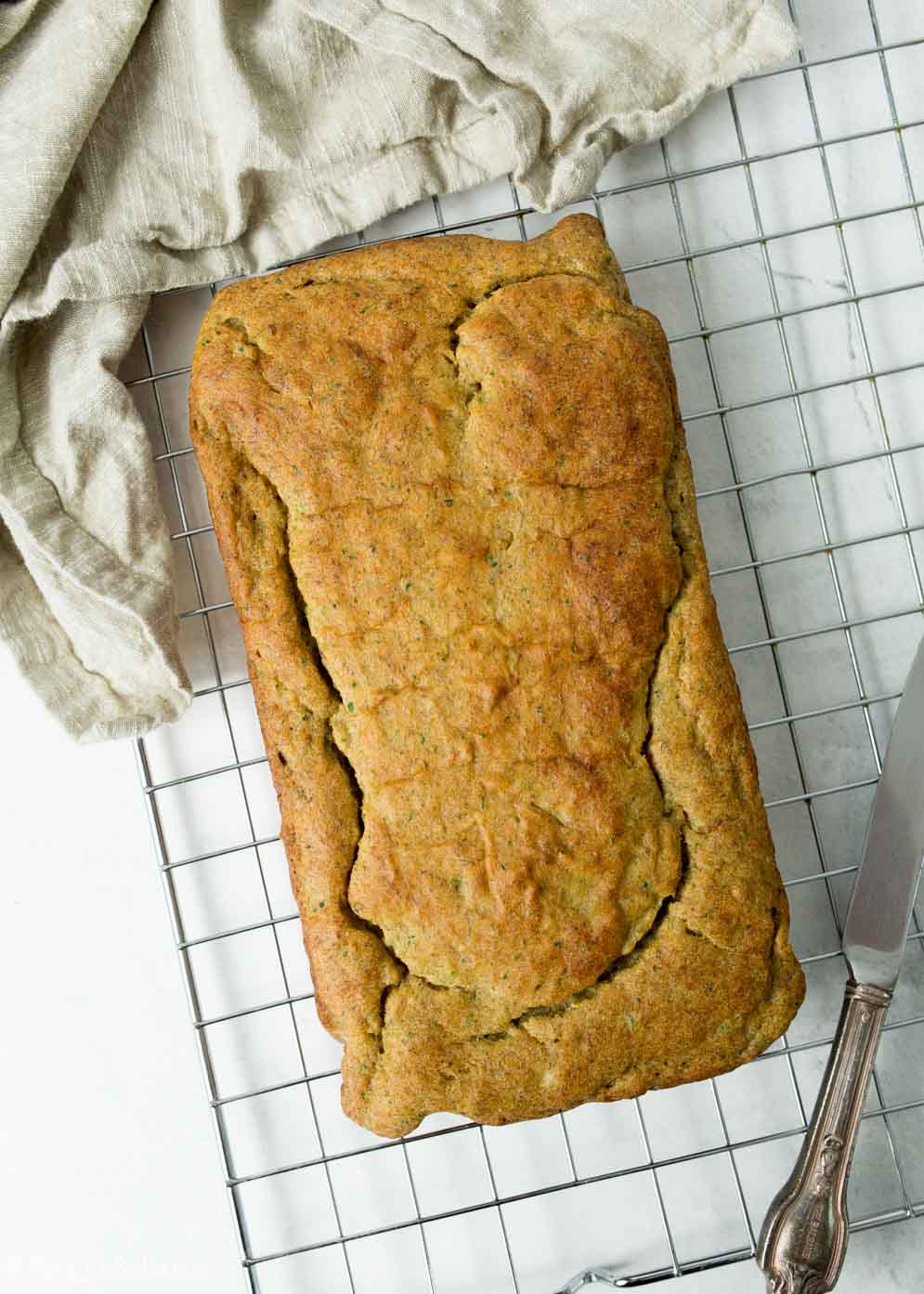 Other recipes you might enjoy: