Crockpot Buffalo Chicken Meatballs recipe has the perfect amount of buffalo kick with our tailored-to-your-taste buffalo sauce. It's the perfect appetizer for any event.
(Gluten-Free & Dairy-Free)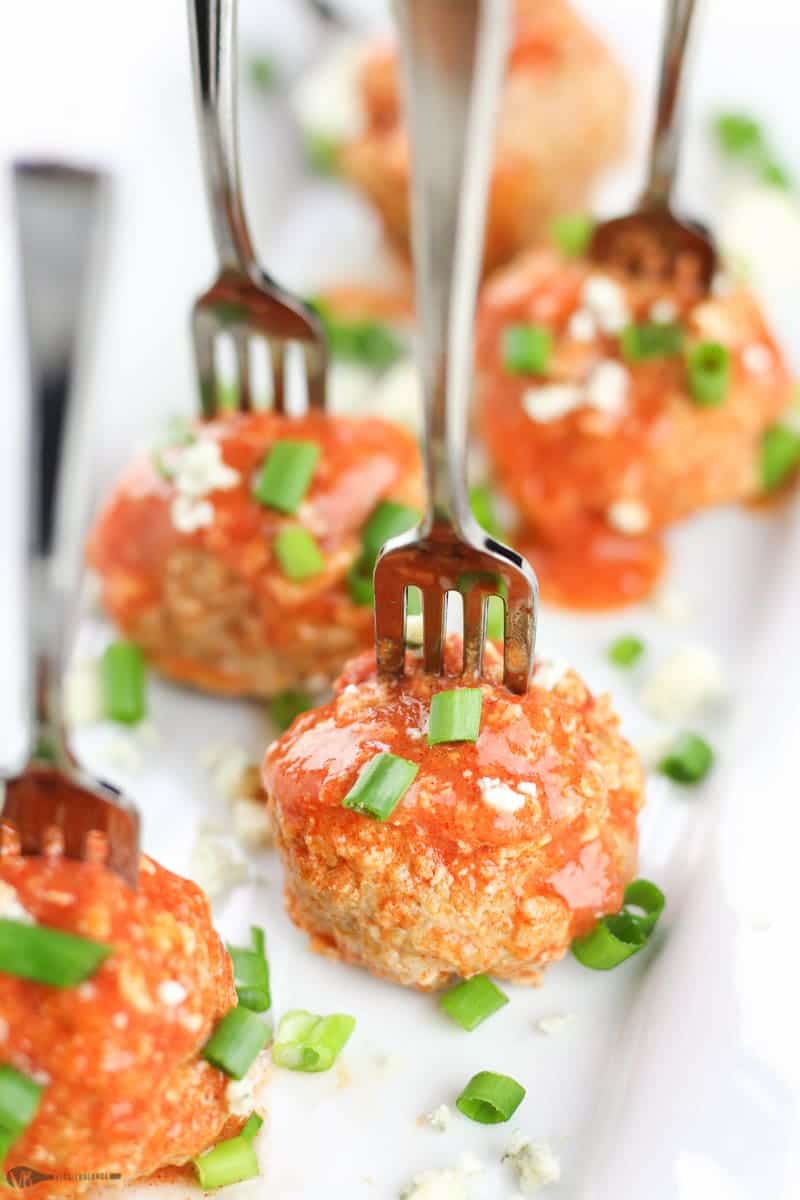 Let me start by saying my family goes absolutely ga-ga over these Crockpot Buffalo Chicken Meatballs.
They were born on VB two years ago and since then have been made a bajillion times.
Really, a bajillion times. I've heard rants and raves about these non-stop for the past two years. Needless to say, these buffalo meatballs are memorable.
Want to be the queen (or king) of the best appetizer ever?
We got you covered. I'm giving you this Buffalo Chicken Meatballs recipe and you can whole heartedly take that Queen of Appetizers title.
I'll share a little secret, too. These require minimal work and just a few all-natural ingredients! #WIN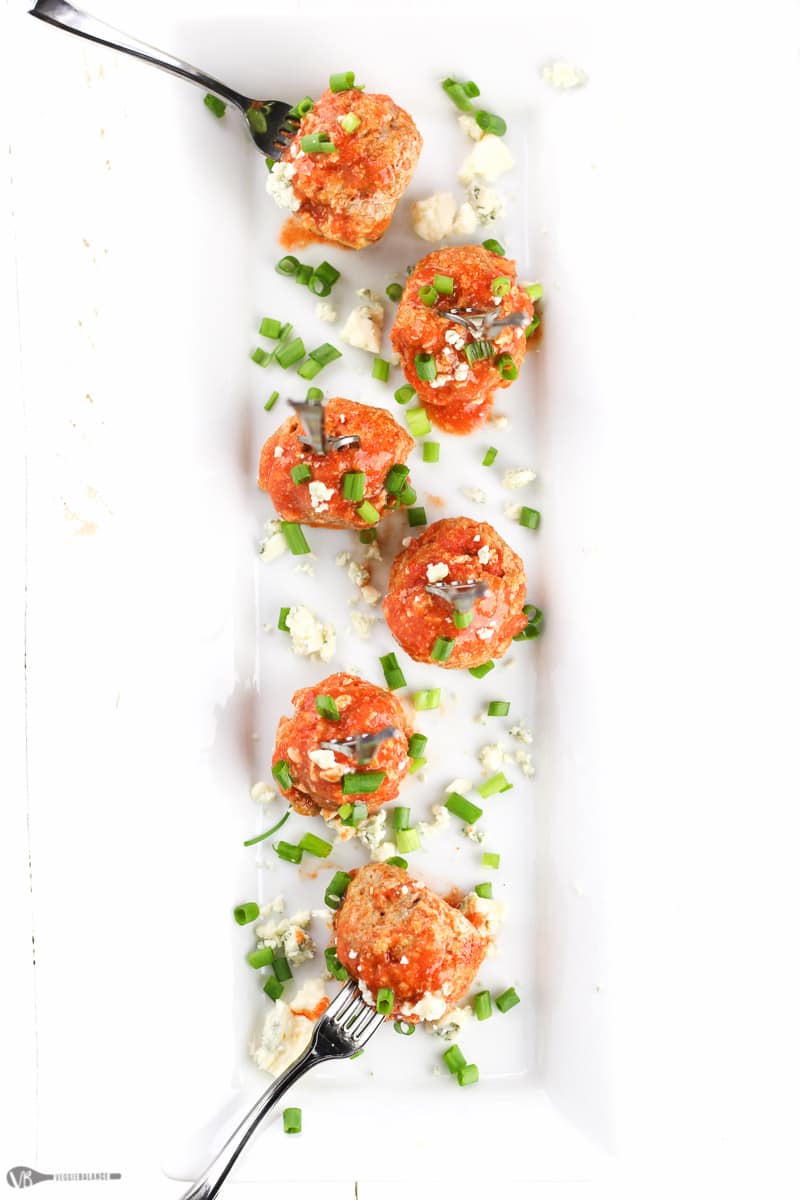 After two years, I never follow the recipe, I just make them. They've definitely evolved over time, though.
Our previous recipe involved potato starch and flaxseed as ingredients. I have since realized that a lot of people just don't have those ingredients on hand. // And sometimes I don't either.
Cue to the moment I realized I didn't have those original ingredients on hand, so I had to get creative.
TIP: You can easily tailor the buffalo sauce to your taste buds. Less spice can easily be obtained by added extra white vinegar to the sauce and vice versa.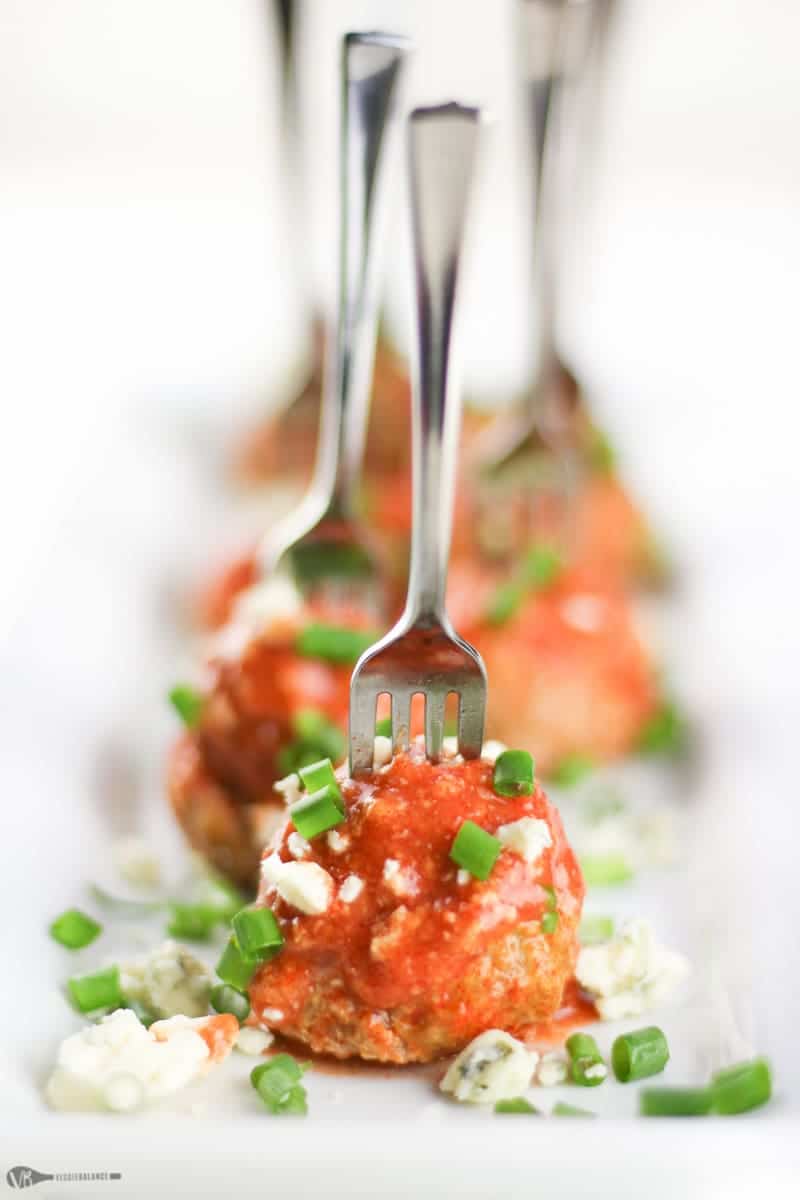 Making these Buffalo Chicken Meatballs goes pretty much something like this:
You form your meatballs
Bake them quickly.
Place them in crockpot
Cover with heavenly homemade buffalo sauce.
Then the best part: Let the crockpot do all the work and fill your house with that heavenly smell.
These Crockpot Buffalo Chicken Meatballs are hard to resist once that smell makes its way through your home.
TIP: Top with blue cheese if dairy-free diet is not needed. If it is needed, no problem! Drizzle with a little dairy-free plain yogurt for some cooling action, or simply garnish with fresh green onion.
Ready to be the Appetizer Queen? Told you, we got you covered with these Buffalo Chicken Meatballs.