4 Ingredients Gluten-Free One-Pot Chili is just that. Just 4 ingredients, natural, gluten-free, quick and easy ingredients to make a delicious one-pot chili. (Gluten-free)
I have officially broken the dessert trend. *Gasp*
I know its been almost a month and between the gluten-free chocolate chip cookies, and tagalong cookies,  I didn't want to pull myself away from the finger-licking, death by chocolate cookies either. Believe me, when I say this 4-ingredient gluten-free one-pot chili is one hundred percent worth the dessert break. If your feeling a slight panic about the lack of desserts, don't fret, there are already cookies and muffins on the back burner to be shared later.
This recipe is a spin-off of a recipe inside the new upcoming party food cookbook. It was one of those recipes that I had the idea to make as simple and healthy as possible. Once I devoured the first ooey gooey spicy bite I was hooked. Like so badly hooked I made this dish 4 nights in a row.
No shame on my end, it really is delicious.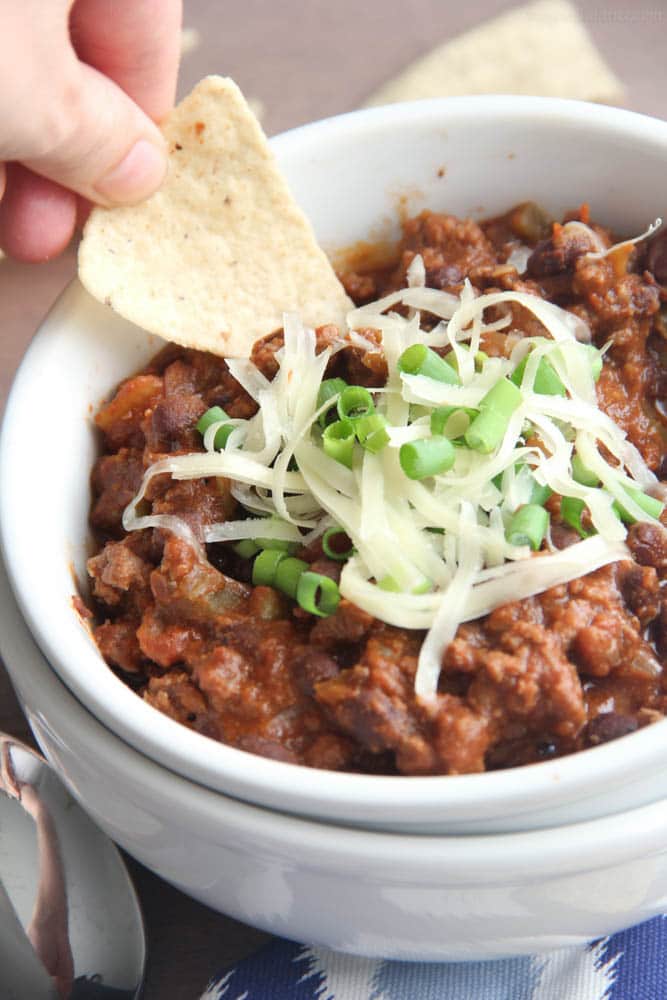 Shouldn't be too much of a surprise though, I have two meals I always fall back on, doesn't matter what time of the year it is, or the temperature outside, chili and taco salads are the way to my heart. Don't mind the fact it was 95°F outside the other day, this chili will be made no matter what. When you only need 4-ingredients, there is no legitimate excuse not to make this for dinner! You technically don't even need to use silverware (uhh added bonus), I kept scooping huge bites of the warm chili with corn tortilla chips. #heaveninmytummy
R and I returned home after traveling to Minnesota, we went there for the fantastic and fabulous Lindsay from Pinch of Yum, hosting a Tasty Photography Workshop.
It was such a fabulous experience and really has me feeling rejuvenated and excited about whats next for VB! We are getting closer and closer with this book launch. I am like a little school girl when it comes to all of this, seeing it coming together is so rewarding after almost a year of working on it. Taking this baby to the end!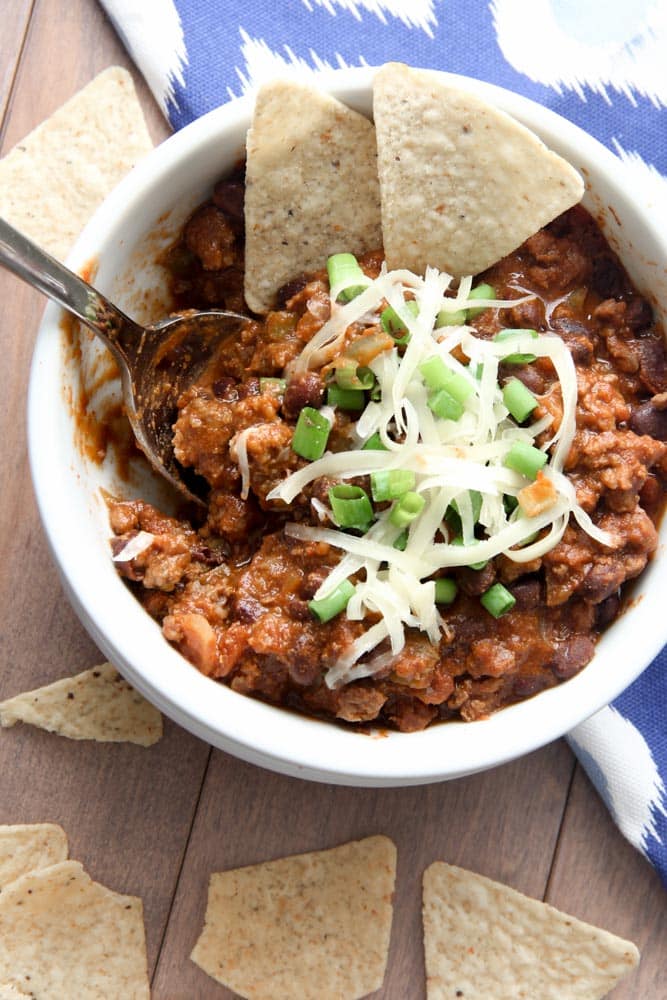 We returned home and had to go back to work the very next morning. There was not going to be any fancy cooking happening in the VB kitchen this week. Not to mention the fact our refrigerator was an empty abyss. So empty you might of even seen a western tumbleweed blowing out when you open the door.  This is so uncommon for us, it was weird and extremely foreign. I had to get creative what was for dinner, there was no way I was going to pull myself together to go grocery shopping after being in the car all-day. Just not happening.
We had all these ingredients and bam, that was dinner that night, then again the next night. So, to put this in perspective, I've made this dish 4 times for the book itself, then two more times minus some ingredients to make it even simpler, in less than a month. Yeah, you've read that right, I've made this dish 6 times in a month. I mighhtttt be in love with this 4-ingredient Gluten-Free One-Pot Chili.
After traveling especially it is so nice to be able to sit down and eat your favorite home cooked meals. Even if these home cooked meals are made in a flash, it is still healthier then eating out, and after 6 days of eating out, I was totally 100% sick of eating out.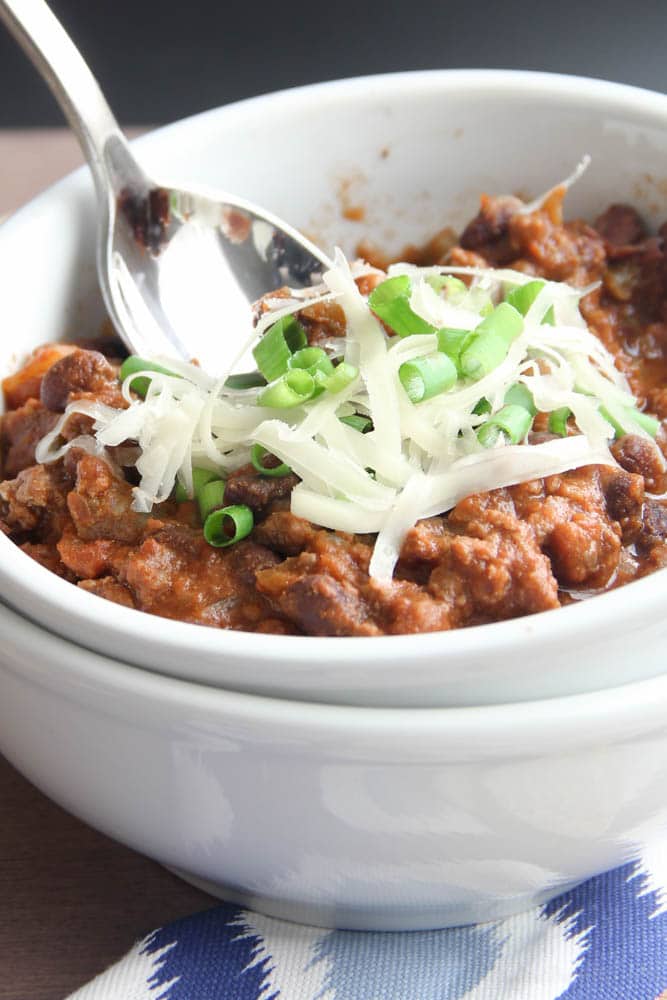 I am a hardcore homebody though. I love traveling, seeing new places, people, foods, and just something out of the normal. However, after about 4 days I've had enough, I am ready to be back home in my bed, and with my kitchen. Eating out with allergies can be tricky when traveling, after a few days of trying to hash together food you can eat, I'm done and ready where I can just make my own dishes. Plus, there are too many times I just want dessert, and when on the road it's rather difficult to find dessert you can eat unless, it's ice cream. Actually what am I saying, that's not a problem at all.
I love ice cream, it will always have a place in my heart. Except it's kind of cold right now. Perfect time to sit down with a bowl of something warm and snuggle under a blanket. Here you go guys, this 4-ingredient one-pot chili is that bowl of something warm, now go find that blanket and officially kick off fall!