Slow Cooker Jambalaya that is Vegan, essentially hands-free and packed with so much flavor it's in permanent dinner rotation in our household.
Gluten-Free, Dairy-Free, Vegetarian, Vegan friendly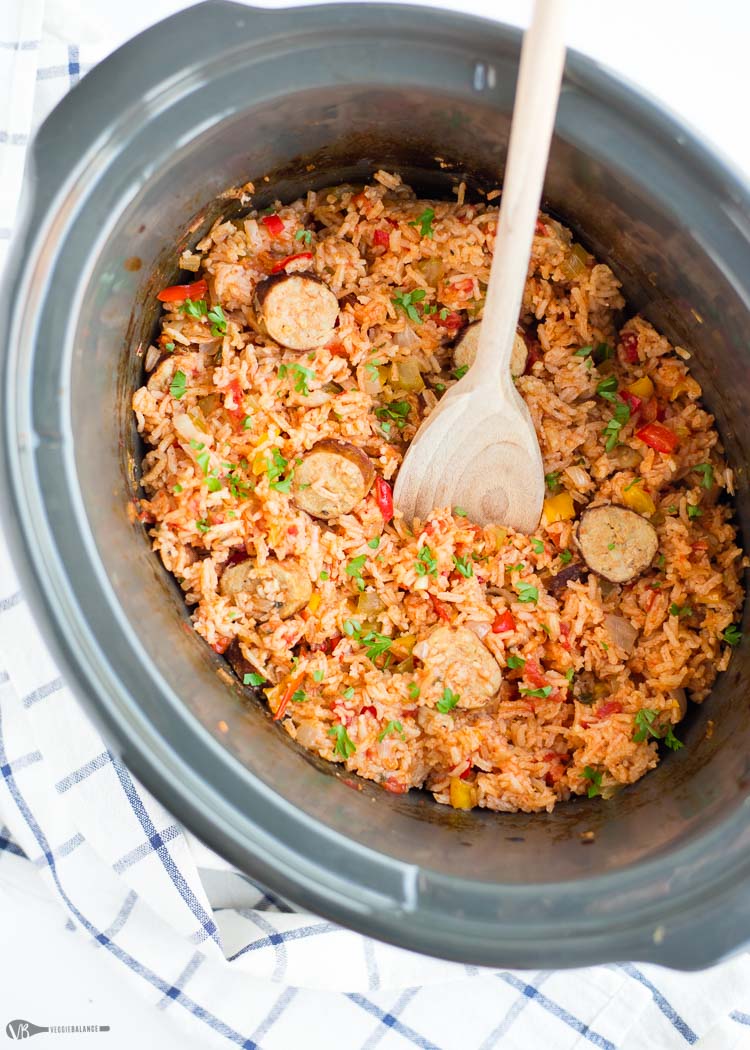 We've made several versions of jambalaya over the years.  But this slow cooker jambalaya is the absolute best.
As you all know, I am a fan of simple culinary concoctions resulting in as few dishes to clean as possible. This is perhaps why slow cooker jambalaya and I are such good friends. Throw it in the pot and let the delicious flavors do all the work.
I've struggled for years to find a sausage that is vegetarian and ALSO gluten-free. Thank goodness over the years it seems someone has been listening to us because since we've moved I found one! Gluten-free vegan dreams really do come true.
I know we've got quite a few vegetarians who aren't Celiac – and fortunately for you finding vegan/vegetarian sausages is much easier. I feel confident making recipes with vegetarian/vegan substitutes now that I can try it myself.  Tell us in the comments below all about your favorite meat-free sausage!!
So here it goes, easy peasy.
How do we Make our Jambalaya Vegan/Vegetarian?
This part is SO easy, just like this recipe. The base, flavors and ingredients all are vegetarian. Include your favorite vegan/vegetarian sausage and voila! We've got vegetarian jambalaya … This makes me (and I suspect many others) pretty gosh darn happy.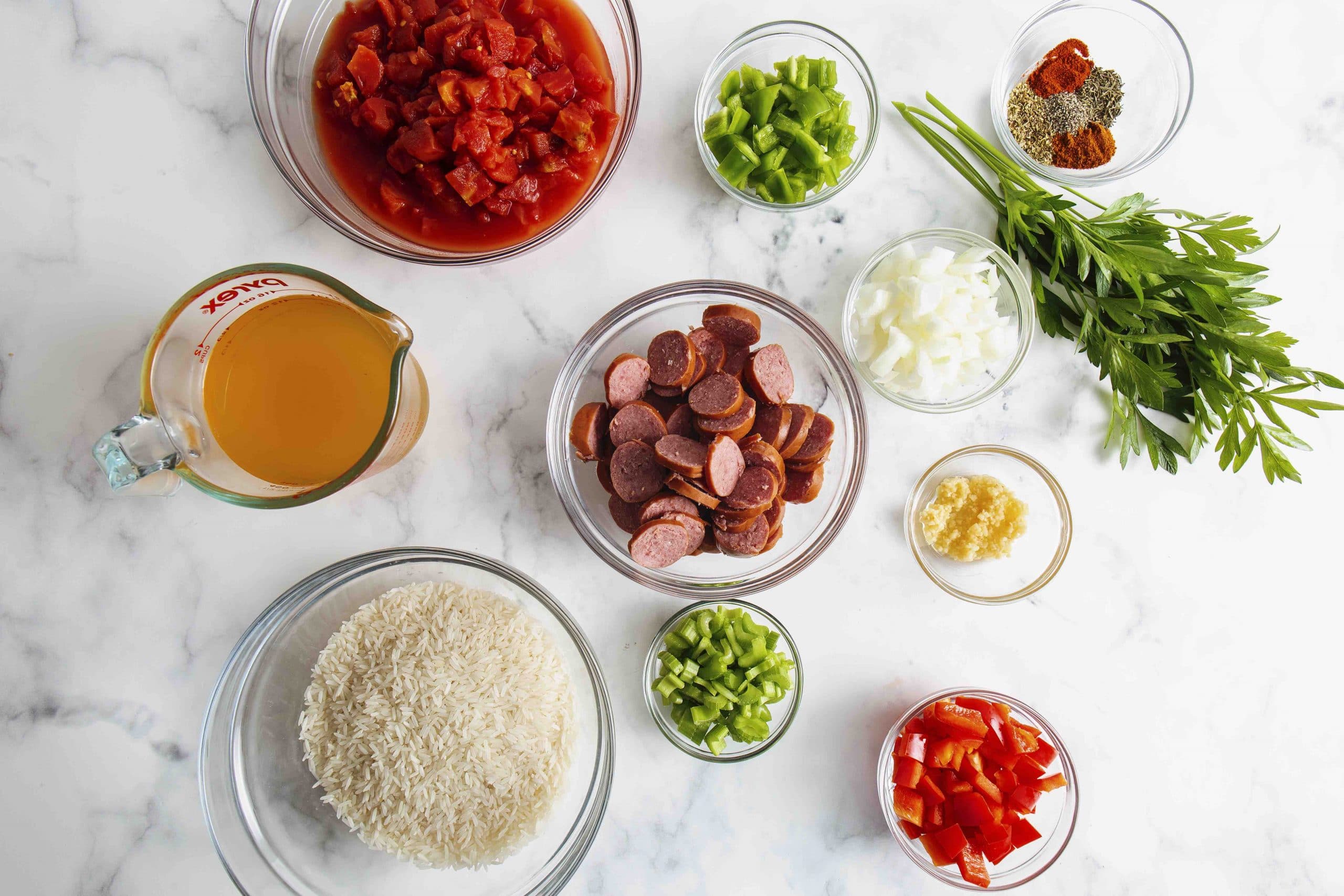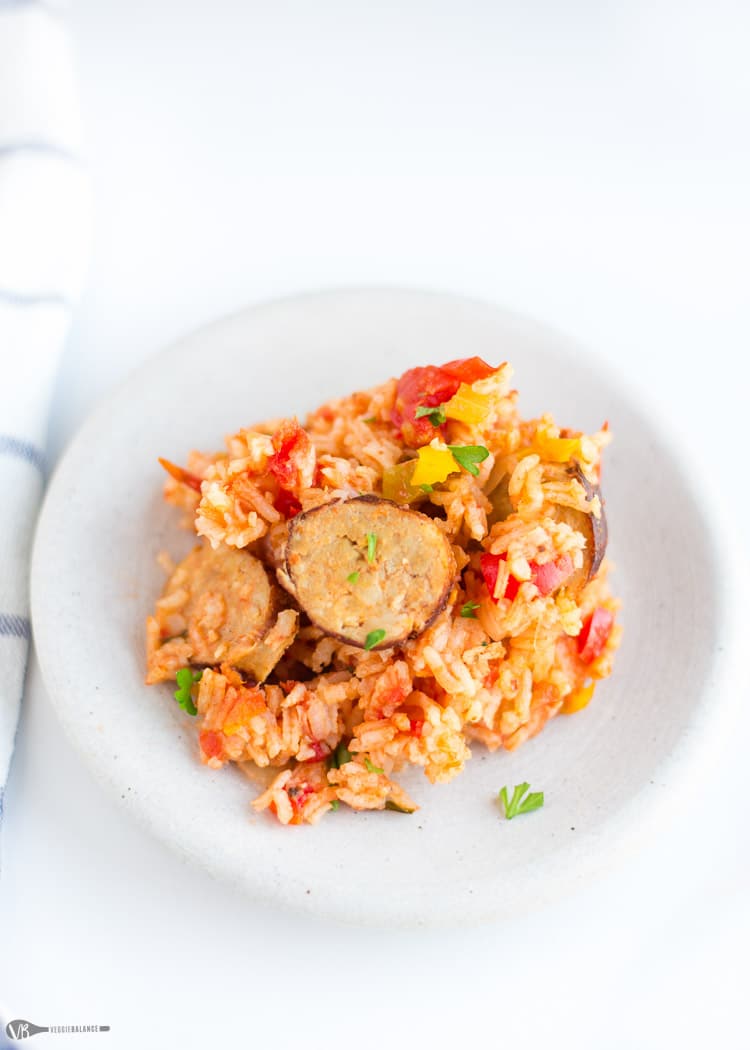 Vegan Slow Cooker Jambalaya on a Budget
This makes a TON of jambalaya and there are leftovers for days. For those on a budget, this jambalaya is a dinner in itself. We paired it with a light lemon kale salad for some extra veggies.
The most expensive part was vegetarian sausage. This seriously fed our family of two for daysssss. Once we did the math, we realized the entire meal cost us $13 and that was dinner for 3-4 days. #BallersOnaBudget or as I've been saying #BOB  😉
How to make this jambalaya for our meat-eaters:
Now if you don't follow a vegetarian diet or this isn't for a meatless Monday dinner, simply swap the vegetarian/vegan versions with your favorite sausage and chicken stock instead of the vegetable broth. Everything else can be followed to a 'T'.
We've made it both ways in our household – and both ways are delicious. Truthfully, I could hardly tell the difference.
Another option if you have a meat-eater in the house is to simply follow the instructions and then divide the jambalaya in half after cooking, stir in meat and meat-free sausage into separated dishes and you've got meat-free and meat dinner options! If you want to add some healthy crunch, throw some air fried mixed vegetables into the mix.