Tagalongs Girl Scout Cookies Copycat recipe offers a gluten-free twist on those classically addictive cookies.
(Gluten-free, Vegetarian, Dairy-Free friendly)
These gluten-free girl scout cookies are the copycat version of the tagalongs and oh my word they are a peanut butter chocolate dream.
Peanut butter and chocolate goodness. This epic combination you can never can go wrong with, it is my kryptonite.
What are Tagalong Cookies?
It starts with the perfect peanut butter cookie underneath as the base. Slightly adapted from the gluten-free skinny peanut butter cookie recipe I made a while back.
With your favorite peanut butter and honey you dollop on top of the cookie.
Cover it with chocolate.
Then top it off with peanut butter drizzle.
My neighbors kids came by earlier this summer asking if we wanted to order any girl scout cookies. If you knew how absolutely adorable my neighbors children were you wouldn't be able to resist either.
These gluten-free tagalongs are for all those gluten-free individuals who have to watch their families eat the original girl scout cookies and be reminded they can't have them.
This one is for us. Lets make some cookies!
It really is that easy. Whoever you give these too will think you are a master baker spending hours in the kitchen with your peanut butter drizzle action. Or you can just eat them.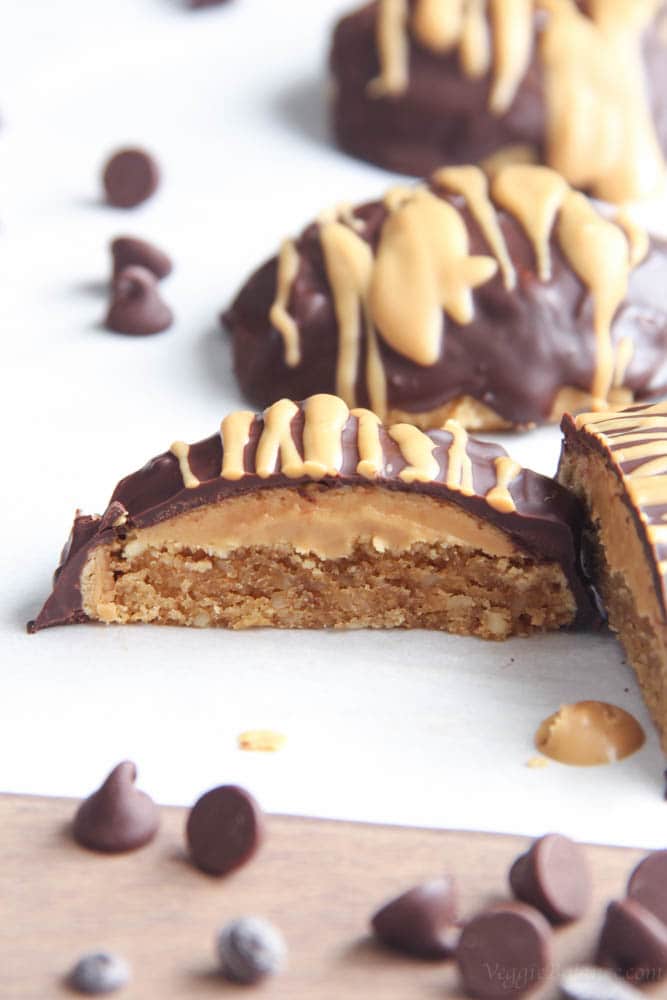 How to Get the Perfect Peanut Butter Drizzle
The easiest way is by placing the melted peanut butter in a plastic bagging. Clip a TINY piece off the corner of the bag and let the peanut butter drizzle action happen.
You've got to be patient, don't go to quickly but don't go to slow when drizzling. Allow the peanut butter to hit the cookie and smoothly drag your arm across back and worth for the effect.
As I write this we are traveling from Michigan to Minnesota to attend Pinch of Yum Tasty Food Photography workshop. I feel pretty darn official on my first business trip for VB. Here I sit at this very ordinary hotel desk and very basic hotel room and I get to write as I travel.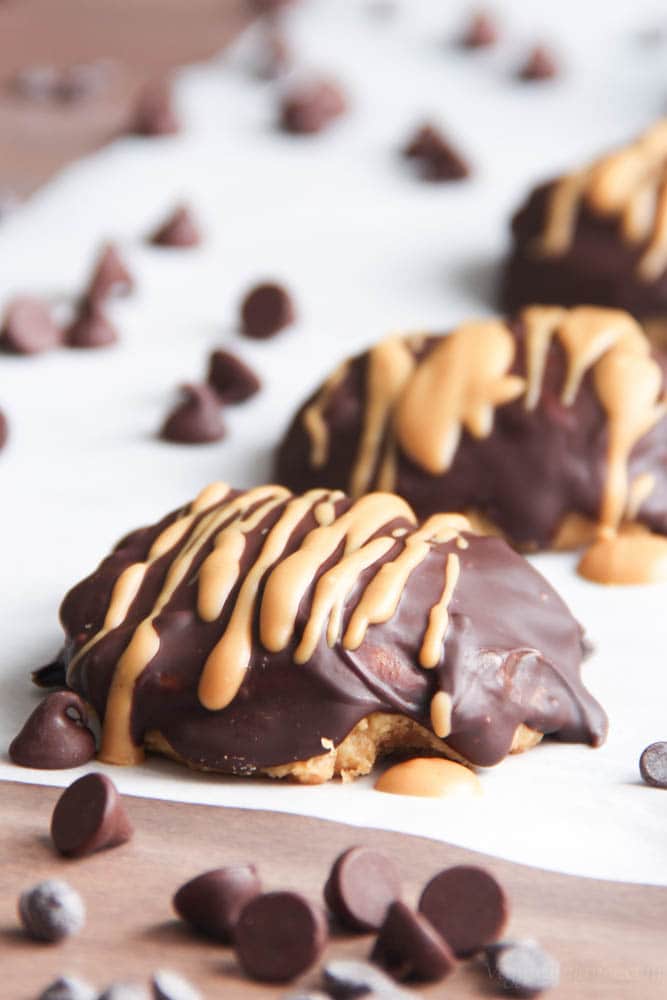 Now beg my pardon for this extremely corny statement but these little delicious tagalong cookies tagged along with us during this trip. Hehe.
I must say they are a very tasty and very delicious cookie for the road. You know those car rides that seem to never end and you just want to eat and snack nonstop?
Yep, long car rides do that to you and you just need a cookie to wash those long car ride blues away. The little sugar boost doesn't hurt either. This banana split trail mix doesn't hurt either.
Whether you're looking for your favorite girl scout tagalong cookies to be gluten-free or you just want a death by chocolate and peanut butter cookie. This one is for you. Lets go make ourselves more cookies.
If you like these Tagalong cookies you might also like: