Avocado Black Bean Pita packs a healthy punch in this "pull it all together" meal from ingredients you have on hand. (Vegetarian)
It's Sunday. I'm feeling lazy. We all deserve a lazy weekend right? Laundry doesn't get cleaned, house doesn't get cleaned, grocery shopping gets put off till the very last second.
Well, in my case it was put off completely. Drama Moment Cued: THERE ISN'T ANY FOOD IN THIS HOUSE!
Well, let's be honest. We all know when we say that there is in fact food in the house, it just might not be what you WANT to eat.
I think it's smart to do weeks like this. We have food, way too much food honestly. Skipping a week of grocery shopping saves you money and at the same time uses the ingredients you have in the house.
Voila, something that initially was a scrounging affair turned into something delicious.
I had some pita bread, dried black beans (easily can use canned beans), spinach, avocado and Swiss cheese slices! It turned into a sandwich I will be making more often, it's nutritious sandwich heaven.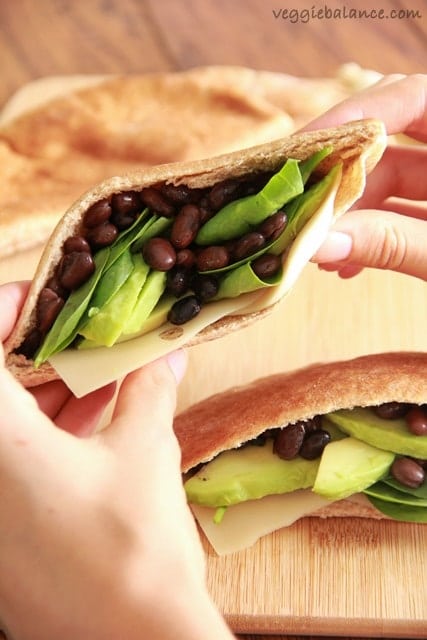 I also realized I had some pita bread frozen from my last batch of pita bread making. Totally was kicking myself for not using that up.
Roland loves the weight watchers slim sandwiches. I haven't had a chance to make another huge batch of my multi-grain sandwich thins. We've been buying them for the time being and freezing the extra.
Only thing is, my husband keeps buying more and more without using the freezer ones. Another deep freeze fail on the books.
These avocado black bean pitas were a hit for both me and my husband. I put Dijon mustard on mine or ate it plain. Roland oddly liked Greek dressing on his.
Either way, such a great lunch to make and take to work. Very tasty and lets be honest, you can't really mess a sandwich up as long as it has avocado right? 😉
Happy and Healthy Eating Everyone!