Easy Homemade Corn Tortilla Chips,Made with easy two ingredients and with 15 minute. All-natural corn tortilla chips take your entertaining to the next level. (Gluten-free, vegetarian
I'm letting my inner Mexican out in this post with an amazingly easy way to make homemade corn tortilla chips.  My love of Mexican food is no secret; it runs strong and deep. Between my weekly taco salads, homemade corn tortilla chips, and my love and obsession for taco sauce  (which I now make), Mexican food and I go together like peanut butter and jelly. Or, beans and rice. Well, you get the point; we just work.
Corn tortilla chips have some super power that allows them to go well with just about anything and everything: dipped in some delicious and cheesy goodness, used for nachos with a hefty amount of cheese and beef, crushed on some taco salad – I mean, it is very apparent that they have super powers, are delicious, and need to be on everything.
It's kind of ironic to me that I married A MEXICAN who very fortunately also has a deep profound love for Mexican cuisine (big surprise, right?). There are never enough homemade corn tortilla chips to satisfy us, just like no matter how many times we make taco salad, we just keep eating it.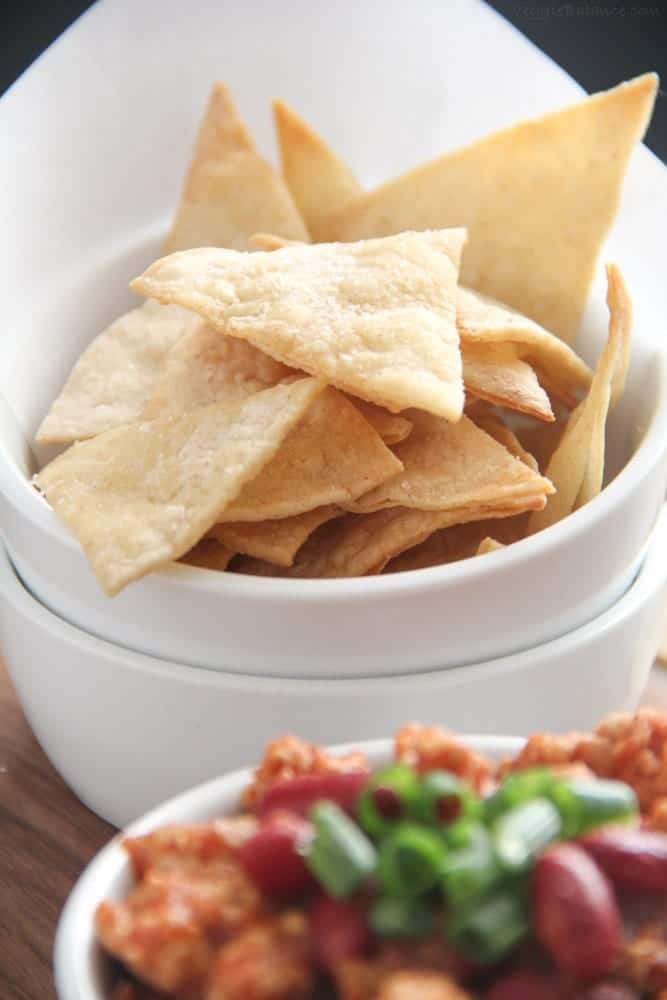 Corn tortilla chips super-power number one: These corn tortilla chips are so absolutely simple and easy to make. Two ingredients, that's all you need. (Our dreams of simplicity are coming true.)
HERE IS HOW THE MAGIC HAPPENS:
Use delicious fresh corn tortillas, the more authentic the better. If there is Spanish on the packaging, you have hit the corn tortilla jackpot.
Next, stack the corn tortillas and slice them into sixths with a ninja tool I like to call the pizza cutter.
Then, lay them out on your baking sheet like so, brush with olive oil, a little salt and BAKE.
Heaven will emerge from your oven in 10-15 minutes in the form of golden, crisp, tasty corn tortilla chips.
It seems so easy, and it is, which leads me into super-power number two.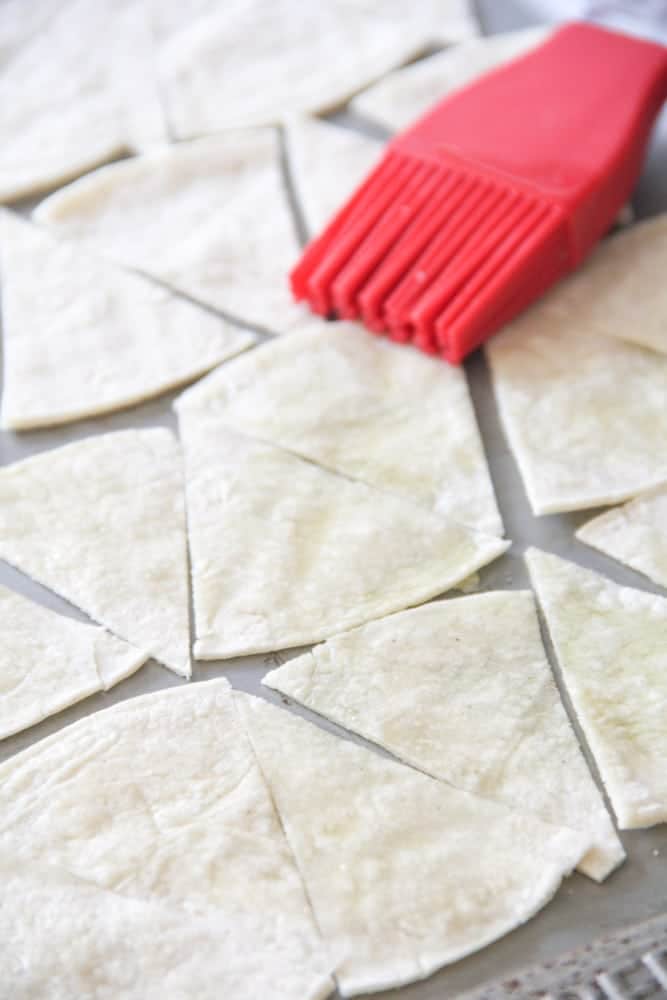 Super power number two for these golden corn tortilla mommas:  Your guests or family will think you've worked so hard to make them.
This is how we roll, making grub that looks and tastes fancy, but really took almost nil time.
Yes, these corn tortilla chips surely have super-powers; how else can I explain why I eat them all of the time? They have a hold on me.
Do I make homemade corn tortilla chips every week? Most definitely not.
Do I eat corn tortilla chips every week? Most definitely yes, and maybe I should clarify by saying probably every day.
Making them like this every day would be a little excessive, but there is something to be said about sprucing things up in the kitchen and trying your hand at new things.
When it involves easy, simple changes, such as simply slicing a fresh corn tortilla, I'm pretty sure 99% of people would be on board for this once a week change.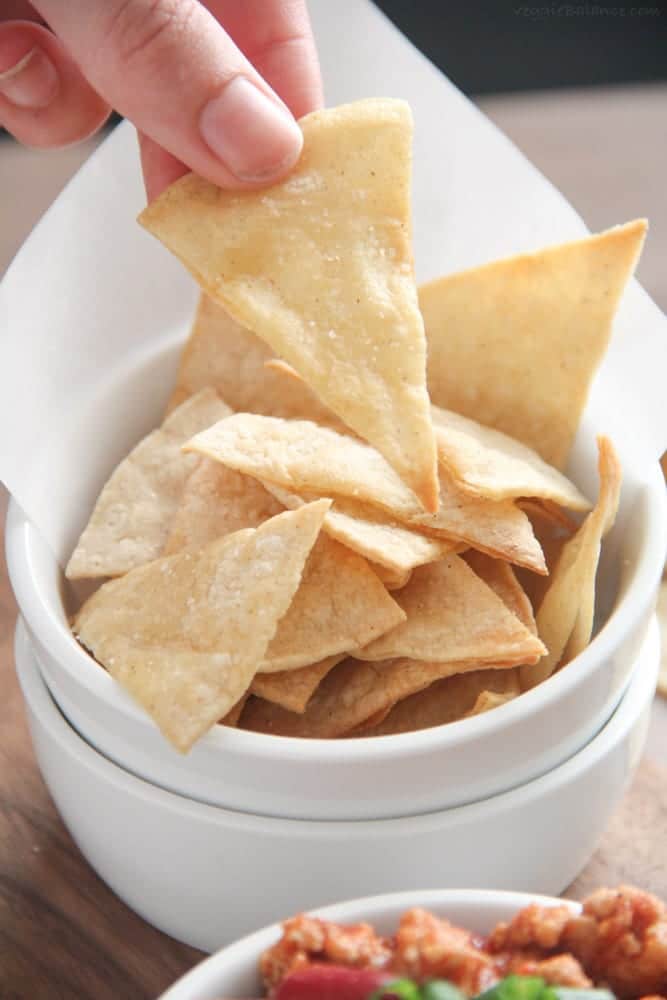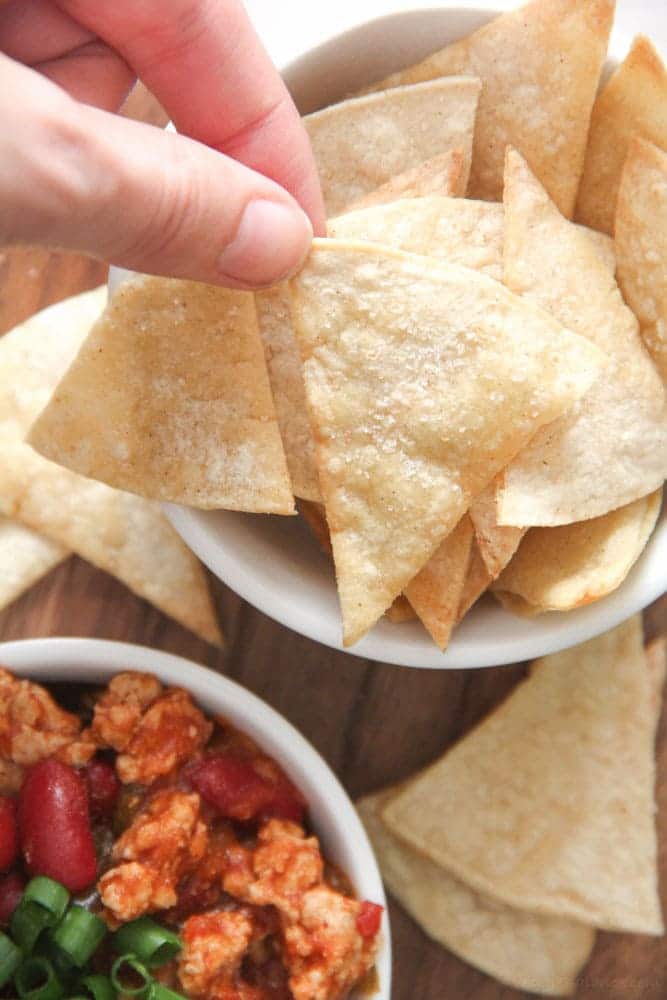 They are my absolute favorite to make with my easy 4-ingredient chili that I happen to use as a dip once in a while (ok, I quite often use it as a dip). Two super easy dishes, and that is dinner my friends. Uhhh, what?
Yeah, you got me, I eat chips and dip for dinner–a lot. Super power chili with super power chips and there is no way to resist, so just give in.
Makes me think of other goodies for my tummy, like all the tomatoes and peppers I recently pulled in from the garden. I love my garden; it's always such a sad moment saying goodbye to it every year. It's a foreshadow of the cold tundra to come in the months ahead. Very sad moment.
Nonetheless, it just means I will now have more time to accomplish all those inside house tasks and make lots of warm, gooey chocolate chip cookies. Yeah, I like that.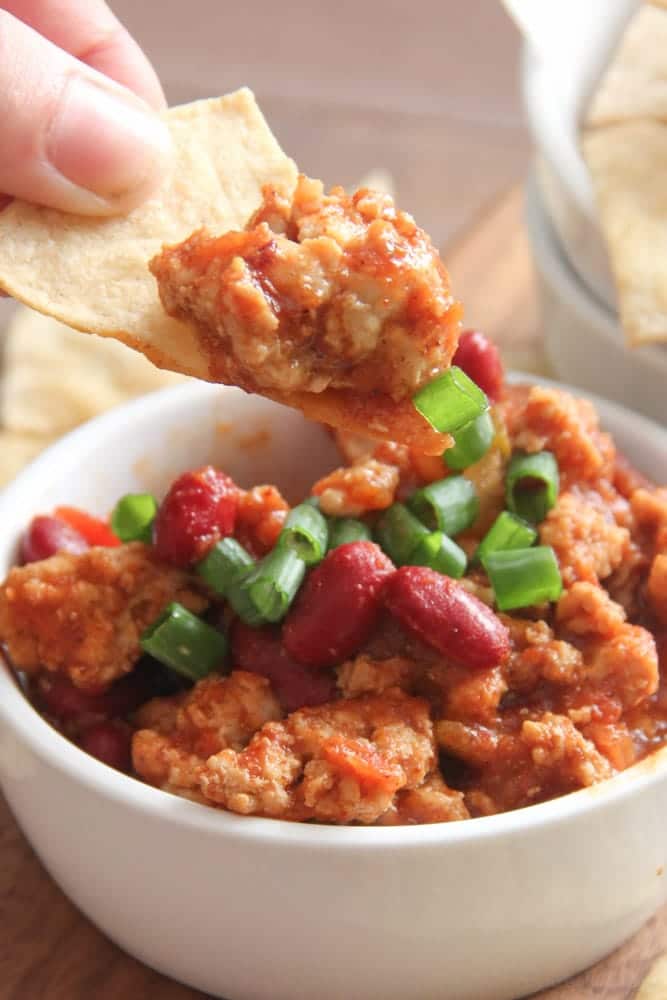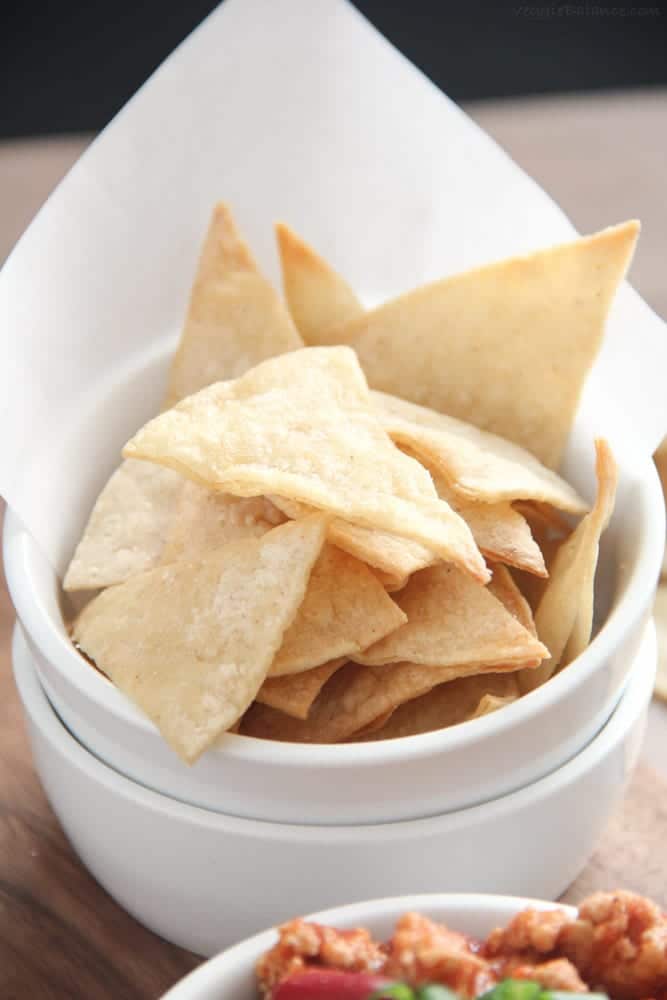 Update: Make Cinnamon Sugar Chips
Use 1 Tablespoon melted butter, 2 Tablespoons cane sugar, 1 Tablespoon cinnamon.