Cranberry Pecan Brown Sugar Quinoa is the dessert-like side dish you've been waiting for. Whip this up and devour for a happy day.
(Gluten-Free, Low-Sugar, Vegan & Dairy-Free friendly)
Cranberry Pecan Brown Sugar Quinoa. Is it a dessert? Side dish? Lunch? Breakfast?
At this point I've given up on when this should be served and given in to how divine of a combination this is.
Naming it like it is with this simple Cranberry Pecan Brown Sugar Quinoa.
It's got Dried Cranberries
Pecans
Brown Sugar
Quinoa
Oh and butterrr.
Oh yes, it's a sweet, savory, buttery dish you just can't say no to.
I have to give credit where credit is due though. More and more help has been needed behind the scenes at VeggieBalance. Our fantastic wordsmith guru gave me this dish idea while we were traveling around Japan.
I drooled at the mere thought of this epic combination immediately.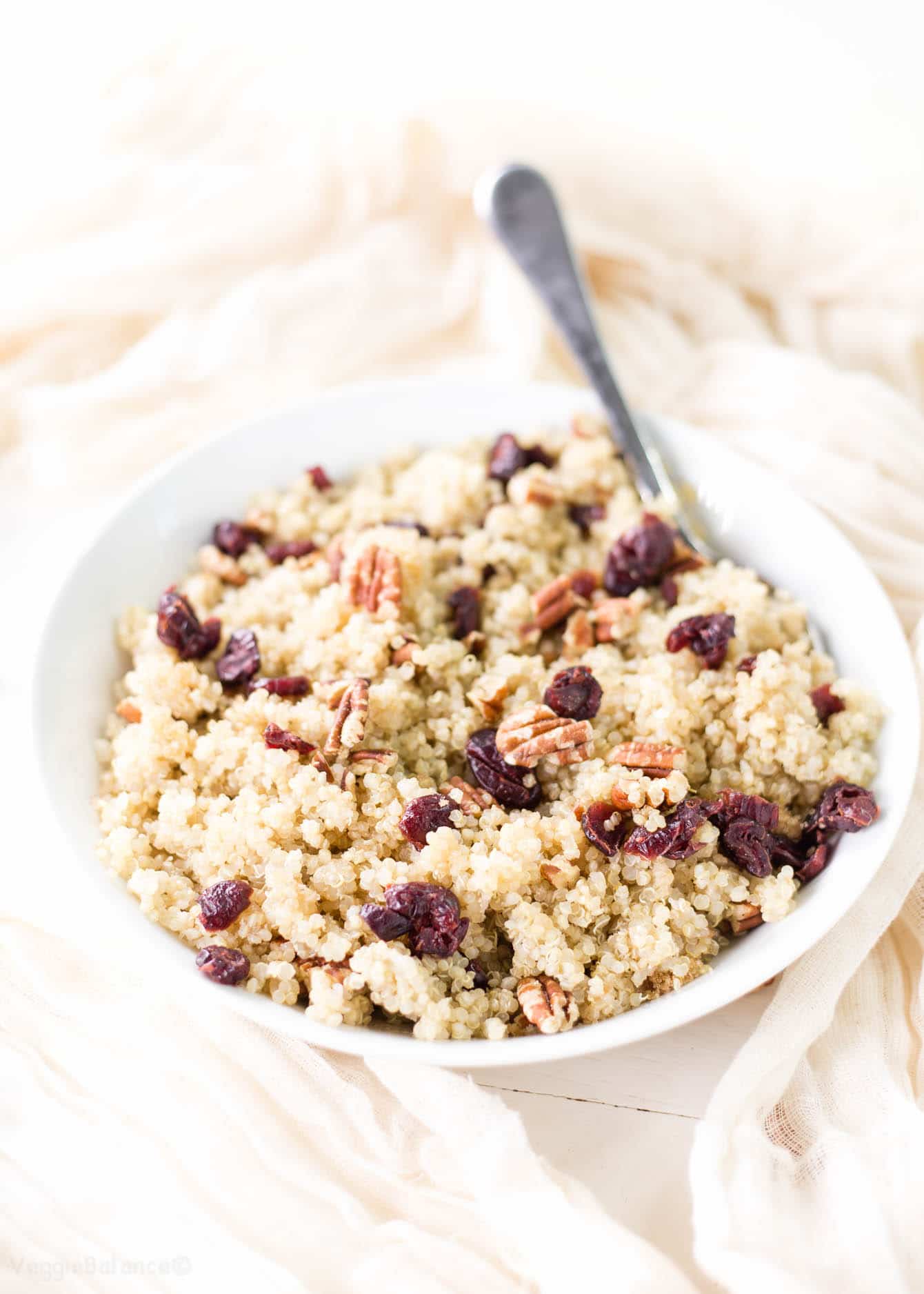 Needless to say, I arrived home and within the week I made this Cranberry Pecan Brown Sugar Quinoa.
Hooked. I am hooked.
TIP: Remember to rinse and drain your quinoa before cooking. It'll help with any residual bitterness you may get from the quinoa.
TIP: Easily make vegan and dairy-free by using a dairy-free butter alternative.
After weeks of eating plain white rice, this quinoa is hitting the spot. Not the mention this sweeter recipe is hitting the SPOT.
Cilantro Lime Quinoa with some Vegetarian Taco meat for dinner and then this Cranberry Pecan Brown Sugar Quinoa for dessert. Or a snack. Is this too much quinoa? 😉  (No. Such. Thing.)
You won't mind, I promise. This buttery sweet quinoa with little bursts of cranberry and crunch of pecans earns a place on the table. Probably our Thanksgiving dinner table as if you ask me, this is perfecttttt for it.
Or anytime for dessert. That works for me too. The whole family will love it.