Gluten Free Monster Cookies are the crave-worthy additions to your day. Do you remember the pure joy of childhood? Yup. That's what these taste like.
(Gluten-Free, Vegetarian, Dairy-Free Options, Nut Free Options)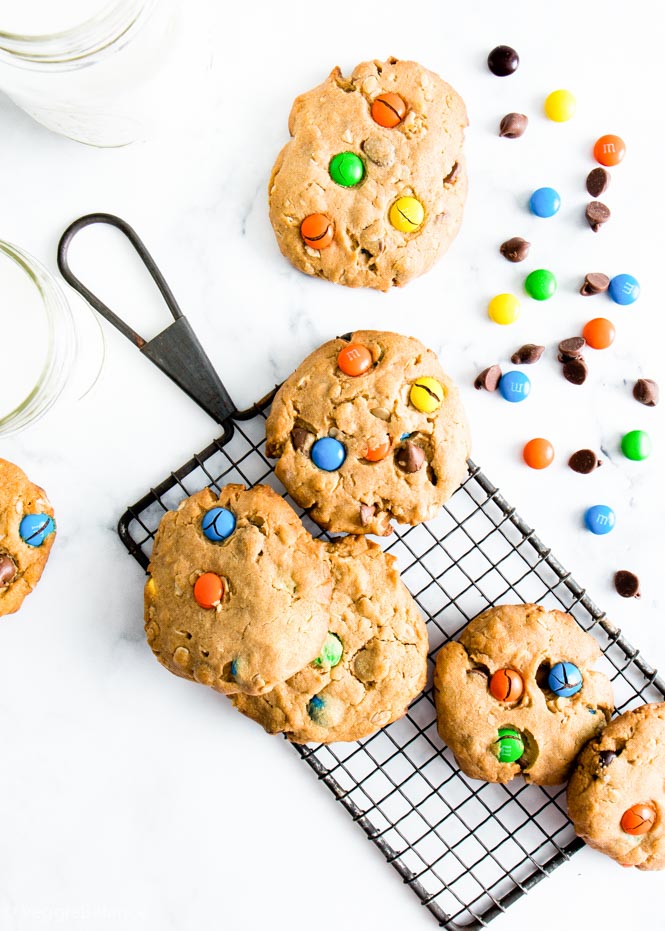 Gluten free Monster Cookies remind us of simpler times. We don't know about you, but we have some very fond memories that involve chomping away at the classic cookies.
The best news is, you don't have to miss out on these just because you're an adult and gluten free. They taste just as good as you recall, if not better. We think they taste better, but that could be the nostalgia meets pure adulthood joy talking. They are so peanut buttery it's absolute heaven.
Gluten Free Monster Cookies: What you'll need
Salted butter, brown sugar, cane sugar, baking powder, creamy peanut butter, vanilla extract, salt, gluten free baking flour blend, milk, and gluten free oats come together to make the batter base.
Add colorful button shaped chocolates and chocolate chips to make the magically cookies complete. If you have to use dairy-free chocolate shaped buttons there are out there!
Options: You can use peanut butter alternative as well as dairy alternatives for the butter and milk.
If you're ready to make the magic happen and start baking, we have a few helpful tips to keep your cookies in tip-top shape.
Allow the cookies to FULL COOL before taking them off a baking rack. They are a little fragile, these delicious gluten free monster cookies.
Store in an air-tight container to keep the flavor fresh!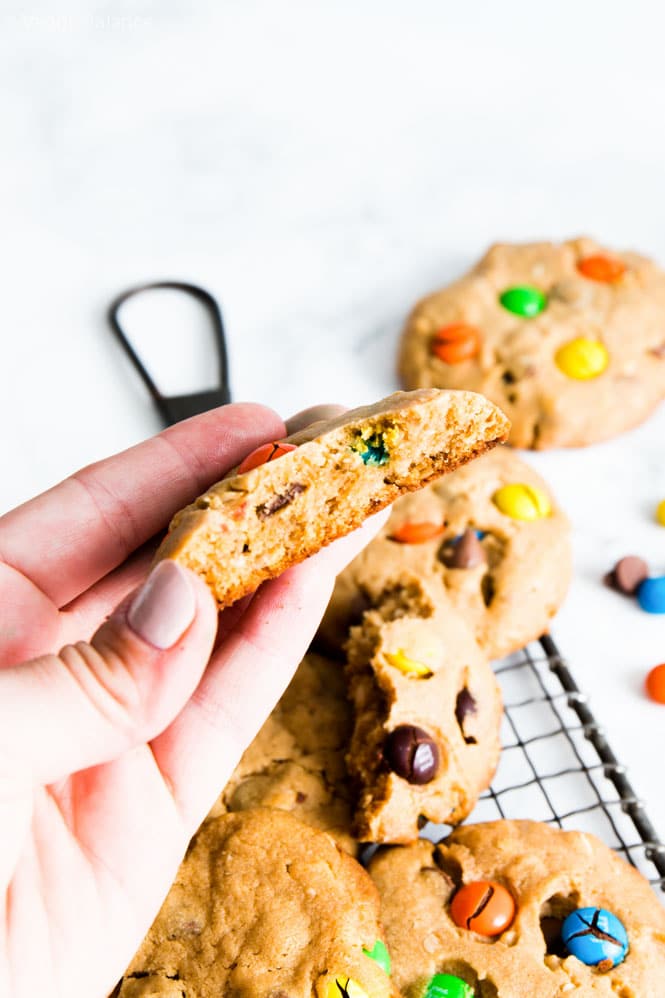 Cookie lovers rejoice
As you can already tell, we love some Monster Cookie flavor. We have some other options you will enjoy!
We know you'll love these cookies as much as we do. I mean, how could you not?!
If you're mixing up some monster cookie dip to go with, you're officially our hero.
Seriously. Life is too short not to love what you eat and feel like a kid again.