Fresh mozzarella + fresh tomatoes + fresh basil = LOVE.
OR it can also be known as Caprese Mini Skewers… I'm going with love.
These caprese mini skewers are the epidemy of summer. Everything about them screams SUMMER IS HERE! Fresh produce and flavorful basil all packed into a bite of heaven. Yum! Time to turn on those grills and relax outside with friends and family.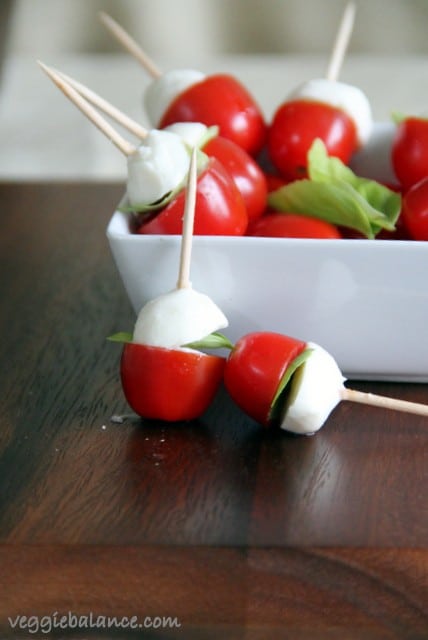 Warmer weather means entertaining more family, which means feeding them. Sometimes, especially now, I'm at a lost for what to have as a appetizer.
Mainly because if I were my previous self before my journey, my decision would have been a couple blocks of cheese with Ritz crackers along with some chips and dip.
Yeah, I would be lying if I said that doesn't sound good as I'm typing this. That's when I took a spin off my avidly loved Caprese combination into appetizer skewers.
You have yourself a perfect appetizer to tide people over till the main course. Not to mention a much healthier alternative compared to traditional appetizers.  Your guests will thank you for looking after their waistline while still providing a tasty treat.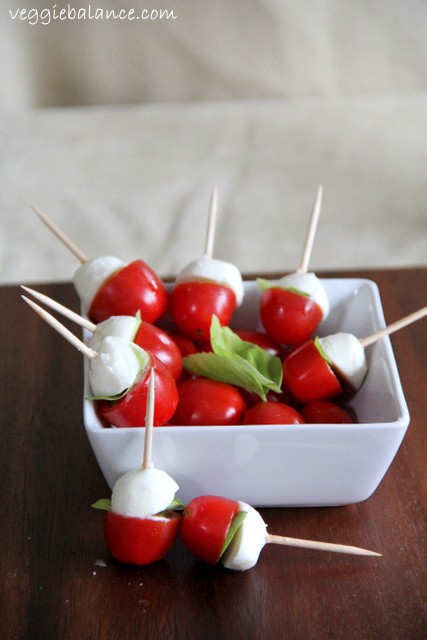 Grilling out is perfect, except when you are a vegetarian and grilling out generally refers to beef and hot dogs.
Now, I'm curious. Does anyone else have issues with having family over and making them meals? I find I've had a couple struggles during my journey in making healthy main courses for company.
I've made quinoa black bean taco bake and the classic spaghetti with my homemade spaghetti sauce, but I guess I just have a fear to begin with when having company over so adding that with the stress of making something healthier when the general public would rather have the unhealthy version (or meat version) is stressful.