Slow Cooker Scalloped Potatoes recipe is a comfort food classic guaranteed to be a family favorite with a delicious cheesy sauce.
(Gluten-Free, Vegetarian, Dairy-Free friendly)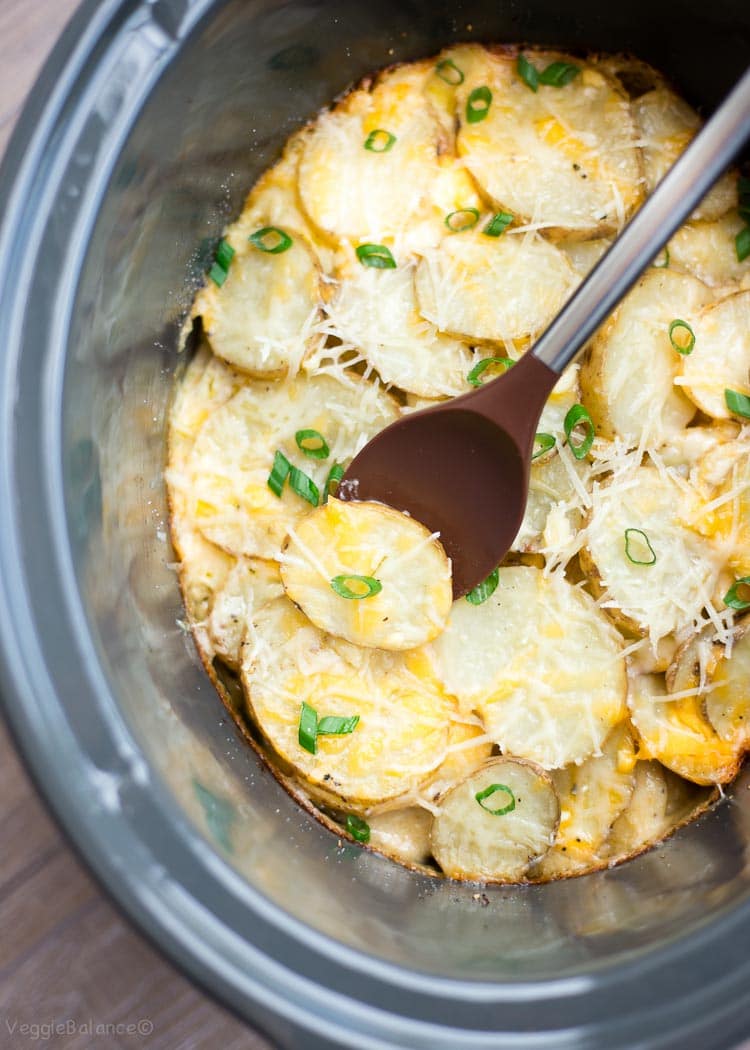 I don't even know where to begin with these cheesy scalloped potatoes. One thing is for sure, they are perfect for comfort food cravings. The best part is how easy it is to whip together, once you get past cutting up the potatoes.
Trust me, it's worth it when you get to devour perfectly cooked, tender and cheesy potatoes made in the slow cooker!
Fall is near, which means our slow cookers recipes are a requirement. See our Slow Cooker Vegan Jambalaya and then pair it with some Slow Cooker Apple Crisp.  Hello FALL!
Tip: Get the perfect scalloped potatoes
1/8 inch thickness is what you want to cut them. You want to make sure your potato cuts are not too thick. Thinly sliced potatoes is the way to go, it creates the perfect cheesy sauce to potato ratio.
Then it comes down to the sauce – simple ingredients to make the perfect white cheese sauce.
Now making scalloped potatoes in the slow cooker requires just one more tip to make sure they get cooked, but not soggy.
Can these scalloped potatoes be made dairy-free?
Absolutely! Take the cheese sauce and swap with dairy-free alternatives of your choice. We found that the dairy-free cheeses turned out great in the slow cooker! Thank goodness dairy-free cheeses have gotten SO much better over the past couple years.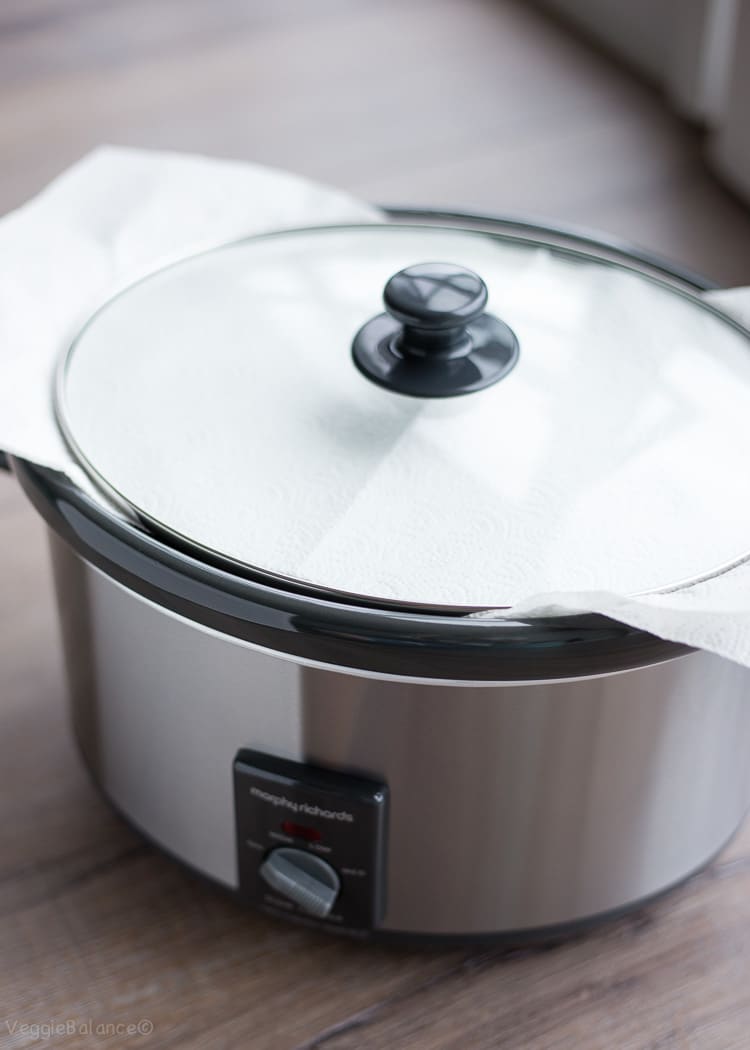 Making the perfect SLOW Cooker Scalloped Potatoes
Placing a piece of paper towel under the slow cooker lid as you see below. This soaks up the excess moisture and I found it is best to change to a new paper towel sheet after about 1-2 hours in the middle of cooking.
The last hour you'll want to remove the lid and continue to cook on high. This creates a nice crust on the potatoes that mimic just like baking in the oven. I got this tip and recipe idea over here and I agree that the paper towel tip is a game changer.
Why I prefer the slow cooker scalloped potatoes
Cooking for a crowd means a crowded oven. Timing can be problematic.
These easy scalloped potatoes can be made about 4 hours before the crowd arrives. You can set it for warm for about 2-3 hours before it begins to not taste as fresh.