Chocolate Cherry Cupcakes with a perfectly moist gluten free chocolate cupcake, all-natural maraschino cherry in the center and cherry frosting. If you are a maraschino cherry fan, this cupcake is calling your name.
(Gluten Free, Dairy Free & Vegan Friendly)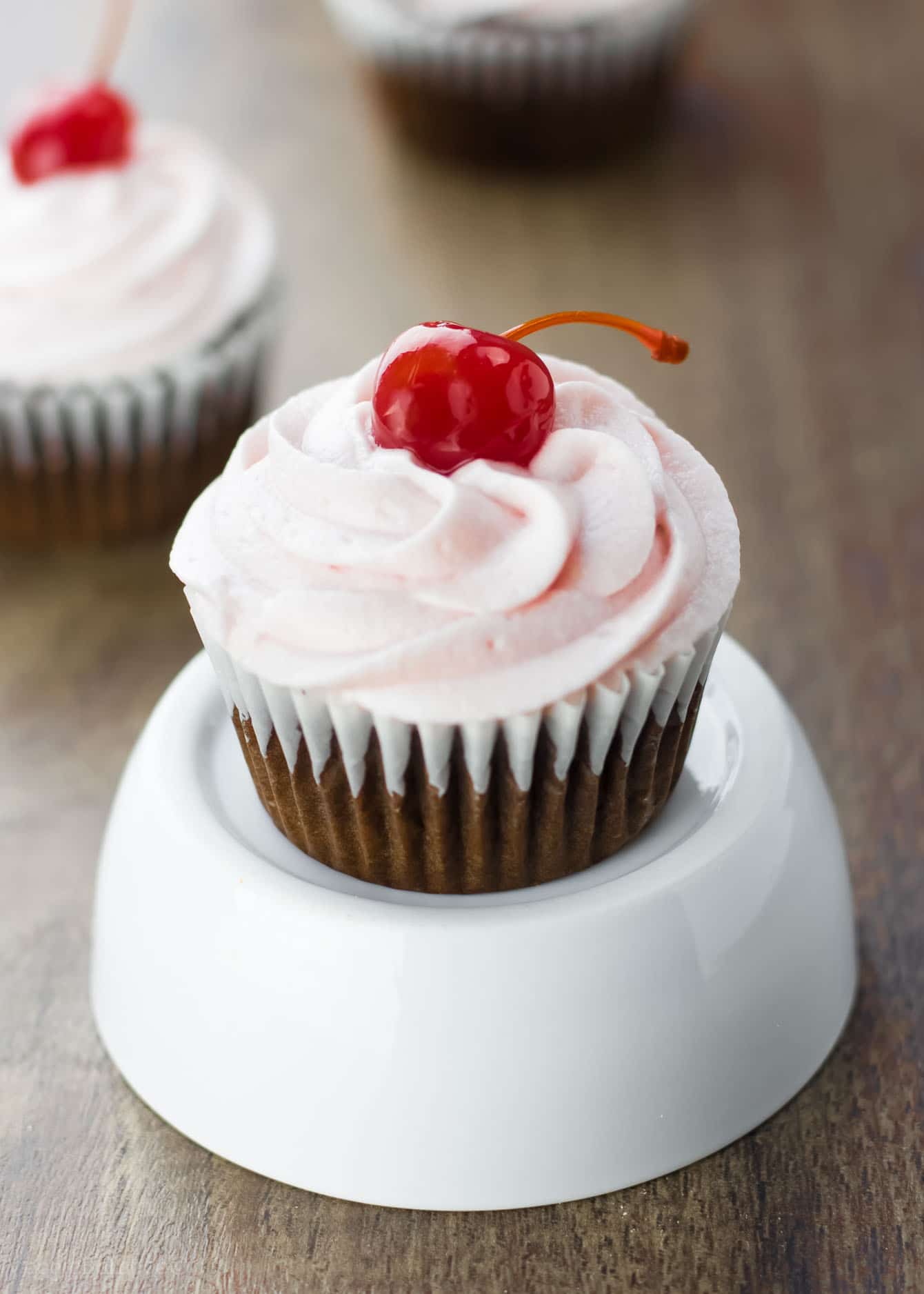 I grew up with a craving for those bright red cherries on top of anything sweet. Ice cream, whipped cream after leaning how to make it at home … and sometimes with just a spoon. Those deliciously sweet red balls of delight were a favorite for sure.
That was, until I got older and found myself extremely aware that maraschino cherries are not meant to be so bright red. It's just not natural. *Waits for epic wave of sadness to wash over me again.*
When I discovered this, I thought my days of cherries on top were over.
Oh-my-happy stars, I was so excited and so ready to make these Chocolate Cherry Cupcakes! I have been dreaming about making these for years but just didn't feel like choking them full of red 40 dye.
Chai cravings? Check out these Gluten Free Chai Cupcakes from Gluten-Free Palate.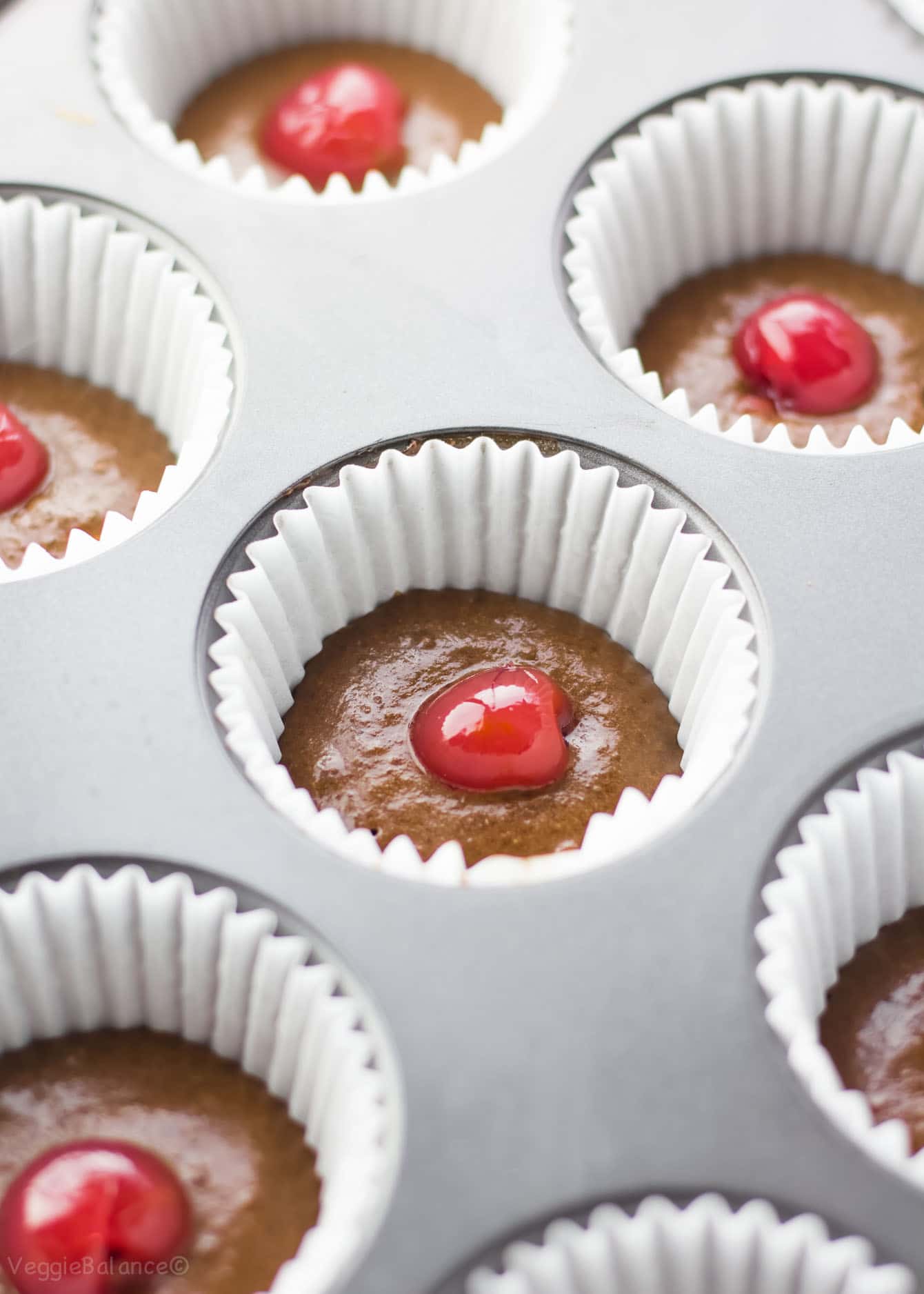 Don't get me wrong, if you gave me a cupcake with a traditional cherry on top, I would eat it. But when given the chance, I prefer to make (and serve) a healthier version.
After I came across these cherries I just HAD to share with you guys! I'm certain there are other people out there like me who love love loveeee their sweet maraschino cherries but don't want to be eating a chemical-filled cherry at the same time.
They taste exactly like the traditional ones, which goes to show we don't need our cherries to be bright electric red!
Feel free to make these
Peppermint Patties
while you are it also. DIVINE! Also a obsession of mine.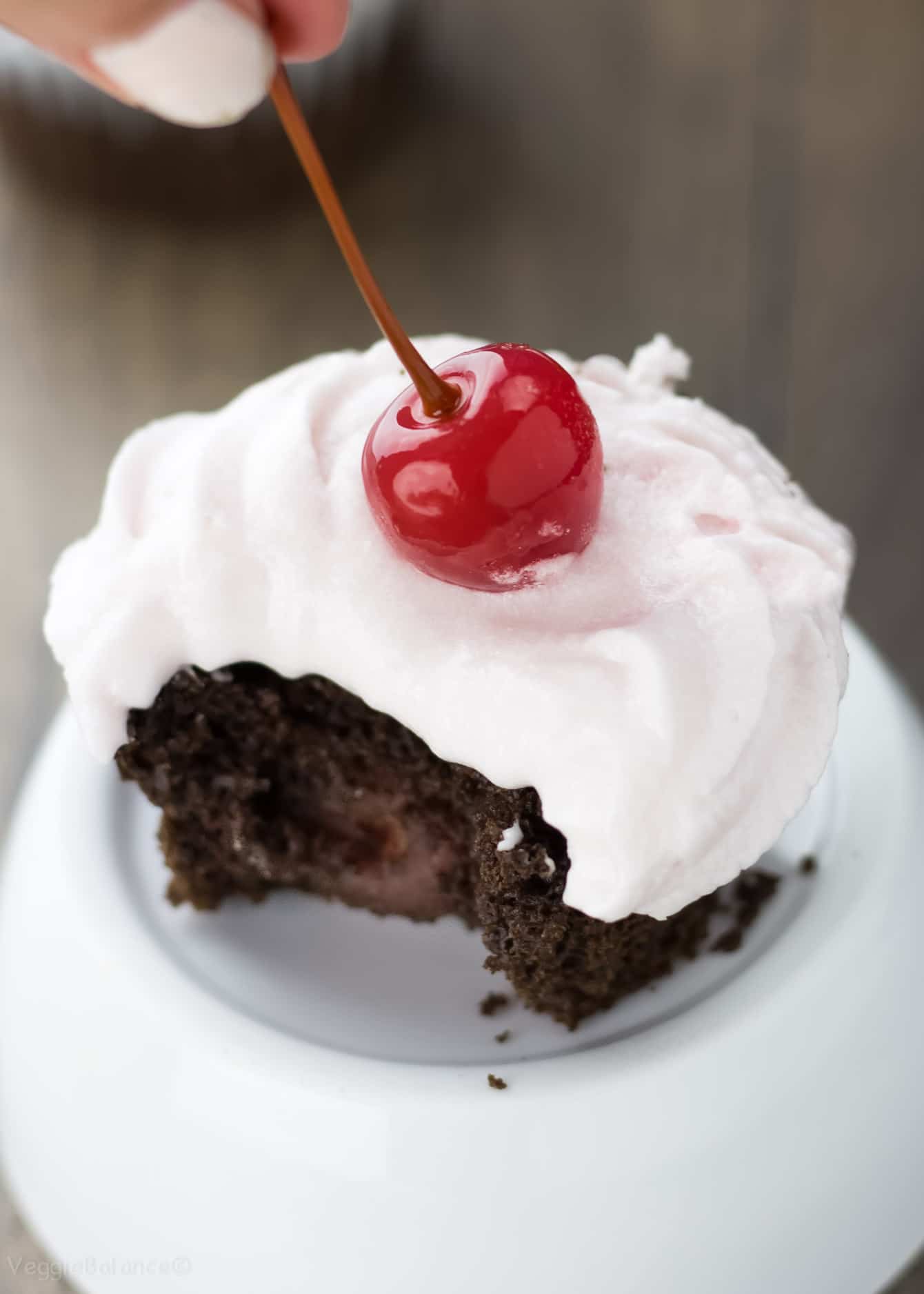 So now that I've come across these babies, the Chocolate Cherry Cupcakes that have been sitting in my brain were finally able to come to life! This is a good day.
They are everything I've been dreaming of, moist gluten-free chocolate cupcake with a surprise cherry center and flavorful cherry frosting crafted from the lovely sweet juices the natural cherries were sitting in.
Speaking of what dreams are made, there is this amazing gluten-free lemon cake made by Gluten-Free Palate with just absolutely amazing and fresh ingredients. We've got our summer flavors covered! In a chocolate mood but not lovin' the cherries? Check out this also so awesome Gluten Free Chocolate Cake From Fearless Dining. (We've got you covered!) 🙂
Are you a cherry lover as well? These Chocolate Cherry Cupcakes were MADE FOR US.