Chocolate Covered Bacon recipe made on a stick with 2-simple ingredients. This treat is always raged about. There is a secret tip to making them perfect though.
(Gluten-Free, Dairy-Free friendly)
Are you ready for this chocolate covered bacon foodporn?
Chocolate + Bacon = OMG YES
2-Ingredients, 30 minutes and you'll have the best appetizer for the next get together.
#goaloftheyearaccomplished.
I'll admit, I've never been on the chocolate covered bacon bandwagon. I tried it for the first time a couple years back and it was good, but something wasn't right about it.
R is an avid bacon lover; well, actually I am also. The more bacon, the better. We don't eat it that often, but when we do we take in the wonderful salty and crispy perfection with our favorite gluten-free buttermilk pancakes.
It got me thinking, though. How can I make something unique and really mouthwatering for our New Year celebration? Everyone pretty much loves bacon, right?
I knew exactly what I was going to pull together.
Hello Chocolate Covered Bacon.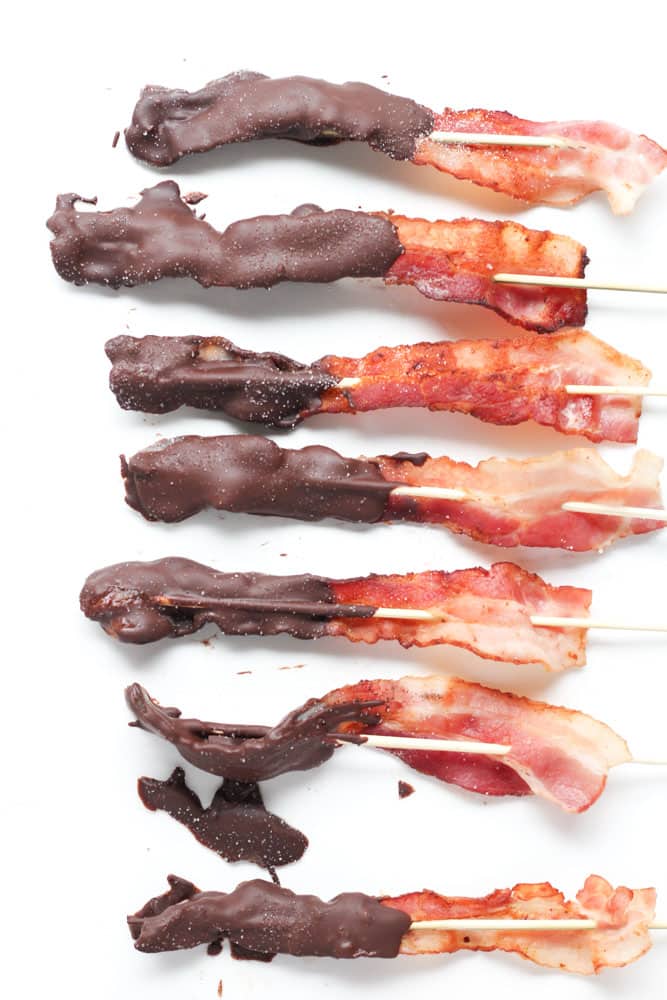 I pondered what I didn't like about the previous tries of this duo of flavors and determined it wasn't the flavor of them together–No, that is on point! Rather, it was the consistency.
Consistency is a big deal to me. If the consistency of something is off by even a tiny bit, it's dead to me and I'll never eat it again. Well, maybe that was dramatic, but you get my point.
Flimsy, half cooked bacon is on my dead-to-me list. I hate bacon that isn't crispy and doesn't easily break or crumble when you bend it. That is exactly how the last try of chocolate covered bacon was and I knew how to make it much better.
How to know
Crispy.
Salty.
Sweet.
THAT is how chocolate covered bacon should taste.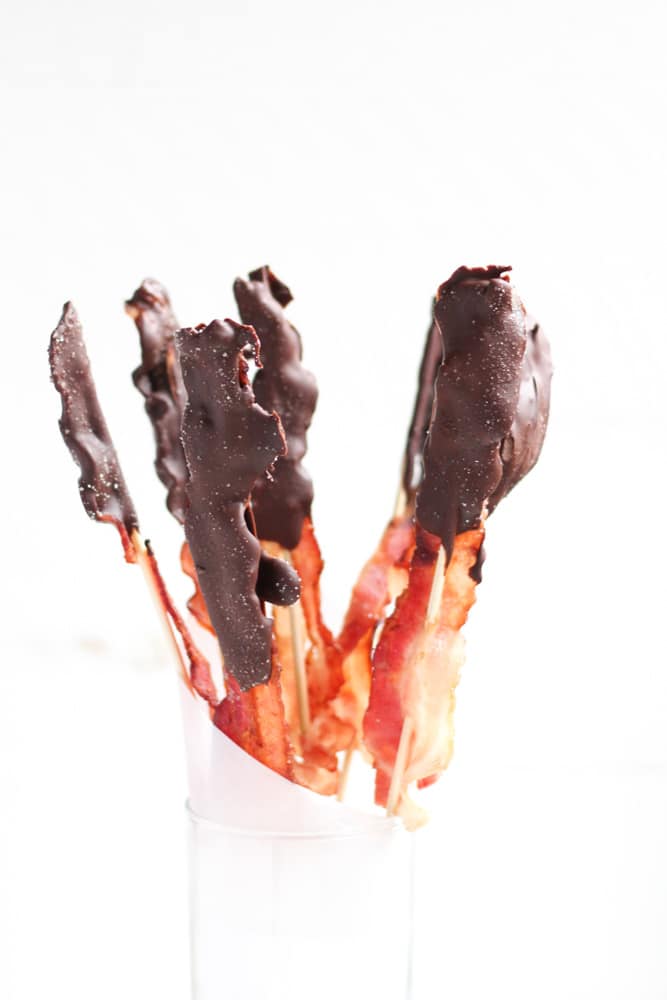 I mastered the crispy bacon perfection before tackling the presentation. When we are entertaining, it is all about presentation. If something looks meh, it's just meh.
No, we have to take this simple dish and elevate it. Make it POW into someone's face and scream "EAT ME." (Bacon speaks in a very deep, authoritative voice.)
Take this bacon and put it on a stick? Yep, I think so!
There's something about food on a stick; it's just better.
Case in point: The hot chocolate on a stick I recently posted. The presentation just makes them stand out from the rest.
Yep, they are better than foods without a stick. Hands down.
So take those two simple ingredients (chocolate and bacon), make an epic New Year's Eve appetizer, and become the most popular person ever.
That sounds awesome, right? And with hardly any effort. I call that an epic win of the year.
One last thought: Who agrees with me that Chocolate and Bacon are an odd combination, but oh so delicious!?!