Hot Chocolate on a Stick recipe – How to make them for gifts. 3-Ingredients, No baking, 30 minutes you'll have the perfect hot chocolate on a stick gift!
Hot Chocolate on a Stick . . . Whoa!
This is a game changer. Hold onto your hats my friends, for we are going to shake things up these next couple weeks before Christmas.
All recipes leading up to Christmas this year are going to be something in the sweet and tasty category. These Hot Chocolate on a Stick gifts are definitely in that sweet, tasty, and need-to-devour category.
Last year I prepared gifts ahead of time and made Homemade Vanilla Extract. This year, well, I didn't prepare so much. Oops.
My family doesn't exchange gifts anymore. Instead, we donate towards a local charity for other families in need. The same charity Veggie Balance will be donating too at the end of this year!
It's been freeing to not have to worry about what to get someone, how much money I'm spending, and so forth.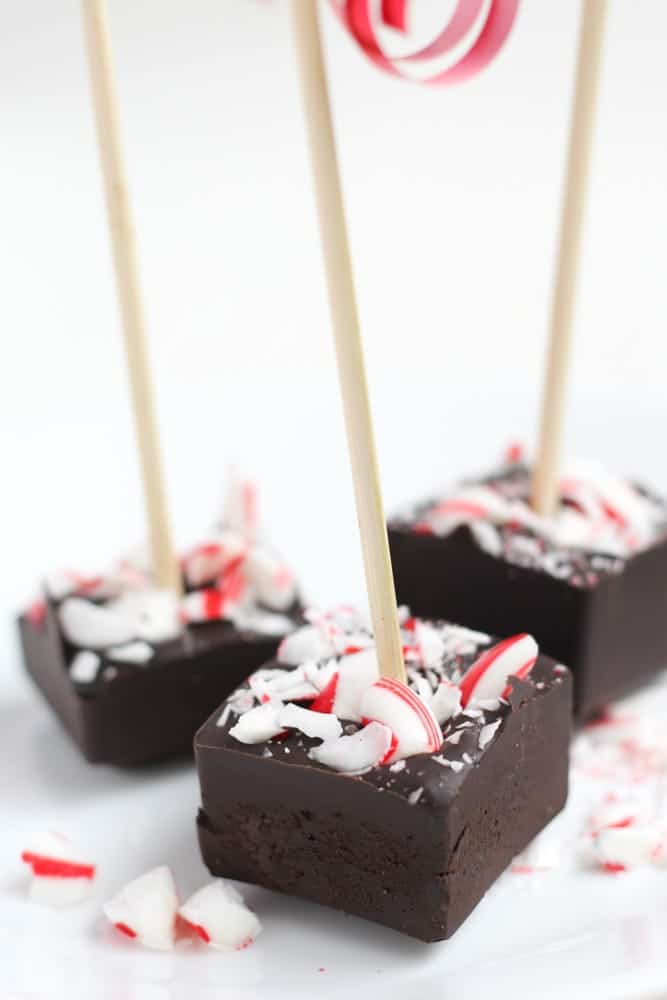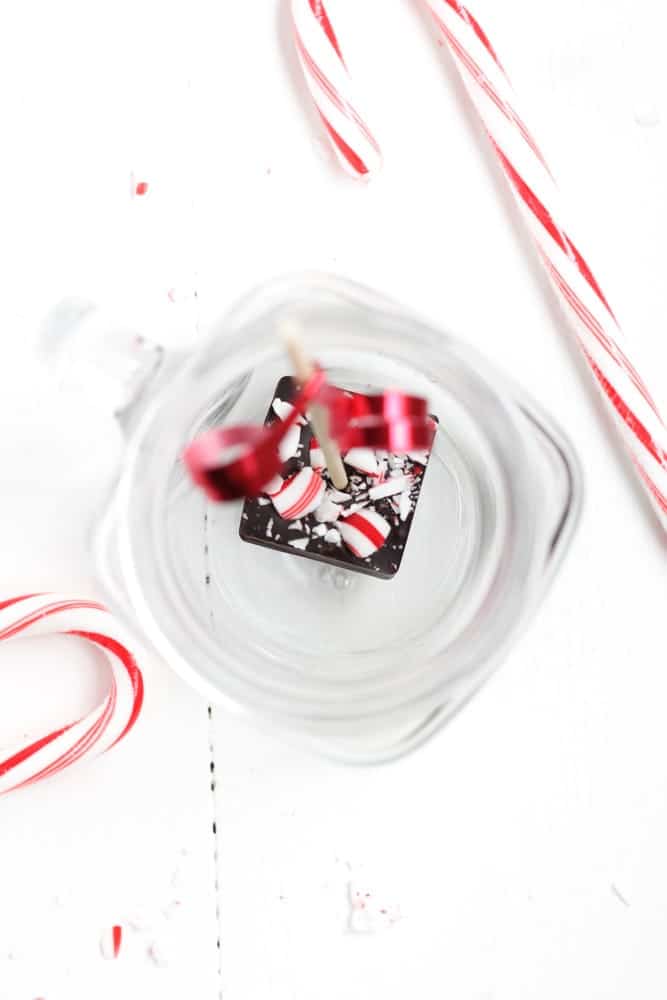 There is a slight downside to this Christmas tradition; I totally do not get into the Christmas spirit. I forget that it is literally nine days away and that people outside my family exchange little gifts.
We haven't even put up our Christmas tree these past couple of years.
Total scrooge, right?
No presents under the tree, no cats climbing the tree or destroying the tree; it is hard to get into the Christmas spirit when I have to pick the tree up off the floor every morning. Also, a 20 pound cat climbing the tree? I can't even begin to tell you how many tree limbs I've had to bend back into place.
There is one thing though that melts my heart and totally gets me in the spirit of winter and the holidays:
Hot Cocoa with peppermint crumbles and mini marshmallows.
Oh, it just sings to my heart.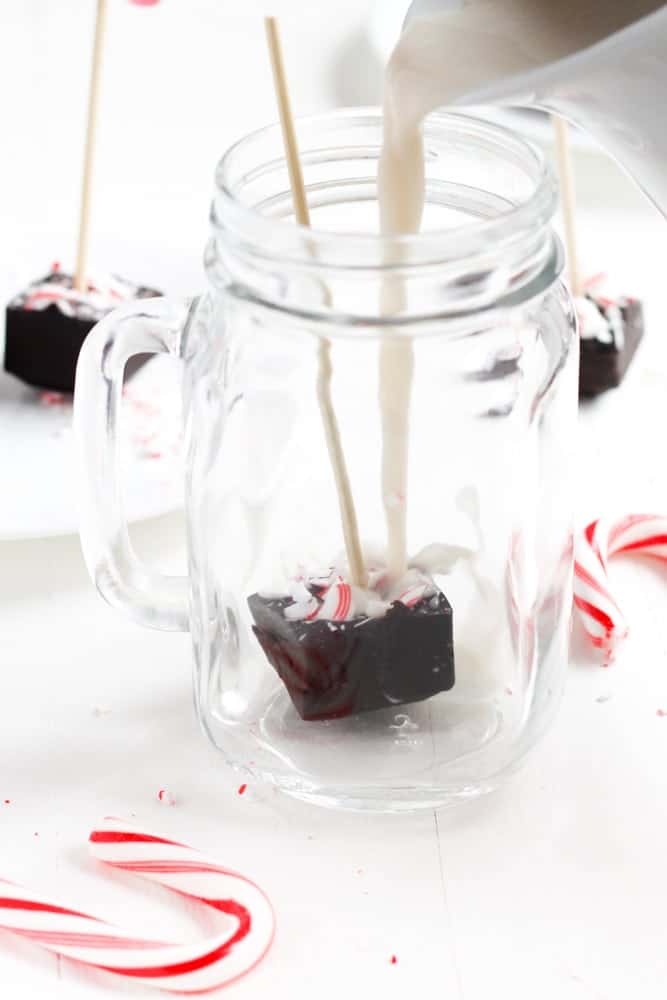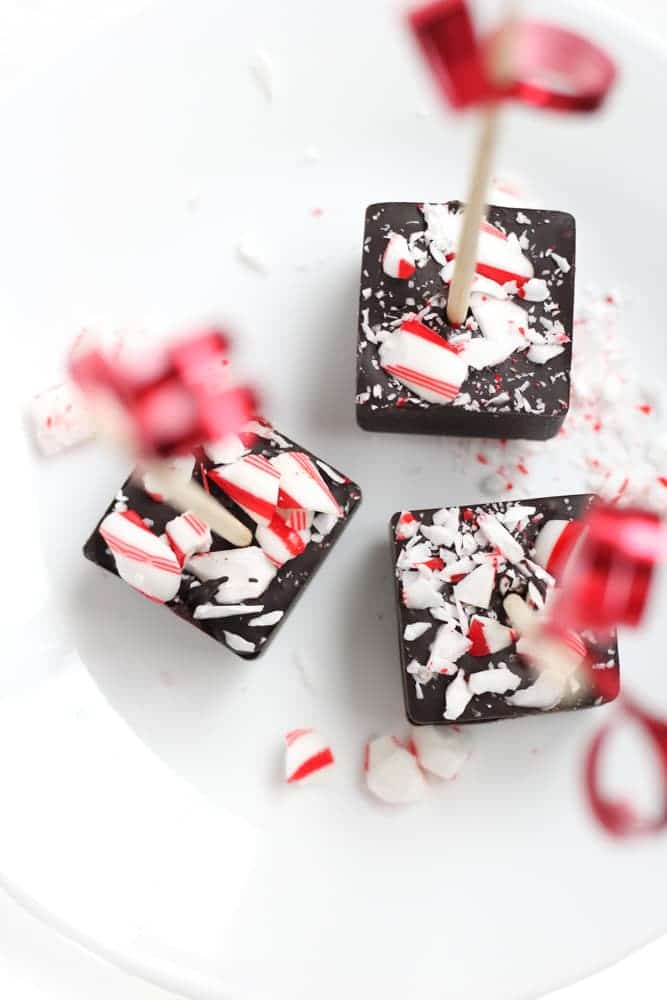 I pulled together the simply three perfect chocolaty ingredients and got to work.
Cut down the sugar by using dark chocolate chips. If you aren't a dark chocolate lover, you are more than welcome to swap them for semi-sweet chocolate chips; both will work.
Then I opted for even more sugar cutting by using only a quarter cup of sugar in the entire batch. Guess what? You and your friends will not be able to tell the difference.
Top with some crushed candy canes and, oh man, I am feeling the Christmas spirit.
Seriously, as I made these and took the photos, I was totally ready to take on the upcoming holidays.
R's birthday happens to be Christmas Day, so I've had to learn to think of the 25th as both his birthday and Christmas. It took me almost 4 years to get used to that. The man gets gypped having Christmas for his birthday.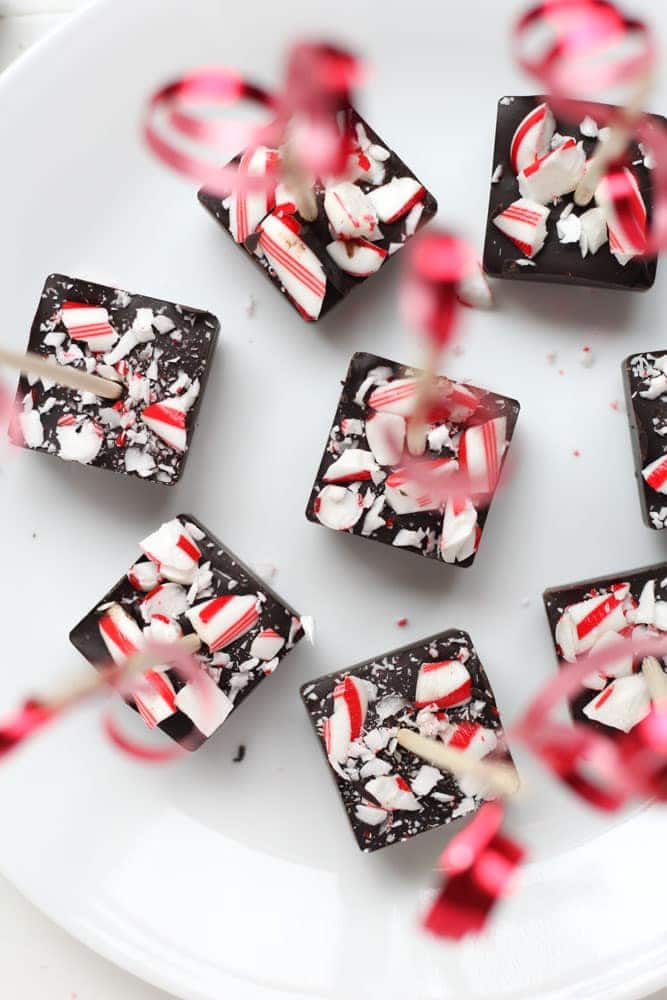 All I need is a cup of hot cocoa in my hands, a fireplace crackling, and Christmas music playing in the background. Only one problem . . . it's unseasonably warm here in Michigan.
Humbug. Two years ago we had a severe ice storm, negative below weather, no electricity, and barely kept warm with our fireplace. Only in Michigan.
We are so used to having snow on the ground by now that it just doesn't seem right to have Christmas without snow.
Well, I got my butt in gear, made these Hot Chocolate on a Stick gifts for family and friends, and we are getting into the holiday spirit, guys. It's happening.
I commence hot chocolate every Saturday night from this day forward.
As I said earlier, we'll be dishing up delicious holiday treats to get you in the holiday mood, too. Yum.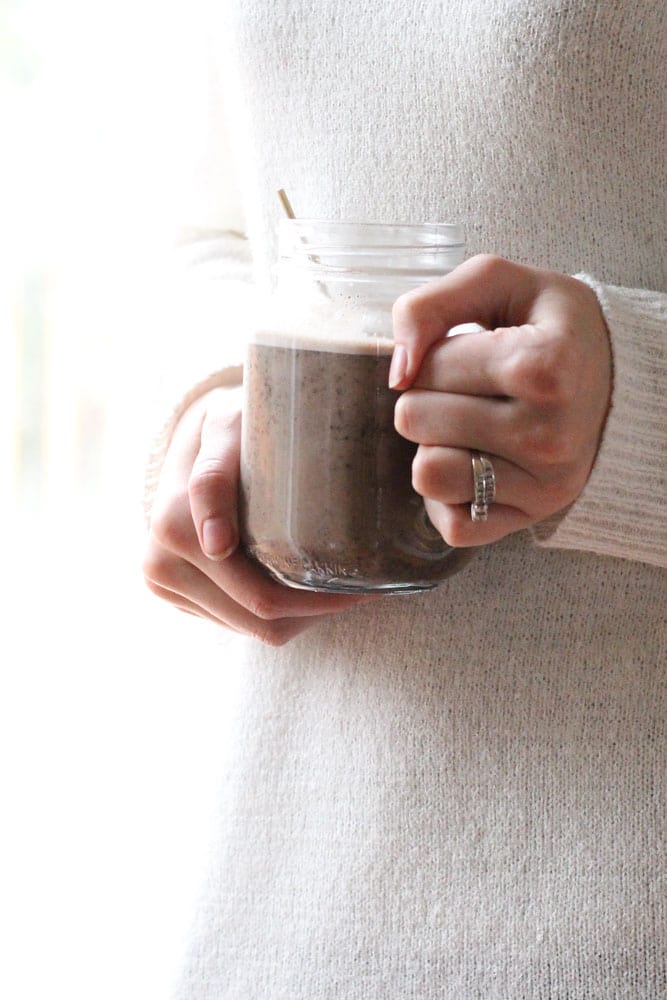 Side note: Thanks to you, Veggie Balance is giving back this month to a local charity. Please keep sharing, pinning, and tagging your friends on recipes you think they would love, too. Your support and your sharing are helping families who need a little extra this holiday season.
You can find more information on Let's Give Back here.