Hot Chocolate on a Stick is the perfect gift this holiday season (without the gluten!)  Just 3 ingredients, no baking and 30 minutes later, you'll have a tasty treat for your loved ones.
(Gluten-free, Vegetarian, Lower Sugar)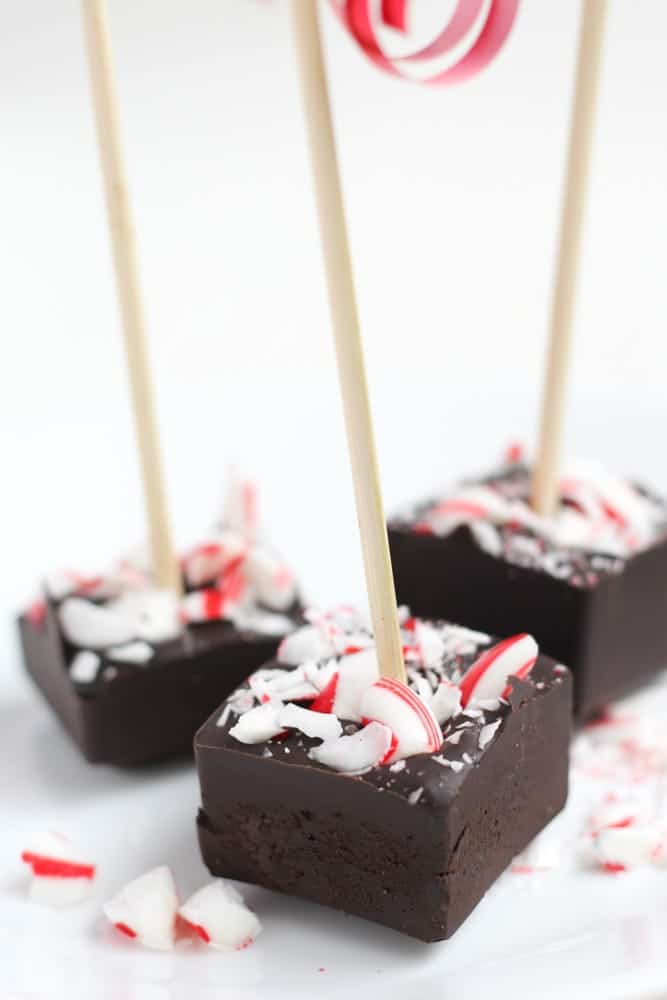 Hot Chocolate on a Stick is such an easy gift that you'll be kicking yourself if you've been dwelling on what to give your loves ones this year. We're big fans of giving gifts from the heart, homemade is a great way to do so. Plus, the novelty of being on a stick should not be overlooked. We find this gift is a big hit with little ones.
Hot Chocolate on a Stick 101
The holidays are a time for family, fun and of course, sweets. Lots of sweets. We're obviously fans of the sweeter side of things, however, we're also fans of minimizing the sugar without sacrificing flavor. Alas, hot chocolate on a stick! What you'll need:
Dark chocolate chips, cocoa powder, white sugar for the hot cocoa part.
Silicon ice cube molds, wooden sticks to give them form and functionality.
Bonus toppings: Crushed candy canes are what we opted for a holiday flavor infusion. You also can use sea salt, caramel drizzle or even peanut butter drizzle. Tiny marshmallows can also make the hot cocoa magic happen.
Homemade with love: Gifts from the heart
A little trickier to do with many of our loved ones across an ocean, but we're still planning to make some homemade delicious gifts for our friends this side of the pond this year. It's such a great way to show some love without breaking the bank, but also creating a feeling of happiness for the holidays. Food is happiness.
We have some other totally gift-able suggestions for you in addition to our hot chocolate on a stick:
How to store your hot chocolate on a stick: This can be tricky if you plan to deliver your gifts in a storage solution. The key factors to keep in mind is that airtight or covered is key. You don't HAVE to store in the refrigerator, but it can give your Hot Cocoa a little more longevity. We like getting some holiday plastic wrap and tightly wrapping each pop to preserve the freshness, plus it can make for a nice gift presentation. Don't forget to include a note on how to make the hot cocoa part happen!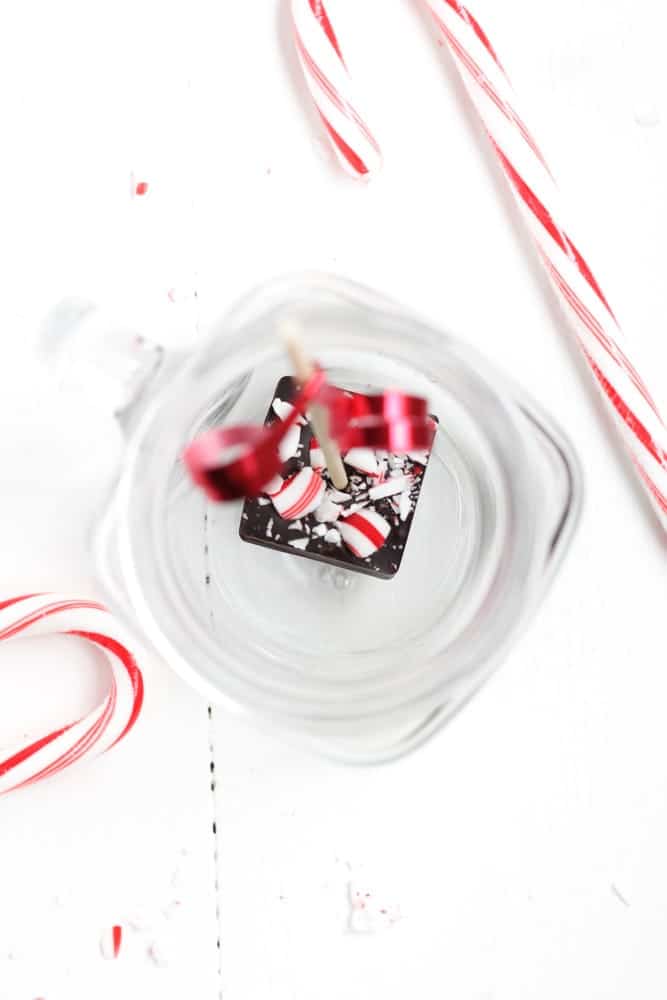 The gift of giving
We have a not-so-secret secret: My family doesn't exchange traditional gifts anymore. Instead, we donate to charities and causes to help others. It's a great way to redirect those funds toward a need and embrace the holiday spirit while helping others.
So if you decide to do a homemade gift instead and donate the remaining gift funds, it's nice to include a little note. Made with love, we wish you a happy holidays. A donation also has been made to *insert cause here** in honor of you.
Oh man, we have the feels right now. From our tummies to our hearts, we're full!
There can be a slight downside to this Christmas tradition, which is shifting from the past traditions of holiday spirit. Since we started doing this, we've had a few years where we haven't put up a tree or even lights. It doesn't mean we're quite scrooges, but it can mean we have to focus on the meaning of the season a little more.
Which, hey, isn't a bad thing.
This recipe is one that brings us back around between the flavor and the smells, reminding us of good times with loved ones and the magic of the season. It's a gift that give back.
Hot Cocoa with peppermint crumbles. On a stick. Ushering in some holiday spirit, stat!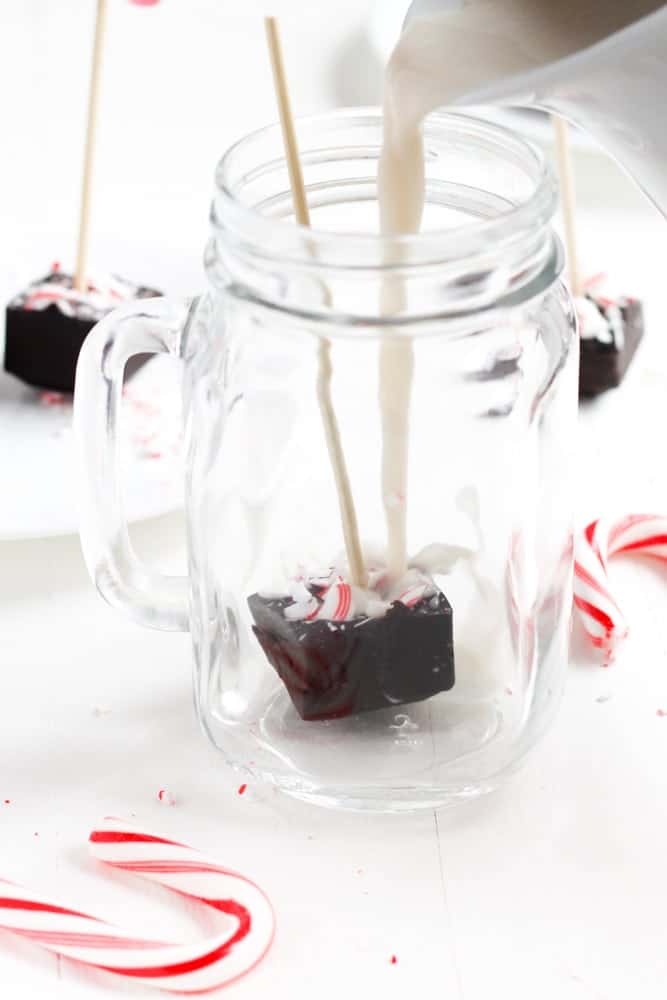 Nibbling on a little history
Who invented hot cocoa?  We were surprised to learn the origins of hot cocoa are in Mexico around 500 BC, which the original version being far difference from today's sweet, decadent nature. The original version of hot cocoa even had chili peppers! (We cannot lie, we're so tempted to try a more authentic version with a chili pepper component.
Who invented candy canes? This is one of those origin stories that has a slightly disputed tale. One story has a German choirmaster bending a sugar stick to appear like a shepherd's hook. Another tale has a candy maker bending the sticks to make a J for Jesus. It's not uncommon for culinary roots to be disputed, but we thought it was interesting how many variations there were. Regardless, candy canes are most definitely symbolic of the season, used to decorate trees, a part of other decorations and, of course, a delicious topping for some confections.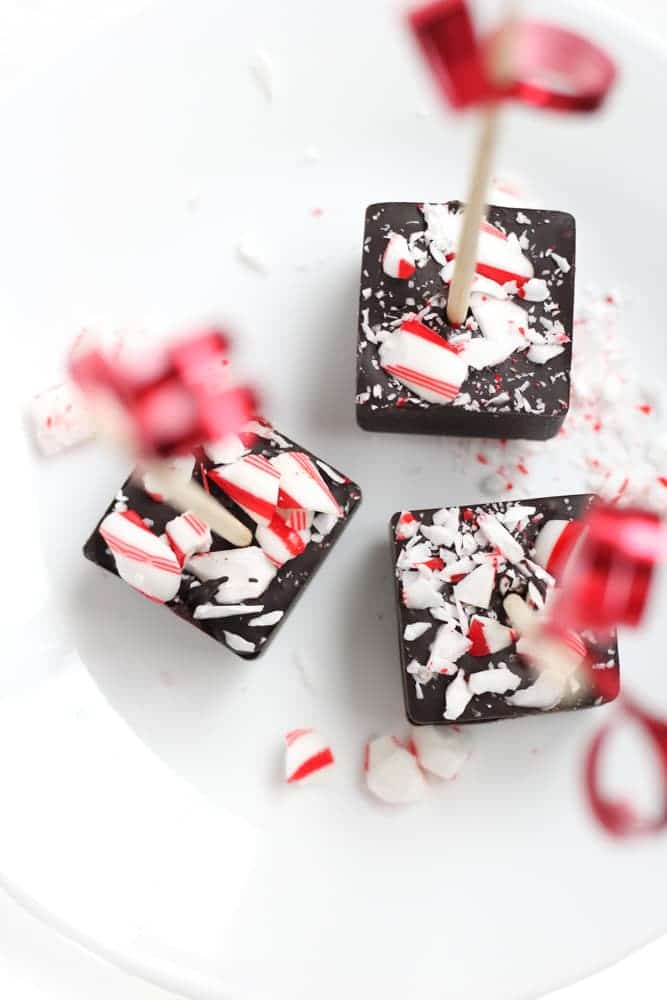 Cutting back on the sugar, not flavor
For these hot chocolate on a stick gifts, we cut down the sugar by using dark chocolate chips. If you aren't a dark chocolate lover, you are more than welcome to swap them for semi-sweet chocolate chips; both will work. But we prefer the flavor of dark chocolate anyways.
We opted to cut more sugar by trimming back the sugar to a quarter cup for the batch. Guess what? You and your friends will not be able to tell the difference! The flavor is still fabulous.
Top with some crushed candy canes and, oh man, we are feeling the Christmas spirit without overloading on sugar.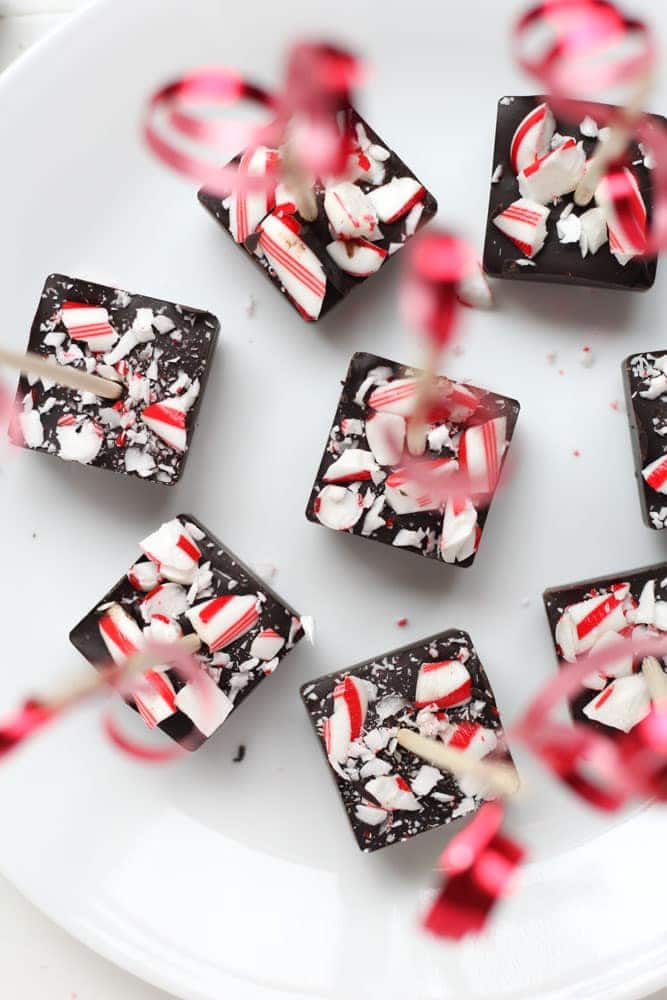 So, to stay in the spirit this year, all we need is a cup of hot cocoa in our hands, a fireplace crackling and Christmas music playing in the background.  If your place doesn't feature one, you can always get an electric version OR in a pinch, grab a fireplace simulator DVD to help complete your holiday atmosphere.
And these hot cocoa on a stick do nicely for the comfort and deliciousness. Just pop into a jar, pour hot milk and savor the sip-able happiness.
Whatever helps you get into that happy holiday head space, go for it!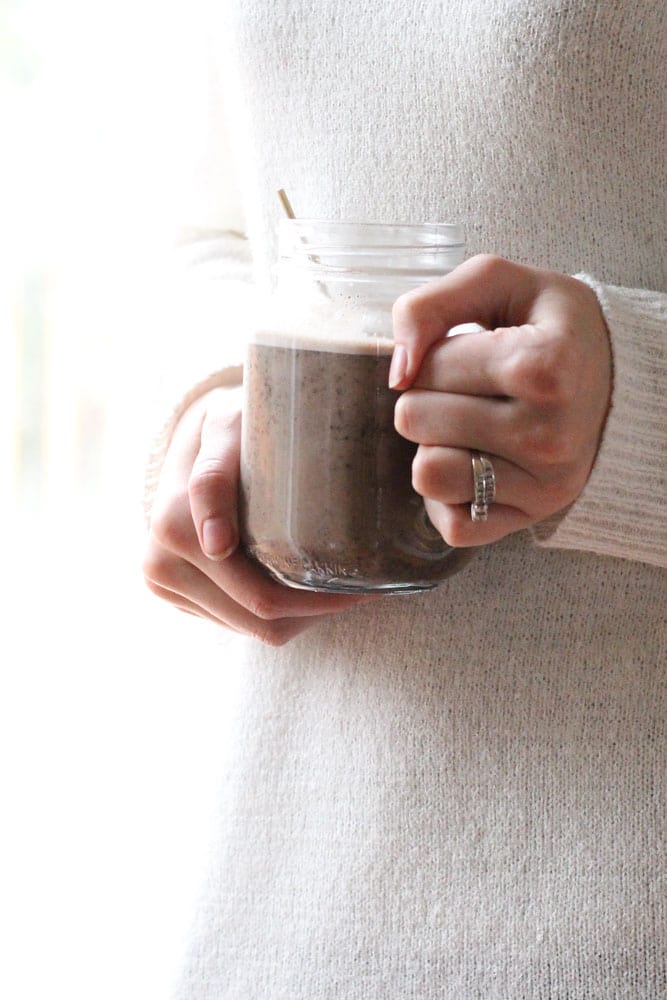 From all of us at Veggie Balance, we send lots of holiday love your way!