Cilantro Lime Quinoa recipe will have your taste buds singing and plays well with others without the gluten. Devour as is or dress it up!
(Gluten-Free, Dairy-Free, Vegan, Healthy, Nut-Free)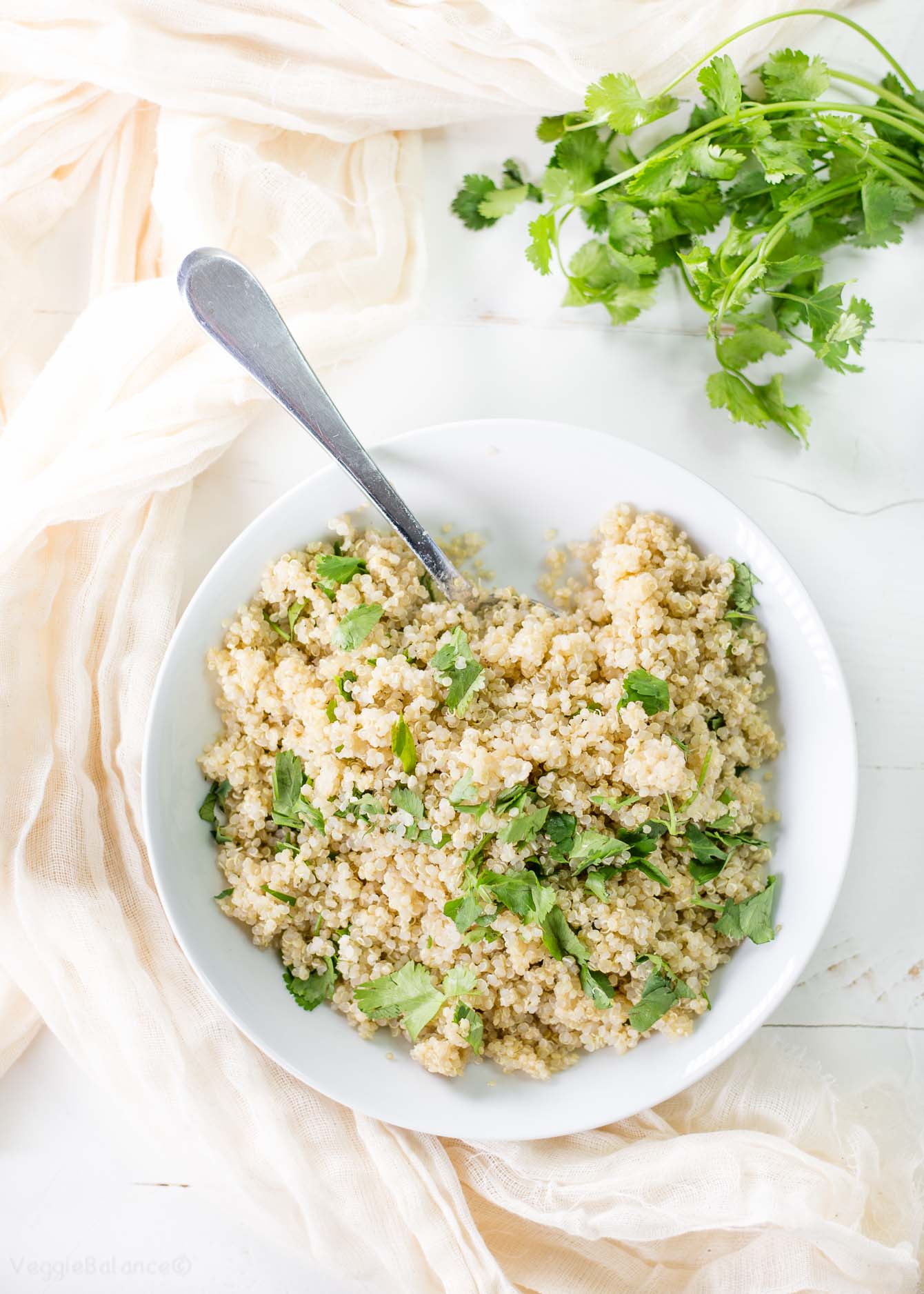 This cilantro lime quinoa is out of this world. It fits all the bills of requirement here at VeggieBalance.
Quick to Make.
Simple Ingredients.
And deliciousssss.
Whether you want to simply dress up your quinoa with a little pizazz or to accompany your dinner with some flavorful fiber-boosting grains, Cilantro Lime Quinoa is here for you.
I've been a lover of quinoa for quite a while. So when I got my wisdom teeth removed last month, I was saddened that I couldn't eat quinoa. I had been used to eating the same things over and over again, but some habits deserve a break.
When we went to Japan and I ate my weight in plain white rice. Yep, that's my cue to have quinoa in my life again. Oh, quinoa, I missed you so much.
This Cilantro Lime Quinoa is basic. Like, good basic.
TIP: Make sure you rinse off your quinoa before cooking. It'll rinse away any bitterness.
We got just a few ingredients in here that will spruce up your quinoa. Lime, Cilantro, and Black Pepper.
That is all you need. These 4 ingredients to pair with your Mexican-flavored meal, like let's say our Vegetarian Taco Meat? Perfect.
Or our Turmeric Roasted Vegetables? Excellent.
Whatever you decide to do with this Cilantro Lime Quinoa recipe, one thing is for sure – it is going to be delicious!
Just being so easy to make gives it bonus points in my book.
Also,  white rice and I need to take a break from each other. Thank you for being there for me quinoa.