Healthy Blueberry Muffins easy to make with the bonus of being gluten free. Similar to our very popular blueberry muffin recipe but without the almond flour. Moist, fluffy and packed with blueberries. You've asked for it, we created it! (Gluten Free, Dairy Free, Vegan)
Healthy Blueberry Muffins. Yes, just yes.
I grew up on blueberry muffins. It's the truth: I would make a batch of blueberry muffins almost every weekend, it was the one of few things I could make. I would proceed to devour them all in one day with a hefty slab of butter every time.
With a tried-and-true recipe of ours I shared how to make a healthy blueberry muffin but it contained almond flour. After receiving many comments about subbing out the almond flour for other types, I've done the work for you!
We've got fluffy blueberry muffins with all those fabulous ingredients from the first, but sans the almond flour.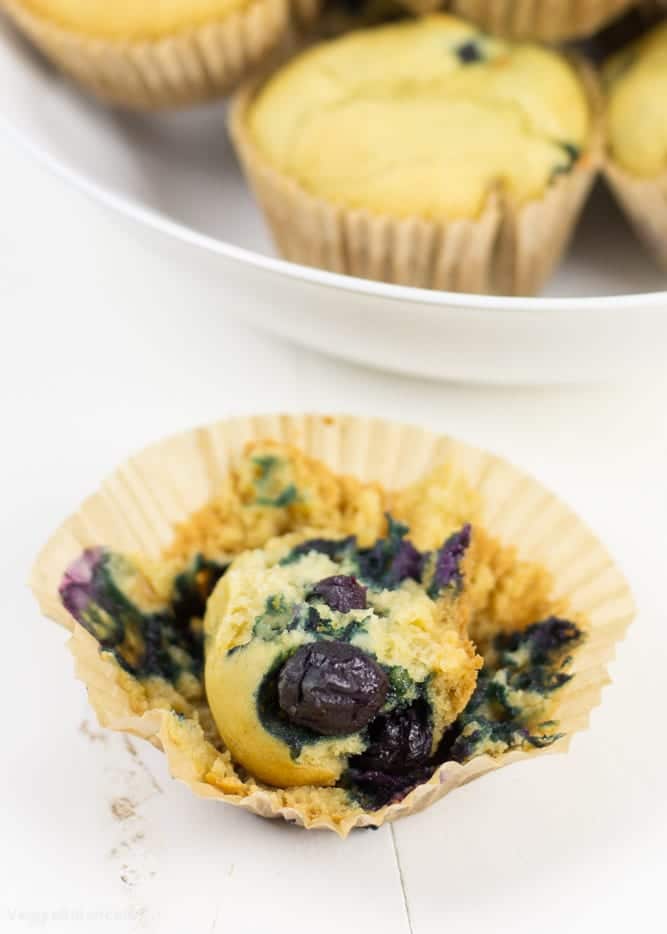 Sans Almond Flour for a few reasons:
I found many people don't have it on hand because either it's not available around them or it's just too expensive. I hear you.
Allergies! People with tree nut allergies deserve moist and gluten free blueberry muffins too!
For a while there, almond flour and I were great friends. However, the day I found my favorite gluten-free 1-1 baking flour by Bob's Red Mill is when almond flour started to take a back seat.
This amazing gluten-free flour blend is what made it possible to bake and have my childhood favorites with a taste just like they did when I was growing up. Bonus: Just with about a quarter of the sugar content.
For reals, my childhood favorites called for SO much sugar when made the traditional way.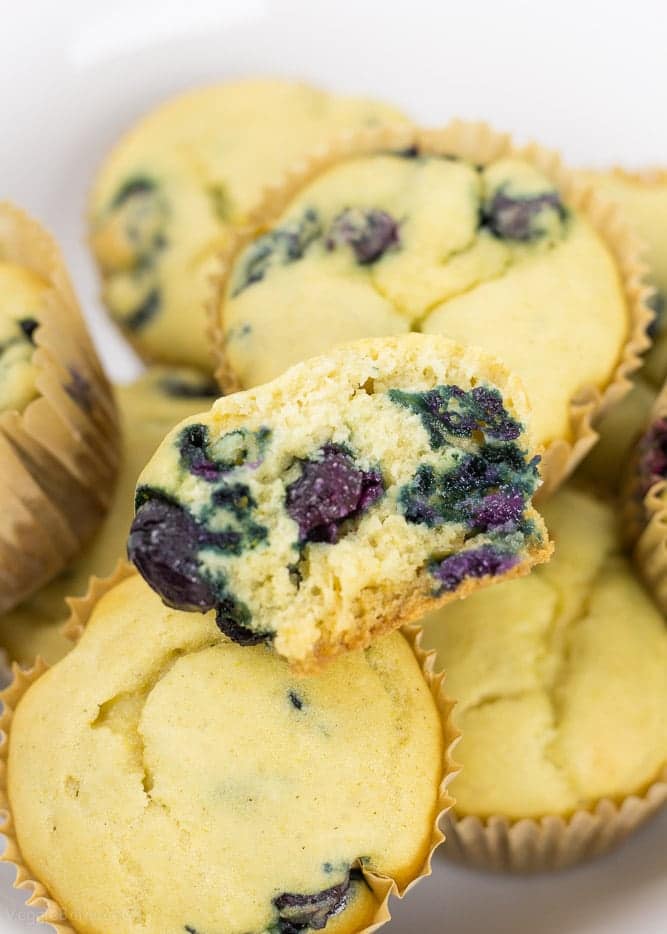 Now, baking with frozen blueberries! For those who live somewhere warm that have fresh, juicy and sweet blueberries year round, disregard.
For all the other people who don't tolerate expensive, flavorless and tart blueberries during the winter. Frozen blueberries are our solution. Watch here to help walk you through to not coloring your entire muffins a gray color.
If you'd like to try our super popular blueberry muffins with almond flour, click below. Both blueberry muffin recipes are super simple, moist muffins packed with blueberries. THIS is a proper way to spend a Saturday morning.