Gluten-Free Buffalo Chicken Meatballs recipe with all-natural ingredients, including a homemade buffalo sauce. Also it's naturally dairy-free and Paleo! Goes perfect for any party and made in the crock pot! (Gluten-free, dairy-free, paleo friendly)
Ever since my Gluten-free Chicken Meatballs I created on a whim to go with my vegetable soup I have been dreaming up ways to make the meatballs into a appetizer.
Say hello to the spicy and delicious Gluten-Free Buffalo Chicken Meatballs.
I'm always struggling with ideas to take to parties and events.  I really want to bring something everyone will enjoy and at the same time not hurting my health or putting myself into a position which could cause a flare up. Generally anything you bring to a party thats 'finger food' is a little difficult for food sensitive individuals. Bread. Lots and lots of bread and cracker items. My Caprese Mini Skewer Pops are a good choice, but tomatoes are blah in Michigan this time of the season and fresh basil from the garden really is the only way to go with those babies.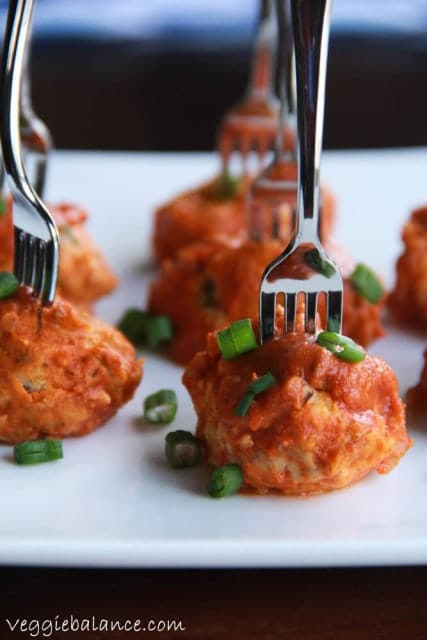 So that is when the wheels started turning in my brain. What is the best flavor in the world you may ask that I dream about on a daily basis? My answer? Buffalo Sauce.
I love the spice and smokey kick of  buffalo sauce then cooling it down with some blue cheese dressing or just plain blue cheese crumbles. Heaven.
I didn't want to cut corners with this recipe. Yes, I could of easily opted for a bottle of buffalo sauce and just poured it on the meatballs. There is only one problem. It is almost impossible to find a buffalo sauce that doesn't have random unpronounceable ingredients in it. Fail. So, I opted to take the basic ingredients found in the buffalo sauce and using my favorite hot sauce with basics ingredients to make that into a buffalo sauce. The best part is you are able to tame the spice as much as you want by just adjusting the amount of vinegar you add to the sauce.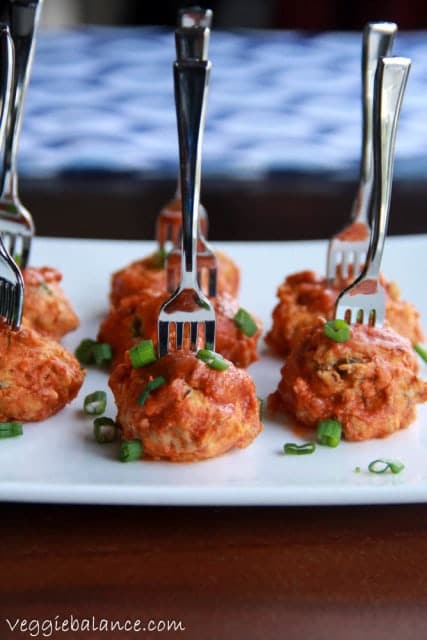 I used my work potluck as the excuse to test out my recipe that has been rolling in my mind. I already told my family I'd be bringing some to our Christmas dinner but figured I should test out the recipe first. Good thing it worked like a charm and they were gone almost immediately!
I couldn't resist not serving them with little miniature forks I found in the store! Perfect presentation to go with these perfectly moist and flavorful meatballs.
You can also prepare them up to the steps of baking them in the oven. After they are baked and the sides are browned you can then store them in the fridge overnight. Throw in the crock pot the next day and keep following the listed steps.