Crockpot Potato Soup recipe. Healthy and creamy with 5-Ingredients, Dairy Free, Gluten Free, Vegan Friendly, Low-Calorie with all-natural ingredients. Topped with your favorite toppings, it's a healthy soup for the win.
So guilty of numerous crockpot recipes. So guilty. I wish I could say I will stop with them soon, but the way this Michigan winter is going, I make no promises.
Ugh-the dreaded snow and cold.
I busted out my UGG boots and have been wearing them all day everyday with sweaters. Are these boots so 2013? Perhaps, but they are like pillows of heaven on my feet and I shall live in them forever.
I shall also live on crockpot soups from this day forward. Oh, and popcorn, with a daily dose of guacamole. Some strong obsession with guacamole has come over me lately. Perhaps it's my body's way of telling me to eat lots of fat to stay warm this winter? I'll accept that.
So back to creamy, delicious, heart-warming crockpot potato soup. Let's talk about this baby.
Minimal prep work. Bonus.
Creamy, even when made dairy-free. Bonus.
Natural and Delicious ingredients. Mega Bonus.
Oh, and Gluten-Free. Bonus and a Must.
Plus, it is POTATO SOUP. Who doesn't absolutely love potato soup!?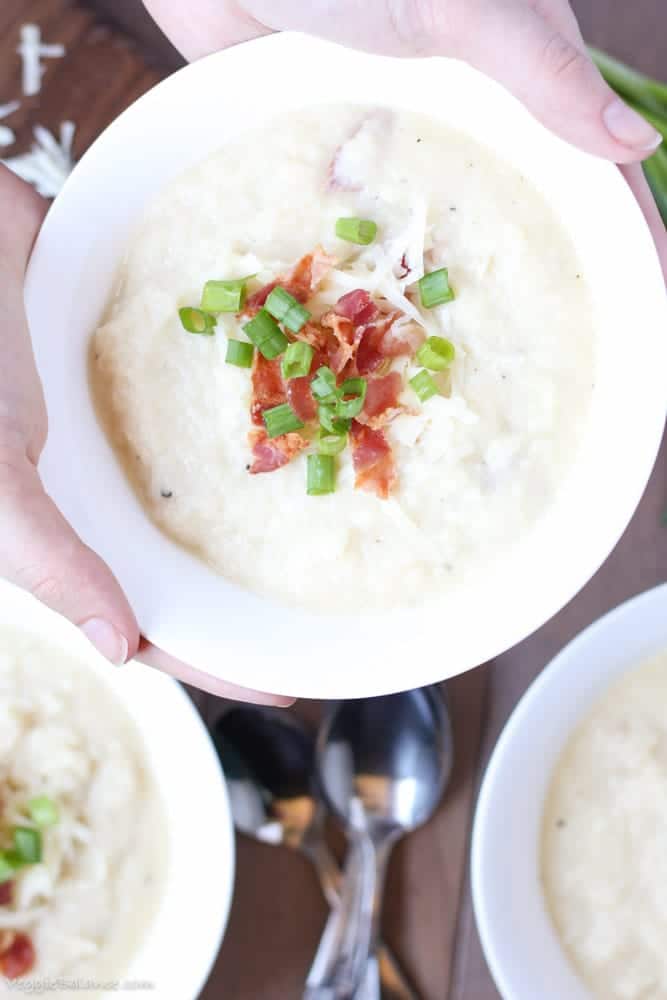 Truthfully, I've been struggling hardcore these past couple weeks. I've been gluten poisoned twice while eating out and on top of that my shoulder is doing some crazy throbbing pain like it was pre-surgery.
Ugh, I'm going to chalk it up my old lady achey joints to the cold and changing weather. (Fingers Crossed)
These days, I've adjusted my diet like I normally do after being glutenized (i.e., unknowingly ingesting gluten). I go completely dairy-free and let myself rest and sleep whenever my body tells me to. It's still rough, though.
If you need a dairy-free or vegan diet, this soup can certainly be made without the sour cream. I've made this soup two times over the past couple weeks just this way, substituting the sour cream with an additional 1/2 cup of almond milk.
My current condition is a good reminder to always eat dairy in moderation. I sometimes fall deeply in love with sour cream or cheese and find it hard to keep from eating a whole block of cheese in one sitting (because that definitely has never happened before).
Yes, you'll notice lots of dairy-free and gluten-free options these coming weeks. Hope you don't mind. 😉