Shepherd's Pie is everything you need from a savory classic comfort food creation. This one-pot wonder is quick and easy as well as warm and filling. A little slice of comfort food heaven.
(Gluten Free, Dairy Free, Vegetarian Options)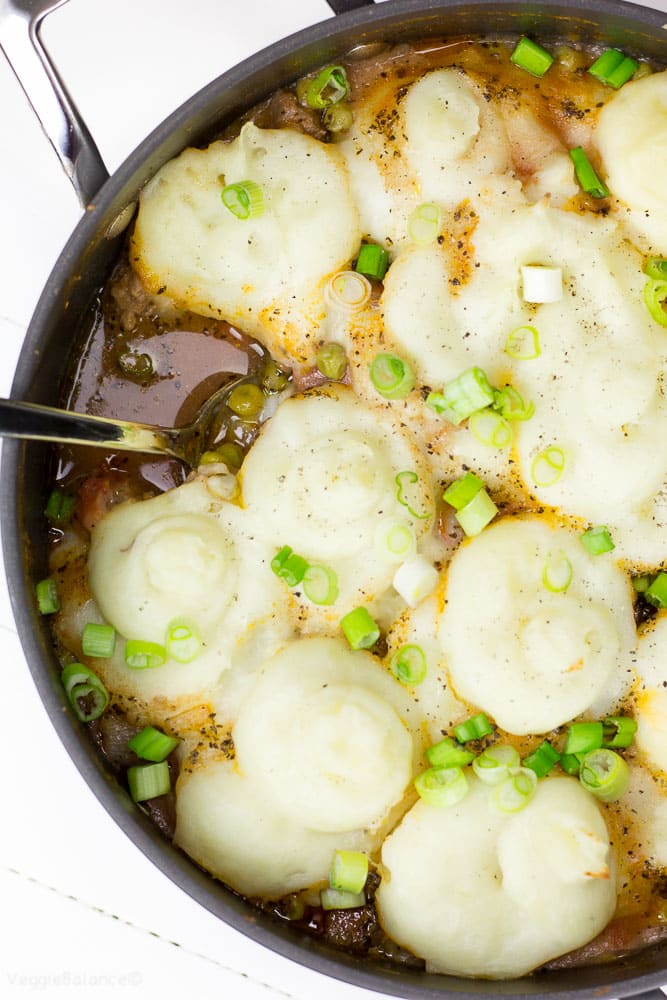 Now let me just clear the air here regarding a Shepherd's Pie and a Cottage Pie. Until recently we've become aware that Shepherd's pie indeed is made with lamb. Makes sense. However, coming from a midwest background lamb is not something you see everyday in the grocery store and therefore is why I think midwesterners decided to call it Shepherd's pie with beef.
In our case we have been making it with our vegetarian meat replacement so at this point I'm not sure what is up or down.
So whatever you may call this recipe just know that it's delicious and I think you are going to enjoy it – whatever you may call it.
Easy Shepherd's Pie is a family favorite for many reasons.
It's so quick to make and only uses ONE POT.
Flavorful and packed with all-natural ingredients.
It's the husband's favorite meal ever … that should always be a good excuse to make it, right?
Easily made vegetarian! See Below 🌱
The ability to convert this dish to vegetarian is honestly my favorite reason. When R is deployed, I'll make it vegetarian by substituting with chopped mushrooms or if I feel like I still need a little protein, I'll go with ground turkey.
Culinarian Beware: This recipe makes so much! When I'm on my own and don't want to eat Shepherd's Pie for 2 weeks straight I have to freeze it and unfortunately the mushrooms don't hold up well.
But when R is home, ground beef is the key ingredient in his Shepherd's Pie, no substitution allowed. 😉
How to Make Shepherd's Pie Vegetarian
Our Vegetarian Meat Replacement recipe is a fabulous alternative to replace the ground beef. Call me crazy, but it is remarkably good and a GREAT option for those who are vegetarian/vegan.
We've used this in bolognese sauce, tacos, nachos and now this shepherd's pie! Unfortunately there are a ton of vegetarian meat replacements out there that actually contain gluten so we've been able to enjoy our vegetarian meat replacement naturally and sans the gluten – WIN!
Other ways to enjoy this pie
Lean Option – Simply swap ground beef with ground turkey. Easy Peasy.
Sweet Potatoes – You already know how much I love sweet potatoes and they are a deliciously suitable replacement for traditional russet potatoes.
Slow Cooker – Make this Easy Shepherd's Pie even easier! Cook all your ingredients like you would, pour into slow cooker and top with potatoes. Allow the flavors to mingle together (on low 2-3 hours).
This is why I love cooking so much, there are so many different ways to adapt recipes and still get to the same place. A place of delicious comfort food that is!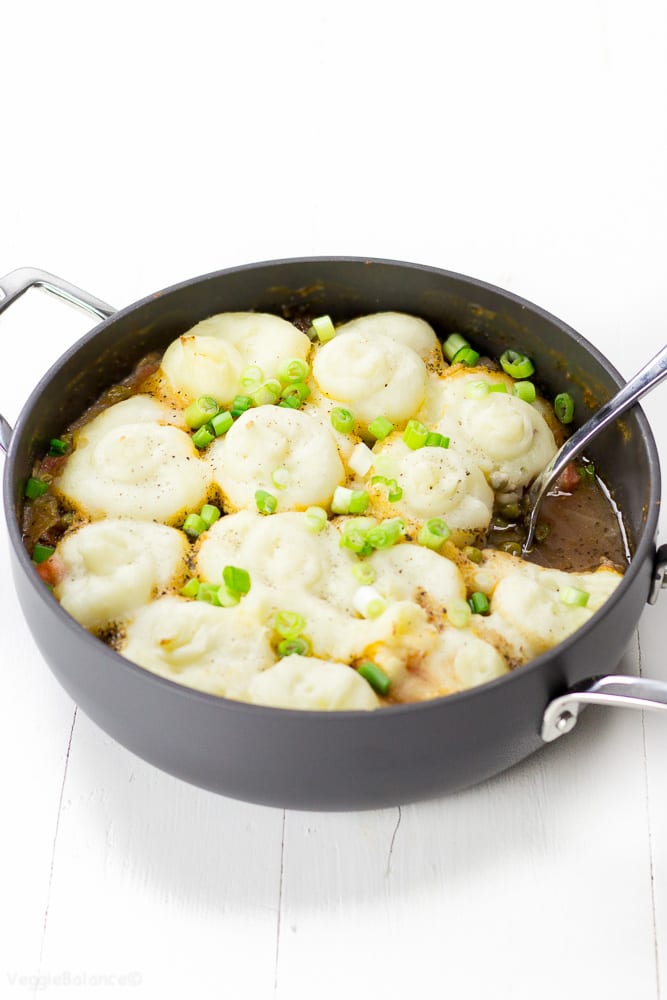 Do you freeze mashed potatoes?
If not, it is something I highly recommend and makes this Shepherd's Pie easy as a weeknight meal. We all need that, right?
Here are a couple cooking tips for freezing mashed potatoes.
If using Russet potatoes, make sure you FULLY prepare them into mashed potatoes before freezing. The more butter and fat in them, the better they freeze and thaw out.
This is not the time to skimp on the fat (which I hardly ever recommend anyway), skimping on the fat will result in potatoes becoming very grainy in texture when thawed.
So, while we try to keep warm as the colder weather approaches us we'll do what we can to keep cozy up here devouring our Shepherd's Pie.