Flourless Chocolate Chip Cookies bring a delightful treat sans the gluten with the healthy benefits to boot.
(Gluten-free, Vegetarian, Vegan)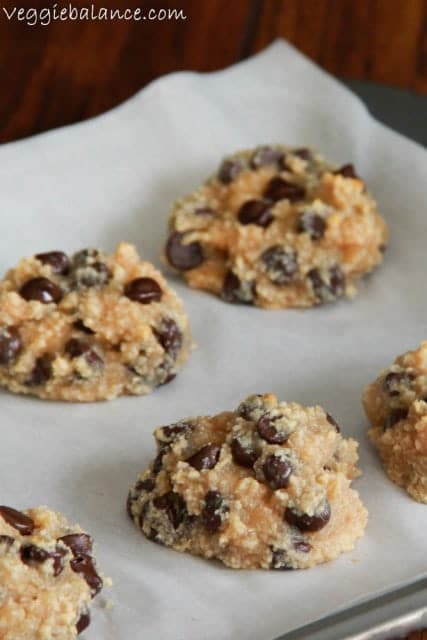 Are you ready for chocolate chip cookie foodporn? Bring on the Flourless Chocolate Chip Cookie.
I know I am! Let's get this cookie ball rolling. I am so excited to introduce a flourless, healthier cookie to you guys! I created a spectacular recipe for you guys last year introducing a skinny chocolate chip cookie and many of you still are flocking to that recipe everyday. (THANK YOU!)
Well here a adaption to my peeps out there that can't have flours and coconut flour. (like me now)
Introducing the Healthy Flourless Chocolate Chip Cookie! Ta-Da!
I'm going to put this in perspective. Two batches of these (24 cookies) were demolished between Roland and I in 5 days… Yeah I'll admit it. I felt like the cookie monster took me over. I couldn't get enough! So much so I had a thought of hiding the remaining cookies from Roland so I could have them all to myself!
No shame.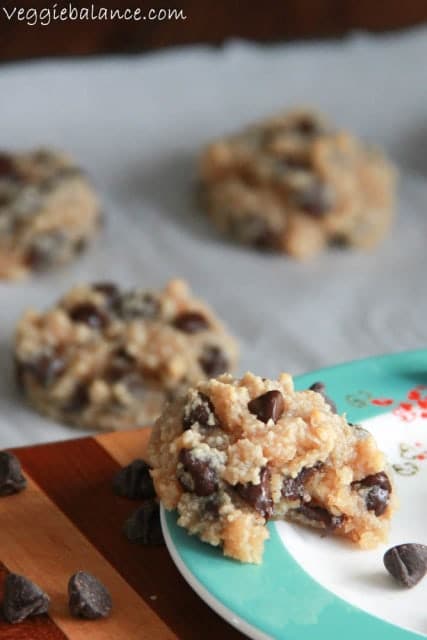 I made a couple batches before I had them just right. There was a little moving around ingredients to help with the almond flour but man all those test batches were still delicious just the texture was either too dry or too gooey. These are just right.
Don't worry no cookies were wasted in this development. I happily ate them all.
I've been missing a ooey gooey chocolate chip cookie since going grain-free. Man my body couldn't be happier though. I've been able to make connections like chronic heartburn, sinus congestion and headaches to eating flours. Crazy huh.
I'm not a huge fan of the all-purpose gluten-free flours for a couple of reasons. They just don't work as well and give a funky texture to most recipes I've worked with. Sometimes I can pull a hail marry and they come out fabulous and other times not so much.
I've dabbled in making my own gluten-free flours but my picky criteria even more so limits me and I haven't found a fabulous ratio yet. Hopefully that will come soon. In all reality I don't believe we should be consuming those kind of 'flours' on a daily basis either way. Sticking to the natural foods as much as possible is my health route.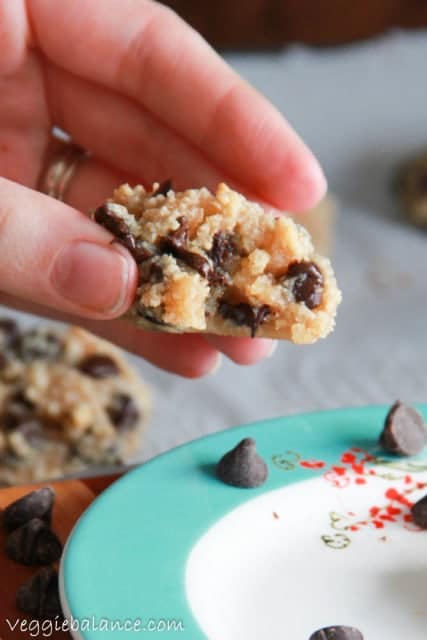 So meanwhile I'll stick with my almond flour (i.e. ground up almonds). Can't get any more natural than that!
Let's Get to the Nitty Gritty of this Flourless Chocolate Chip Cookies:
These cookies will look like they are not cooked coming out of them oven. No worries. Let them fully cool and they will become a moist cookie that you are able to handle and devour.
Measure out your amount of applesauce to the 'T'. Adding too much will make them extra gooey, so much so they will not harden. Nonetheless, they will taste delicious anyways. So if you make this mistake eh oh well. Just have to make another batch to get it right.
Are you afraid it didn't cook all the way through? Don't worry, there is just plain edible ingredients in it! Hecks just eat it raw if you want 🙂