Gluten Free Chocolate Chip Peanut Butter cookies bring home the chocolatey peanut butter goodness sans the gluten. Gobble 'em up! (Gluten-free, Vegetarian)
Peanut butter cookies are the besttttt. When I perfected my all-time favorite peanut butter cookie recipe earlier this year I have been in peanut butter cookie heaven ever since. (Still can't believe VB has almost been in production for a year!)
That's when I had the audacity to adapt it a little bit by using gluten-free flour AND throwing some chocolate chips in. Hellllooo perfection heaven! Not to mention I used my homemade vanilla extract (that should be coming soon to VB) and I was further more doubled over on how amazing they tasted and also looked!
Aren't they just so cute? I love cookies.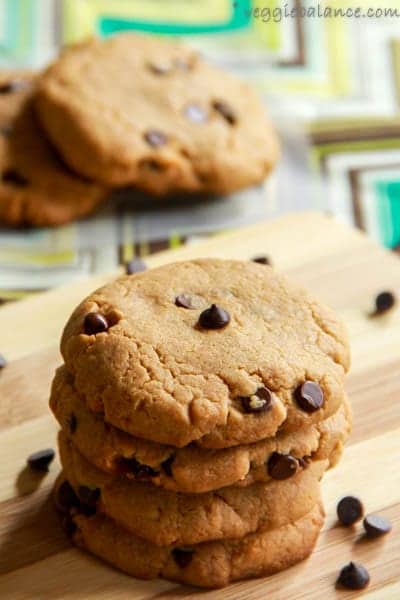 Now, as always I want to place my 'disclosure' in saying these are in fact delicious but they should be seen a treat. I made these as a smaller batch as a treat and didn't want a over-abundance of cookies in the house, again they are a treat. 🙂
These have now become Roland's second favorite cookie recipe with the skinny peanut butter cookies still in first place. Honestly, I don't blame him, with both of us with our peanut butter obsession peanut butter cookies will always be our favorite…. I think… double chocolate cookies are the diggity bomb as well.
Which just thinking I haven't made those in FOREVER… More cookies! I love making cookies and seeing the absolute ecstatic expression on my husbands face, it's like a 4-year-old being told he can eat the entire cake. It's just adorable.