Gluten-Free Lemon Jelly Cake recipe made a little bit healthier with a low-sugar moist lemon cake, and a Naked Cake frosting style helping to cut down on that sugar. Still with all the delicious lemon and strawberry flavor. (Gluten-Free, Dairy-Free, Vegan Friendly)
I know our sweet tooths are probably in overdrive and we are all in that mood for smoothies, juices and oatmeal. Believe me, I understand…
There is one thing though.. I've been pretty darn sick anddddd didn't really over indulge this holiday because of that. Well, besides eating cookies for a snack in between sleeping a bajillion hours a day. /// Note: totally should not do that again.
R's birthday is actually Christmas day. AKA The day I got extremely sick.
That day consisted of sleep, and R playing video games the entire day. There was one thing missing… the cake.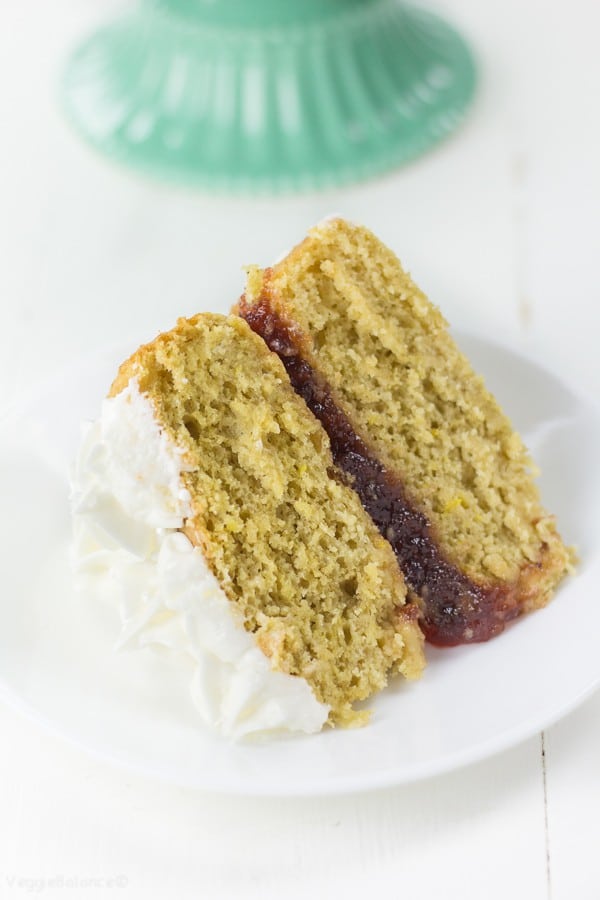 It was a wife fail. I planned on making it ON his birthday (instead its made one week later), but let me give you a little history on this cake.
Google has confirmed to me that a Lemon Jelly Cake is not a normal birthday cake. *GASP*
Even though R has been trying to tell me this since the day we started dating. It is however what my husband grew up with and his ENTIRE family makes for any birthday.
The criteria: Lemon Cake, Strawberry Jelly Center and Vanilla Frosting.
I refuse to make anything in our kitchen that I can't eat. It took a couple years to convince him to finally let me make him a gluten-free lemon cake base. // I always win… not really, but in this case I did.
The result?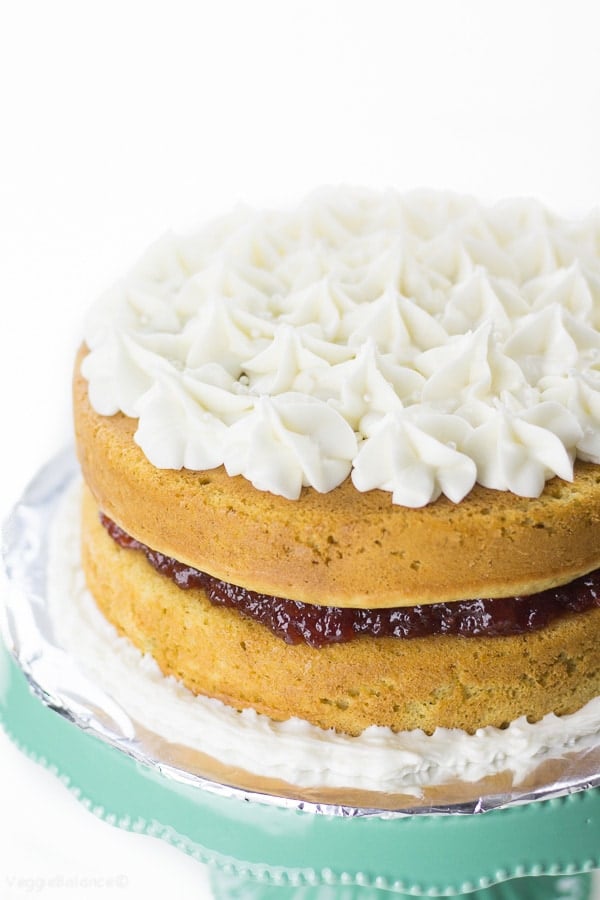 A moist but slightly denser lemon cake (think coffee/breakfast cake almost) with my favorite (and family favorite) vanilla frosting. To cut back on the sugar (also R isn't a huge frosting fan), he let me not frost the sides and itttttt was on point.
So while your sweet tooth might be slightly on overdrive, I HIGHLY recommend to stash this in your back pocket for when Easter brunch roles around.
Or, in R's family for every birthday. 😉
I'll take my Chocolate Ice Cream Cake for my birthday still, but this Gluten-Free Lemon Jelly Cake definitely deserves to be made for his birthday.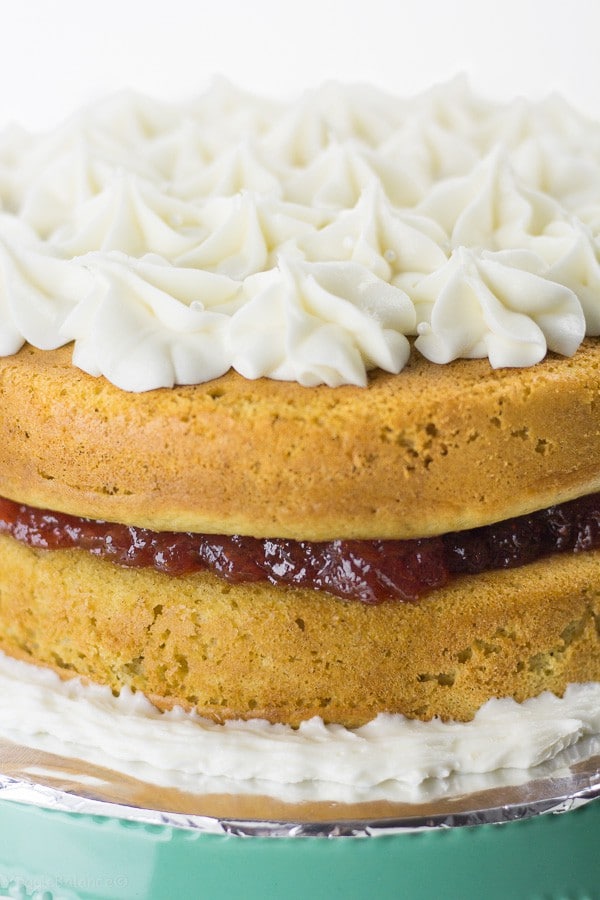 Gluten-Free Lemon Jelly Cake
Dessert
Gluten Free, Dairy Free, Vegan Friendly
Gluten-Free Lemon Jelly Cake recipe made a little bit healthier with a low-sugar moist lemon cake and a Naked Cake frosting style helping to cut down on that extra frosting but still with all the delicious lemon and strawberry flavor. (Gluten-Free, Dairy-Free, Vegan Friendly)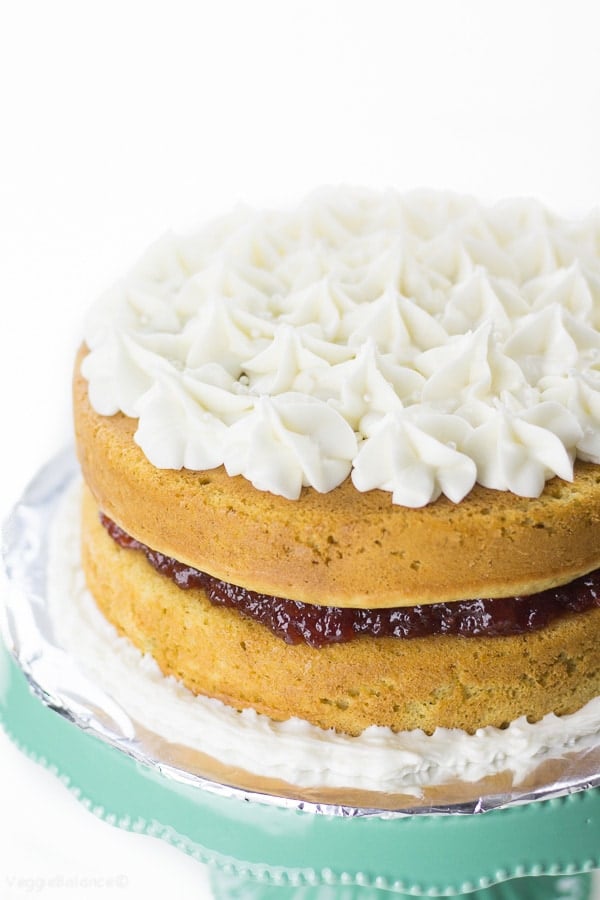 Print Recipe
Yield: 2 layer lemon cake
Prep Time: 15 min
Cook Time: 25 min
Total Time: 60 min
Ingredients:
1 1/4 cup gluten-free baking flour
1/2 teaspoon baking soda
1 teaspoon baking powder
1/4 teaspoon salt
3 Tablespoons butter (or dairy-free butter alternative)
1/4 cup cane sugar
1/4 cup brown sugar
1 teaspoon vanilla extract
2 eggs, room temperature (or egg replacement )
1/2 cup milk (or dairy-free milk alternative)
1/4 cup fresh lemon juice
2 Tablespoons grated lemon zest
Filling
1 cup strawberry jelly or jam
Frosting
Directions:
Preheat oven to 350 degrees F
Prepare two 8 inch cake pan by greasing the pans.
In a large bowl whisk together flour, baking soda, baking powder, salt.
In another bowl cream together butter, sugar, brown sugar, vanilla extract, lemon juice, lemon zest and eggs.
Slowly mix flour bowl butter mixture. Add milk, whisk together until fully combined.
Divide batter evenly between the pans, smooth the tops and bake 20-25 minutes, or until a toothpick comes out clean.
When cakes are done, allow to cool 5-10 minutes before removing from cake pans and set them on a cooling rack. Allow them to fully cool.
Place first cake layer onto serving plate, pipe or spread jelly on top, finish with remaining cake layer. Pipe frosting onto cake top and decorate as you see fit!
Recipe, images, and text © Veggie Balance