Gluten Free Lo Mein made in under 20 minutes for a quick and healthy gluten-free and vegetarian dinner.
(Gluten-Free, Vegan, Dairy-Free, Vegetarian)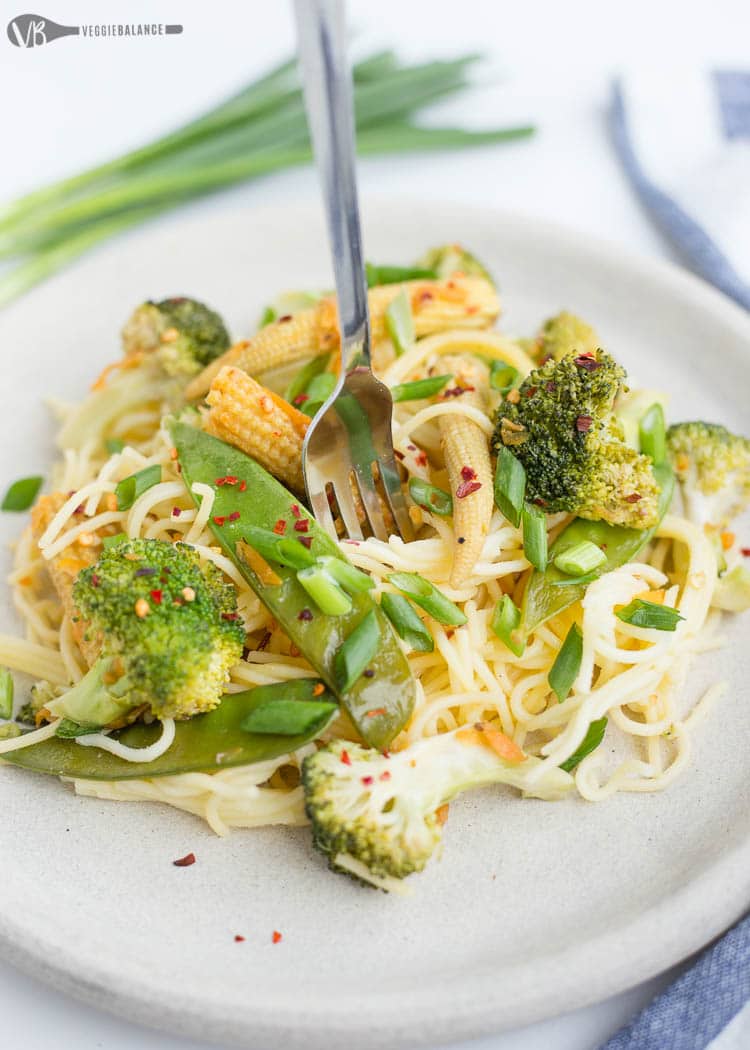 This has become one of our favorite dinners and for many reasons.
It is easy to whip together in under 20 minutes.
It is packed with healthy vegetables.
Mixed with some delicious gluten-free carbs.
Is Lo Mein Gluten Free? Are Lo Mein Noodles Gluten Free?
Sorry to burst your bubble but MOST lo mein noodles you will find will be filled with wheat and therefore not good for us gluten-free individuals.
Now there are SOME buckwheat lo mein noodles (safe for us coeliac/gluten-free peeps) out there but that is few and far between on being able to find them. I therefore started taking gluten-free spaghetti noodles and THAT is how we've made Gluten-Free Lo Mein possible. 🙂
Low Carb Noodles: If you'd like to go the low carb route you are more than welcome by using the shirataki noodles.
OR simply use some zucchini noodles for another low carb option.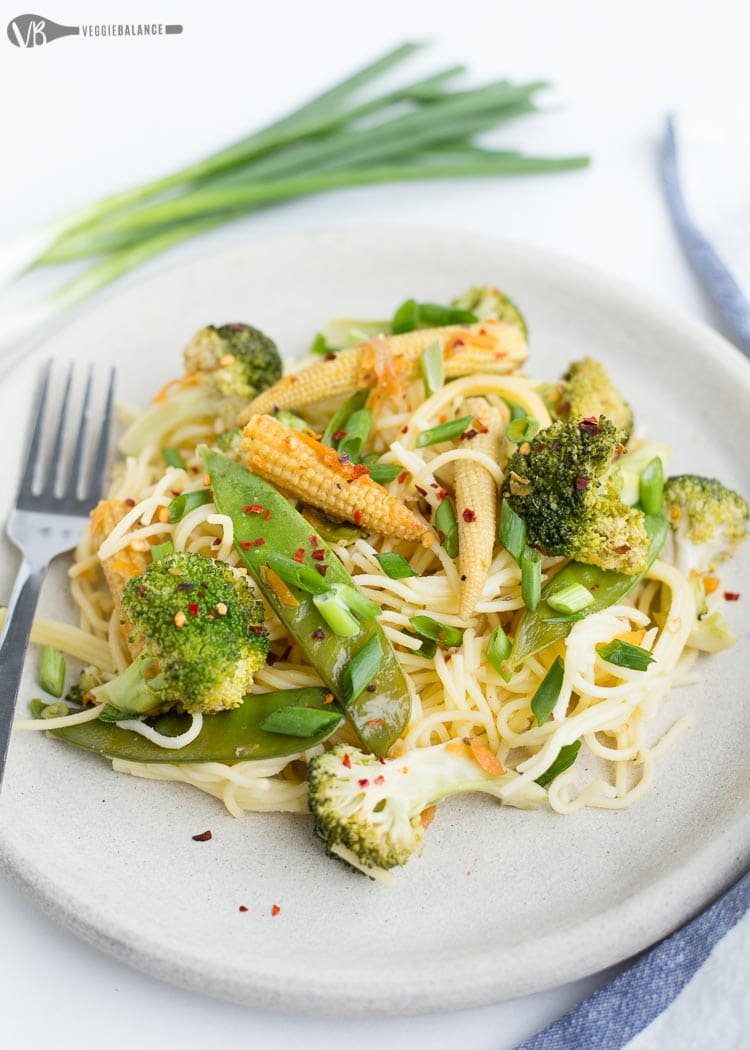 Vegetarian AND Gluten Free Lo Mein
Yessssss. Now my husband and I have found a solution as R is a definite meat-eater. We'll sear up a few pieces of chopped chicken or beef for him to mix into our lo mein. Actually it's very similar to what we do with the our Slow Cooker Vegan Jambalaya.
I stick to the vegetarian version myself because to me it doesn't need anything else but these delicious veggies.
What type of veggies to put in your vegetarian lo mein?
These are a few of my favorites.
Broccoli – packed with folate, which me having MTHFR I need a ton of and a reason I try to add it to everything I make.
Snow Peas – Mmmm my mother always added these and I think it might be the only way I enjoy them.
Baby Corn – Quick story on these. Our local store in our old home stopped stocking these. Where we've moved though stocks it and oh my word it makes me soooooo happy.
Shredded Carrots
Water Chestnuts
Mushrooms
The options are endless and add as many extra veggies as your heart desires because this Gluten-Free Lo Mein dinner is going to become a family weeknight favorite.