Gluten Free Peanut Butter Pie oh my oh my, get your peanut butter fix sans the gluten in this deliciously worthy dessert. (Gluten free, Vegetarian)
I just couldn't resist with this one. Say hello to your new favorite pie. Helllloooo.
I'll be honest, this pie was super duper delicious. Peanut butter cream cheese center on top of a dark chocolate no-bake pie crust, finished off with fresh chocolate whipped cream. Winner, winner we are having pie for dinner. Right?
Little secret though, the gluten-free chocolate pudding pie I made a while back is still my favorite.
I made this pie for Roland since peanut butter is his favorite. He thought this peanut butter chocolate dream was better than the chocolate pudding pie but I'm partial since I love chocolate and cream cheese items. Anything with deep rich chocolate cream and fresh whipped cream will win my heart by a long shot.
Downside of being gluten-free and being particular of what gluten-free flours I can have, I can never get a piece of pie anymore. No cupcakes, cake, anything that is normally brought into a office or brought to a birthday celebration. What does this all mean? Well, it means that I have to make my own sweets!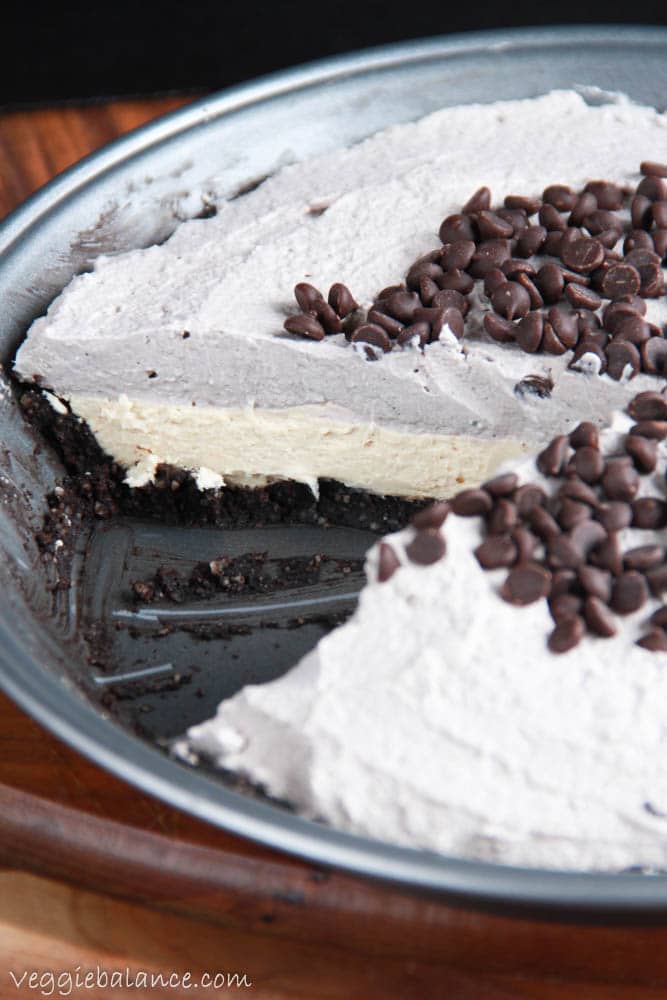 Which, believe me I am not complaining. I think when you finally accept you have a food allergy is when you really take matters into your own hands. At least I became that way, but really I have always been that way.
Dog on a bone is what I'm very often described as. It's true, I'm a persistent little bugger. When I am on a mission I am head bent at getting that mission finished. There is no backing down my friends. Told you, persistent. I'm like those annoying little energizer bunnies that just don't ever quit. That's me.
So needless to say finding a healthier, gluten-free, all-natural ingredients in dessert are my mission.
I love sweets, don't let me EVER fool you by thinking I eat carrot sticks and broccoli everyday all day. I have my nightly dark chocolate every night with my cup of tea. Sometimes it involves half a bar of chocolate depending on my mood.
This weeks mission was this pie. Whole, all-natural, antibiotic free cream cheese, heavy cream and butter. Fresh honey from my families yard, the worst thing in this entire pie is the garnishes which are the EnjoyLife mini chocolate chips that are dairy and soy free. All those wholesome ingredients are in this mouth-watering pie below.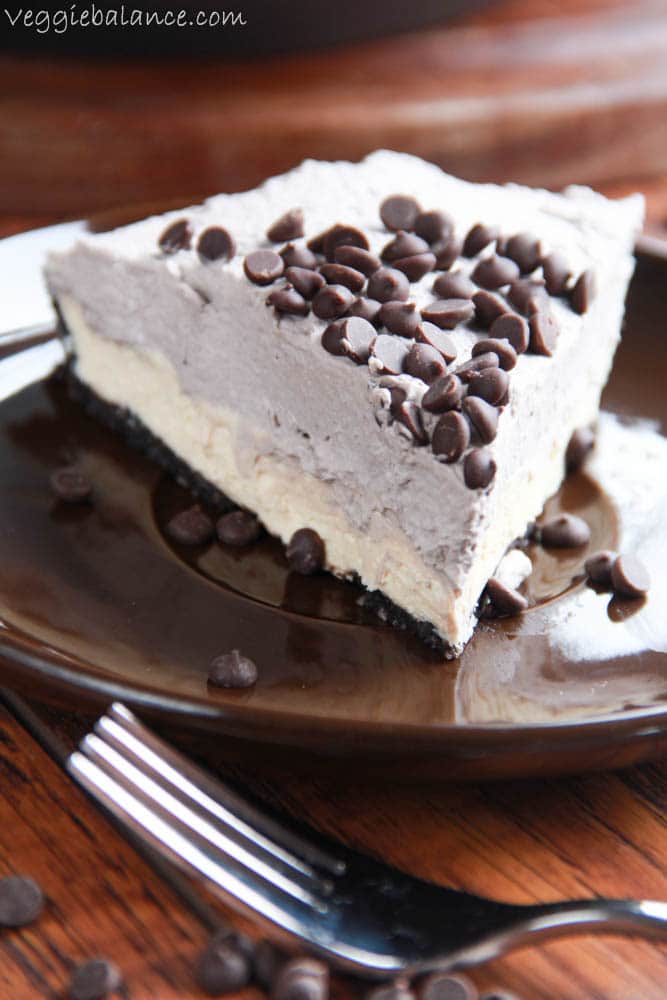 My mission is to always be as transparent as possible here. Do I have cravings for bad stuff? Well, duh I'm freaking human, of course I do. There is a reason you are currently looking at a pie recipe! Yes, I was craving peanut butter, yes I was craving chocolate and yes I was craving something with creamy fat in it. It happens I'm human.
The most important thing I want say is that this pie is nothing like what I would of ate 2 years ago. I've come to terms that my body is just not normal. It can't eat wheat, can hardly drink alcohol and can't have a boatload of sugar either. My bad now is a minimal bad compared to my 2 years past. Two years ago I would eat a gallon of ice cream in one day. No I am not kidding you, little string bean Lindsay eating 4000 calories of ice cream including 450 grams of sugar. Yeah, I know this pie is a better option.
Is this pie going to taste like the pie you buy in the store? No it is not. Instead of the 35+ grams of sugar PER SLICE you are consuming close to 6 grams of sugar with this pie. Healthier dessert can be done and it can be done right my friends.
Well, shoot healthier eating and healthier living can be done and it can be done right!
(It's all what you tell yourself what you can do. Which believe me you're capable of more than you think)