Gluten Free Pumpkin Brownies will bring the flavor of fall and chocolatey goodness together in an unbeatable treat.
(Gluten-free, Vegetarian)
Fudgy, chocolatey, moist brownies. Come to Mama! If you haven't noticed by now, brownies are my ULTIMATE favorite baked good.
As you can see with our peanut butter brownies and grain-free black bean brownies.
Now, we are only into the 7 month mark of Veggie Balance (how exciting) and this is already the third brownie recipe.
I can guarantee you there will be MANY more to come and today I got an even more perfect brownie recipe. PUMPKIN BROWNIES. (Imagine me drooling while I say that).
I had leftover pumpkin from my Pumpkin Peanut Butter Cups and was trying to figure out a great way to use up my leftover pumpkin.
What is so great about pumpkin?
Pumpkin is a great source of Vitamin A and fiber along with being low calories, I couldn't let it go to waste.
Well, why not make it into brownies and get a ooey gooey fudgy brownie?? Exactly, why not.
My first thought was to attempt to make them festive with a pumpkin taste to them, but then quickly realized they will be a perfect substitute to make just all around good brownie base and I'll be honest, I wanted chocolate.
They turned out pretty good for a healthier dessert!
Just a reminder
Healthier desserts are yes healthier but they need to be eaten in moderation just like everything else.
Believe me when I say, I LOVE almond butter and almond butter is great for you with good fats that my body needs but eating 5 Tablespoons in a sitting isn't the wisest decision.(Been there, done that)
Everything in moderation.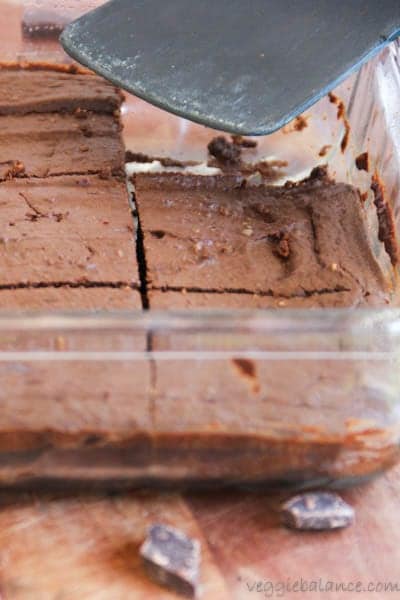 Pro tips for these gluten-free pumpkin brownies
If you aren't a dark chocolate fan and don't like the 'bitter' taste to dark chocolate you will probably want to add more sugar to the recipe. That at least the advice from my husband who prefers milk chocolate over dark chocolate.
He doesn't like the 'bitter' taste of dark chocolate. I've trained my taste buds to not only like dark chocolate, but LOVE it. Milk chocolate is way to sickeningly sweet to me now.
Mainly the reason I trained my taste buds to make this change is because not only does dark chocolate have more antioxidants in them but dark chocolate literally has almost no sugar in them vs. milk chocolate.
My second tip. I refrigerated mine since I don't go through baked goods very fast. Everything in moderation, plus I get creep out leaving baked goods that have more than one egg in them on the counter for days.
Don't ask me why, I'm weird like that. Microwave them for 10 seconds and instantly you get a warm fudgy brownie and it will make you weak in the knees. Actually, I'm currently working on this post at 6 a.m. and want to go get one right now … brownie for breakfast? Mmmm …