This Chinese Pepper Steak recipe is a healthy veggie packed dinner with green peppers, onions and red peppers the entire family will love. Whip it up, dish it out and wait for the compliments to roll in.
(Gluten-Free, Dairy-Free, Low-Carb, Nut-Free, Low-Sugar)
There are few Chinese infusion dishes my family will eat and enjoy. Willingly, at least.
Vegetable Fried rice, Chicken Fried Rice and really – that's about it. I'm am happy and ecstatic to announce this Chinese Pepper Steak dish is now on the short list!
I'll admit I was sneaky, I didn't tell them what was in it. Served the pepper steak on a bed of rice and waited to hear how it was received.
Delicious!
Tasty!
Filling!
Tips to Make this Chinese Pepper Steak rock even more.
Top this onto cauliflower rice to make it a low-carb dinner option.
If you'd like to pack even more veggies into this dinner use our vegetable fried quinoa for a healthy fiber filled dinner.
When I told them it's a Chinese Pepper Steak recipe I pulled from my grandmother's old recipe book?
Shock. Shocked and delighted that there is a Chinese-American inspired dish that I can add to the weeknight dinner list.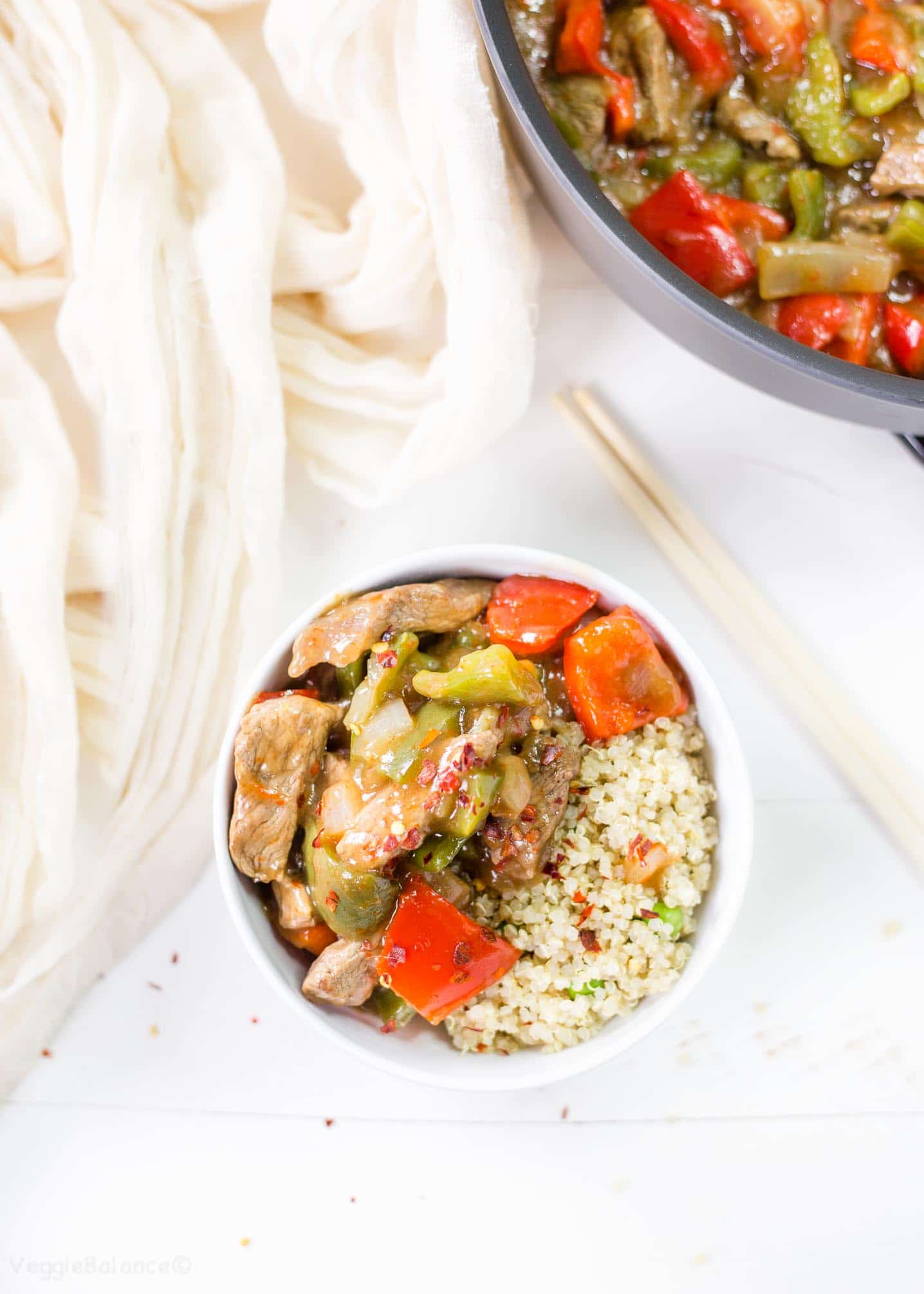 Reasons this Chinese Pepper Steak with Onions rocks!
Made all in one pan! Thank goodness, one less pan to clean.
Packed with all the veggies. Green peppers, red peppers and onions.
Packed with protein! Hello delicious pepper steak.
Versatile. Eat this Chinese Pepper Steak by itself or top on rice.
I actually love quite a few soy-sauce infused dishes like our Thai veggie wraps. Yum!
To get my family more on board with these flavorful dishes makes my heart happy.
I'm not sure if it's because there was SO MUCH good looking food in Japan and China that I couldn't eat, but it hit a nerve and pushed me to seek out the deliciousness of it all now that we've returned.
We are starting to get out of the lull of horrible Michigan produce. The closer we get to bright colored veggies like these peppers, the better. It's been severely lacking here in the Midwest.
What isn't lacking is the abundance of easy weeknight dinners we've been working on for you guys. I've been in odd food moods lately, but one thing hasn't changed. A must in my household?
Dinners have to be easy AND veggie packed.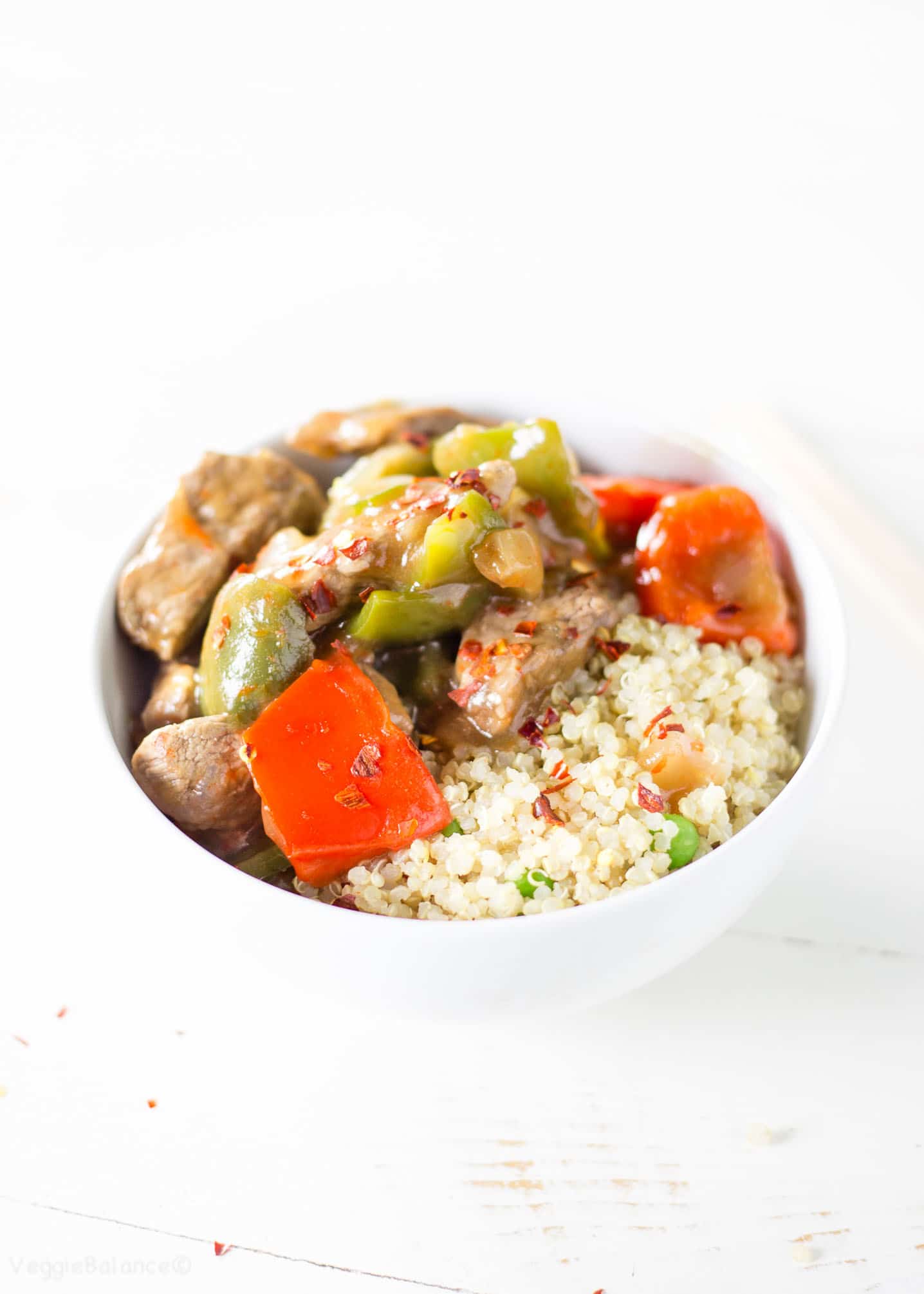 What to Serve this Chinese Pepper Steak on?
Steamed White or Brown Rice
Quinoa (how to cook the best perfectly cooked quinoa)
Cauliflower Rice for low-carb diet.
With our lack of desirably good veggies we hit each winter, it's easy to fall into Vegetarian Enchilada Rice dinners and French Onion soups.
Do you recognize the commonality with these? Yep. Cheese. For midwesterners, I believe it's our lack of sun and warmth bringing on the craving for cheese. Lots and lots of cheese.
This Chinese Pepper Dinner is everything we've been missing. Health, packed with veggies and protein AND no cheese. Yep, this is the sign that spring is on the horizon.
check out just how easy this is to make!