Homemade peanut butter cups recipe and how to make them in just 4 easy steps and teaching how to make natural from scratch chocolate. Healthy Peanut Butter Cups are the best!
(Gluten-Free, Dairy-Free, Vegan, Vegetarian, Low-Sugar friendly)
Oh, peanut butter cups you are so simple, perfect and a timeless favorite for good reason.
You are insanely delicious.
What goes into our healthy peanut butter cups?
Chocolate (Cocoa Powder, Powdered Sugar, and Butter)
Peanut Butter
You are more than welcome to use your own chocolate chips to make the chocolate coating, but we like being able to control the amount of sugar going into our chocolate.
How to melt your chocolate with a double boiler system.
Take a small sauce pan and a fill halfway with water. Bring water to a boil. Turn heat down to low.
Take a glass bowl and place directly over the saucepan.
Add chocolate ingredients into glass bowl and whisk together until everything is melted and chocolate is smooth.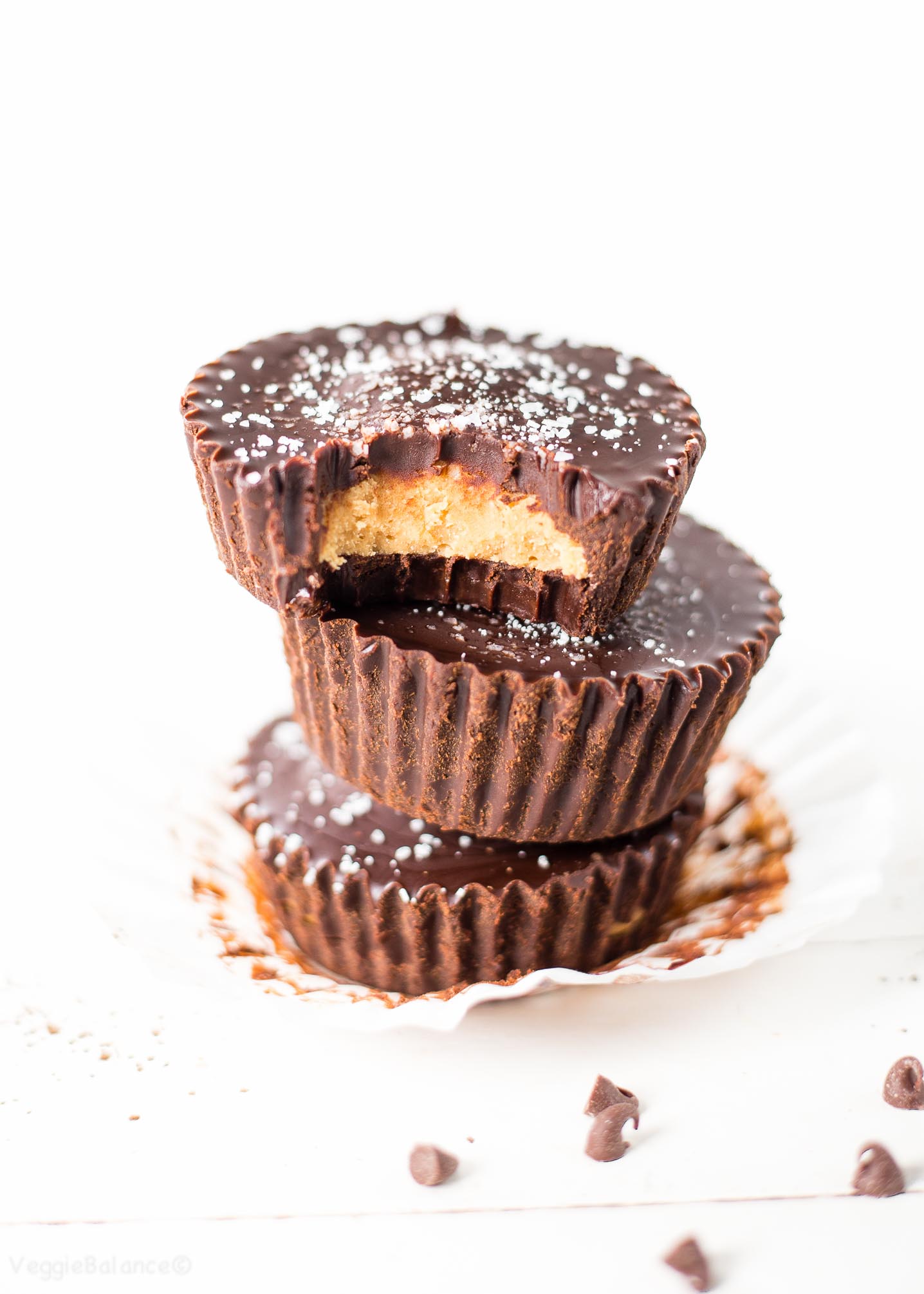 Tips on making the best healthy peanut butter cups:
Use small mini muffin pans to make bite-sized peanut butter cups. I used to make them this way, that was until we've moved 3 times in the past 6 months and the mini muffin pan did not make the cut.
Now if you are making these for yourself, then a large 12 slot muffin tin will work. Less work and quicker results means you get to bite into a peanut butter cup all-the-sooner.
Add the peanut butter mixture into a small baggie and squeeze into the center of the first layer of hardened chocolate. This will ensure you have a chocolate coating all the way around and a perfect peanut butter center in your natural peanut butter cups.
Most the time when you need to make a dessert, you crave simplicity like these easy buckeye bars (another tasty chocolate peanut butter combo).
Nut-Free Peanut Butter Cups
If you need to avoid peanut butter due to an allergy feel free to sunflower butter or another nut-free or peanut-free alternative.
Are Peanut Butter Cups Gluten-Free?
These ones are!
However, avoid the small holiday peanut butter cups or limited time varieties. They are not gluten-free.
Now I'm not against to getting fancy and making a pie or a pan of the world's best brownies once in a while, but for the times I'm mindlessly chomping on chocolate while sitting at my desk. These peanut butter cups are made in 30 minutes flat for fast and satisfactory enjoyment.
Yeah … it's official. Homemade peanut butter cups for the win.