Healthy Chocolate Peanut Butter Baked Oatmeal will have you jumping on the breakfast bandwagon for this deliciously easy recipe. With or without chocolate chips, you can dive in and enjoy in no time! (Gluten-free, vegetarian)
I am going to be totally honest here. I have no clue how I can classify this as a breakfast. I mean seriously, look at it!
This chocolate peanut butter baked oatmeal cup is the diggity bomb of breakfast choices. Peanut butter oozing out of the center mixing into dutch chocolate oats, its a peanut butter chocolate lovers dream.
What makes this amazing? There is absolutely ZERO sugar added to this if you omit the mini chocolate chips. Which, I do on a daily basis, for breakfast that is.
Dessert? Well, yes, yes I will add mini chocolate chips. I'll even add some cream cheese in there on my dessert nights.
This was truly my first baked oatmeal experience. Is that sad? I found it rather sad. I get stuck in oatmeal ruts, my current long standing rut?
Oatmeal with dried cherries, almond butter and perhaps a splash of almond milk. Nom.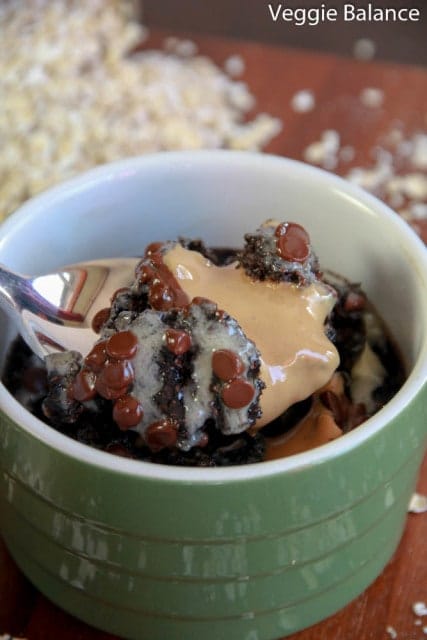 Now that I am in love with baked oatmeal you betcha bottom dollar there will be more baked oatmeal to come!
I have seen the light and the reason of why everyone loves it. Now, if only I could jump on the bandwagon of overnight oats….. perhaps.